Alexei Yagudin:
«I MISS THE REAL COMPETITION VERY MUCH»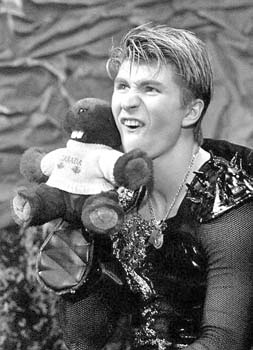 Photo © SE
Alexey Yagudin
SLC Olympic champion Alexei Yagudin had a hip replacement surgery on July 5th in New York. We weren't able to locate the skater over the phone then. Only a month later, Yagudin agreed to an interview, apologizing for such a long silence.
- Why did you surround your surgery by such secrecy?
- I didn't want to attract attention too early. Why? For people to feel sorry for me? I didn't need that. It was more important to figure out how successful the recovery would be even though it's too early to talk about it now.
Nobody really knew how serious the injury that tortured me for so many years was and what I feel when I go on ice. I was diagnosed in the summer of 2002. I finished skating in Collins tour two weeks earlier than planned and my agent and I went to have an exam.
In the clinic, I was given a hydrocortisone injection (a strong hormonal medicine that reduces inflammation). The pain really got significantly less and I started to train again. In a month and a half, the leg started to hurt badly again. It hurt so much that at the end of October, I was only able to skate a short program at Skate America in Spokane and had to withdrew.
For the several next years, I got used to the constant pain and being uncomfortable. I got used to sitting the way so my hip would be protected from extra pressure. I was in shock since I never encountered such a strong and constant pain. We went to the clinic again but didn't find out anything new.
The reason from the problem was that since I was born, the join didn't completely cover the top of the hip, and that was on both legs. So, the bones friction was too strong and they started to lose their correct shape. I had hydrocortisone injection again but I was warned that it might not have the same effect as it did the first time. The body gets used to the treatment too fast. That's exactly what happened. That's why I was crying at the press-conference where I had to announce the withdrawal from the competition. I was told that I will have to forget about skating with an injury like that. What could be done is that I could skate through the pain, not compete, but skate as a professional, where the injured foot can have the least amount of pressure.
To be honest, I didn't believe it to the end. I even thought about returning to New York and having another medical exam, that the doctors would be definitely more experienced there, and they would tell me something more promising. But it was different – my diagnoses was confirmed once again.
The doctors offered to go through one more round of therapy in Toronto. I started flying there once a week between the performances. The injections were done with the huge needle. Special tissue cells were injected right into the joint and it was supposed to push the cartilage growth between the bones. That didn't help too. I turned everywhere I could, even to the holistic experts. I know a lot of people and everyone was telling me to try something new. I had massages but they didn't make it easier. I performed at the several events in this conditions, I was taking the medications to ease up the pain a little, I was still doing some jumps, but in the summer I still had to have a surgery to clean the joint.
- Were you told then the joint needs to be replaced sooner or later?
- Yes, on both right and left legs. It's just that the right foot gets a lot more pressure on ice and that's why it was in a worse condition.
We decided to spill a little blood the first time. I had an arthroscopic surgery and it brought a lot of relief since all the unneeded stuff from the join was removed through the special incisions and the inflammation was gone. The bliss lasted for about a month and a half. When I started training again, the leg started to hurt even more than before. I finally realized we can't even speak about continuing in sport.
Skating in shows wasn't easy. I had a contract with Stars on Ice and had to go on ice six or seven times in one evening, so I had to take some unbelievable amounts of painkillers so I could hold on to the rest of the tour. By the end of the show, I was only able to move on the scooter. Someone even put a handicapped sticker on it when I didn't see. I often thought that I was lucky – the foot started to hurt two years before SLC, and if it would've gotten inflamed six months earlier, it's possible I would've not made it to the Games. This way, I managed to win them, so when I officially announced my retirement from the competition at Skate Canada a year later, I was almost sincere in saying that I was very glad I did everything I could in skating.
That wasn't a complete truth. To the last, I kept believing that I'll be able to skate seriously again.
- What made you go to the clinic this summer?
- I would've gone there sooner or later. I haven't seen a doctor since the first surgery, but this year I decided it was time. I saw my X-rays. You don't have to be an experts to see that the joint is completely crushed. It also had a lot of swelling and inflammation around it So, on April 5th, I flew to the clinic since I was warned that preliminary exam, including all the tests, can take several weeks. The surgery was scheduled for July 5th. Before that, we discussed with the surgeon in detail, which join we'll put on. There are many options now – ceramic, plastic, metal, depending on how a person is planning to use his hip in the future. I picked titanium since I was told that this metal is able to grow together with the human bone the best.
When I saw X-rays two weeks after the surgery, the first thought in my mind was that I'm like Terminator now, with the titanium hip. It looks scary on the picture – a metal stick, titanium top of the bone, and the joint mechanism is from the titanium too.
- Do you really want to try and return to the sport?
- Yes. That's why I didn't want to put off the surgery for alter. On one hand, I would have to get that joint replaced anyway. On the other hand. Since spring, I keep thinking I could've kept competing.
- Is that why you called Tatiana Tarasova before going to the clinic?
- Who else I could've called? Somehow I believed Tatiana will understand and support me. And that's how it was. True, I'm 27, it's unlikely that I'll be able to start training seriously until one year passes by, so I'll be 28, and figure skating went forward to some degree. On the other hand, even with the injured foot, I was doing all the triples this spring except the loop, I did triple-triple, and even a triple axel sometimes. I tried the footwork and spins considering the new requirements. For the last two years, I competed in Japan at the event where you have to do the free program. All of it was without attending practices. I realized that I'm skating on the adrenalin only. At practice, I would've not done even a small part of what I was doing in the show. It was hurting too much.
- We met several times in the last four years and it seemed to me you got used to the thought that your competitive career is finally done and there is no going back. What got changed?
- I don't know. I'm bored without the sport. I miss adrenalin and the competition. Maybe I'm making a big mistake trying to come back, but this attempt doesn't make me responsible for anything at large. I can always say stop if something doesn't work out.
- Were you afraid to go for a second surgery?
- My family was very surprised at how calm I was. Somehow I was confident that the surgery will go well. I came to the hospital at around 6 in the morning, we talked some more details with the surgeon, then I was give the IV and was taken to the surgery room. It was the same doctor who did my first surgery, Professor Westridge. I remember I wanted to ask him something else but I got anesthesia and I was out of it.
I walk up in the rehab room. I didn't feel anything below my waist since I also had something similar to epidural anesthesia that women get when they are in labor. My head was floating but I remember how doctor came and gave me the phone, I talked to my friend and asked him to call my mom and say that the surgery went well, and before I fell asleep again, I sad a completely insane thing to a doctor, «I hope you didn't throw out my old hip. I would've liked to keep it». He promised to do that.
By the evening, I was transferred to a regular room, very comfortable, with the Hudson view. I had surgery on Thursday, and my friends picked me up on Sunday and took me home.
- Were you able to move on your own then?
- Supposedly, I was going to be on my feet at the end of the first day, but I was coming out of anesthesia for too long, and they decided to try next day. Nothing good came out of it. The best I could do was sit on the bed, try to get up and fall back. I got really scared. Only then I realized how serious the surgery was and how stupid I have to be to even think about returning on ice.
Sleeping was terribly uncomfortable. Tubes, catheters, and IV were sticking out of me in every direction. I was forbidden from turning, sleeping on the side, or crossing my legs. I could only lay on my back and my legs were fixed under the 90 degrees angle or the hip bone could've just snapped out of joint. By the way, the clinic sent me a huge book before the surgery and it had detailed recommendations for any situation on when and how I can move. It's done so a person would know in advance what he'll encounter, that he'll be ready for it and would do everything possible for the fast and possibly painless rehab period after the surgery.
I got up at the day three. I took two steps forward holding on to a special walker, and two steps back. At night, I tried walking around the room with crutches, but the right foot wasn't walking, it was dragging. I moved it with my hand. The night before, the leg hurt so much, I couldn't sleep. I took the phone and started sending text messages to everyone so I could be busy with something. I only fell asleep in the morning.
By the end of the day four, I was walking with the cane pretty well. I washed on my own and even passed an exam for the doctors, walking up and down the stairs. Without that, I would've not been allowed to go home.
- I thought you were on the bed rest for the first two weeks.
- I got so scared that the join can «fall out», I was moving very carefully. I calmed down a little in two weeks when I came to the clinic for a check up. The doctor confirmed it's going well, said he was very happy with the surgery, he took out the metal staples that were holding the cut together and put the bandage. I was very surprised that the cut was so small and neat, and Westridge told me, «How many years have you skated before winning the Olympics? Twenty? I've been a surgeon for twenty years and do my job as good as you did yours when you were in SLC»
The doctor warned me that the patients aren't recommended to fly after surgeries like that since there is a great possibility of clotting because of the pressure changes. I persuaded him that I'll feel better in Russia and I flew to St. Petersburg.
- What are you plans now?
- I'm working on my foot a little. Before going to Russia, I met with Nikolai Morozov in America. In May, we talked about working together, and he said then he is ready to coach me. We also discussed a lot of things that have to do with the possible comeback. It's not up to me only. I have to get the ISU permit, I have to know how the leg will hold up to really high pressure. I'm very inspired by Rudi Galindo who had the same surgery on both legs, skated in Collins tour in six months, and jumping all the way now. If he could do it, why couldn't I? I'm Russian!
- I'm not very clear on who'll train you, Tarasova or Morozov.
- Both, like before the SLC. Kolia is a great coach, and he knows all the new requirements wonderfully. He and Tarasova complete each other, so I hope for their help and support. After the Games, we all went through an uneasy period, but we decided with a medal in Vancouver being a goal, it makes sense to get together one more time for and try to reach this goal.
A fitness coach works with Morozov's group in America now. He coached the top field and track athletes in Russian National team for many years. He had a similar injury at onetime so he made a large list of exercises for me to make the muscles stronger without touching the hip joint. I do it every day and stretch a little.
Because of the constant pains, the right foot movement radius is a lot smaller now, so I have to recover the movement there too. I tried jogging. I was careful at first, and now I run several kilometers a day. I feel a little uncomfortable, but I think it's not because of the surgery. I didn't train for the last couple of years and the muscles are not used to pressure anymore. I hope to be back on ice at the end of August. Maybe I'll be in the «Ice Age» TV show at Channel One, but it's not finalized yet.
As for the future, I can't look into it now. I wanted do put together a free program this fall and start skating it, so I could include jumps into it after the New Year, and jumps have to go toward the end of the program. If it all goes well, maybe I'll be able to skate this program in the late April at the event in Japan. Then I'll rest a little and really get into work. I don't think I'll have a problem with jumps, it'll be with everything else. We never really looked after the spins and footwork. In any case, I want to try and prepare so the next season, I wouldn't be embarrassed to compete at the events up to the 2009 Worlds. I want to make the team and see what I'm good for overall.
- Are you afraid that Russia might have only one spot at that event?
- If Zhenya Plushenko competes at the next Worlds, he'll definitely get at least two spots. From that point on, I'll try not to fall face down. When we talked with Morozov about it he said if I start thinking whether there'll be a spot for me, I shouldn't even start talking about the comeback.
Of course, I'm scared because I'll have to go through a hell of a work, but I want to do it again. Elvis Stojko wasn't young at SLC, but it didn't stop him from doing two quads in the free program.
My situation is more convenient. I already have the Olympic gold. If I'm able to comeback and perform at the level of being competitive for the top three in Vancouver, it'll be a huge victory. I'm not saying I'm going for the victory only. I'm interesting in training and competing again. I miss the real competition very much.
- Are you under the contract for the next season?
- Not at the moment, even though I have enough offers both in America and Russia. My agents said, «Lesha, you are like a good wine. You get more expensive every year». I realized if my sports plans go the way I want to, I'll have to forget about serious contracts for the time being.
- What about your real estate business in the US and the transportation company in St. Petersburg?
- It's been going well in both places. There are trusted people who watch it. I'm not going to go to America soon. My most important business is skating. Very soon, in the early fall, my autobiography will be published in Russia.
- Am I right to thing that it's the book that was published in Japan three years ago?
- Not completely. That book was very sincere and I liked it. It's about my whole life from the moment I put the skates on. We worked on the text for several months, but we deiced to add to it and include new chapters for Russian edition. I think it'll be interesting.
As for practicing, if I feel I can skate OK by the fall, I'll wait when Morozov will have a break since he coaches a large group of skaters now. Then Tatiana, him and me can start working on the problem. I listened to a lot of music already, including the music that wasn't used in skating before. I have something to choose from. I have no other plans that demand me being in the USA. I need to recover now without forcing the process, and then whatever happens, happens.
- Wasn't there anyone who tried to talk you out of comeback idea?
- No. My family saw how much I suffer from the pain and from doing nothing, so they support me now even though they probably don't believe that my plan is realistic. My life is normal again, and that's more important for them.
2007