Alexey Yagudin:


«

I WORK 7 METERS OVER THE ICE WITHOUT ANY INSURANCE

»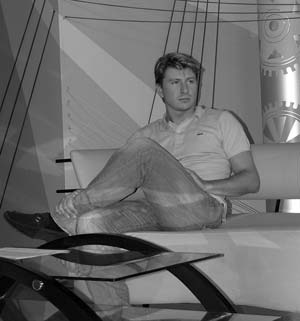 Photo© Elena Vaytsekhovskaya
Alexey Yagudin
We started to talk right at the Pulkovo airport in St.Petersburg. «I'll meet you there – Alexei said the day before. – You can't imagine how much I enjoy just driving in the city. Walking along Nevsky. I'm still amazed that there are so many beautiful people in our city.
And people recognize me. In Piter! I was standing in a street a few days ago waiting for my cousin. A man approached me and said «I'm looking at you and can't believe my eyes. Is it really you?» I was even surprised. I was not so often in Piter last years, and I won the Olympics rather long ago.
I often visit Antoshka (Anton Sikharulidze – E.V). When I was at his restaurant «Sphinx» for the first time – Sikharulidze wasn't in the city – all waiters smiled and welcomed me. I was there some five times already – I like it a lot. Actually it's considered a cafe-bar. Prices are not very high, but everything is very good, and servings are big. Very cosy. Anton incites me to start my own business in Piter.
- I didn't know you're such good friends with Anton.
- Such is life. When we were in the Russian team we had never been friends. Even after the Olys in SLC when we joined the SOI there was some tension - in him and in me. Later it calmed down somehow. He has changed a lot, me too. They say our skating styles changed too. More relaxed, maybe.
- I thought that after the end of SOI Tour you'll be occupied with coaching in the US , like it was last year.
- Apparently I'm too tired. On one side, coaching is still appealing to me, on the other – I can't force myself to go to the rink again. SOI – it's a hard job. Even compared to any other tours. Though I don't jump quads now, load is not less than that of any eligible skater.
I didn't have a single free week-end since October. I competed twice in Pro competions – World Wars and World Team Challenge. I jump that maximum of triples that I can – salhow, lutz, flip, toeloop. In the first competition our world team (Kurt Browning, Yukka Sato, Oksana Baiul and I) beat Brian Boitano, Todd Eldredge, Kristie Yamaguchi and Nicole Bobek. In the second competition - in Canada – I was the best among men. After the technical routine I shared the first place with Kurt Browning and I won the artistic one. Unfortunately now there are only two such competitions left, and it's obviously not enough. Now the professional sport is not less interesting than the amateur. Just look at men – Eldredge, Boitano, Browning, Kulik, me … On the other hand, the interest to the figure skating in the US is declining. You can see it just by how many people go to SOI. The show is much more interesting than last year but there are less people in the audience.
- How can you explain it?
- I think the extreme popularity of figure skating in the US some ten years ago could be explained by the scandalous story of Kerrigan and Harding and Oksana Baiul's victory in Lillehammer . Then the interest started to decline. There aren't American athlets who win major competitions. And the shows themselves should be done on some other level. Maybe with a different music, choreography, costumes, ideas. Ice shows are generally very conservative. And one should think of something that will make people say «Wow! Look at this!».
- As far as know these very people were aahing over your «air» program.
-Yeah. SOI agreed to my idea but didn't believe to the very last moment that I would implement it. It was Tatiana Tarasova who was the initiator of this program but at first she worded her idea very vaguely: It would be good to make something unusual. She started to recall the shows of her theatre. Tatiana never says «Do it like this». She gives a hint and urges to think yourself. When I returned to Lake-Placid the first thing they did was asking me to sign a paper that is something happens to me when performing this act no one would be responsible for it. I didn't have an applicable insurance.
- How could it be?
- One can work without it at height no more than 21 feet – it's about 7 meters . They measured this height, set the motor and I started to rehearse.
- What did you feel?
- When they were lifting me for the first time I even didn't wait till they lift me to the set height, I shouted «Put me down!». At first I worked in gloves, with special fixing band under knees and in a suspension belt – not to overburden the back. And when the tour started I got used to it – so much that I didn't even use all these. And almost after every show people said thank you for creating such an unusual act.
- And what are your plans for future? Your contract with SOI expires in year, if I'm not mistaken.
- I hope they will offer me to prolong it. If the tour lasted for 8 month I would have some doubts. But 4 moths is tolerable. I still enjoy it, especially by the end when everything is perfect. I would not skate just for money. Besides I always wanted to skate in this show. I said it to my agent when i was eligible. He said at once «Lesha, then you must win the Olys». I still don't know whether they would've invited me if I hadn't won at SLC. Maybe yes, but on different terms, of course. Maybe not. generally all contracts are for 4 years and the owners can always change the cast according to the Olys results.
- So, when you joined SOI you displaced former Oyls Champion Ilya Kulik, and after Turin the owners can replace you with some other skater?
-That's normal. Although there's a nuance: I don't know if Zhenya Plushenko is willing to skate in SOI but even if he wins the Olys he will face some problems. The show belongs to IMG corporation and Zhenya has contract with another agents group. I don't know a case that SOI had invited someone from their competitors. So it's not so easy even for the Olys Champions. They still invite Kulik. He made 20 shows with SOI this year. By the way, all skaters from the cast are interchangeable. There are more Canadians when the Tour is in Canada.
- I heard that you are a frequent guest at Ilya and Katya's house in Simsburry.
- I wouldn't say «frequent». Both Katia and Ilia are busy people, they have two children, and they have different interests and priorities. But while Kulik was skating with the tour, I tried to watch all his performances. Ilia always has innovative moves and steps in his programs. His jumps are good too. We were friendly when we competed as well.
- Even when you were preparing for the Olympics in Nagano? I remember Mishin, your coach at the time, said that you would win those Olympics if not for your sudden cold .
- I didn't think so myself. I realized that the best placement for me would be 3rd. I realized that Tarasova would do everything for her student. I saw how she treated Kulik at 1997 Euros when he caught a cold. I was in his room when she came in. I was amazed how warm she treated him. She was like mother, she brought him pills and something to drink. And she was so concerned about how he feels. That kind of relationships between coach and student was quite a shock to me. I was really jealous of Kulik! I couldn't imagine that in a year I would be her student.
- Many people believe that she has an amazing luck at the Olympics.
- I wouldn't say that. She has an amazing feeling for her students. There were moments when I was striving to train, I could do everything but she would suddenly stop the practice. Or vice versa: I stepped on the ice totally run down, nothing was working well and she kept forcing me to repeat elements over and over again. And it always turned out later she was right.
Do you remember GWG in Brisbane in 2001? Tarasova was strongly against my participation. But I thought I was in the most perfect shape, like never before. I was doing 4 different quads at the practices: flip, loop, salchow and toeloop. I realized that most likely I would never have to put them into one program, but I was enjoying doing them simply because it was a great feeling that I could! I crashed disastrously in Australia.
* * *
«Sphinx» restaurant promoted by Yagudin wasn't a disappointment. The owner welcomed us with a radiant smile and leaded us to our table. Wonderful cuisine (Yagudin ordered a meat carpaccio), cosiness, candles – isn't it a perfect place for a conversation?
- In 2000, after winning the Worlds you earnestly tried to convince me that you didn't want to win the Olympics. Do you ever recall those words?
- I recall 2001 more often. I lost everything I could, which had never happened before. In 2000, I lost Euros and GPF, but I won Worlds so the overall impression of the season was positive. But in 2001, I lost everything. I was shocked. And more important, I clearly remember that all my performances that year were like gambling – I have luck or I don't. Tarasova was making some passing remarks that it would be good for me to lose some weight and train harder, but I guess she waited for me to realize it myself. As a result, I rethought many things. At the end of May I went for vacations to Dominican Republic and I started to run crosses there. In spite of the heat I would put on three jogging costumes. Maybe I wouldn't have done that if not for the 2001 season. I returned to the U.S. and stayed at Tarasova's place for a month only to be under her control in case I didn't have enough will to continue. Sometimes it went wrong. Crazy from hunger, I could drive to McDonalds and eat hamburgers. The following morning I would run crosses for 1,5 hours instead of usual 30 minutes. I was working like a mad the whole summer, most of the time off ice. I created my own training system. I intuitively felt what I needed to do to lose weight but keep strong and dry muscles.
- Did you have any time left for private life or were you just addicted to your work?
- I don't think anyone can be addicted to this kind of work. I simply knew I had to do it. When the day was over, I didn't have any strength left to go anywhere. I could just get into my bed. Sometimes I managed to go out on Friday, but I was still kind of apart. It was a period of a complete self-isolation. I would even say I needed to be alone. If now I was told to go through all that again, I would refuse. But at that time I had only one thought – the Olympic Games. The more I worked, the clearer I realized that I don't have any interest in any other competition.
- And what if you had lost in SLC?
I don't know what would have happened to me. I wouldn't go mad, I guess, but it would have taken a long time to be myself again.
- I know you are taking part in the ice-opera «Infinity». Are you preparing a base for your future performances in Russia?
- I love skating at home. The premiere performance of the opera will take place in September in St.Petersburg and in Moscow. Then I hope I'll take part in other shows too when it doesn't interfere with SOI schedule. The idea of the opera came long time ago. First there was a short cartoon movie, and my image was also used there. This cartoon even got a prize somewhere. A bit later it was decided to make a big show, with opera and pop singers, live music, and Igor Bobrin's theatre. I think it will be interesting.
2005