Alexey Yagudin: «I STILL LIKE LIVING ON THE ROAD»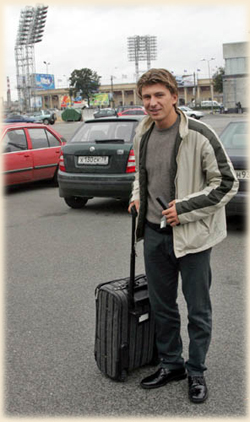 Photo © Alex Wilf
St. Petersburg. Alexey Yagudin
Alexei Yagudin hasn't performed in St. Petersburg for four years. When asked how he felt about skating in this hometown during Artur Dmitriev's show, he said, «I'm scared. Very, very scared. I don't know what the reception will be like. I don't want to screw up. This audience is very special to me, and I feel a special type of responsibility to them».
I had a chance to speak with SLC gold medalist right after the first rehearsal at Yubileyny's ice.
STARS ON ICE
- We don't know too much about your life today other than you've been skating with SOI for the last two years. Can you share anything else?
- My contract with SOI covers the next two years. We will begin rehearsing for the next season in November and will continue practicing for the rest of the month. The tour kicks off with two performances in Japan , and will take place mostly in the U.S. and Canada . We will wrap the tour up on May 5th.
If I'm not mistaken, this year is a 20th anniversary of Stars on Ice. I always dreamt of skating with SOI. The difference between this group and other skating shows is that it gives you an opportunity to skate in several numbers a night. Therefore, you have a chance to show different sides of your skating and do everything you can. We have single and group numbers. It is certainly very tiring; for instance, I have to come out six times in every show. When you factor in 72 shows a season, that's certainly adds up to a lot of work.
- What's it like to be on tour?
- After every show we have time to take a shower and mingle with guests, if necessary. Then we get on the bus, have something to eat and ride to the next town.
- Life on the road, eh?
- Yes. The bus is very comfortable, though. We have a kitchen with a stove and refrigerator, a place to sleep, a place to relax. It's like a home without a shower.
- So…what's your bedroom like in this home of yours?
- It's like being on the train. Of course, you can't get up and stretch, but every compartment has a TV, headphones, curtains on the windows, and the bus ride is so smooth that you almost can't feel the wheels in motion. In the back of the bus, we have a family room-type area with couches and TV screens. Many skaters bring their games (Nintendo-type – NN) with them. There's lots to do.
- Are you saying that the tour is planned in the way to make it convenient to move from town to town on a bus?
- We used to have our own airplane, but we had to give it up for financial reasons. We have three buses. A year ago, when we had five Russian skaters on tour (Anton & Elena, Katya and Oksana), we used to travel in the same bus. The girls would even cook for us on the road. The U.S. skaters, all 10 of them, took another bus. This was more comfortable: they have their own friends and speak the same language. We did fly, but very infrequently; perhaps 4 or 5 flights during a 60-night tour.
- Isn't it tiring to live this way?
- It's quite interesting. I never sleep on the road; it's pointless. We usually arrive at the next destination at 3 or 4 a.m., and the hotels have all been taken care of. We have a crew that's in charge of loading and unloading, so all we have to do is to bring a small carry-on with personal items. I don't like sleeping on the bus, then wake up, then check in, then go to sleep again. I generally park myself in the common area in the back of the bus and watch movies. And I have enough time for sleep since we don't have to go on the ice to practice until 3 pm. It's just a different schedule.
- Do you have to go practice?
- It's optional. This is practice time that all skaters use how they see fit. If you like, you don't even have to set foot on the ice before the show. In the evening, we do a show, take a shower and get back on the bus.
- Does the city of the show make a difference?
- I like performing in small cities better. The audience is more appreciative. Large cities have lots of shows and SOI is just one out of a million.
- Irina Slutskaya told me once that she had to dye her hair a different color for the COI tour. Do things like this happen in SOI?
- I don't think anyone will be giddy with delight if I just go off and dye my hair on a whim. But I'm not going to do that. The difference between SOI and other shows is that they are pure professionals. I haven't heard of any skater on the touch being penalized for anything.
- Is there any social life to speak of?
- Well, we usually take up the entire arena when we perform, so there really isn't anyone else in the house besides us. Sometimes we arrive a day or two before the show. For instance, in Ottawa we had two days off. So we went to see a show of a popular U.S. since and a hockey game. Sometimes we meet with the local officials when they come to see the show. In Florida , we went to see Leonid Agutin and Angelica Varum perform (Russian pop singers). This doesn't happen too terribly often, though.
THE JOUBERT CONNECTION
- Do you feel that the interest in figure skating is declining compared to the time when World Pro championships in the U.S. took place regularly?
- Yes, a bit. I can see the difference in the number of empty seats in the arena and the number of competitions in general. The compensation took a dive, too. I don't have any reasons to complain, though. My schedule is so hectic that I have almost no days off. Starting from the St. Pete show, I have to come out and skate every week. The only break will take place during Skate America in Pittsburgh where I will accompany Andrei Griazev. Then the show practice month begins, with a few shows thrown in, and then the season rolls around.
- How does your injured leg take that?
- It's OK so far. It's hard sometimes, though.
- Are you scared of your second surgery that you may have to have in a year or two?
- Not anymore. I was very scared when I was hospitalized for the first time. I was panicking big-time. Now I am much more mellow and feel that, well, if I have to do it, I will. I actually began to move around some more because in addition to practice, I have to travel a lot, take care of non-skating problems, meet some people, the works. And I think this is actually better for my leg.
- I heard that you had a wonderful time working with Tarasova in Simsbury this summer?
- I had a wonderful time RESTING – for the first time in my life. All my time before the summer I had to spend in treatment. Last summer, actually, in May, I first went to Florida to be a godfather to my friend's child, then I spent a few weeks in the Caymans, and then I went to the Connecticut shore. Almost two months to rest. In July I had a few shows in Japan , and then Brian and me flew back to Tarasova and began to practice.
- How are things going with your book?
- It's done; it's about to get published.
- What language is it in?
- Japanese. That was a big production…I spoke to the reporter in English, then it was translated in Russian so that my mother and I could read and edit it; then the edited version was translated into English, and then into Japanese. It was quite difficult and I am happy it's over. As for working with Brian, we worked together until August 10th. Tarasova has an incredible camp: Joubert, Griazev, Weir, Arakawa, Sebastien…We worked very hard, but it was very interesting, including being next to Tarasova. Sooner or later, I will start coaching, and this opportunity to learn from Tarasova is invaluable.
- I heard that the French FS federation wasn't exactly jumping with joy on account of Brian spending so much time in Simsbury .
- You know, if Brian skated well in his recent competitions, no one would have cared where he was this summer and what he was doing. Before leaving the U.S. Brian could do all the parts of his programs cleanly. But after his competitions he called me and said he didn't feel ready at all. Perhaps he gained some weight after coming home. We'll see what happens. I really like his programs, and that's what he came to the States for. We also worked a lot on his technique and edging. However, I can't and don't want to become completely responsible for his skating because I can't give him the time that the skater of this level requires. And I will have even less time when the tour begins. Who needs a coach who is away six months out of the year? I told Brian from the very beginning that I can only consult him. And I can understand the feelings of the French federation: no one is happy to see the skater move countries. I felt that when I left Russia .
- Does your plan to become a coach mean that you will continue to live and work in the U.S. ?
- I don't know what to tell you.
- How about the truth?
- You know, I think about it every time I visit Russia . And I have no idea what my life would have been like if I stayed. There is no work. And there is nowhere to skate, either. A tour to Siberia , perhaps? That's no way to live. I love Russia and lot and I think I did a lot for my country, just like my country did a lot for me. But while I still have the energy, I want to work and earn a living. The reality of my circumstances is such that I have an opportunity to do that in America . I don't try to look into the future so far.
YAGUDIN THE BISNESSMAN
- So does this mean you will skate while the invitations keep coming?
- I will skate for as long as I feel that I can do what I want.
- The reason I asked you this is that leaving professional skating is not as easy as it may seem. I spoke to Katia Gordeeva and Katarina Witt, and they both said the same: constant touring and nice fees draw you in to the extent that by the time you stop, you end up with no work and no personal life to speak of.
- It's harder for women, yes. To have a child is to lose at least a year. And there is no guarantee at all of finding work in future. It's a bit easier for the men.
- Are you generally ready to accept the fact that one day you will have to leave skating?
- I know it will be hard, especially in the beginning. Although I already made a first step toward my «life after skating» by starting a business. I don't want my future to be completely dependent on skating.
- What business?
- Real estate. I have three houses in Vancouver , nine apartments all in all. I rent them out and keep the books myself. I used to pay an agent to do that, but now, when I have a bit more time, I decided it would be good for me to learn how the process works. I am planning to build my own house and use the rental income to pay for it. It's hard to make a living in the U.S. just by coaching because that makes you dependent on the number of your students. There's always competition. Besides, I don't think that American coaches are very happy about the number of Russian skating coaches moving to the States. That's why I decided to branch out. And I am very happy that I currently have an opportunity to coach for fun and not for money.
- Did you design your house yourself?
- I tried, but fortunately, I understood in time that I can't do that. So I bought a completed design and tried to customize it. I also passed the test for my sailing license. I did it on the advice of my friend who used to take me sailing – he said that if I have a license, I can take the boat out without bothering him.
- You are rich and famous; an enviable bachelor. When the time comes to choose a partner, this can present its own set of challenges…
- It was only once that saw from the start that a girl's interest in me was strictly money-oriented. Besides, I don't think it's a part of the U.S. culture to make a life by mooching. It's also not appropriate to brag about your money. There are very wealthy people here who drive junky cars and wear jeans and T-shirts all the time.
TARASOVA
- You mentioned junky cars, and I thought of Tarasova who said that you always drive her around in just such a car when you see her in St. Petersburg . Is that a tradition, or what?
- We are not here all that often, and I like driving around to see what has changed. As for this car….it's a big part of my life. When we were working in Russia , I used to drive it from St. Pete to Moscow to see Tarasova so that I could have a car while in Moscow . Lots of stuff…including accidents.
- What is your relationship with Tatiana like these days? Do you feel like more of a colleague than a student?
- For me, Tarasova is most of all someone who will support me no matter what. I understood that a year ago when I had trouble accepting my departure from eligible skating. It is only now that I began to feel more at peace when I felt interested in what we do, and in how much creativity this process allows. For instance, recently we prepared a number where I won't just skate, I will perform high-wire acts like circus acrobats!
- Wasn't it scary to practice?
- It wasn't easy! It taxes very different muscles. And I also have more time to engage my own imagination because Tarasova is engrossed in eligible skating and tries to coach me just like she used to do before. However, this won't work for the U.S. shows. To be successful, the number has to be either funny or sleazy. They don't understand or accept classical skating. Americans don't receive the same education that Europeans do, where fine arts, including opera and ballet, were always very highly valued. I don't mean to say they are worse; they are just different. For skating music, they need something they can clap along to. Otherwise, you have to come out and strip which I don't want to do on a principle.
- You may be pleased to learn that Tarasova once said, "Yagudin is capable of the most unpredictable things, but next to him, I always feel protected."
- Tarasova never takes care of herself, only of her students. She does everything for them and doesn't think about herself at all. When we first started working together, I was a bit scared of her…now, we became one team. I am very happy that Tatiana came to St. Pete. This is another reason why I want to skate very well here.
- Do you ever get recognized in your hometown?
- Very seldom...
2003