Alexey Yagudin:
«
I'LL OPEN MY SKATING SCHOOL IN SIMSBURY NEXT YEAR
»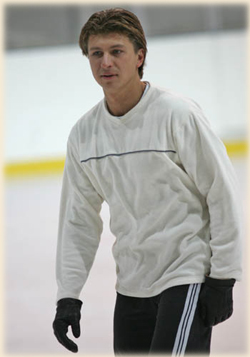 Photo© Alex Wilf
Alexey Yagudin
Russian skater Andrei Griazev won his second consecutive Junior Grand Prix event in Slovakia. The winner's coach was... Alexei Yagudin.
«Sport-Express» reporter Elena Vatsekhovskaya talked to Salt Lake City Olympic Champion Alexei Yagudin on the phone. The sounds of music and laughter could be heard in the background.
- Congratulations. Are you celebrating your student's success?
- Friends invited us for a dinner. Right now we are at the restaurant, making an order.
- Be careful there.
- If you are talking about alcohol, I don't even drink beer for the third week.
- Since our conversation began like that, I cannot help but ask you about the recent incident in USA, when you were stopped by the police. There was too much conflicting information in the press.
- Actually, the story wasn't worth all the stir. Of course, there is nothing good about what happened. But, really, it was such a pity. I was coming back from a wedding party where I got by a chance. On that day I was interviewed by one American journalist. When we finished our conversation she asked me to drive her to the restaurant, to her friend's wedding party. Naturally, they didn't let me leave. All I drank there were a couple of glasses of champagne. I got to the car with the thought that I should drive very carefully as the police is out there on the roads at the weekend. But there you go - I was stopped when I decided to overtake a car ahead of me. It was moving way too slow. What is funny about it, I especially looked at the speedometer: the speed was 41 MPH , the limit is 40. In addition, I crossed double full line while overtaking.
- I spent less than an hour in the police-office - only because I was waiting for my friend to come and drive me home. In the newspapers I read that I supposedly was put in prison, about the pledge that I supposedly have paid. Nothing like that really happened. It was a common situation, one of many. I will have to appear in court: the date was moved to the 30th of September because I had to leave for the competitions with Andrei Griazev. But I know what will come. They will take my licence, and give me the temporary ones. Well, probably I will have to listen to some lectures.
- And so you switched to the alcohol-free way of life because of this?
- Nobody forbade me anything. I just decided that if even the innocent dose turns into such a fuss around my name for the second time, it's easier to switch to mineral water. I don't feel any inconvenience because of it.
- At the Russian Test Skate in Moscow Maya Usova told me that you began your practices too harshly and the hip started to hurt again because of that. Is it true?
- You know, right now I'm taking a philosophical approach to everything. Sooner or later it would happen. It's true, at the second day of practices I started doing triples and quads - I was anxious to see how such a long break affected me. I succeeded with everything right away, and it pushed me, added to the excitement. I probably shouldn't have started so harshly. I wouldn't have the pain back so quickly. But it would be back later anyway, that's clear. You don't even imagine how much of a pity it is! All the more, we made a new free program which I really like. It is called Feelings, but I don't remeber whose music it is. I have it written down on some paper. I'm only able to skate this program with all the triples except for the loop. This jump is more painful than the others.
- The schedule on your official site looks really strange. According to it you are supposed to take part in almost every competition of the season.
- Of course, it is not so. I was planning to start a season in October at a pro-am event in New York, where also have to take part Zhenya Plushenko, Takeshi Honda, Michael Weiss, Timothy Goebel. But I've already sent the organizers my refusal.
- So what about your further plans?
- In November the rehearsals for the Stars on Ice show begin. My minimum task is to skate the entire tour. Last year I managed to do it. So I hope I will be healthy enough to do it again. I'll try to find an opportunity to skate somewhere else. But I can't foresee anything, and I don't want to. You understand...
- What do the doctors say?
- Nothing new. Even a year ago they were telling me one surgery won't be enough. That sooner or later it will probably be necessary to do a hip replacement. But they tried to calm me down a bit, they said such a surgery is only required when a person can't walk. Which means, it is not coming in the near future.
- How did you come to the idea of trying to coach?
- When I got back to USA, I was going crazy about the feeling of emptiness that fell upon me becuase of inability to skate. I was still coming to the rink. At some point Tarasova asked me to help her to work with Griazev and Sasha Cohen. It was like a salvation to me - I could occupy myself with something. And I was carried away. Before the season started I carefully asked Tarasova: maybe I could go to Europe to Grand Prix events with Andrei? She said she'd love me going. So I went, and I'm really happy about it. Even before, I was thinking about coaching as of a possible profession. But now I'm sure that I love it. Indeed, only now I fully realize how hard all these years of work must have been for Tarasova. What an ordeal it is to stand behind the boards, to see your student doing something wrong and to know you can't help him. It is much easier to skate.
- But nevertheless, your student won two competitions. Are you satisfied with his performances?
- Yes. Especially with the free skate in Slovakia. Andrei doesn't have a quad yet, although he does it in practice. He did it at the practices in Bulgaria and Slovakia, and did it really well. But I remember from my own experience that a quad can ruin all the other jumps. That's why we didn't put it into the free skate. I wanted Andrei to do 2 triple Axels in Slovakia. I called Tarasova to ask for her advice. She said that at this point it is more important to skate a clean program, and a second triple Axel can disturb it. As a result, Griazev completed two 3-3 combinations: one with triple Axel and another with triple Salchow, and all the other triple jumps.
- How did other coaches receive you?
- I don't know them all, and I was mostly busy with my athlete. I had absolutely no time to look around. Generally, I have the nicest impressions about the competitions both in Bulgaria and Slovakia. Bulgaria is special to me. There I skated at my first senior Europeans in 1996. There I first came as a coach. What is the most important, I don't have a feeling that my life has ended. All the past year I was living with that feeling.
- In such case I only have to ask you about your coaching plans.
- It is possible that I will go with Griazev to the Junior Grand Prix Final - he has already earned his spot there. And the next year I will probably open my own school in Simsbury.
- Why in Simsbury?
- There is a good rink there, perfect working conditions and wonderful relationships with people. Why to search for something else?
- You mean, you already had the necessary talks about it?
- Generally, yes. They supported my idea. But before I start to work I have to find one or two assistants to help me and replace me when I'm away.
- Maybe it's easier to stay in Tarasova's team, like Maya Usova and Evgeny Platov?
- Tatiana Anatoljevna won't be working with my kids (students), she doesn't have time for that. I'm so glad I have an opportunity to learn from such a coach, to work by her side. I would be happy to stay for as long as I can. But Tarasova may have another plans.
- And in the end, pardon me, I have to ask you about your private life.
- Oooh!
- But what do you want? After reading your interviews thoughts are in a whril. One time you are going to marry, another time you are not; once she is Russian, second time she is American...
- But they ask me God knows what, so I say what first comes to mind. Of course, I do have a private life - it would be strange if I didn't. But I don't seriously think about a family. In my opinion, 23 is not a proper age for that.
2003