Irina Slutskaya: «I WANTED TO CRY ALL DAY LONG»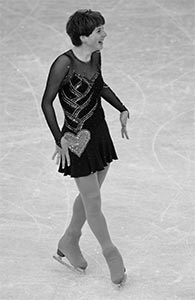 Photo© Alexander Wilf
Moscow. Irina Slutskaya
Irina Slutskaya won her first World's gold in 2002. Just like on Saturday in Moscow , the victory was more than persuasive – six judges put the Russian on top after the free program, and only three thought Michelle Kwan was better.
Three years ago, Slutskaya's future in sport seemed to be worry-free, and losing the Olympics seemed a silly accident. Irina announced she wants to leave the skating for a season to have a baby, but it wasn't meant to be.
No need to name all the problems that followed the skaters during the several years after. There was too many of them – enough to throw a man off his feet. That's why I think there wasn't one skater who wasn't sincerely happy for Slutskaya's victory in Moscow .
Hard challenges always make one grow up. When she came back after the diseases, Slutskaya wasn't that same careless lady who couldn't hold her tongue and threw the fits at times, the way she was remembered just recently. At 2003 Europeans in Malmo , Elena Sokolova was the hero. Irina won the gold but everyone who saw it would agree – Sokolova looked more impressive. You could see on both the champion's and her coach Zhanna Gromova's faces after the skate – it was clear they consider the championship to be lost and that the winning marks were completely unexpected for both of them
At the airport, while waiting for the flight home, the skater completely went off. She was standing two feet from the group of Russian reporters, but she didn't look in their direction. Slutskaya went into such a tirade about the press overall, you could only wonder, «Why?» Why do you have to be childish and silly and turn the people against yourself, the people you'll have to talk to many times more? Is that only because in this case they paid more attention to somebody else?
Did Irina change since? No doubt. She still can have an outburst when asked for the interview or a photo session, but those refusals didn't look like a fit anymore. The skater is a professional to the end and she demanded the same from the others.
She said once, «I really have nothing against the reporters. You have to understand, if I'm getting ready for the important event it's better not to touch me. I have no time for the conversations during this time. There is not much time for the rest between the practices, and losing any of it starts to annoy me…»
It's not always happens when the champion demonstrates the honorable quantities outside the professional arena on top of the great mastery. When it does happen, we are especially proud. Last Friday's press conference was memorable mostly because of Slutskaya's remark, not because of skaters discussing their performances. Someone in the audience asked Sasha Cohen in Russian, «Did you hear chanting, «Fall», in the arena during your performance?» The question was so tasteless that the interpreter helplessly looked at his colleague next to him clearly not knowing how to behave in such uncomfortable situation. Irina, with fury in her eyes, reacted immediately, «Thanks G-d, she doesn't understand that!» With adorable smile, she turned the conversation into a different direction.
When Slutskaya started to compete again after her illness, she made the correct but difficult choice. She preferred to be the source of the information minimizing the chance of rumors. She probably didn't enjoy the memories of the hard times much. She was as honest at the Europeans in Turin where she won her sixth gold with difficulty. She made it known – yes, she was lucky but that doesn't mean she hopes to be excused if it happens again.
My old friend, Salvatore Zanca, reporter from the USA who writes about skating for many years and knows Irina since she appeared first at the senior competition, said about Slutskaya, «As soon as you find the key, her soul opens wide». In Moscow , victory became the key, a performance that ladies' skating haven't seen in many years. Irina didn't hide her emotions neither on the ice, nor in the press center after the award ceremony. She clutched the medal in her fist like she couldn't completely believe everything was over. She kept talking, changing the subjects as she was overwhelmed with what was left of the stress.
«I can't describe my happiness. This medal is the dearest for me, I know it for sure. To live thru it… My hands are still shaking, and I can't understand if it's from being tense or being happy.
I felt I was well prepared for this event. A Zamboni machine broke at the rink where I train so my coach and me have to leave Moscow and go Novogorsk. There, I started to believe that I will be able to do everything I want. The better my jumps became at practice, the more difficult it was to wait for the competition, especially in the last day. Skating last in the final group is hard. I didn't see other girls skating before me but I've heard their marks were high. I saw at the practice and before the performance how much my coach Zhanna Gromova, doctor Victor Anikanov, my choreographers worry for me. Igor Bobrin tried to hide it but it's impossible. I want to say that Zhanna Gromova is genius and exceptional person. I can compare her to the very best coaches in the World. I would like to thank everyone who helped me. I remember everyone, love them, value what they do and keep doing for me».
When asked how hard was it to return to the championship level after falling so low last season, Slutskaya shook her head in disagreement, «When a person stops performing because of illness, I don't think this condition can be called a fall. We don't pick the illnesses, they pick us. When I felt very bad, I thought I could be a good example for the people who are in the similar situation and maybe they gave up and don't believe they'll get better. I wanted to show them everything is possible in life. You just have to fight.
I won't hide it. At times, it's very unpleasant to feel that my condition depends so strongly on the things I can't control. I still can't get rid of that illness. It reacts very badly to the cold, physical tension, and the stress - to everything that my life consists of when I train and perform. As soon as I get some rest, I start feeling better. As soon as the pressure increases, the problems reappear, just like it happened in December when I had to start taking large doses of hormonal treatment again.
This also creates difficulties. First, I get tired fast. Second, my emotional condition becomes very shaky – I can be full of laughter and in several minutes, start crying. Last day was strange for me – the tears were in my eyes since the morning, maybe from the nervous tension, maybe from the waiting, I don't know. I was trying hard not to cry at the warm-up before coming to the ice, and at the end of the program, when I was doing the final spin, it all came thru – the tears started falling. It was scary – I couldn't breeze or see, I saw fog in front of me. And I couldn't believe I finally reached what I dreamt about for G-d knows how long, that it was my best performance, and that it happened right now, right this minute, when I needed it most».