Vladimir Fedorov:
«I'LL BE BACK TO DEFEAT ANGELIKA»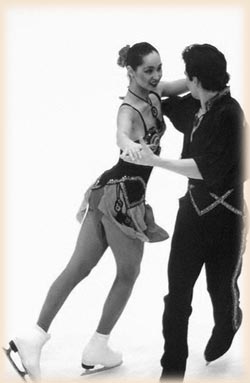 Photo© Corbis
Angelika Krylova - Vladimir Fedorov
In 1993, Angelika Krylova and Vladimir Fedorov became a sensation when they became World's bronze medallists competing at the Worlds for the first time. Before the Lillehammer, Tom Collins came up to the skaters and announced that he invites the Russian to the three-months tour of US and Canada no matter how they skate at the Games and the Worlds in Japan. Before the Worlds, Angelika broke her arm. When she came back to Moscow , she called her partner, «Volodia, we don't skate together anymore».
Until the next competition, I would probably not pay attention that there is one less dance team in Russia if it wasn't for the phone conversation with the great coach, Ice Theater owner Tatiana Tarasova. At the end she said, «Fedorov now skates with me. You can make Olympic champions from the skaters like him».
And I came to the practice rink where Fedorov (Joyful Tailor) was offering magic fabric for Cinderella (Marina Pestova to make a ball gown so she would defy her step-mother (Olga Volozhinskaya) and go to the ball to meet her prince (Marat Akbarov). Fedorov's eyes became sad after the practice.
- You still can't get used to big sport suddenly become the past…
- It was completely unexpected for me. If someone would tell me that Angela and I would not skate together, I would never believed that. We were good friends. When we just started to compete, we decided we'd only have a work relationship. At that time we trained with Natalia Linichuk, and there was a married couple in the group. I saw them constantly fighting and making a scene on ice, and I realized once and for all – personal relationship makes a job more difficult. With that, I knew everything about Angela, and she knew everything about me. We never had any problems, and you won't believe me, we didn't have an argument once.
By the way, if it wasn't for our choreographer Ludmila Vlasova who did so much for our team and treated me well, and still does, Angela would probably never admitted that she agreed to change partners until Linichuk herself would admit it. Vlasova persuaded her [to let me know]. As I found out later, there were talks behind my back for almost three months, practically since the season began. And Angela couldn't deal with the pressure anymore. We came back from the Worlds, they sent me on vacation without saying a word, and in two weeks, Linichuk announced that Krylova is now skating with Oleg Ovsiannikov since in her opinion, he is more talented. For me, they were inviting a new partner from Japan. I declined.
- Why?
- Because I was in some state of shock. I couldn't understand why it was done that way – unfair and cruel. In ice dance, teams break up pretty often, but it practically never happens on the level we've reached become World medallists. Feelings and emotion aside, I can understand everything: by breaking Elena Kustarova – Oleg Ovsiannikov, Linichuk got rid of a very serious rival for her students. By inviting a Japanese skater, she could automatically consider a support by a Japanese judge at the competition. In her time, she created her mixed Russian – French and Swiss – French teams on those conditions. But how can you hide the feelings?
Any way you look at it, Angela and I were practically the only team that Linichuk trained and lead to the World level herself. Natalia Dubova got Grishuk – Platov to that level and made the name for them. After I refused to skate with the new partner, I came to the rink, and at one time I was simply told that people are working on new choreography and there is nothing to do at the rink for bystanders. I got my things, thanked Angela for four years together and left.
- Forever?
- That's what I thought then. After Linichuk and the brigade went to the USA , Vlasova called me and invited to train at Olympijski where Linichuk's former team Irina Lobacheva and Ilia Averbukh train with her and Oleg Epshtein. So, I come to skate when there are no rehearsals at Tarasova's theater.
- If I remember right, at the Games, and later at the Worlds, Linichuk had about seven teams representing different countries, including three Russian teams. Did she have enough time for everyone?
- The results don't depend on how much coach works each team. More important is how the skater works himself.
- Then how would you explain that you made such a brave d й but with Krylova, and then skated much weaker than World medallists would in the Olympic season?
- To some degree, that bronze was one of the reason. To make the elite straight from the d й but is a huge success, but at the same time, it hurts your mentality a lot. It relaxes you and makes you asleep. It's like you train the same, and inside there is some calm, like since you got in line, you shouldn't fall down. I think the main reason was that we and Linichuk's top team, Grishuk/Platov had the same free programs.
- Yes, many noticed that. Two similar rock'n'roll programs performed by the same coach's teams looked at least silly.
- Everything was accidentally silly. Before letting us go on the after-season vacation, Linichuk, naturally, asked Grishuk and Platov which dance they are planning to take as the free program. They said they want to try Spanish music. We found the rock'n'roll. When the first draft of our dance was ready, we found out the Grishuk and Platov changed their mind and also picked rock'n'roll. It was too late to change the program. I have to say they skated great both at Europeans and the Games especially considering that they couldn't skate the complete program without missing something even once before the Copenhagen .
- Do you think that Grishuk and Platov is really the best ice dance team in the world today?
- If you remember Lillehammer, I would say they were the best. I didn't see the competition since when you perform, it's better not watch the competitors, but at practices I've notices that after Torvill and Dean almost entirely changed their free dance after the Copenhagen, they've got two elements that existing dance rules forbid. Changes didn't benefit them – everyone, including the judges, realized that since the leaders hesitated, not everything is all right. From what I've heard, Maia Usova and Alexander Zhulin weren't in the best shape.
- They want to try for another Olympics again…
- I talked to Sasha several days ago when he was in Moscow . He said that Maia and him decided to rest a little and turn professionals. They'll definitely return for the Games. They have a fanatic desire to become the Olympic champions.
- By the way, I was always interested how turning professional compare to the amateur sport? For example you current job in Tarasova's theater, is that step forward or step back?
- It's just a completely different job. When I just came to the theater, I had a feeling of having no way out. It was only at first. I'm used to figure skating being very cruel and angry. Suddenly I realized it could be completely different. It's very difficult for a dancer to dance in the show. You have to know how to do pair skating elements, the ones I haven't done and never knew how to do - lifts, jumps, spins. There was no person in the company that would refuse helping me if something wouldn't go right. It's very interesting for me now.
- Even though you are practically coming on ice as one of the crowd?
- I can't compete for any other part. I work in the theater since June and there is not enough time to prepare a meaningful part. The work is also interesting because Tarasova never says what this or that skater should do on ice. She gives a though, an idea, and constantly repeats that we can do everything. You'll start thinking that way too, and job brings the hugs satisfaction. On top of that, I've felt I became completely different.
- How did you feel that?
- In my gestures, in behavior on ice. I started to feel as an actor.
- What would happen if one day you would get a chance to return to the sport
- When I talked to Tarasova, I said right away that's what I want the most – to come back and defeat Angela, at least. Tarasova understood me very well. We decided I'll spend a year in a theater, and then we'll return together.
1994