Tamara Moskvina:
«KAWAGUTI/SMIRNOV PROJECT IS THE CENTER OF MY LIFE»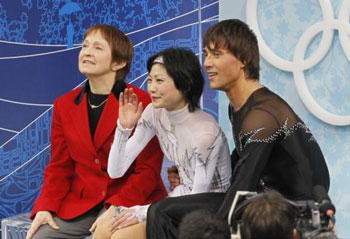 Photo© Corbis
Tamara Moskvina (right), Elena Berezhnaya and Anton Sikharulidze
At the beginning of the Olympic season no one could imagine the games in Sochi would happen without Moskvina. I.e. without her athletes. But it happened: an injury Alexandr Smirnov suffered in the autumn put under a question mark not only their duo with Yuko Kawaguti - one of the most artistic and refined pairs, but the future career of their coach as well
However, in September Tamara Nikolaevna came to Novogorsk test skates with her athletes.
* * *
EV: Everytime when thinking about pairs skating I can't help wondering why a pairs centre such as one created by Nina Mozer in Moscow didn't exist already in St. Petersburg under you. I know you were trying to create one, why didn't it happen?
TM: Because Moscow is much more attractive for both skaters and coaches. First of all things are closer: the sports ministry is there, the federation. Second there are lots of ice rinks and schools in Moscow. And, last but not least, it's easier to find sponsors in Moscow.
EV: Yet there were times when saying `pairs skating' we meant St. Petersburg.
TM: Right. But things change. Just like in the nature: the river bank collapses, the river changes direction and where once was a field is now a lake. There were times when Stanislav Zhuk was the only pairs coach in Moscow and was very successful. But then things changed and he was not working as much as before, the pairs skating glided to St .Petersburg. Now it's back to Moscow.
The problem is that remaining on the high level and preparing the new generation at the same time is really hard, though it's the right way to develop figure skating as a business. It turned out to be impossible in St. Petersburg. Our skating federation is small compared to the one in Moscow. There isn't enough funding, not that many specialists, not enough ice. Actually there are just 2 ice rinks - `Jubileiny' and the academy.
EV: There was an idea to create Moksvina/Mishin school. What was it?
TM: The figure skating academy spread out with time. Of course some skaters became top skaters, but combining the quality of skaters and quantity without having enough ice is impossible. Besides, the children groups must take place at certain hours, which left the top skaters practices during the inconvenient hours. Mishin and I keep coaching in `Jubileiny' so our skaters have enough ice time. We only switch to the Academy ice during the summer when everyone leave to the training camps and the ice is free.
As for our school with Alexei Nikolaevich, it does not exist yet officially. There are some administrative and legal things that need to be finalized. It's on the way though.
EV: I know Oleg Vasiliev who came back from the USA and started coaching Bazarova/Deputat wanted to base in St. Petersburg rather than move to Moscow.
TM: I wanted him to stay. Unfortunately the conditions offered to Oleg in Saransk/Moscow were not possible in St. Petersburg. I'd say the figure skating centre that is being created in Moscow now resembles the golf or tennis academy in the USA. When applying to figure skating I'd name first of all Nina Mozer's school. I admire the way she combines the financial, organizational and the sportive aspects.
EV: But you were doing the same in St. Petersburg for so many years
TM: Nina took it to a much higher level. All those things existed before: back in the time all the pairs skating began and ended with Stanislav Zhuk: the best skaters from the whole country would come to TSKA, the coaches aspired to work there, the federation did all in it's power to solve all the problems.
EV: When you are given the skaters to coach it's assumed you must guarantee high results. Right?
TM: You can't guarantee a thing in the sport. I can guarantee a certain level of work and organization.
EV: Is the ability to organize the process a promise for result?
TM: I think so. It's like in a good factory, where the general director is not working in the machinary himself. But he makes sure his workers have all the conditions which will allow them to work well.
* * *
EV: What happens now in your `factory'? Except for Kawaguti/Smirnov
TM: Nothing. I don't have any other pairs and nowhere to take them from
EV: You mean no one asks to join your group?
TM: No. I can't afford accommodating skaters from the other cities, pay their scholarships, pay the coaches who will work with them additionally.
EV: You mind?
TM: No. What can I do, it's the reality.
EV: I.e. once Kawaguti/Smirnov retire you'll be jobless?
TM: First of all I retired a while ago, so losing a job is not a big deal. Second - am not sure I want to keep being on the ice. I have to think of my age from time to time.
EV: Since when?
TM: I don't really know, but I started to. I understand continuing the coaching career means a long time commitment.
EV: Should the good athletes ask joining your group - would you be interested?
TM: Frankly, I would love to have another pair. Not just so Kawaguti/Smirnov would have a sparring, but to have the younger skaters grow faster learning from the masters. But I dont' really believe it would happen. The first question such athletes would ask me would be `where should we live?'. I don't have a free flat to let them and don't have extra money to rent one for them.
EV: Would you be happy without the ice?
TM: I haven't thought of that yet. I have a project which I have to finish. This is the centre of my life right now.
EV: In the past Elena Berezhnaya, Arthur Dmitriev, Oksana Kazakova, Tatiana Druchinina were working with you. Who stayed?
TM: No one really. Elena has her own theatre, Arthur is in Moscow, Oksana works in the uni with the students. There are young skaters who want to coach, so perhaps together we can revive the pairs skating group in our school.
* * *
EV: This year was the first time you came to the Olympics as a guest. Was it different?
TM: Not really. Even when I came with the athletes I always found time to see what I was interested to see, and it wasn't only figure skating. I would meet up with people, talk about future projects, went to some parties. I was very socially active. What's the point going to the Olympics and sitting in your room in the village worrying about your skaters? As for Sochi - I was taken care of nicely as a guest of honour.
EV: I had an impression Kawaguti/Smirnov look different on the ice this season. They are more self sufficient. How would you define their skating?
TM: Right now I dont' really want to define anything. All their pros and cons will become obvious when compared to the other pairs. Of course Sasha and Yuko keep progressing artistically, in their chemistry and it added a certain confidence. They are more interested in the music, in trying to express it on the ice. Whether they will be able to show all that under the pressure of the competition we'll find out once they compete.
EV: There were talks about Smirnov's recovering in time to participate the Europeans. What were you thinking?
TM: I understood it's an illusion. The surgery went well, but it was a serious one. After such a surgery it would be a suicide rushing into the preparations. So all those talks about being ready to Sochi, or at least for the worlds were just a mental game for me. Had I told them they would miss the whole season from the very beginning I don't think they would stay. This way we recovered, Yuko went back to Tokio to visit her parents, and after that we started practicing again. Since the programmes were ready the guys managed to join Bobrov's theatre ice show. It was important for me to take their mind off the injury. Any skating, even the exhibition is a good way to clean the thoughts: there are different things to think about: the partner, the music, the dance, the crowd. All your injures and pains blur.
EV: How hard was starting this season?
TM: Surprisingly easy. I told the guys from the very beginning there will be many hardships. We haven't competed for a while, we missed the whole season including the Olympics. Besides there are many new pairs who are much younger. Three is a chance the Federation and the ministry would rather support the younger teams.
EV: I.e. you did all within your power to disillusion them.
TM: Right. It would be unfair had I left them under false impressions. Besides, I wanted them to take a decision on their career knowing the odds. I wanted them to make that decision, not me. Well, once they came to me and said they thought things over and want to keep skating we started working the same day.
* * *
EV: Were you surprised by all the pairs switches after the Olympics?
TM: No. As for the situation in general I see 2 pairs who skated great in Sochi and are the leaders right now. From there on everything is possible. Perhaps Yuko and Sasha have a certain advantage given their years of skating together. Besides, they didn't have to change programmes. The other pairs- I see them as nothing but new business projects. I don't think it's a bad thing all those switches, more than that all the Russian pairs - I see why they switched. The only ones who surprised me were the Canadians Moor-Towers/Moskovitch. Though on the other hand the NA pairs switch partners all the time. Hence there is no continuous success in pairs skating there.
We pick partners much more thoroughly. It's not an after school skating where the boy takes girl's hand and they decide they will be skating together and do whatever. We aim for a serious work with the goal defending our country's honour.
EV: Do you reckon this is what the coaches and athletes are expected to provide with those decades of tradition?
TM: Of course. If they just want to skate around there are payed groups for that.
EV: In that case what do you think about Ilinyh/Katsalapov split? They were viewed as the biggest hope and were predicted gold medal next Olympics.
TM: The ministry of sports nor the RFSF demands the skaters to sign a contract which obliges them to skate with the same partner till death does their part.
EV: You think there should be such contracts?
TM: Perhaps for a season. What's the point obliging people to stick to each other if any partner can be injured during any practice? Or a partner can gain 10kg. The fining system wouldn't work there either. If an athlete decided to leave the coach or a partner there is no power on earth that would keep him.
EV: Are the new rules make your life harder?
TM: Not at all. The rules are the same for everyone. Once they were decided there is nothing to discuss.
EV: You said Kawaguti/Smirnov kept the programmes from the previous season. Yet their SP last year was different.
TM: We had two possible SP options. The Meditation from Masne's Thais was a plan B for the Olympics. The main programme was Katusha. Now the Japanese-Russian theme is not that relevant, hence Massne.
EV: What are the goals for Kawaguti/Smirnov this season?
TM: To enjoy their skating. Should they be able to show in the competition everything we do in the practice it should be enough.
EV: Enough for what?
TM: It's a different question. It's the sport, injuries, illnesses and mistakes happen. I.e. there is always a chance to win. The question is whether you're ready to grab that chance. You know how it happens: sometimes you stand the whole day long selling small sour apples among the exotic fruits sellers. Everyone walks nearby without even looking and you just want to get the hell out with your stupid apples. Suddenly a buyer who desperately needs those apples shows up and you sell them 3 times the price.
2014