Tatiana Tarasova:

«

IN A SHORT WHILE I'LL BE ABLE TO RETIRE
»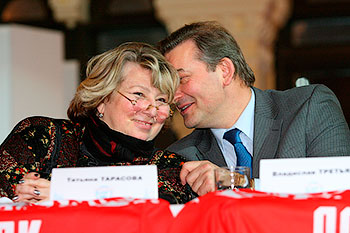 Photo© Alex Ivanov
Tatiana Tarasova
In her presence I always felt awkward whining about hard life. Even when I really wanted to: everyone has a phase when the problems seem unsolvable. Tarasova rarely allows to think she might have problems. During the last year she was on the TV regularly: glamorous, full of energy, very self confident. As if it wasn't her having a bad luck with a stolen car, broken into house. But when I raised the issue in the talk she suddenly says: «All that is such a small matter. A small matter compared to the relatives illness»
All this year her work was her salvation. She was torn between home and the ice rink, seldom coming to the competitions. Consulting one skater, doing programmes for the others. The skaters continued coming to Moscow from the whole world to her.
We met at the CSKA ice rink right after she came back from Euros in Helsinki.
- Did you like what you seen at the Europeans?
- I think we did our best taking the current Russian possibilities. We have almost the maximal result. Minus the men. Precisely- minus Sergey Voronov.
- What do you think happened to him?
- Sergey is, undoubtedly, a talented skater with a talented coach. But what I've seen in Helsinki suggests he doesn't work enough. He doesn't skate his programmes during the practices. None of the leading skaters these days skates his programme just once a week. Everyone skates all the time - the SP at the morning and the LP at the evening.
How should the sportsman train is something the coach and the sportsman should decided. I saw in Novogorsk camp how Alexey Urmanov works, I saw his students and I was impressed. Voronov, on the other hand, looks simply not ready. In Helsinki he did no elements at the training sessions where the judges were present nor at the warm up. The impression he left was terrible. It was completely unclear whether he is so nervous that he needs a competitions shock to start jumping.
He is not ready to a monotone muscles work. His muscles are not in the right shape, so is his weight. His leg hurts all the time, but it will go on hurting because he is not ready. It's all a question of work - a hard work, which for some reason was not done. Sergey, I'll repeat, is a gifted guy. But not an athlete. Those who win - are athletes.
- If we are on the non merry subject, another question: What really happened to Shabalin in Helsinki?
- I didn't have any information on the pair for quite a while. Everything was kept a secret. Shabalin's leg is still in a bad shape after 2 surgeries, and at the end of last season he went to Germany for rehabilitation. It was the right thing to do, I gave a hand in organizing the trip.
Last Autumn I wanted to come to the US and see how Domnina/Shabalin are preparing, but I was not allowed in. Natalia Linichuk, who coaches them after they left Alexey Gorshkov said «Let me work with them at least for a while and all will be fine» Linichuk is a knowledgeable coach. If she decided the pair has to withdraw she must had had good reasons.
- But you thought differently?
- I was against that decision
- Why?
- Probably because I'm a maximalist. I always believed the sportsman should not withdraw from a competition if the decision to participate was made. Shabalin was skating in Helsinki, he was training. Their first training wasn't successful, the second was just fine, all they had to do in the programme they did and were not going to withdraw. Then they fell in the OD and the coach insisted they withdrew.
But you have to save yourself. With healthy nerves, without someone else's help. It looks now, as if Domnina and Shabalin are willing to skate only if there is «their» judge. Some sort of backup. In Helsinki there was no Russian judge in the ice dance.
Which, actually, makes Hohlova/Novitski's win even more impressive. I'm very happy for them and for their coaches - Svinin and Zhuk. They raised a pair that can be counted on. More than that for many years Hohlova/Novitski were considered a number 2 and managed to become a number 1 without a support of their judge.
The sportsman straight is in coming out counting on yourself only. The shouldn't need anyone on the ice. They shouldn't cling to anyone - not the coach and even less so the judge.
- Perhaps Shabalin's withdrawal is indeed due to terrible pains?
- So how come no one cared when he resumed trainings just 9 days after the surgery? What were thinking about those who sent him on the ice? Everything that happens now is according. You know yourself: a knee that underwent 2 surgeries will hurt till the old age. It will accumulate injuries. Either you have to work with that and overcome the pain or retire.
- What do you think our pairs chances at worlds?
- I like our pairs alot. Objectively they are not yet ready to be the winners, but they are growing and I'm happy about it.
- I know you've been following closely the work of the young coaches. I personally was happy about your student's - Evgeny Platov's and his British pair success. All previous years it was possible to feel Platov's inner lack of satisfaction, that his pair is not placed as high as one would want to. Do you have an explanation why it took him so long to bring them to success?
- I don't think it was a long time. If you think of it - Platov is quite a recent skater himself. He retired at 1998, then skated with Maya Usova professionally for a while. Then spent 3 years as my assistant and only then started coaching himself. The coach's work demands not only knowledge, but also patience.
- Were you thinking the same way when you started training?
- I had a different situation. I was 19 when started working and no one thought at all how much will it take till the results will come. Platov, on the other hand is a 2 time Olympic champion. He started training after a huge sport success. Huge. Whence he wanted the same as a coach. That's why it seemed as if he had to wait for a long time. On the other hand I remember talking to Evgeni's mother just a year ago and telling her «Don't worry. He will make it»
- Why were you so sure?
- I saw how he progresses. He loves working on a small details. He taught his skaters to skate, to love figure skating, to understand it. It's the trainer's highest art. But most importantly, together with them Evgeny learned what he himself didn't know before. BTW, except for Kerrs he is also working with a Russian juniors pair. Just like Alexandr Zhulin. And there are also Elena Kustarova, Urmanov, Svinin, Zhuk.. All them - are that generation which I was waiting for for so long. In a short while I'll be able to retire without worrying.
- We already spoke about it at the Olympics in Turino. You said than that you had to stop your work with Arakawa because felt you were out of patience as a coach. Now you are working with another Japanese skater - Mao Asada. How serious is it?
- I work less with Mao than I worked with Shizouka, but that's only because of my family situation. My relatives are ill. I can't be in Japan all the time. Mao spent the whole summer here in Moscow. Her short programme was made in Canada where she went to work with Lory Nickol, and well, I consider that programme a huge achievement for a choreographer.
I did the long programme. The decision to put two 3A was mine. The first skates, especially of the jumps - Asada did with me. When I realized she is capable to do both axel jumps without damaging the other elements we decided to leave them in the programme.
Now my assistant - Zhanna Folle works with Asada in Japan. We talk every day so I know what's going on. I come there as often as I can and I try to come with Asada to the competitions.
- Does Japan federation control your work? Do they interfere?
- As far as I know the switching coaches decision was of Asada herself. Together with her mother and her manager. When they turned to me I demanded a skillful translator and a Japanese coach on speed-strength. Both demands were satisfied.
- How many programs did you make this summer?
- Zhanna and I choreographed 2 programmes for Lysachek - he was sent to came to Russia especially for that by his coach- Frank Caroll. 2 programmes for a Canadian Kevin Reynolds, who came together with his coach Joann McLeod. Since I work in Moscow most of the time in CSKA with Elena Vodorezova I helped her with her students' programmes - for Artem Borodulin, Adelina Stonikova,Dennis Ten. I also choreographed Asada's exhibition number - a tango.
- Did the accusations of your working with foreign skaters on the Russian ice stop?
- I think it's out of fashion. The professionals all over the world work with everyone who would pay for their work. We are not the aggressors, are we? For instance, Ten, who is coached by Vodorezova is representing Kazakhstan. Our countries have a common past, and, I hope, a positive future.
- What happened with an ex student of Vodorezova - the Georgian skater Gedevanishvili? Just 2 years ago she was considered one of the mos promising and interesting skaters in the world.
- She is the one who was «killed» by the politics between Georgia and Russia. We should work together, and not fight. A good example for it is Japan and Russia.
- After the 12 y.o. Sotnikova became Russian champion in December I heared several time,s that it's a bad idea to let kids competing with the adults. It's too early - they would claim.
- Why? If they are so talented and can do all the elements - what should they do with that ability and talent? I was very sorry that Asada was not allowed to participate the Olympics in Turino just because she was 14.
- Is it interesting to choreograph for 12y.o kid?
- Very! Adelina goes for everything , she gladly tries all I offer her to do. It is the same as it was at the time with Stanislav Zhuk's students Vodorezova and Fadeev, who could do more than the others. It was considered that if Elena or Alexandr do the element, it means that you can teach the others as well.
- You have been working in the ice show on the 1st channel for 3 years now. Will it continue next year?
- So far they plan 8 episodes more. I'll admit: I am proud to host that show. I think on our TV it's one of the best shows. It's not just entertainment, It's an artistic, educational great show, that doesn't happen much. I'm happy I can be part of that project.
I like alot the way Alexandr Faifman - the producer of the show works. He is a man who knows everything - you can ask him any question and he'd know the answer. With this knowledge - deep and true he influences everyone around - Ilya Averbukh, Alexand Zhulin, all the skaters. They also gain alot from working with the artists - an educated people from a very different background.
It's very serious for both - after all people are coming without knowing how to skate at all. They learn, overcome hardship. The programme has the highest rating, the whole country watches it. I receive thousands of thank you letters. After the military show the 2WW fighters came to the studio. Don't they deserve a respect? Didn't Muslim Magomaev, for whom we dedicated an episode? Don't the sportsmen, choreographers gain from the show? Don't the public who watches it learns how to understand art?
- Is it possible to combine the best of the show with the sport?
- Zhulin does. This season he is working with a french dance team Pechalat/Bourzat and, I think, their FD is interesting and like nothing else.
- It is a bit shame, that Zhulin is much more involved in the show than in the sport. Do you consider it normal?
- I'll ask you the opposite question: Is it possible to live on the Russian coach salary? With the money I receive from the federation - it's not. I'm very grateful for the Russian Federation that they let me work with the team, but am also grateful for the TV channel and Anna Dmitrieva in person that at those hard times when I came back from the USA to Russia and was not needed here I was given a chance to comment competitions, talk. It was very important for me. Even now, if you wake me in the middle of the night and ask for help I'll do all I can.
2009