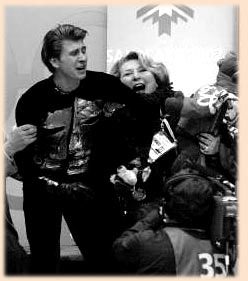 Photo© Alex Wilf
Tatiana Tarasova
On February 13th The Khodynka Sports Palace will host an amazing ice show: the world's best figure skaters come to Russia to celebrate the 60th anniversary of the great coach Tatiana Anatolyevna Tarasova.
Tarasova coached her students to seven Olympic gold medals, and the first medals were won by Rodnina and Zaytsev in 1976 before Tarasova turned thirty.
Alexey Yagudin's Olympic gold in Salt Lake City was the last Olympic milestone of the great coach. It was also a summary of some sort: during thirty years, Tarasova's students won 66 World, Olympic and European medals, including 41 golds.
There is no end of things you can say about Tarasova the coach. However, as I was preparing to write the article, someone who was shaken by his own, although very fleeting, contact with Tarasova, said to me, «Don't write about sports. Write about her outside of the skating rink. You've known her for 15 years, haven't you?»
1990
Coaching is a 24-hr a day job. When I first met Tarasova while interning with Sovetski Sport (NN - the official sports newspaper in USSR times), the word on the street was that her eligible coaching days are over. During late eighties, after Bestemianova&Bukin won Olympic gold in Calgary, Tarasova left amateur skating and founded the All Stars skating show. They toured in the U.S. In 1990, several show skaters decided to stay in the U.S. and disappeared from the hotel during their last night before departure. Naturally, Sovetski Sport wanted me to investigate via a telephone conversation with Tarasova.
Our talk turned out to be quite amiable, and it immediately made me think that interviewing great people is a piece of cake.
After some time, when Tarasova was in Moscow again, I quite insolently invited myself, without editorial assignments of any kind, to visit her in her apartment in a prestigious building near Sokol metro station (NN - Sokol is a neighborhood in NW Moscow that had many «good buildings» inhabited by artists, writers, top military, composers, etc. - built by their trade unions or similar specifically for these communities.) I had a secret ambition to write a long, kick-ass article that would win attention of my colleagues who clearly underestimated my abilities.
The hostess looked regal and tired. She sat me down at a massive redwood table in her living room full of crystal displays and gleaming furniture. I turned the tape recorder on.
«Aren't you bored doing what you're doing?» - I started with a bang. - «Compared to big sports, your theatre is just a second-rate nonsense of has-been stars»...
If Tarasova was offended or shocked by my insolence, she didn't show it. She looked up at me with her heavy eyes.
«Have you seen any of our shows?»
«Not yet, - I said, - but...»
Tarasova raised her hand, studded with rings and bracelets, pointed toward the door, and without changing face, said in a well-trained voice:
«Out!»
I stumbled down from the fifth floor (waiting for an elevator under the look of wrath in her eyes was out of the question). This little word haunted me in my nightmares and at all my editorial meetings. I comforted myself by making a promise to never approach Tarasova again. Luckily, I reasoned, she's done with sports. I was wrong. THree years later we ran into each in Sokolniki skating rink.
1993
I didnt' recognize her. She lost seventy pounds, changed her style, her makeup. Only her manner still reminded me of something...
Red in the face, I skipped toward the staircase, and started tiptoeing toward the exit. Still, I understood that's not the way to go. Perhaps that was my chance.
At that same moment, Tarasova came out.
- Tatiana Anatolyevna, - I said..
She looked at me expectingly, without a word.
- Do you remember our unfortunate interview three years ago?
- I do.
- Please give me another chance.
Tarasova waited for a bit and eyed me. Finally, she said: «Come to Kristall rink tomorrow by 10 am. I am rehearsing with my theatre».
It was the following morning when I saw the real expression of Tarasova's favorite catchphrase, «working till your aorta bursts». It helped that I grew up in a coaching family where results were key, and where kids and students were always taught there were no little things in big sports. Although when I came to the rink, wearing light street clothes, I didn't expect that Tarasova would give me a quick once-over, and switching to a more familiar form of address, would say to me. «Come here! Put some clothes on, hurry up! You'll freeze otherwise». That she would shove at me a spare pair of longjohns, snowboots, an extra sweater and a hat.
It wasn't caring in a familiar sense of the word. More likely, it was a practical thing to do, to avoid anything that can take away attention and time from the rehearsal before it begins. Such as a sight of someone freezing to death in the bleachers.
It was then when I began to learn from her about work ethic. I understood once and forever, that someone's work, whether you like it or not, deserves no less respect than your own. «Respect» is also a stock word in TArasova's vocabulary, who has an amazing talent to recognize somebody else's success and appreciate its merits.
She surprised me. By the time we met, I already heard that while she was coaching Moiseeva and Minenkov, the relationship between Tarasova and her former coach Elena Chaikovskaya was not smooth. Sometimes they had quarrels that could make people enemies for life. And I was shaken again, when Tarasova said, «we can have all kinds of differences. But Lena is my teacher. And teachers must be respected for lifetime».
At the time, I was desperately afraid that even brief episodes of closeness with Tarasova will sooner or later create tremendous problems in my work. That the time will surely come when her opinions (on ice) and mine (in print) will diverge, and we will break up forever. And I already had similar experiences with other coaches. I don't know if she would remember, but after reading a fairly unpleasant article of mine, she told me suddenly, «you have a full right to evaluate my work as you see fit. That's your job».
I am still grateful to Tarasova for saying that
1997
My first time of seeing Tarasova immersed in home life was in Marlborough, where she trained Ilia Kulik before hte Olympics. Klimova and Ponomarenko were rooming with her, friends came over from NYC all the time, the family of another great coach Ed Pliner lived nearby, and Kulik came over for meals three times a day from his house across the street. Everyone took turns cooking and cleaning. Tarasova's all-consuming caring of Kulik who was at the center of her world at the time went surprisingly well along with her will of steel toward anything related to work and schedule. One evening I started interviewing Kulik and we went at it for an hour and a half. In the middle of the conversation, Tarasova burst in, «you said you only need 30 minutes! Ilia, go to bed immediately! Immediately!»
The next day I tried to avoid her. I think Kulik felt the same way. He was unusually quiet, cooperative and ate next to nothing at dinner as he sneaked off to have his rest. The next day, Tarasova went to NYC for a TV interview. She called me at 1 a.m. «Sorry for calling so late but I know you never go to bed before 2 am. Ilushka didn't eat his soup today. Be a love, defrost some chicken from the fridge, we'll make some chicken broth for him».
That brief visit became another lesson for me. Help if you can. But mostly, don't interrupt, don't create any problems. Because their time at the path to the summit is scheduled down to the minute.
Five years later, I found myself at another Tarasova house in Simsbury. The skaters were different, but the air was full of the same kind of caring, and all kinds of information was absorbed without even noticing.
«Add a raw tomato to your broth in addition to the onion. The tomato will absorb all elements of the meat we don't need. We'll make some fish by sauteing in olive oil and a bit of lemon juice for five minutes. Vitalik! Stop pushing your food around. If I had the time, I would tell you in full detail why you need this exact type of food to practice well. But I don't. So be so good as to take my word for it, eat your food quickly, and go to bed».
For a while, I couldn't understand why so many of her students break off all ties as soon as the work is over despite the overwhelming care by the coach who is trying to predict every step and satisfy every whimsy. Although that's probably not surprising. Round-the-clock supervision and the need to meet the impossibly high standards every minute can be tiring more than the most difficult of practices.
Sometimes, though, the opposite happens. People who are used to the feeling of the favorites, the only ones, couldn't understand why the coach would lose all interest once the results are accomplished. That happened a lot, both in sports and ice shows. However, when I tried to delicately broach the subject (I though so, anyway), Tarasova understood me at once, and interrupted me brusquely, «I am no nanny! I give them a profession for a lifetime. I try to teach them what I know. Their life afterwards is up to them!»
2007
Four years after Yadugin's triumph in SLC were not the most fortunate. Sasha Cohen left her in 2003. A year later, a mere two months before Torino, she stopped working with Arakawa. From the outside, everything appeared light-hearted and civilized. But when Arakawa won her gold in Torino and came over to thank Tarasova surrounded by a bevy of Japan's sports officials, the coach gave sincere congratulations to her former student, and said to me with a bitter note in her voice:
«I couldn't work with her any longer. I guess I ran out of patience. And you can't coach without patience. You won't have results. I guess that's my payment for all my former success. It's so painful».
I always thought the job of Russian figure skating team consultant was meant to be a consolation prize to Tarasova for all her former successes. It didn't really imply any work. However, even before Torino Tarasova threw herself into work. I never heard as much gratitude toward her from all kinds of people during all the time she had students of her own. Alexander Zhulid said:
«I asked her for help, and honestly, I was amazed. It took her very few practices to give the guys so much soul, so much strength, that I didn't really believe it was possible. Tatiana is a great coach. She's a genuis».
...I saw it proven many times that Tarasova's persona leaves a very strong impression on people, even when the interaction is brief. She causes too strong an emotion in people. I am no exception. Sometimes I love her work, sometimes I don't, sometimes I am indifferent. But whatever conflicts we may have in the future, it will never change the way I feel about her. And it will never take away my tremendous gratitude for the chance to keep learning - by simply watching her.
2007