Tatiana Tarasova: «I'M RETURNING TO MOSCOW»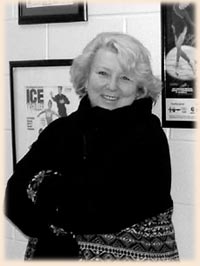 Photo© Elena Vaitsekhovskaya
Tatiana Tarasova in Simsbury
In a month, on September, 22, traditional Russian test skates will be held in Odintsovo, where public will see programs for the new season. One more memorable event is dated for this time – famous Russian coach Tatiana Tarasova who has worked with her students for many years in the US is returning to Russia for good.
The future move has caused many rumours. For instance, there were assumptions that the directors of the Simsbury rink decided to invite some other coach for Tarasova's place and she was asked to leave both the rink and the lodgment she occupies. Sport-Express correspondent Elena Vaitsehovskaya has called Tarasova in the US to clear up the situation.
- I've decided long ago that the Olympics in Turin will be my last ones. And I have informed all my students in good time that I'm terminating my work in the US in autumn and returning to Moscow. My family and my friends know about it, - Tarasova said, - Of course, I have informed Simsbury rink management in advance as well. It made no sense to stay longer. Most of the competitions my student will participate in are held in Europe. It's more convenient for me to fly from Moscow both to competitions and to Japan to Shizuka Arakawa.
The lease agreement for the house is expiring in October. And I've been preparing to move for a few months already. I've signed a contract with a company that ships things to Russia. Almost everything is packed.
- I remember, you talked about returning to Russia already after Salt Lake City Games.
- That's true. I've lived in the US for a rather long time. I prepared in that country Olympic Champions - Ilya Kulik, Oksana Gritchuk – Evgeny Platov, Lesha Yagudin. I was sure I would return as soon as Yagudin retires. I stayed there kind of by chance, but I don't regret it at all. Otherwise I wouldn't have had the opportunity to work with such outstanding athletes as Sasha Cohen, Arakawa, Johnny Weir. This year Michelle Kwan approached me. I believe it's God's gift to be able to work this such people, to choreograph routines for them. It was all very interesting, yet everything has its end.
- Maybe you shouldn't be so positive? Who knows what life will be?
- This time it's the final decision. My mom is 87, I want to be close to her, to live in Moscow. I've always wanted it, I just couldn't combine this wish with facilities for normal work – I didn't have a rink.
- They say, Arakawa was going to move to the US to prepare for Turin Olympics. So now these plans are ruined?
- No. Shizuka came to the US in April and rented an apartment for half a year, till October. She was aware that I was going to leave earlier but generally apartments are not rented for a shorter term. Anyway it was much cheaper than staying at a hotel.
All her preparation for the season went very well, routines are ready. This week representatives of the Japanese Figure skating federation are coming to Simsbury together with the judges – to evaluate our work. This country carefully monitors its athletes.
- Why have you split with Evgeny Platov?
- His lodgment leasing agreement expired and it made no sense to prolong it. I told him I was going to stay in Simsbury only till autumn and everyone who works with me had to decide what to do next. Platov has his own house in New Jersey. When he was working with me in Simsbury he had to sacrifice something. Just like Galya and Sergej (Israeli Ice dancers Galit Chait – Sergej Sahnovsky – E.V.). They all lived in very small and inconvenient apartments. Besides, Galya ans Sergej said they wanted to move too. Galya couldn't stay in Simsbury any longer for some family reasons.
- Did you know that Chait/Sahnovsky were going to train with Zhulin?
- Of course. I went to Zhulin myself and saw how they were working. Together we discussed the music, choreographed routines, made changes in them. Sasha started, and I completed, and vice versa. Before that, in Simsbury, I was assisting to make programs for the second Israeli pair coached by Platov. So we have done a good job this summer.
That being said, I concentrated on my work with singles skaters. In the beginning of the summer Timothy Goeble asked us to work with him. He arrived with his coach and stayed for a rather long time. Johnny Weir stayed for the whole summer, also with his coach, Priscilla Hill. Besides Hill has brought to Simsbury one of her students, a skater who now competes in Juniors, and asked me to work with her.
- How was organized your work with Michelle Kwan? Did you go to Lake-Arrowhead to coach her?
- To Los-Angeles, to the new rink called «Michelle Kwan's Home». Its atmosphere is amazing. Kwan's parents work at this rink, as well as her sister with her husband – he's a rather well know in the US pair skating coach. I went to Los Angeles with Andrej Gryazev and while I was working with Kwan, Andrej was skating in the mountains, in lake Arrowhead, where Kwan's main coach, Rafik Arutyunyan, stayed. For two weeks Andrej skated with him on the same ice with Jeffrey Buttle. I guess it was a good school for him.
- When Nikolai Morozov while working with you and Sasha Cohen choreographed the long program for Kwan you openly expressed your disapproval. Yet now it seems to be a common practice. You choreograph for Arakawa and Kwan, Weir and Goeble. Morozov works with Brian Joubert and Evgeny Plushenko. Aren't the athletes jealous?
- I do my best for everyone who approaches me. And I guess no one can say that I worked with someone worse than with somebody else. Yet I can't give my life to one. None of them is Lesha Yagudin. Though Kwan is Kwan. One can't say no to her.
- What do you mean?
- It's not even because she's 9-time US Champion and 5-time World Champion. Working with her shocked me. She can do quite a lot. It stands high when such a renowned athlete asks to help her, to find some new way, especially for her last performance…
- And it will be Kwan's last performance?
- She's such an unpredictable athlete that I won't be very surprised if she stays eligible after Turin and will be preparing for her fourth Olympics. Anyway, this season is extremely important for Kwan. And I couldn't say no to her.
I understand Kolya Morozov and I'm happy that his dream came true. He has always dreamed to work with Plushenko. Talanted people (and Morozov is both a talented person and a strong coach) must be in demand.
- How is your new Dance pair Olga Orlova/Vitaly Novikov doing?
- They have done tons of work for these four months. Olya is a very talented person, she's quick to grasp. Vitalik works like never before. They perform Level 4 elements. I'm sure this pair can be not only a breakthrough but the flower of our team in the coming years. On the test skates in September will show all the routines and I'd like the federation to think who can coach this pair.
- It means you are seriously going to retire from coaching?
- I have positively decided for myself that I don't want to spend 8 hours a day on the rink anymore, like I did for all previous 38 years. That's a work for younger people. I'd like to be only a consultant. To work with kids. I'll be leaving only if I'm asked to help with choreographing routines.
I don't know yet how all this will be organized. Though I don't deny I always enjoyed working with Lena Vodorezova at CSKA rink, where Gryazev was skating when we were in Moscow. I enjoyed helping children who skated there. There's a really good school in CSKA, a wonderful atmosphere. Like in a family.
Maybe I'll have my own rink in Russia in time. In this case maybe I could invite coaches and work with them.
- And in case there won't be a rink?
- Then I'll sit at home writing a book.
2005