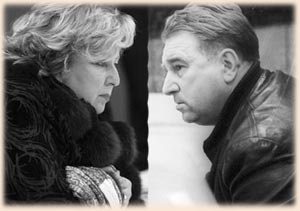 Photo© Alex Wilf and Oleg Neelov
Tatiana Tarasova and Anatoly Tarasov
Every time I talk to Tatiana Tarasova at her home, I find it hard to concentrate on our conversation. As usual, Tarasova talks about her skaters with great enthusiasm, and I'm looking at her father's pictures and think about the same: if he would be alive, he would probably be proud of his daughter (Anatoly Tarasov would've turned 85 on December 10th). With every year, the answer to the question "What kind of coach Tarasov was?" is becoming more definitive in Tarasova's nature.
We met again after the Cup of Russia. Even though it was late, Tarasova's mom Nina Grigorievna and her older sister Galina were in the apartment also. (Tatiana Anatolievna was flying to America next day). I was waiting for the coach to finish the conversation on the phone and I asked her mom :
- Nina Grigorievna, what was harder for you – Anatoly Vladimirovich managing the hockey team or Tanya becoming a coach?
- My husband was very confident. He would stop by to change before the competition, and I would walk him out and say the traditional [Russian expression equal to «Break a Leg»]. He would always say, «Thanks». He wasn't superstitious at all, never showed that he was upset, that he has any doubts. Who can he show it to, us, women? Tanya is another story…
...When I asked American journalist and analyst Bob Edelman about Tarasova at Nagano 's games, he only said, «Blood Line».
Blood Line means heritage. All of his life, great Anatoly Tarasov was surrounded by admiration and success, as well as by jealousy on the border of hate. Who knew his younger daughter will have the same fate?
Counting the titles, Tarasova beat her father long time ago. Alexei Yagudin's win in SLC became her seventh Olympic gold as a coach, and 41st gold medal if you count all Olympic, Worlds, and Europeans wins by her students. As soon as I referred to her as the «great coach», Tarasova interrupted and said:
- My dad was great. I am well known. The more I live overseas, the more I realize that Tarasov is the only name that became a legend in the USA and the world, and not only in hockey.
(Once, Tatiana said, «Even now when he is dead, there is still jealousy». We were talking about the CSKA and how at the club's Sport Fame Alley there is still no sculpture of famous coach whose life was always connected with army's hockey. «Do you know why he is not there? Because my father didn't have Lenin's Order. Imagine: CSKA Fame Alley without Tarasov. It's nonsense»).
- The way many sports managers treated your father and the way they treat you now at times – is that a price of success?
- Probably. It's jealousy. People love something they participate in. My father was always on his own. I'm like that too. Nobody helped me, I never asked anyone for anything. Just like my dad. He did his thing. He didn't ask anyone how he should behave, who to put in the squad, who to take out, how to work, and how much work he should do. People like that are scary because they are unpredictable and unmanageable.
Several years ago, I thought at some moment that it became unfashionable to train with me because the management doesn't like me. It even looked like I was starting to suffer because of that. I don't suffer now. Maybe when I have a headache sometimes or high blood sugar, or when someone in the family is sick, but not because of little things. Everybody have to do their own thing, I am doing mine.
- Is your training system a result of your own experience?
- There is so much experience now, both my own and others', that we don't have to re-invent the wheel. When I was starting to work in the Soviet team, for many years I was leading the off-ice training camp. I don't remember why it was me who did that, I probably volunteered. It was very interesting for me. Irina Moiseeva and Andrei Minenkov trained with me. They were very beautiful and they were weak. When Ira had to jump on the bench, she would hit it with her foot and fall face down. I had to figure out how to make her strong because she wouldn't be able to show off her beauty, and I'm not even talking about the elements.
My dad was very much into strength and speed training. When he was working on his system, a lot of things were a discovery. When his hockey team was at the pre-season camp at Kudepst, it seemed that none of the tourists ever went to the beach. Everyone would come to my dad's practices on the stairwell. There was that huge stairwell and the entire hockey team was jumping on it like. Each jumper had another person sitting on his shoulders. My dad's guys were juggling the weight better then the circus actors.
- Did you visit your dad's practices often?
- I didn't work for the CSKA. When I became a coach, I went to a completely different rink. It seemed impossible to me to work at the same place with my dad. I thought my being in the same club would create problems for him and that if I won't get results he would be embarrassed.
- Did you ever ask his advice at home?
- Our family wasn't accustomed to asking my dad any questions or bother him. All his time were scheduled not for me. Honestly, I never thought of asking him. I was starting as a coach and that meant I could only watch silently and make my own conclusions.
He was creating his exercises, and I was creating mine. All our life always started in the summer, with the off-ice training. In September, there was a required off-ice test. By the way, I've never seen someone who is running the best and jumping the highest to be the worst on ice, both in skating and hockey.
- So, the hockey and skating practices are similar at the preparation level?
- Just like in any sport. There is one goal – to prepare a person so he would be able to survive the season while remaining well conditioned.
- When you watch other sports, would you be able to notice when an athlete or a team lack functional preparation?
- Of course. How is that possible for a professional coach not to see that? It took my father one time to see Moiseeva and Minenkov practice and immediately say that Andrei dismounts Irina from the lift badly because his upper shoulders are not developed.
Take soccer for example. When I was young, I was at the stadium when our neighbor, uncle Grisha Fedotov played. Then I watched his son, Vovka, play - we were childhood friends. Now I rarely see any games, but what immediately jumps out is that for our players to make it until the final whistle is a heroic act. Looks at the Italians – they don't suffer, they run playfully. You can see they are not tired and they are pulse is not off the scale at 200. They have a different step. They run like elks – almost not touching ground. How do they do it? Maybe they have some training secrets; maybe there is different selection. This is very interesting!
- Is that a required condition for you to have an off-ice coach in your team?
- I always worked with the team. When you spend 16-18 hours a day with your student, one on one, he just gets tired of listening, and the coaches words lose any value. That's why I almost always had a choreographer even though I always loved choreographing the program. As for off-ice training, in Soviet times I loved to work with late Viktor Kobelev. He organized my knowledge very strongly. I learned a lot from Leonid Rajcin who helped me work with Ilia Kulik and Lesha Yagudin. He couldn't come this year, as he wasn't given an American visa.
That's why I invited Boris Drapkin to join me in the USA . He worked with Soviet speed skating team for many years, studied speed and strength training, and later he moved to Israel . We had great time working together. He didn't leave any of my practice sessions; I never left when he worked with the guys. Later, we would discuss everything.
I love working with professionals. I especially love summer training when I see my skaters getting stronger every day and I know that in September they will be ready for any pressure on ice.
It a simple principle to get a result: to do everything you can in four minutes at the Olympics, you have to diligently spent four years...
...Right before SLC Olympics, I talked to famous skating coach Valentin Nikolaev. When we were talking about men's event were everyone predicted Evgeni Plushenko as a winner, I asked him what he thought of Tarasova. He said, «Tatiana is a very strong person, a natural-born leader. And she is lucky, but again, the strongest are lucky. I, for example, don't know the hockey inner workings. I am convinced that Arkady Chernyshev was the intellectual side of Soviet hockey, and Anatoly Tarasov was the willpower side. I don't know why, but that the impression I had: put the team together, and kill everyone. If it's true, all you have to remember is like father, like daughter. They even look alike».
All Tarasova's skaters who I met in the last ten years, kept saying, «When Tatiana is standing by the boards, you feel like you are protected by a stone wall that sends you an unbreakable confidence».
When I asked her «Where do you get it from?» Tarasova said:
- This confidence is not from me, it's their own. Of course, I am confident about them because by the time the main event starts, we did so much work… I am all shaking – who knows what can happen – but the result starts at the practice. I always believed that if you take the ice, you have to do all you can. Whatever happens later happens, but you have to do everything.
- Do you make any effort to hide it from the students so they won't know you are worried too?
- Of course, I take bunch of pills to calm down. When Lesha Yagudin skated, he felt how much I worry about him. That's why before the competition he won't even look at me. We didn't even talk at practices.
- At all?
- You don't have to say anything, but you've got eyes, hands, blade covers, tissues, water… You should have it with you and you should know when and what to give to the skater, when to hold him by the board, if you feel it's needed, and when to send him skating.
I always need to say some words to Sasha Cohen. When she is announced, she turns to me, her huge eyes are in front of mine, and I say a phrase that sometimes I prepare for several day. I always say it in Russian.
I often ask her, «You probably don't understand me». She says, «No, I understand you». I don't think she understand 100% but maybe it's for the best. Sometimes I'm nervous and can say something…
- Cohen is the highest-level lady in your career. What did you learn working with her?
- I've never met anyone who would so fanatically and at the same time happily and smartly torture herself at practice. Sasha's pressure is equal to men's. I train her like I trained Kulik and Yagudin. I didn't think she could work like that.
Sasha stretches for half an hour, minimum, after each practice. She does many special exercises so, with her flexibility, her back wouldn't hurt. She realizes very well that she has to take care of her muscles to prevent injuries.
Of course, I want that girl to win. This fall, she defeated Michelle Kwan for the first time, in Madison Square Garden in NY, and I waited for the moment, waited for Sasha to skate the day after. The skaters get the wings after the victory like that. They get the confidence they would never get from the practice. I'll never forget Kulik's first quad salchow – the day after the Russian Nationals that we won before the Olympics and worked so hard for it.
When I saw Sasha fly across the ice, I caught myself standing by the board and smiling very wide. And suddenly I felt Lesha Yagudin looking at me with understanding and jealousy at the same time, «That's it, she fell in love»...
...I was listening to Tarasova, and only one question was on the tip of my tongue – what would her father say as he wouldn't ever imagine working for some other country? Would he be understanding and supporting?
It was like she felt that and she stopped talking. Then Tarasova started again:
- Once, when I was 30, I was sent on a business trip to Italy , to work for food – for the 30% of daily fee. The club's director was a millionaire who owned a huge chain of jewelry stores, spread out in Europe . By the way, we are still friends. He built the rink for his daughter. He visited practices all the time, he saw me working 10 hours a day choreographing programs for everyone, he saw my discipline. He made me an unexpected offer: «Stay here, the rink will be yours, 12-room house too. I'm sure the students from all over the world will come to train with you».
I got so scared, I was ready to pack and leave immediately. I couldn't even think of bringing shame to my family by staying abroad. I said something about loving my country very much. He didn't understand, «It's not like someone won't allow you to keep loving your country». I honestly admitted, «You see, my dad is there. If I stay, he will be kicked out of the army and put in jail. And he will have to condemn me. It's impossible».
My dad had offers from the NHL, the Rangers. The contract was for 3 millions dollars. It's like ten millions now. He didn't work then, he wasn't invited anywhere, he wasn't on TV. He only learned about a letter from NHL a year and a half after it was received by the Sports Committee that sent an answer to Americans – Tarasov is very sick and can't walk.
When he was really sick, he asked me, «Daughter, why wouldn't you tell me to go there?». I didn't know what to say, «Dad, did you ever asked?»
- Do you think he could've worked there?
- I think about something else. If he went, he wouldn't die like that – the doctors wouldn't lethally infect him. Maybe he would be still driving and coaching Russian boys there. Who knew everything would change so fast.
I am often asked why I don't work in Russia . I can't explain to everyone that I don't own an oil dwell. I go to the ice on my own feet, fat and sick, and work.
When I trained Yagudin for the Olympics, I received a stipend from Sports Committee – six thousand rubles a month (about $200). My sister recently when to social services office and she was told that my pensions would be a little more than three thousand rubles. This year, just the costumes for Sveta Kulikova and Vitaly Novikov cost $8,000. My friend Valya Stroyakovsky paid for them, and for Griazev's costumes too. By the way, Sveta and Vitaly were recently put on salary - $30 a month each.
Our skaters have hard life in America . On top of practicing, they all work for $5-10 an hour. Some work at McDonalds when they don't have a chance to work on ice. To make normal money, you need a work visa that costs $2,500. You need a car, an insurance that almost no one can get.
Americans help us a lot. For example, there is that woman, a physical therapist who is skating at our rink regularly. She does all the procedures for my skaters for free, but G-d forbid something serious happens…
- Do you ever think you don't have a right to lose?
- Not about «I don't have the right». When you won so many Olympic golds for so many years, you are very highly motivated. It's hard to live with high motivation because the only place that exists for you is the first. This is a constant stress.
I have to work a lot psychologically on myself. I convinced myself that I can't live like that.
- Did you succeed?
- At least now, I enjoy my profession a lot. I tried to get the best out of my skaters. I think what I do, I do it right. Why am I lucky? I don't know. Maybe because I was baptized at Olympics?
- Where was that?
- In Albertville , right in the Olympic Village. The Russian priest was the first person I met there. Suddenly he says, «Tatiana Anatolievna, I'm a big fan of yours». I asked him, «Father, pray for us. My skaters are the best, but they have no chance to win because we are in France and the rivals are French».
- He asked if I was baptized. How could I be baptized if my dad was a convinced atheist and a member of the party? Then I said, «If my skaters win, I will get baptized».
He came at 10 o'clock in the morning the day after Klimova and Ponomarenko became champions. And he took me to the baptism. There were tons of people there…
- What did you think about at that moment?
- That there is G-d. Klimova/Ponomarenko's win was almost unreal but it was fair. I love where everything is fair. I can't understand why Yagudin wasn't awarded an Order for his victory in SLC. Is that only because those who put the names on the award lists don't like me? Forget about me, but Yagudin, whose victory, I'm sure, will be remembered for many years… Would someone in Russia be less happy, if this guy, in his star hour, would receive the Order from the country that he brought the fame into? You can't imagine what was happening in Canada during his farewell to eligible competition. People were kneeling, people were crying so loud, your hair would stand...
...Another pause, Tarasova got a phone call, her husband had to call from Hanover, and she left the room.
Her sister Galina sighs, «It's hard for her. Mom and I try not to ask her any question when Tanya comes to Moscow for a brief visit. We don't want to bother her with out problems. Her head is preoccupied with her athletes, just like our dad's. Mom gets upset sometimes - Tanya comes over and starts to teach everyone. This is subconscious – it's her professions.
I worked in school all my life, but it's different. You get results from the children with love and tenderness. It doesn't work that way in sport. Only G-d knows what it costs to prepare the person to be the best in the World. When her skaters compete, we turn the TV on not to watch figure skating, but so we could see how Tanya is doing, how is her condition…
Sometimes we'll talk – maybe it's enough? So what, one more Olympics, one more competition. On the other hand, what would she do if she won't have it anymore? For her, this job is her life, just like it was for our father».
... - How does your work and your lifestyle affects your family?
- I don't know. I think they are happy because I'm doing what I love even though my mom, Galya, and my husband are concerned about me. But what can I do? This is the profession…
2003