Alexander Svinin, Irina Zhuk:
«IF YOU HAVE «RUSSIA» WRITTEN ON YOUR BACK,
YOU HAVE TO LOOK DESERVING»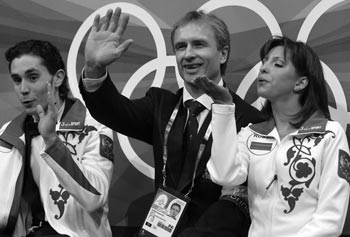 Photo© Alex Wilf
Sergei Novitski, Alexander Svinin and Jana Khokhlova
Almost nobody took Jana Khokhlova and Sergei Novitski seriously before they made the national team a year ago. The thoughts were that they are not tall enough, noticeable enough, and their coaches Alexander Svinin and Irina Zhuk aren't experienced enough. However, they were the skaters who've made the noise. It was not even about making top ten at the Europeans and finishing 12th at the Olympics in the first attempt. It was about how they did it - easily, and I would even say boldly. Not only the fresh newcomers weren't afraid to take almost sacred Bolero as a free dance, they managed to prove the theory wrong - that modern rules hurt the individuality by demanding the standard set of elements. Moscow's team individuality almost became the biggest discussion subject in the skating circles.
Immediately, there was a parallel - Olga Volozhinskaya and Alexander Svinin took the ice dance elite by storm just like that. They were fifth at their first Worlds and won silver in 1983 at the Europeans. Their career wasn't long. Alexander left the sport and skated in ice shows with Irina Zhuk and later both of them turned to coaching, and not in the US where most of the Soviet skaters went in the 90s. They were home in Russia. Three years ago, Khokhlova and Novitski joined their group. At 2006 Worlds in Calgary, Svinin admitted that he and Irina never even thought about their students making such a debut.
- Your team wasn't in the best shape in Calgary, two weeks after the bad car accident. How long did you have to take care of the aftermath?
Svinin: Sergei had to check into the hospital for the injured knee surgery. The leg was heeling for a long time, and still, we finished choreographing new programs by the summer. A week before the test skates, Sergei got injured again, twisting his right foot that carries the most pressure.
One more team joined our group this year - Ekaterina Rubleva and Ivan Shefer. They got assigned to two Grand Prix events in the US and Russia, and that was great. It's not easy to make it to the list if skaters' rating is not high enough. Late summer, Ivan also was in the hospital, with appendicitis. Naturally, it broke all the plans since doctors forbid to force any pressure, lifting his partner in particular.
We were so upset with all that, we even went to church to light the candle. It's especially upsetting because we have much better working conditions than the last year. It's probably not very nice to be happy that Spartak hockey team broke up, but skaters immediately got more ice time. Svetlana Lyubushina, who is the Sokolniki skating school director, does everything possible for us. She values the work of the coaches and worries for the skaters. She tries to get the children school to the level that was there before Natalia Dubova went to the US.
- I always wanted to ask why Irina and you didn't stay in the West after you were done skating, like many other skaters did then?
Svinin: We probably spent too much time on the road. I wanted own a cozy home and we never had a real chance for that in more than ten years that Ira and I skated together. This wish was stronger than the fear of not finding a job. It's not easy in America too. Many of our friends were earning money there by delivering pizza at the beginning. It was easier for Ira and me because we were together, even thought at times we were close to dropping everything and leaving. We couldn't get the ice for the long time, we had to endlessly go from office to office where we would be heard and told that we were great because we try to raise the Russian sport, but nothing would change.
- What made you to stop skating? Wasn't it hard to decline the money that were falling in your hands?
Svinin: It was. We lived in England for a long time, toured a lot and really were paid well. When Tatiana Tarasova Theater broke up, and Ira and I still sincerely regret it because we never saw such a professional company anywhere, we accepted the offer from British manager Tony Merser out of desperation. We continued to skate with his company.
Zhuk: I was the one who made the decision to leave. I think Shura was ready to stay on ice till his was 70. It seemed impossible to me to move his conscience to the coaching side.
Svinin: So I learned a lot, like doing pair elements that you won't see in competition. Little «theatrical» stage makes you think constantly. This was useful in coaching. Naturally, when I skated, I didn't think about it.
Zhuk: I didn't suspect I would independently choreograph for anyone. When I competed, I trained with Tarasova and Tatiana always took care of our choreography. It was the same in theater. Choreography is difficult. I still can't explain where it comes form. Something snaps in your head and you get the idea. Just like when we were skating in the show, it snapped - we had to return to Russia. Shura warned me right away, «Be ready, it'll be a lot of work, and little money».
- How did you survive?
Svinin: We worked in the show for a long time so we had savings, but they were going fast. My salary was 1,500 rubles. Ira almost weren't paid for the first two years - she worked part time. We had no ice so we had to buy it. Sport is like business - to get something, you have to invest first. I wanted to be a coach. I lived my life in skating and I didn't see a job that would be more interesting. It's hard and exhausting, but I love it.
We both knew what we wanted to achieve, so it wasn't all about the money. We got into that world and we learned how it worked. The difficulties make you stronger, and not only us, the skaters too. It's nice that none of the students left us during the most difficult times.
Zhuk: When I just started going to Russian events with the juniors, other coaches gave me the look. The relationship were getting better little by little, but I think it happens everywhere when new person joins the stuff. In addition, we came from abroad and were constantly blamed for sitting out the hardest times in England. It was impossible to explain that we were «sitting» there because there was no jobs at Russia at that time.
- Did you ever think about why not that many coaches were successful in skating for many years, like Tarasova, Chaikovskaya, Zhuk?
Svinin: All the strong skaters would go to them sooner or later. There was always a lack of rinks in Russia. You could easily count the good bases, so the figure skating was focused on two cities – Moscow and St. Petersburg. I trained with Chaikovskaya, Ira and Oleg Petrov – with Tarasova.
- Did you ever feel that you and Olga Volozhinskaya were unfairly pushed to the background?
- I tried to push away these thoughts. Maybe it was our fault for showing weakness and allowing to have us "moved." I can't say why it happened, but it was unrealistic to regain the position at that time. There were too many very good teams – Bestemianova/Bukin, Klimova/Ponomarenko, Annenko/Sretensky.
- As far as I know it didn't stop Olga and you competing for the gold with Jane Torvill and Christopher Dean as equals at the pro Worlds.
- We didn't win but Carlo Fassi who judged that event gave us the ten for the free dance, as much as Torvill and Dean got. I think we deserved it.
- Back to coaching. When Rubleva and Shefer joined your group, your skaters not only got the sparring partners, but serious rivals. Are you ready that you skaters can leave you at any time for more experienced mentor?
Zhuk: We are, even though it's impossible to prepare for that. Switching coaches is a painful subject. For example, we didn't plan to take someone, and especially the team that worked with a different coach for a long time. Sasha and I had certain principles about it, but when the skaters come to you, it's hard to refuse. If they want to leave, they'll go to someone else anyway. On the other hand, the former coaches job has to be valued - money, awards….
- How did Khokhlova and Novitski took the news?
Zhuk: We talked to Jana and Sergei in advance and prepared them. Naturally, they weren't excited. From the work point of view, the sparring is always beneficial. We just have to preserve the good environment in the group and not put the skaters against each other. Despite the rivalry, they should support each other, not put the needles in the boots.
- Do you remember that happening?
Zhuk: There was an accident when someone cut a band of Natasha Annenko's dress in the locker room. Good thing the band tore at the warm-up, and not in the competition. Sometimes, the laces would get cut or the blades «sharpened» against the heater. It doesn't look like it's happening now, but I've noticed that all skaters constantly carry the skates and costume with them even at junior events, not letting them out of their hands.
- Recently, Artur Dmitriev told me that current generation of skaters is not trying as hard to get into the big sport. Did you notice that?
Zhuk: Not in our group, maybe because we are fired up with work. Of course, we realize that "patriotism" is not what it used to be in our time, but we teach this too – if you have «Russia» written on your back, you have to look deserving.
- Who takes care of your pairs' looks?
Zhuk: Everyone does a little. We have to teach them everything – how to hold the posture, how to look at your partner. We have good choreographer working with us – Viacheslav Krichmarev. He used to perform in Russian Camerny Ballet, and Imperial Russian Ballet of Maia Pliseckaya. He does yoga, stretching and classical choreography with the skaters. We pay for these classes out of our own pocket but at least we see the result and know what we are paying for.
We teach them what they can save on and what they couldn't. Maybe it's easier for us because we went through a good school. I'll never forget how Tarasova would send us to get the haircuts from famous Farber in St. Petersburg. The skater's salary was 120 rubles a month then, and a haircut by Farber was 50. It was Tarasova who taught us constantly look after being presentable.
Children are very observant. We come to the locker room and they look at how we style our hair and how we dress. I see how boys start copying Shura. By the way, it was difficult at first with Jana and Sergei. They didn't react to fashion at all and it was pretty hard to explain that good costume and well-fitting hairstyle sometimes mean a lot.
- Khoklova and Novitski set a pretty high bar for themselves last season. What can we expect now?
Svinin: We took a risk last year, putting all effort into making it to the Olympics. We skated the program to the maximum even though nobody realized why we are trying to do the elements that are remembered because they are original but don't bring extra points. We didn't go to Torino to win so we could afford it. Now, we picked Aranjues for the free dance – a very strong music too. Most teams have the one-type pretty slow Argentinean tango as a free dance. Khoklova and Novitski has a crazy tempo in theirs. Even sound engineer who cut the music told us that, but they can take it. It makes no sense to fight they judging system that is in place. You have to try to use it and squeeze the most out of it. So, we are taking the risk again.
- Are you happy or said that your skaters will start the season at the same Grand Prix event as Oksana Domnina and Maxim Shabalin?
Svinin: We don't have a goal to defeat Russian team # 1 yet. We just have to simply show everything we can do.
Zhuk: Now is that time to reserve the highest placements for ourselves. You can see even in the junior competitions that Russians are being pushed over. Everybody knows we'll try to climb up as hard as we can.
2006