Irina Slutskaya: «TOP SHAPE MEANS NOT SKATING BUT FLYING»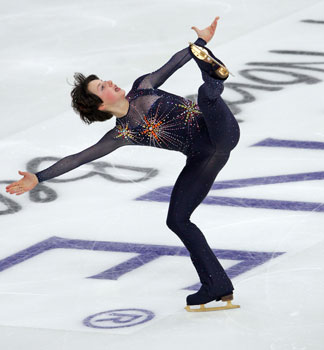 Photo© Alex Wilf
Irina Slutskaya
In the middle of September, just prior to the Russian Test Skate, the two-time world Champion, Irina Slutskaya, tried hard to avoid giving interviews. Fortunately, when I called her last week, right after Irina returned from the GP CoC, she told me «Come on over!».
- What makes you more willing now to talk to the press? Your win in China?
- I don't even know how to answer. This is the Olympic season, the most important one, but I don't feel any need to get additional publicity. Sort of don't feel like it. I felt so the strongest before first few skates. In general, I am not superstitious, but still it did not feel right to talk about programmes or work progress. Even now, my circle of people I communicate with is very limited. I feel the constant interest towards my persona coming from journalists, but don't feel the need to spark it further and to attract attention. I want the opposite, to concentrate, to look deeper inside myself.
- But you will agree, that it is hard not to show interest to an athlete who starts the season with winning over former World Champion, S. Arakawa, with a 20 points lead, and does it with no apparent struggle. When did you realize that both programmes came out successfully?
- Often you feel it immediately, as you begin to work on the programme. More objective judgment one can get when you first bring it to the public. People watch and exchange opinions. I heard no negative commentaries this year, even from those who don't exactly cheer for me.
By the way, the first one that came together was the LP. The Flamenco idea belongs to my trainer, Zhanna Fyodorovna Gromova. I love Spain. When I skated «Carmen», I was ecstatic over this programme. So I immediately felt positive about my trainer's suggestion. For the 2nd and 3rd portions of the programme (LP) we decided to use the music performed by Valery Didul', he is the most famous guitarist in Russia today. First time I heard his music used in the show of Ilya Averbuch – and exactly then fell in love with it. I tried very hard to attend Didul's concert, but couldn't since I had to perform in another city. When I returned to Moscow, I found this artist, and asked him to give me his CDs to listen to. Then all of us, me, Zhanna Gromova, Sergey Petukhov, Alexei Gorshkov – selected the music for the first section of the programme. And that's how it all came together.
I had to work extra, to learn the Flamenco basics. Petukhov told me a lot about this dance. We still work together periodically, and each time I am learning something new.
- I heard from many skaters of different generations, that the Short Programme is the most critical one during the Olympics.
- I don't agree. Both should be winning programmes, SP and LP. My SP, so to say, was born in pain. Till the very end just before the start of the season we had no ideas. Every music we would pick up, would somehow remind us of the LP, something «Spanish» or something «Flamenco». Then suddenly, my second choreographer, Stanislav Raihilson, brings me completely new disc by Maxim Mrvitca, Totentanz by F. List.
When I heard i for the first time, I said immediately that we are no longer looking and no longer listening to anything else. This piece of music had such «wild energetics» that my work started to flow. It's light on one hand, and powerful on the other. Although I did hear that Michelle Kwan selected the same piece.
- Did it upset you?
- No. Such situations happened before, when I was a junior and a senior. All is relative. What's the point of being upset, when your programme is ready, tried out in front of audience and well marked?
- Is this true what you told to the American journalists in a recent interview, that you miss Kwan?
- Why would it surprise you? I usually prefer to compete when there are many strong competitors. When they are not there, the winning is boring.
- Somehow I think that while women's figure skating is «getting younger and younger each day», you and Michelle have a lot in common in terms of age, experience….
- And that too. Life has taught me in general to relate well to people even if they are competition. The times when Kwan, no matter how she skated, was placed above other ladies, just because she is Kwan, are over. We've been on equal footing in this sport for quite sometime. We've spent so many years together, almost like relatives. Michelle is easy to get along with. With all her titles, she is not star-struck, or stuck-up, which is often the case with some other skaters. She is normal, adequate, well mannered person, who does not dump on people her bad moods or feelings. I do truly regret she did not come to China. It would be fun to compete and to chat, since there is no language barrier.
- It's still popular now days to criticize the new CoP rules. But it looks like, judging by the GP CoC results, they work for you well?
- All that is required in skating right now is not new to me. I did the same spins 4 or 5 years ago, except that back then they did not command so much attention. I used to do one-foot foot-work but just never got extra points for it. So it was not that hard to bring it all back. Another side is that the system does have its minuses. During practice I can easily do 145 rotations in 1 spin, and change 25 positions. But during competition the time is limited. The rules dictate that I must do minimum of 5 spirals, 3 seconds each in each position. So while you gain speed, while you change the position, there goes 30 seconds. And then you have to do 7 jumps and 7 spins. One single combination spin takes up 30 seconds. In China I had to make a choice to reduce 2 of my spins by 1 level each from what was planned, because I felt I was falling behind the music. And to end behind music would mean loosing even more points.
I had to understand the main issue. It is people (humans) who are working with the new system, each one has his own perception. Objectivity will always remain «relative».
- Did you expect your results in China to be so high?
- I was expecting similar even back last season. But it did not quite happen. In some cases the judges gave me lower level of difficulty, in some cases I made mistakes… I am not that worried about «record breaking» results. It's hard to make prognosis in the given system. For example, this time in China I received many additional pluses – for the quality of execution of the elements, although the selection of jumps was not the most difficult. Or take Sasha Cohen's points two years ago at Skate Canada. She received 9's for programme components, and now not one single skater will probably get such marks no mater what she does.
I got one thing clear for myself – there is no limit to self-improvement in a sport. So I work a lot, each training session is precious. Each 2nd day, after ice practice, sometimes even more often, I work with our choreographer – Margarita Evgenievna Romanenko. Besides her, I have another trainer for physical fitness, Victor Vasilievich Kozlov.
- Have you ever considered not skating in the GP Series this year, to keep your Olympic programmes out of public eye before its time?
- No. Probably because I know just too well, what it is like to come to serious competition after a long break. When I received 9th place in Dortmun, many asked why I went there at all if I knew in advance that I had no chance for a medal. That is exactly why I went. I knew if I miss a World Championship, it will be hard to stay in the sport.
- Is it not too early to be in such a top form now?
- This is not my top form. More likely it is «intermediate state». Naturally, in each competition I try to do my maximum best. But the first competition is mostly used for analysis, what to change, what to work on.
- What is in your understanding «Top Form»?
- When you don't just skate but fly. For me it is important to be happy not with what I did, but how I did it. You can skate and win and not feel any satisfaction. Or (you can skate) – like it was during Moscow Worlds.
- Did you enjoy skating in China?
- This is my third time. Interesting country. Very funny fans. Although the first time I came to China, I was shocked: on the roads tons of bicycles together with cars all stuck in traffic, and huge masses of Chinese people everywhere. Everyone pushes and shoves, as if we are inconveniencing them by our presence.
When at the rink, they all clap as on a command and stop clapping as on a command. But it's nice to skate there. Great ice, easy on the jumps. I was just flying up, and looking down, where to land. Not like Moscow (ice quality). Although now at SUP rink it's a little better, but before the ice was totally crooked, with a level split of at least 30 cm. It was hard to walk on it, let alone skate.
- Did you have a chance to see your competitors skate in China?
- Only briefly (just with a corner of my eye). One usually notices automatically who is doing what, something interesting to take into consideration, or if you can do something even more interesting. I was particularly interested to see Mao Asada, she won the Junior Championship last year and there was a lot of talk about her immediately.
- And what is your impression?
- You know, when I was little, everyone only spoke of how well I jumped and hardly ever how well I skate. Now I see the difference, and saw it clearly in Peking, when watching the Japanese girls practice. Here we had Arakawa with her wonderful control of the blade, and sophisticated movements, and next to her – Asada, such cute/funny child with wild jumps. I think she (Asada), if puberty monster does not get her, will be one of the strongest skaters for the 8 or maybe even 12 years to come.
- Did you have to make lots of sacrifice this season?
- I had to give up a few shows, on Pro-Am competition. I knew that there is not enough of my health to first fly to Japan, and then to USA. I can't say I am sacrificing a lot. I still see friends in my free time, go out of town. Of course, practice is priority. That's the nature of this sport – you can't stop, you must constantly move forward. Especially, since I am «a favorite».
- The realization that you can't stop, can't make a mistake, is it heavy pressure?
- Not anymore. I accomplished a lot in the sport, all I dreamed of. In a way I am glad that not only I can strip up young competitors, but also to some degree my "old competition". My trainer is always with me – she is a big support.
- Did you ever had to compete with out her by your side?
- Only during Pro-Am. At one of them Alexei Nikolaevic Mishin was supervising me. But for all the serious events, she is right there, never without her. I can't even imagine what it would be like to skate if Gromova is not there. She can even give me a hint during a skate, if it's required. In Moscow last year, I even asked her to do so. It just happened that for the first time, I was not able to hear or see anything. Then when I looked that the tapes from the TV, it was loud and clear that Zhanna Fyodorovna was yelling to me «Irina! Do the Toe-loop». But I did a loop instead...
2005