Rafael Arutunian:
«
IF MAO IS AWAKE, SHE'S SKATING
»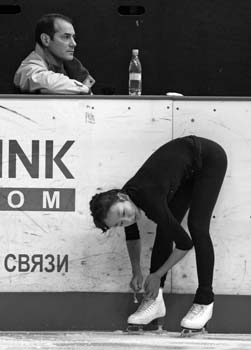 Photo © Alex Wilf


Rafael Arutunian and Mao Asada
In Russia, Rafael Arutunian is known primarily for coaching Alexander Abt, one of Russia's strongest skaters in the recent past. In the US, he's known as the last coach to 5-time World Champion Michelle Kwan. In August, Rafael began working with Mao Asada, a skater who is considered one of the likeliest stars of this Olympic cycls.
The world fell in love with Mao Asada when a 15-year old Japanese skater had a brilliant victory at Grand Prix Final but was unable to make the Olympics due to the age limits enforced by the International Skating Union. If only Mao was born three months earlier, then Olympic ladies' crown might have been a big gamble: even the Japanese skating experts believed that Asada is no less a skater than Arakawa, and no efforts should be spared to receive a personal exemption for her participation in Torino.
Asada did not make it to Torino, so our brightest impressions of her were the events of Grand Prix series, where the young skater threw herself into the first adult game of her life. This season, she suddenly decided that radical changes were needed in almost everything, including her country of residence, climate, coach and choreographer. This is how she found herself under Arutunian's tutelage in Lake Arrowhead.
For the coach who was still getting over the stress of the Olympic season when his student of 2 years, Michelle Kwan, was eventually unable to compete, Asada's arrival was a complete surprise. But it also became a gift from fate. This is how Rafael described her recently:
«This girl is completely unique. Amazing talent. And very, very smart. This is why Mao reminds me of a very young Michelle».
Q. How did Asada find herself at your rink?
A. By chance, as most of them do. I never monitor skaters or invite anywhere to come train with me; I'm very busy as it is. Sometimes big-name skaters come to train with me for a while. For instance, Jeffry Buttle. I work with him from time to time; I'm more of a consultant than a coach. In summer, out of the blue, they called me and said Mao Asada is on her way to Lake Arrowhead.
She did come, with her mom, sister and manager in tow, and skated for a week or so. I knew that prior to Lake Arrowhead they toured Canada and the East Coast. Late summer, Asada came to California again and told me she wanted to work with me on a permanent basis. Presently, it is too early to comment on our work, particularly because our training was a bit rushed due to her late arrival to the U.S.
Q. Did she outline her expectations?
A. Experience shows that skaters of this class always look for the best training conditions, not just a coach. I can't say how long Asada will stay in Lake Arrowhead. If she stays for long, perhaps we will need to discuss our contractual arrangements.
Q. Would you like a guarantee or sorts that she won't leave you?
A. That's not what it's about. Any coach, not just me, always has a number of skaters. If there's a strong skater in the group who needs to travel to many events, there's a higher chance of losing everyone else. While the coach is working with a star student, he or she is typically not hurting for money. But if the star student leaves, the coach may lose everything. Because in the U.S., you need to pay the bills whether or not you have enough work. That's why I have contracts. And most American skaters understand that coaching in the U.S. is first and foremost a business proposition.
I was a bit slow to understand that. We grew up in a different world and no one told us that's how things work.
Skaters here are very different as well. You don't need to make them work, they always know very well what they want. That's another thing you need to learn if you live in the U.S. You need to remember that you are not a dictator, not a parent, but just that, a coach. You can suggest things, but can't insist. It's a part of «good manners». You can't tell your skaters «you must», because from their early days, they are raised with the expectation of having no obligations to anyone or anything. You can't even tell them something more than once, because that may make them feel as if you think they're idiots.
Do you remember the story of Sasha Cohen and Tatyana Tarasova? It seemed that they had good progress, and I witnessed that as a coach. Cohen wasn't afraid of work and understood some Russian. In other words, all the stars were aligned to make their collaboration possible. And still, Cohen left. She was not prepared to be under the constant pressure from her coach.
I was a bit slow to understand that if you work in the U.S., you need to control every word, every sentence you utter. That you shouldn't overexpose students to your person. As a rule, skaters never say «no». But if you see that you told them something, and they still continue to do what they did before, it means they do not want to accept your opinion. Insisting is useless. They will just start leaving.
This is why my M.O. right now is this: if you like what I have, please listen. If you don't, I'm not going to pressure you. I sell my professional services, and that's it.
Q. I still thought that you had a hard time when you started working with Kwan. That you – and it was particularly obvious at the Worlds in Dortmund in 2004 – were afraid to lose her, to not live up to her expectations.
A. You are right. Anyone would have been scared in this situation, not just me.
Kwan is an era. She's a massive phenomenon. Michelle started working with me when her career was nearing the end, when everyone understood her star is beginning to set down. Kwan knew that as well, but as a coach, I had no right to let her know in any way, no matter how small, that I think her time is beginning to go. We never discussed that, but I still feel that Michelle is grateful to me for carrying that burden with her for so long.
We don't know whether figure skating will have a star of that magnitude in our lifetime. We still don't have another Irina Rodnina. You could like her style or not, but you could not NOT agree that there is simply no more skaters of that caliber around. And it is not at all about the skating skills.
Q. I still don't understand how Kwan could find enough strength to get over the Torino nightmare, her injury, her withdrawal..
A. She had surgery immediately after the Olympics. Michelle was in such pain when she came back from Torino to the U.S. that she couldn't sit or walk normally. I was shocked myself. When we just started working together, Kwan often complained that her pelvic bones are «moving inside». I couldn't quite understand how that could be. But when she was examined, they found that the right side of her pelvis was coming loose from her sacrum, and was a long time in the making. That was Michelle's pain for two years coming to the Olympics.
Sometimes she would come to practice and begin making laps around the rink. The only thing I was watching was her face. If she would pass me and shake her head very slightly, I would understand that they would be no practice today. That her hip is in so much pain that she can't take it any more. When it flared up beyond her ability to tolerate it, she would go to LA to see a Chinese manual therapist and he would put her bones back in position.
There was also an added complication – Michelle opened her own skating rink in LA shortly before the Olympics and for business reasons, had to skate there, where the ice is much harder than in Lake Arrowhead. Her pelvic joints became even more worn out from constant landings on the hard ice. I saw it, got stressed, got angry…but what could I do? And how could I leave her in a situation like that?
Q. What is Kwan up to now?
A. I suggested something that I thought she found interesting – a sort of charity related to figure skating. Not many families can afford ice time for their children. Skating is an expensive hobby in the U.S. Kwan is the right person for creating a foundation to give talented children an opportunity to skate. If she reaches out to affluent people with this concept, they will give her money without a second thought. Someone with this reputation is always trusted.
Michelle does not want to coach or continue to skate. She's an athlete to her bones, she is after the top result. This is why she was never fond of show skating. She wants only to compete.
Q. Did you have a chance to monitor Asada's progress while you were working with Kwan?
A. Only on tape – from the time she began skating in juniors, without a second thought about results or responsibilities. It was a sight to behold. Now she is a different skater, more adult. You can tell she is feeling the weight of the pressure. We'll see how she copes. Asada doesn't just train a lot, she lives on ice. I don't know who is funding her training, but sometimes I believe that Japanese ladies have access to bottomless coffers.
Asada is already under contract with IMG, and that's a good thing. I pray to Gold we will one day understand that talented athletes need not just professional working conditions, but proper financial management, so that they have a chance to think of nothing but practice. Japanese figure skating association has a wonderful policy in this regard.
Q. I noticed that Japanese skaters at events are always surrounded by crowds of officials. That was the case with Arakawa when she trained with Tarasova and with Fumie Suguri when she was with Oleg Vassiliev, and now with Asada. Is this the way to control a foreign coach?
A. No, more likely a way to show care. I personally am feeling that attention as well. Wherever we train, they always have water bottles and Kleenex ready. And they always ask if «everything is all right».
At the same time, I believe that if the Japanese federation stops being happy
with me, I will be replaced with no calms at all.
Q. Does Asada speak English?
A. Not quite well yet. But she's trying. I always tell her, «if you don't understand something, tell me at once, and I will try to explain in a way that you will understand».
She's having a complicated time right now, she's 16. I am often asked if I am concerned that her puberty may interfere with her existing technique.
Q. Well, are you?
A. I think that Asian girls have less problems with puberty than their European or U.S. counterparts. Kwan used to tell me that she had a difficult time during puberty, but that was mostly because she ate whatever she wanted. And without really noticing it, she gained weight. And Frank Carroll, her then-coach, told her once outright, «Michelle, take a look at yourself. Don't you think something is wrong?»
So far, Asada is still eating whatever she wants. But if she notices that it interferes with her skating, she will start limiting her food. Although I have to say, that the Japanese are not really into preventative measures. That's obvious during their training. For instance, as a professional coach, I can always see when certain qualities of an athlete are beginning to disappear. And then I try to change something before her flaws become too apparent. But the Japanese, if something just doesn't feel right anymore, begin to train even harder, skate twice as much, and then things are well again.
Asada is making me work a lot. Sometimes I feel that I have her enough to do, but she is still not stopping.
Q. I heard that the Japanese skaters don't spend as much time with off-ice conditioning compared to Russians.
A. This is true. However, Asada is like a fish. Have you ever seen fish warming up on land before taking a swim? She comes on ice, and does her warming-up while she is skating. The only time when she's not skating is when she's asleep. She knows how to train a lot, and the most important thing is that she likes it. It seems that the Japanese are raised to enjoy hard work from the very childhood. And they believe as gospel truth that sooner or later, the quantity of their work will be translated into the quality of their results.
2006