Maria Petrova, Alexei Tikhonov: FAMILIAR STRANGERS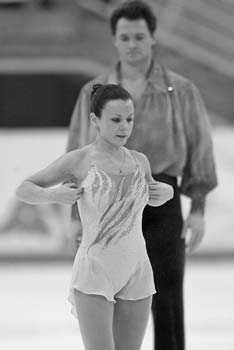 Photo© Alex Wilf
Maria Petrova and Alexey Tikhonov
When they agreed to stay for one more season, Maria Petrova and Alexei Tikhonov, 2000 World champions, took the burden of top Russian team upon themselves. It included the responsibility to only compete for the victory at the international arena.
The skaters made the Grand Prix Final ranking second, losing one of their two events to Aliona Savchenko and Robin Szolkowy from Germany. Right after the defeat, they told the reporters they don't agree with the marks and they don't think they were worse than the winners neither in short nor the free program.
Many were surprised by that comment. For long time, Petrova and Tikhonov were considered some sort of the exchange currency in Russian team and it would be no seen to pay for the unspoken guarantee that the Russian top teams won't be touched. First it was for Elena Berezhnaya/Anton Sikharulidze, and later, Tatiana Totmianina/Maxim Marinin. Their success at 2000 Worlds in Nice was because of the unexpected circumstances. Berezhnaya and Sikharulidze couldn't compete because Elena was sick, so Masha and Alexei unexpectedly became the top team and all the effort was thrown to their support. If not for that, I think the skaters would've been playing the supporting role even if they would've skated just as great.
After Petrova/Tikhonov weren't able to make top three in SLC and at the post-Olympic Worlds in Nagano, where they skated unusually well, you could see some sort of the desperation in their interviews: it's pointless to argue with judges, so they had to skate with themselves and the fans. What RFSF President Valentin Piseev said to Tikhonov in Nagano was the indirect proof that Russia still won't fight for this team, «You are so great! You are not judged fairly, and you don't even complain!» Tikhonov asked, «Do we need to?», and didn't get the answer.
Something like that happened last season as well. The Russian's performance in Calgary, with the absence of Olympic champions Totmianina/Marinin, deserved much more than the bronze.
The skaters were terribly upset. They still made no comments on the judging but there was silent question in their eyes, «Why? We came to Worlds so the team wouldn't look completely leaderless and again, we weren't supported…»
The cup was full in Moscow. Before the event, the skaters had no doubt they would win at home. How could it be otherwise? To be blunt, the skaters did a huge favor for RFSF staying for one more year as a center of the team as it was assumed we would urgently try to create a competitive team around them, just like before. They finally got the chance to feel exclusive. They should've not lost from the sport point of view - the huge experience usually compensates the lack of practicing, and technically, they are one of the best skaters in the world for several years in a row despite their age. Moreover, Maria and Alexei already checked their new programs in public, winning the Grand Prix event in Paris.
They didn't consider one thing - the sport doesn't stay in one spot. Even though the draw luckily put the Russians to the different events from the main competition, two Chinese teams, the rest didn't lose any time. The spontaneous mixed Japanese-Russian team of Yuko Kawaguchi/Alexander Smirnov made the crazy progress and Savchenko/Szolkowy weren't bad when the season started. We learned that in Moscow. In addition, Petrova/Tikhonov weren't able to skate without the mistakes, caused by not practicing enough. Alexei admitted it himself. So, when he voiced how appalled he was by the judges for the first time, most likely it was just the reaction to things going not the way he wanted.
He said, «Of course, the top team shouldn't make mistakes. Because we were on the TV show, we had no chance to rest and catch our breath. The practices were much more intensive as we knew we couldn't afford any arguments. We went on ice and did the had labor. We managed to do everything in one hour. We just needed a little bit more time to repeat everything, and it affected our performance in Moscow. All the mistakes were because of that. We'll have the time as soon as the show is over. I think we'll be able to do everything we planned by the Grand Prix Final…»
Petrova and Tikhonov's appearance in show shook entire Russian skating.
Alexei said, «If the federation wouldn't allow us to participate, people would've never seen how Masha can stand out and be completely different, how I can be different. We probably would've never learned it ourselves».
It's hard not to agree. Both of them looked completely different in the show. Petrova and Tikhonov shined like a wonderful diamonds. At the same time, it caused so much regret. Why for so many years, neither skaters nor their coaches weren't able to do what people who are pretty far from pair skating wonderfully realized in several weeks of working?
The style means so many things in skating, just like in any other sports where artistic image is evaluated along with technical skills. Sharp, finished gestures, «stretched out» knees, expressive character, the whole look. The rules of classic feminine beauty in the art of choreography have been set a long time ago - small neat head, long neck, straight expressive back, slender wrists and ankles. If you have it, you can put any outfit on the woman or «undress» her any way you want without risking to break the style of the character. If you don't have enough natural abilities, and it happens a lot all the time in sport, the hairstyle, the costume and the makeup should be thought through to the detail or even the most perfect performance can be put down to a regular level because of how it looked.
Of course you can argue by saying why waste time to secondary details and look for the style if you have a chance to learn a phenomenal lift, a throw, or a jump and «take away» the competition with the difficulty and class. A lot of coaches hold on to that opinion, fairly assuming that perfect «package» and ability to present yourself is not the most important thing in sport. However, take the champions of before - most of the stars stood apart with their stylish look. I would insist that many skating mistakes were forgiven for Elena Berezhnaya/Anton Sikharulidze, the great skaters of the recent past, just because of this quality, and it was never forgiven to Petrova/Tikhonov.
Still, you won't go far by just being elegant, and that's what didn't work for skaters in Moscow. Still, even though this performance wasn't victorious, there was a felling that we'll are to re-discover the seemingly familiar skaters.
Most likely, the skaters picked the Moonlight Sonata, on a whim. Ludmila Belousova/Oleg Protopopov, Ekaterina Gordeeva/Sergei Grinkov became Olympic champions skating to it. The programs were choreographed in the summer and the season started not the way the skaters planned. They performed in Ilia Averbukh tour of Russia until early June, having no idea whether they'll stay in the competition. They took a month to rest later and only after they returned to St. Petersburg, they agreed to stay for another season. Then, Masha got ill unexpectedly and it was so serious, Alexei tried to insist that they decline the TV show and calmly get ready for their last competitive season. Whatever happened, happened. What matters, the programs turned out pretty well.
Tikhonov said, «I think you have to grow for this music. Really grow. Before, I didn't feel it they way I do now. It's like two soul opening up to each other. I knew Masha and I need more practice but I didn't feel tense when we performed. Not in the short program, not in the long».
Petrova supported her partner, «Moonlight Sonata is a very light music. You skate and feel you are flying above the ice a little. We are not going to prove anything, let the others prove it. Of course we want the judges not put us lower then we deserve. We'll deal with the rest».
Tikhonov immediately put aside the assumptions that the top Russian team would stay in the competition for more than a year, «Oleg Protopopov tried to make me believe that you have to stay on ice as long as you can walk, but I'm not ready to agree. The Stars on Ice show not only gave us the different strength, it gave us different thoughts. Both Ania Bolshova who skated with me and Masha's partner Igor Butman taught us to have a wider outlook on life. Only recently, when I came to Paris to compete, I realized that we, along with the people who surround us are constantly in the very narrow world. It's cool, but it's too small. You can't lock yourself in there, even though we staid in it for now. It's not only because the federation asked us. We still enjoy what we do on the ice and try to bring joy to those who watch us. Plus the financial side - we were promised that the money will stay the same for a year, just like the Olympian Support Fund paid in the pre-Olympic season».
- What if you get promised to be paid for three years, until the Games in Vancouver?
It depends on the situation. Masha recently told me, «When will we have children?» I asked, «Do you want our children to live in a house in suburbs? That means we have to earn the money for it».
Petrova shook her head, «I think it's time for us to take some different steps in life. We are complete as skaters but putting your life together is very different. There are nobody we could not defeat now».
After I wrote the article about Petrova and Tikhonov's last competition in Calgary, I had no doubt, just like they did at the moment, that it was really the final. However, even though the skaters said repeatedly that this season will be their last, something stops me from believing it. The age and a very understandable thirst for normal life is a serious argument, but it's hard not to think that after the Worlds in Japan, there'll be less than three years till the Olympics.
Why predict? Even if Petrova and Tikhonov won't risk staying in competition that long, they still have several times to stay in skating history not as the pair who was so unlucky for many years but as people who made the world look at them differently and already feel desperately sorry about their upcoming retirement from the ice.
2006