Oleg Vasiliev:
«IT'S POSSIBLE TO BECOME FIRST IN VANCOUVER 2010»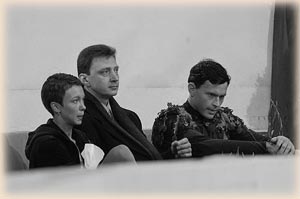 Photo© Alex Wilf
Oleg Vasiliev
'84 Olympic pairs champion Oleg Vasiliev had his first victory as a coach in Torino. Almost immediately after his students Tatiana Totmianina and Maxim Marinin announced their retirement from the competition, we learned that Vasiliev would work with two new teams - Natalia Shestakova/Pavel Lebedev and Elizaveta Levshina/Konstantin Gavrin.
- You got the new students so soon, like you put an eye on them before the Games. Is that true?
- Not entirely. Shestakova and Lebedev stopped training with Nikolai and Ludmila Velikovs right after the Russian Nationals last December. There were plenty of talking then of them leaving their coaches anyway. However, nobody knew who would they want to go to. There were different options.
They approached me as well, asking if I would agree to work with them. I said that I'm ready to discuss it but not now - when the Olympics are over. So, Natasha and Pavel called me the next day after the pairs final and confirmed their intentions. I discussed it with Valentin Piseev, and he agreed.
The second team is junior. Levshina/Gavrin skated with Natalia Pavlova. As far as I know, she tried to split them up and pair up Lisa with another partner. However, they wanted continue skating together, which led to a conflict. This happened during the Olympics, and I didn't suspect that Liza and Kostia might need a coach, and I was very surprised by the phone call. I talked to Piseev one more time and when I came to St. Petersburg, I met with the skater's parents, since they are young and Liza is only 14. So it turned out that I started working with both teams in St. Petersburg on March 2nd.
- Where will you be training on the permanent basis, St. Petersburg or Chicago?
- We'll go to Chicago. The skaters will live in American families and ride the public transportation, going through the same thing Totmianina and Marinin went through when they started to skate with me. It is possible that we won't stay in the USA for all four years until the next Olympics. If a rink would be built in St. Petersburg, as it has been promised for four years, we'll return; or maybe we'll relocate to Moscow if more interesting work opportunities arise there.
- After Totmianina/Marinin retirement, many predict a dark hole for Russian pair skating. In any case, out of those who are competing now, we don't see one team able to compete for gold.
- On one hand, we really don't have teams like that. The other question is what can we do in four years and out of whom. "Out of whom" - I mean able skaters who are ready to give it all training for a certain goal. We have skaters like that. The second goal is to create work conditions for them. If those two factors are completed, I'm ready to state that we not only will be able to compete for the podium at the next Games, but also to become first.
- Do you mean Shestakova/Lebedev?
- For now, they are not the best even in their age group. However, they have a big plus that should be used. They work very hard. They can train a lot, for a long time, and with the goal in mind.
- How do you know it?
- We shared the ice for the two months before Torino, and I saw how Natasha and Pavel skate, and they did it on their own. It seemed that they had nothing to prepare for. The Nationals in December was the last competition, and they could've afforded not to push at practices, get busy with their studies or something else. They came to the rink every day and worked very actively. You can pull the skaters to the results through this work, and I know how to do it.
Levshina/Gavrin remind me of Tania and Maxim a lot in their technique and line. It's probably not surprising as Totmianina and Marinin also came to me from Pavlova. They were also well prepared technically, but they couldn't perform. They would make tons of mistakes in one or the other program.
Another thing is that Lisa and Kostia are much younger than Tania and Maxim were when they got to me. They are not as tense psychologically, so they should be able to get the results faster. However, there is one detail. This team can compete on the junior circuit for two more years. It's hard to predict what'll happen when they will go to the senior level in 2009. In any case, I think it's a big advantage that two good teams will be skating together.
- You sound just like your coach Tamara Moskvina who trained all of her champions in the tough rival environment.
- The interval rivalry in the group sets the coach free from having to push the skaters artificially. When they fell they are close, they work more competitively. The coach's job is to see that the normal working relationship would remain for the people in the group no matter how tense is the fight.
- Skaters going from coach to coach is a painful subject. Many already consider you a person who takes the cream of the crop. Are you bothered by these talks?
- The psychology textbooks say that we can only regulate the process that we control. I am responsible for my actions and words but I can't control what other people say and think. Whatever they say about it me, it makes no sense to try to influence them.
Figure skating is a business first of all, and it's based on relationships a lot. Nobody cancelled the feeling of jealousy in our world, and I realize that our victory with Totmianina/Marinin did add any love to me from the most of the coaches in Jubilejny.
- So, when you agreed to take someone's skaters, didn't you think you should notify their previous coaches?
- I talked to Nikolai Velikov. He realized very well that sooner or later Shestakova and Lebedev would've left, and he took their leaving well. Women are more emotional, so I had to hear a lot from Ludmila Velikova at first. Our relationship is normal now. I could talk to Pavlova. She didn't show up at the rink for the entire time we were in St. Petersburg.
The way the sport is now, it's unrealistic to coach the skater from six years old to the Olympic medal. So, he has to go from coach to coach, getting certain part of the information from everyone. It's like the mountain climbing when people go to the top with taking rest, changing their people and luggage, leaving somebody in the base camps. It's the same with us. The top is far.
- Elena Valova and you skated with Moskvina your whole life without thinking of leaving. Not one team after your thought of leaving Moskvina. So, were you all lucky with the coach?
- Tamara Moskvina is a really great pair skating expert. She knows all the nuances of taking the skater from a certain level to an Olympic medal. I can tell you honestly - in ten years that Valova and I competed, there were very little attempts to get us to leave. Once, I even went to Moscow to see what was offered - another partner in addition to a new town and a new coach. I weighed everything and understood that change wouldn't be smart. I just had to work, grit my teeth, and go for the results. Lena and I were satisfied - we lived at home, trained at home, our results were growing. So, why would I go somewhere?
Just remember, where could one go if there was only two top experts in pairs then - Moskvina in St. Petersburg and Zhuk in Moscow.
- Still, you encountered the situation when a skater decided to leave. I mean Victoria Volchkova. Weren't you upset at the moment? Wouldn't you want to hold on to the skater?
- I don't even sign the contracts when I start working with the skaters because I know that if a person wants to leave, you won't be able to hold him with anything! The way the life is that if you try to hold on, you won't get anything for it except the tiny salary from the federation. You have to understand that you not only have to provide the training process and growing results, you also have to "close" some other life aspects. You have to be a coach and a mentor and help to deal with the problems. Then nobody would ever leave you.
- Moskvina was always her teams' agent. Do you act in a similar capacity for Totmianina/Marinin?
- They have a professional agent in the USA. It's hard to combine this activity with the job of a coach. Moskvina started to learn the agent's profession when Valova and I turned pro. She learned it well but you can see that she doesn't have the time to do everything. The agent services take tons of time - endless phone calls, meetings, trips... I probably could've do that too, but why do a bad job, if there is a person who does it well
2006