Oleg Vasiliev: «I'LL TRAIN ANYONE EXEPT CHINESE PAIRS»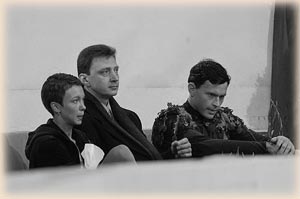 Photo© Alex Wilf
Tatiana Totmianina, Oleg Vasiliev and Maxim Marinin
Oleg Vasiliev, Sarajevo's Olympic champion in pairs and now coach of Tatiana Totmianina and Maxim Marinin, always had one definitive quality - no matter what mood he is in, he never refused talking to mass media. So here in Moscow, a day before Cup of Russia, just after checking into a hotel Vasiliev agreed to the interview, «Give me 40 minutes to settle in and I'm yours».
- I realize that it's not very pleasant for you to mention Tatiana Totmianina's fall from the lift at Skate America, but I have to ask - why after the so recent and very difficult injury you decided to bring your skaters first to Paris, and then to Moscow?
- My other skater, Japanese Fumie Suguri, had to compete at Trophee Eric Bompard in Paris. We planned to come to Russia with Tania and Maxim anyway, so the stop in France was very fitting - it softens the adjustment period. The guys trained for a week while the competition was going on, then we came here. I think it's better that just «one-shot» flying.
- I agree, but why did you have to come? You weren't going to perform in Moscow.
- No, but we wanted to participate in exhibition and also show Tania to the Russian doctors to confirm the diagnosis she got in USA and to make sure that rehabilitation process is normal and there are no side effects.
- Don't you trust American specialists?
- I do, but I think that ours are better.
- Are you planning to consult with doctors in Moscow or at home, in St. Petersburg?
- We will definitely fly home for a day. It's possible we'll get examined in Moscow if we get a chance.
- Isn't it early to be on the ice after the injury?
- You'll have to do it sometime. It's better to do it for the first time in front of our audience.
- Is it easier to skate?
- The ice is the same everywhere. Our decision to come to Moscow is more of paying respect to the fans, specifically because they are ours.
- Did you set any goals for the skaters here?
- One goal - go on ice, show that we are alive and healthy, we continue preparations for the season and we will perform.
- I know that right after Totmianina's fall in Pittsburgh, a psychologist from Russia came to you in Chicago. Was that your idea to invite him?
- Yes. If you would've see Maxim Marinin the first couple of days after everything that happened, you would realize how much he needed that specialist. I called Valentin Piseev, RFSF president, in Moscow and he did everything to send a great specialist, Elena Deriabina, to the USA immediately.
- Did that doctor started to work with Tatiana as well?
- Yes, but not to the same degree as with Maxim. She doesn't remember anything and she didn't see her own fall. She doesn't want to look at it. I, as the coach, think she doesn't need to.
- You spent your entire life in pair skating. Have you ever been in similar situation?
- I had dropped my partner - in figure skating, it happens almost to everyone. The ice could be rugged, technique doesn't always prevent mistakes... It never led to the hospital for me and Lena Valova, but I saw many times the scary falls from others at the practice. For the man, this situation is always a shock, and he always feels guilty even if the fall wasn't mostly his personal fault.
- How was it for you to start working with your team again?
- We started to train the same way we start after the long break - simple elements, edging, steps. True, when they started trying the lifts, I felt cold inside. I still do, even though all the elements are completely recovered. I hope very much that it's doesn't play out on my face. I think the skaters shouldn't see my feelings, even when I'm upset and hurt...
- Did you ever think that Tania might not want to keep skating with Maxim?
- No. One of the first things she said after she became conscious was, «We definitely have to skate at Cup of Russia», and I realized that everything is all right.
- According to the Internet reports, the fans were crowding at your practices in Chicago.
- Not only fans. TV crews and people from other towns constantly came to our rink. Tania received several hundreds cards, and club where we train created a special section at its website for people to write the words of support.
- I know some skating coaches don't like letting bystanders into the practice session very much.
- The thing is that everyone has different methods. Some coaches yell and curse, and they'll find tons of reason not to let bystanders in so nobody would hear them. Since this is not happening at my practices, the doors are always open.
- Were Parisian fans also interested in your pair?
- I worked at that city once and I still had some connections. Because of that, we managed to get the time at the rink that no many people knew about. True, once we skated at Berci, and everyone came to our practice - from beginners to the ISU Vice-President. That put a little pressure on us, but that was pretty natural - I myself would come to watch someone who hasn't been on ice for a long time for whatever reason.
- Maybe it would've been smarter not to rush to fully compete again? Miss Russian Nationals for example? Totmianina and Marinin are the World champions...
- Why? First, this competition will be held at home, in St. Petersburg. Second, this is a norm to participate in selection process instead of demand the exceptions for yourself.
- I can't guarantee the exact quote, but Alexei Mishin said recently that those who didn't push too much in pre-Olympic season succeed at Olympics more.
- Can I ask you a question? How the program at the Olympics is different from the program at Worlds? It's not. The difference in the pressure that surrounds the skaters and the coaches. Along with that, the skaters have to do the same as always. We are used to the same training for every season. If we start doing things differently, it's not the fact that this won't disrupt the preparation and won't make it worse.
I, for example, don't think that missing Grand Prix events is right. It's another story that being first there at any price is not a goal. Yes, sometimes it happens, but the more important goal is to see what's good in the program and what's bad. If you don't perform at all, it's hard to predict how the program will be accepted and marked, especially with the new system. That's why I'm for checking everything we had planned in the beginning of the season, and later working on additions and specifically training for the main competition of the season.
Mishin may have another opinion, but I can say that the situation with Evgeni Plushenko created a big problem not only for him, but for the rest of the skaters.
- What do you mean?
- The problem of ISU not trusting the world-level skaters. Before, ISU let it pass - all skaters performing in the exhibitions and earning money between the competitions. It's understandable that everyone needs money - our sport is pretty expensive. The situation with Plushenko created sort of scandalous precedent - Zhenya withdrew from the NHK Trophee and at the same time went to perform in the show. ISU considered itself lied to and sent out a communication - beginning next year no high-level skater is allowed to perform in a commercial show during the entire Grand Prix period.
- Did your team performed in the shows between the competitions?
- Naturally. This gave us a chance to simply earn somewhere or try a new element somewhere. You understand that still you can find some «outs» but the fact that this rule exists is unpleasant.
- How did Fumie Suguri ended up in your group?
- Her previous coach, Mr. Sato, had a lot of skaters of different levels. As it customary in Japan, he split up his time evenly, working 20 minutes a day with each skater, including Fumie. She skated at the rink where 25-30 skaters were on the ice at the same time. That was the reason Fumie started to look for a place to train. She didn't have any personal conflicts with the coach.
She showed up in Chicago in the middle of July. First of all, we have an inexpensive ice. Second, Lori Nichol, US known choreographer, came to our rink at that time. Suguri worked with her for 9 years. I think Fumie made the final decision under her influence, but she joined my group only in the middle of September.
- If I'm not mistaken, Nichol is the same choreographed who did free program for Totmianina/Marinin this season.
- Yes. Lori is a pretty interesting person. Along with her main job, she «assists» skaters in coaching changes. If you remember Michelle Kwan leaving Frank Carroll, it happened right at the moment with when Carroll had a disagreement with Lori. It wasn't without her participation that Timothy Goebel switched coaches, the first time and the second time.
In brief, if you look carefully, it's hard not to notice that all skaters who work with Nichol change coaches sooner or later. They start to act the way it's convenient for Lori. You understand that it's not advertised very much because if it would be proven, it'll become the end of her career.
- And you talk about it so openly?
- Why not? We have a normal relationship but as a coach, I have to be aware of Nichol's actions. Everything that she does is for her own convenience and not in skater's best interest. This has to do with Suguri too. If the Japanese had come to me in May, there would be more chance for the successful work. To some degree, Fumie became a victim - she changed coaches where there wasn't enough time for working together.
- Is this a reason for Suguri's results that might've been better?
- To some degree. Moreover, Japanese mentality is pretty unique. The Japanese are used to sort out any information through their understanding of the problem in question. For example, if you say to a Japanese, «Nice sweater», he won't take it literally and he'll start thinking - why did you say it, what your intentions were, he'll start recalling where did he buy that sweater and how much it was, and only after several days he'll say thank you. Plus, utter respect for the adults that is a centuries old Japanese tradition.
- Did I understand correctly that anything you say in practice, Suguri will sort out in her mind and it's not the fact that she understood it but because of her respect to you as a coach she won't allow herself to ask the question to clarify what you meant?
- Absolutely. The first two months were exactly like that. After some time, Fumie probably realized that I'm on her side. After that the adaptation process and information intake became much faster. She never says «no» to whatever I said. Sometimes she kills me with the question like «Which of my muscles should work so I could do that move right?». She knows all the muscles, how they work and what makes the move.
Fumie is finishing up the Physical Education Institute now even though she already got one college degree. She is very smart and disciplined. She tries to do everything perfectly and leaning away from the perfection is considered impossible as a principle. Sometimes it creates certain problems because it's impossible to reach an absolute perfection on ice - it's very slippery.
- What does Japanese skating federation thinks of your work with Suguri?
- On one side, it's indifferent, on the other - negative. The Federation's opinion is that the Japanese skater should work with the Japanese coach. This is the main reason that the Japanese Federations is very nervous that Shizuka Arakawa works with Tatiana Tarasova, and Yoshi Onda - with Audrey Weisinger. It's possible that another Japanese, Miki Ando will go to the USA, and all top four Japanese ladies will train away from home.
When everything is well, they look at the things loyally. But when the results fall, naturally, they are unhappy. I think that's what we'll talk about with Japanese Skating Federation president in Moscow. I'm not satisfied with Suguri's skating. After competing in Paris, we reviewed the free program for more than four hours and I think we found the reason. We have an entire month before Japanese Nationals to get rid of it.
- Did you have to hear the accusations yet that by working with Suguri, a rival to Russian ladies, you are working against Russia?
- First of all, I'm a professional coach. If a Japanese or a Chinese girls asks for my help and she has money to pay for it, she is welcome to come. If the Chinese pair asks for me, I won't take them. I don't need that rivalry in my group.
- So, Tamara Moskvina's position is not for you? Your coach always tried to create the rivalry inside the group.
- All skaters are different. In Moskvina's group, the rivalry led to skaters trying to outskate each other even at practice. Tania and Maxim can wonderfully work on their own.
- We are used to figure skating stars having a whole stuff working for them in addition to the coach and choreographer. Do you have a stuff?
- We have our Russian choreographer Alexander Matveev who often comes to Chicago and regularly works with Tania and Maxim when we come to St. Petersburg. We have an agent, Liz DeSevo, an American who organizes different events with my skaters and does a lot to promote them in the US.
For example, in early December, Tania and Maxim are flying to California for a day to participate in very popular talk show on TV. I don't watch TV but just in case, I asked some people if they know that show. I was surprised by the reaction - it turned out that it's one of the most popular shows in the country. Nancy Kerrigan and Michelle Kwan tried to get into that show at some time but didn't get it. Tania and Maxim will be the first skaters there.
- Forgive me being cynical but if Tania didn't fall in Pittsburgh...
- Exactly. As you know, you don't become famous by doing good deeds.
2004