Oleg Makarov: «I MISS THE PAIRS SKATING TIMES»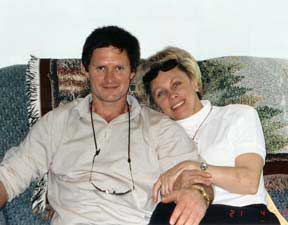 Photo © Alex Wilf
Oleg Makarov and Larissa Selezneva
Many years ago with a wave of the hand he ruined a year of his sportive career. The wave was focused and cruel. As a result the rival's jaw, who offended Makarov's partner was broken in several places and Oleg himself, instead of gaining the name prior to the Olympics in Sarajevo got the well deserved disqualification.
On the 1984 Olympics Selezneva and Makarov became third. Twice after they became European champions, were silver and bronze medalists of the World championships. At 2002 they moved to the USA in a search for a job. In December last year they brought their grown daughter to compete at Russian Natiosnals. Ksenia became the champion qualifying to be a member of the Russian Olympic team.
- Larisa and I didn't plan to make our daughter a sportswoman. When she was 5 she skated for first time, fell, got a bump and said «I don't want to skate anymore. It's cold and painful». That was it. At 2002 when we moved to Newburg to work Ksenia was 8. She had to be somewhere while we were working, so I rented skates and put her in the public skating group. A bit later she asked to join my group. At some point demanded to be "like everyone" and have programmes, participate the competitions. This is how the figure skating began for her.
- What was the main influence - the genes or the environment?
- Genes had some role. Ksenia is very much like Larisa. Both outside and inside. We also have a son, but he is in swimming. We put him on the ice and he managed to jump a one and half jump on the first training session. But he didn't want to continue.
- Your being serious about your daughter's skating is obvious also by the specialists who work with her - Galina Zmievskaya and Viktor Petrenko. Why them?
- I've known Zmievskaya for a while as a good coach. Working with your own child is hard - there must be a discipline that can not always happen within the family. Hence starting September Ksenia works with Zmievskaya and Petrenko. I had a gut feeling my daughter is capable to achieve results in the sport. She inherited the will power, focus and stubborness from Larisa. When Ksenia and I went to the Juniors Grand Prix competition everyone were saying she is the spitting image of Larisa of t he times, when she was skating. Ksenia is a good pupil, she never misses the school. Now she is in a special programme which is only available for bets pupils.
- Probably the fact your daughter is going to become an Olympian should wake some nostalgic feelings in parents-sportsmen of their own career.
- I wouldn't say so. Larisa and I live a different life now. We have alot of single pupils, though, of course, I miss the times of the pairs skating. This sport almost doesn't exist in the USA : the boys go mainly to play hockey and think of figure skating as of not a manly enough sport.
- Was it hard to adapt in the new country?
- We were not leaving into the unknown. Back then Tamar and Igor Moskvins worked in Hackensack with Berezhnaya/Sikharulidze and the Americans Ina/Zimmerman before the Olympics and they said the ice rink next by is looking for figure skating coaches. We went there for a month- just to see how things were. Stayed there for a month and half and at the end signed a long term contract. When the Moskvins were away on a competition or too busy they would let us work with some of their pupils. Later Artur Dmitriev would ask the same: he was working as a coach back then but was skating in the show with Oksana Kazakova occasionally.
We were not nostalgic. Especially since we never planned to leave to the USA for good. We left friends, parents an apartment in St. Petersburg, so we were not going to burn any bridges. Now Larisa and I are offered to come back and open our own school under the Academy of Figure Skating. What will come out of that idea we'll see.
- Do I understand correctly, that since the times of your own skating the championship in Tallinn is the first competition of such a level for you?
- That's right. Of course the impression of being a coach is completely different from ones of a skater. Everything is taken completely different.
- In what way?
- It's hard to put into the words. Even the rules have changed.
- Your coach - Igor Moskvin told me not so long ago that he doesn't understand the new system, doesn't recognize it and is not planning to adapt to it.
- I can see his point. From my point of view the new system threw the pairs skating back. It became less interesting to watch, there are too many open questions about the elements. There was a time when a double split twist counted less than a triple split twist. How is that even possible? In Tallinn we spoke to Moskvin on the matter and came to many similar conclusions.
- How do you see the development of the things in the pairs competition in Vancouver?
- I wouldn't risk to predict - exactly because those are Olympic games. But it's nice that Russia has two great pairs.
- The experts insist that both of those pairs can not fight for medals against the Chinese pair skaters.
- From the technical point of view they are right. From my own competitive experience I realize Olympic games are different - it's not Europeans and not even the Worlds. The psychological pressure on every skater is so great that some unpredictable things might happen. In the last two Olympic games the skaters who won werel, lets say, not the skaters who should had. At least the odds were lower. Though if you recall Larisa's and my career, at 1983 in Sarajevo we became third, despite the fact we were coming to the games as no ones - just two time junior world champions.
- If you were skaters with a reputation, would you had finished higher?
- It's hard to tell. We had a hard programme, we skated it well. Unfortunately it was not considered there - giving a victory to someone so green.
- In other words, being the second pair had it's consequences?
- You could say that. Oleg Vasiliev and Elena Valova were European and World champions, of course they were taken differently. By then we haven't even participate those competitions yet.
- Because of the disqualification?
- Yes. To miss a year of competitions is a disadvantage for any skater.
- Did you even slightly regret what you have done?
- No. There was nothing positive in that incident, of course, but I never regretted what I've done. In some situation the man just have to stay a man.
- Did you feel any disappointment or discourage from your coach, whose work as well as yours went to a drain?
- I think Igor Moskvin understood me. We never spoke about it, but I felt that he was on my side. As before, we went on working, preparing new programmes, so nothing had changed in that regard.
At the time when I was still a single skater I wanted to train in Moskvin's group. I liked him - both as a person and a coach. He didn't pay any attention to me. Probably because I was considered very lazy. I was even kicked out from figure skating - I would always be late. At first I didn't even want to skate - I would lock my self in the room and my grandmother would try to get me out. «Oleg, go and skate, I'll buy you a bandy...». For a bandy I would go to the training.
When I started skating pairs, first not with Larisa, with someone older - I was coached by Andrey Surajkin. He was an Olympic silver medalist, three times world silver medalist (with Ludmila Smirnova) and when he retired from skating he started coaching together with Tamara Moskvina. When Larisa and I started showing some serious results Surajkin decided to take us out from the group and coach us separately. But soon the federation decided to move us to a more experienced coach. This is how we ended up in Igor Moskvin's group.
- I can hardly imagine being late to Igor Moskvin's training would be taken lightly.
- Of course not, it was not acceptable. I know that for many years Igor Borisovich set Larisa and I as an example for the others - as someone disciplined and obeying.
- In what was Moskvin different from other coaches?
- Intelligence and the wideness of knowledge. He knows history, Russian and foreign music and many other things. He is the patriarch of figure skating. There was never anyone like him and still isn't. This is why it never crossed our minds to switch coaches, though we were offered many times.We trusted Moskvin. We were discussing with him many life important matters, we would meet outside the training sessions, we discuss every subject in the world. On the ice he was demanding, outside the ice I would call us mates. Moskvin is a very tender person. He would always help when asked, and would do it for anyone, not just his pupils.
The working environment was always very creative. Many elements that Larisa and I were the first to perform no one even dared to repeat. We started doing the parallel jumps close to each other - we would almost hold hands at the entrance. The same with the spins. We experimented with the throw jumps. After one of them, when Larisa flew across half of the ice rink we would do a parallel 2.5 revolutions jump. The lifts with the «throws» of the partner in the air are still not performed by anyone else. It was all very cool looking, though risky.
- How much trust in his pupils must the coach have to put some things in the programme?
- It wasn't something that was done by chance, but after an appropriate preparations. First - on the floor, then on the ice with the safety, then without but slowly, then faster... and it all worked.
- Did you ever fight with your coach?
- More like argued. During the trainings it's a normal thing. As far as life experience goes I can say that it was Moskvin who taught me everything I know. I think it's not by chance, that all St. Petersburg coaches, starting with Moskvina and Mishin are his old students. Everyone is using his experience, his methods. Everyone comes up with something of their own, but the basics is the same - Moskvin's.
- What do you discuss when you meet nowdays?
- Everything. Sports, children. Moskvin helped me alot working wiht Ksenia - since the times she was still a junior skater. The minute I come to St. Petersburg I call him and invite to come to the training. I'm still amazed how much energy and new ideas he has.
- What are your hopes for your daughter's skating in Vancouver?
- I don't think it's possible to talk about anything serious now. We weren't counting on Ksenia making it to the Olympic team. We thought she would participate the junior competitions, like last year. Who would have imagined that the plans will have to be changed?
2010