Michelle Kwan: THE BITTER FINAL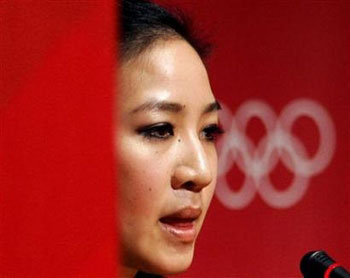 Photo © AP
Michelle Kwan
On February 12th, five-time World champion Michelle Kwan flew from Torino to the US. A day before, she held the last press conference where she announced she is withdrawing from the Games due to injury.
It was impossibly hard to watch. Kwan was wearing black and only those who know her for many years could really imagine the deepness of her mourning – the skater never liked to wear black.
Nobody will likely understand why fate had no pity to this unique skater. It seems symbolic now: Kwan was getting ready to compete at her first Games in Lillehammer, but never took the ice. The story repeated at her last Olympics in Torino.
She was 13 in Lillehammer. A tiny child, unnoticeable outside the rink, transformed as soon as her blades touched the ice.
She started doing a spiral, an element when skaters usually try to rest and save their strengths, and her spiral had so much power and passion, I couldn't even take it. Only the greats skate like that.
Around the same time, Irina Rodnina, who worked at the Lake Arrowhead skating center then, said, «When Kwan is practicing on ice, it's hard to believe that a person is able to work like that. We always thought that nobody in the World works as much as the Russian skaters. Comparing to Kwan, everybody else is completely lazy».
Kwan won her first Worlds in 1996, beating Lu Chen by a tiny advantage. In a year, she lost her crown to Tara Lipinski. The loss was logical – Kwan started going through growing pains. Witnesses said Kwan was fainting at practices in America, as she tried to manage her growing weight. Still, she kept working like crazy.
She became the champion again in 1998.
A month before the Worlds, she had to go through her first Olympic tragedy. The skater came to Nagano as 100% favorite. A week earlier, she won the Nationals, and her performace was called the best in skating history. She received fifteen 6.0s for her two performances, and several judges couldn't hold back the tears of admiration.
I remember Caroll and Kwan's press conference after the short program in Nagano almost better than the competition itself. The coach talked about the art a lot, and how his students can «hear» the music and interpret the character. He was joking how her winning program cost him only $4.39 – that was the price of priced-down CD with Rachmaninov's concert. At the end, he said, «We are not thinking about the gold at all!» The room was completely quiet and Kwan exhaled, «We are dreaming of it»
When she didn't win, maybe that was when the first little cracks came in between the skater and her coach. Maybe it was a little later. It's pretty clear that in four years between Nagano and Salt Lake City, the mutual understanding in the perfect union was somehow disrupted.
I don't remember which competition it was, but just like in Nagano, Caroll started talking at the press conference after a performance that wasn't too good for Kwan. He said that this is sport and he thinks everything is all right. Kwan took the mike and yelled out, «Nothing is right. Nothing!»
They split before the SLC Games. Before that, Kwan won the Worlds twice – in 2000 and 2001. She fired her choreographer Lori Nichols who created beautiful programs during Michelle's entire career. The reason was easy to guess. At some point, Kwan probably thought her entourage wasn't supporting her enough and that meant working together from that point on was pointless.
In Salt Lake City, Kwan lost again…
It often happens in skating for a skater to fail some important jump in the beginning of the free program and start chasing it (as a rule, with no success), forgetting about everything else, and try it again and again. Kwan's decision to stay for another four-year cycle reminded just that – a race for a phantom of the Olympic gold. She started working with Scott Williams, but after winning another World title in 2003, she left him as well. Rafael Arutunian became her new coach. Before the Olympic season, Kwan also turned to Tatiana Tarasova for help. Tarasova agreed, «When a skater wants to get a result so much, it impossible to say no».
Three of them worked the whole summer. One day, Kwan was in the locker room with Tarasova, and suddenly told the coach, «Maybe it's not normal and it's very hard to explain but I still want to compete very much. I think I'll never find the same thing that made sense for my whole life in any professional show. I'm afraid that my life would lose any sense».
After hearing that, Tarasova cried.
Kwan did a humongous job that summer. The new system smashed her. Everything that skater learn for almost twenty years, wasn't up even to level two under the new rules. At the age when many skaters are finishing their career, Michelle had to learn many elements again.
It worked. Before the season started, Kwan was constantly inviting the USFSA experts to attend her practices and they confirmed – there were no weak spots in her programs.
And then she got injured and that took away several months.
The American had health problems before. She took any pity on herself at the practices. This and constantly being in the cold surroundings led to hip joint arthrosis. In Dortmund, it seriously bothered her for the first time. The story repeated itself in Moscow. Kwan's mother resisted any doctor recommendation for the treatment, «First, you have to give birth to healthy babies, and after that you can take strong medicine as much as you want».
Acupuncture treatments weren't effective. They are not meant for such pain and for a body tortured by such pressure.
It started again in Torino. That Alpine climate often is dangerous for rheumatic problems. Maybe Kwan should've come to the Games even earlier – nine hours time difference requires at least nine days of adjustment. In this case, Michelle would've had a chance to go through it under much calmer work regimen, and later take her body smoothly to the practicing the way she is used to. She dived deep into the Games not caring for her ailment. She was waking up at night as she couldn't take the pain but she forbid herself to even think about not going to the Olympic ice one more time.
The Opening Ceremony was the last drop. After standing in the cold for several hours, Michelle realized it was over.
She came back to the rink next morning after another sleepless night. With some inhuman power, she made herself to attempt a triple jump. She fell. She started over again, and collapsed on the ice. After the third unsuccessful attempt, she glided to the exit barely moving her feet. And than she held the press-conference…
I came to the press center on Monday morning and opened the Olympic reference system on the computer to print out Kwan's information. The figure skating great wasn't listed under «athlete's biographies» anymore.
2006