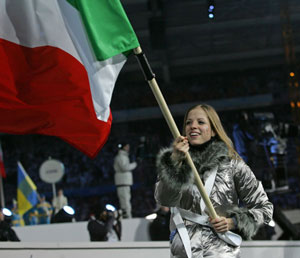 Photo © Alex Wilf
Carolina Kostner
Every new Olympic practice means new predictions. There aren't many spectators yet, but as soon as a skater comes on ice, a tense quiet hangs up here and not one move goes unnoticed.
You can imagine how much the American ladies were expected at Palavela. It just happens that 99% of people who know skating still faithfully believe that in Torino, everything possible will be done to get that last gold to America.
Remembering the last four Olympics, where USA skaters won three times, it's hard not to think about the fourth victory in 1994 that didn't go to American flag under unbelievable circumstances. Oksana Baiul defeated Nancy Kerrigan with only one judge vote and personally, I still feel that the American dig the grave for their own skater by blowing up Kerrigan-Harding story out of proportion. Any thinking person would be disgusted with the story by the end of the Games. Could that story made some judges change their views on the favorite? It's possible.
I'm not writing about the sport side on purpose. It almost never happens at the Games that the figure skating gold is decided only by the technical side. Very often, a certain coincidence matters, and it's not always sport-related.
At the recent competition I attended, we suddenly got into a conversation about Katarina Witt, particularly about whether she was really as good as her results reflect it.
Michael Huth skated with Witt at the time under Jutta Miller in Chemnitz. He is now coaching Carolina Kostner. His answer was, «I wouldn't say that Witt stood apart because of some unique qualities. She had unbelievable mindset, rare ability to focus on the competition and do the impossible even when she wasn't ready very well».
A story told by former compatriot Arthur Werner seemed more interesting to me. In the early 80s, he'd already lived in Germany for several years and worked as a photographer at all the skating events. According to him, Europe needed to have its own star at the time that could be comparable to the Americans not only by her skating but also by being well-known in mass media. None of the German skaters was a perfect fit for the role – all the best represented GDR and they weren't allowed to talk to Western, and especially to West German press.
Soviet team had similar rules forbidding the talking. The team rivaled the Germans and consisted of Kira Ivanova, Anna Kondrashova and very young Elena Vodorezova. Out of all them, Anna Kondrashova was the skater most liked by the reporters – she was cute, very adorable, always nice and most importantly, on the ice, she was as good as Witt or anybody else.
Suddenly, Witt started talking.
We don't know if it was done on purpose but that was a real step of a genius – the skaters was giving interviews left and right, participated in TV shows and advertising campaigns, the reporters kept flying to see her like the bees to the honey, forgetting about the rest. Shortly, it made Witt a star of fantastic proportion. That, among with Witt's great looks and ability to compete, led to the phenomenal achievements – six European titles in a row, four victories at the Worlds and two Olympic gold medals.
I remembered it all on Friday, when Carolina Kostner trained at the main rink. The Americans, except Kimmi Meissner, ignored the practice, so the attention was turned to Italy's main hope.
From the sport's point of view, Kostner has everything to get the results: great natural abilities, great genes (her mom is a former National figure skating champion, dad – a hockey player, aunt Isolda Kostner – great alpine skier). She has a smart coach with proper East German school point of view. Carolina is fanatical when it comes to practices which is uncharacteristic for Western skaters. She is one of a small number of skaters who never let themselves doubt their coach. Kostner's back injury from a year ago after working with a wrong weight happened because the skater's habit to obey her coach and do the assignment at any cost outweighed the feeling of self-preservation.
- Kostner doesn't have any super goals in Torino, said Huth. – We are not thinking about the medals at all. She just has to try to do two clean programs.
His position is absolutely correct, but the thing is that if Kostner meets this goal, she'll automatically be on the level of a medal contender. Who knows how it all go? Who would've thought that young Hughes will jump to the gold passing the greats – Michelle Kwan and Irina Slutskaya.
No doubt, Italy is working for it's beloved skater. Her image in the country is perfect. Carolina, 19, speaks several languages, is well-behaved, kind, and respectful to the elders (because of her age, almost all the reporters fall under that category). At the same time, a feeling of self-esteem, a sense of humor, and deep analytical mind are present in all of her interviews.
When Italian NOC decided that Kostner will be the flag bearer, it caused a protest from the veteran athletes – Giorgio Rocca, Stefania Belmondo, Armin Zoeggeler. However, their opinion wasn't taken into consideration. The way Italy's sport officers view it, Kostner is a perfect choice. She is not only one of the athletes who are able to bring a medal to their country. She is almost a symbol. Many Italians already see Kostner as a skater who would be able to turn her career to her era just like Witt.
2006