David Pelletier:
«GORDEEVA AND GRINKOV
WILL ALWAYS BE THE PERFECT IDEAL FOR ME»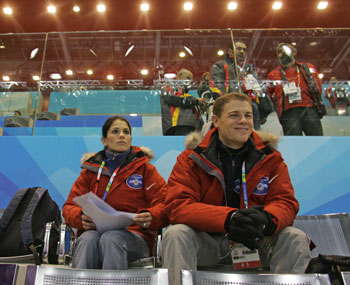 Photo © Alex Wilf
Jamie Sale - David Pelletier
February 8th was the first full training day for the skaters. Palavela rink is considered the most «lived in» Olympic site. A year ago, it hosted the short-track and figure skating Europeans. That's probably why the skaters from Europe were in no hurry to appear in public before the time. Many who don't have the need to adjust to the Olympic capital didn't come to Torino yet like Stephane Lambiel who is training in Grenoble now. So, the first relatively lively action was noticed in the afternoon when entire Chinese pairs team came to practice.
It was clear right away that not everything is simple in the Chinese kingdom. In theory, Shen and Zhao are considered the leaders. Only recently, they resumed their training after Zhao's injury. As Hongbo Zhao said, he took the risk and tried his first triple only on January 28th. During the time when the veterans were pushed to take a break, the attention turned to teams two and three. During the practice, it became clear that the recent «alternates» don't think of themselves this way. Zhang and Zhang skated with such power and confidence that Shen and Zhao barely had time to get out of their way. At some point, it seemed that this aggressiveness wasn't accidental. Zhang and Zhang managed to get in the way every time their older teammates were going to do a twist or a throw.
Jamie Sale and David Pelletier were watching with sincere interest. Judging by some remarks, they also noticed the maneuvers on the ice.
David saw me looking and asked
- It's interesting, right? It's business as usual and it's not at the same time. It's not like the Worlds. There is so much passion, and the Games haven't even started yet.
- Are you here to commentate the competition?
- Not completely. Jamie and I were invited to host a daily program on Canadian TV for those who are interested in figure skating – what's going on in practice, how the favorites behave, how they prepare, what happened yesterday and what'll happen tomorrow.
- In this case, a question for you – what'll happen in the first Olympic event?
- I didn't see many practices. To be honest, this is the second one. I would enjoy watching the Russians, but I've heard they didn't come to Torino yet.
- This is true. Still?
- I think your skaters Marinin and … Tatiana have the biggest chance. They have high speed, great line and programs. They are the most consistent and if their health won't let them down… Skating is a tricky sport. You have four and a half minutes to prove you are the best. For me, they are the 100% favorites.
- What about the Chinese?
- Zhang and Zhang look the most interesting. Technically, they don't have weaknesses. They have the highest throws, noticeable higher than other teams. They have crazy lifts. Maybe the Chinese lack the clean skating and the style that sets Tatiana and Maxim apart, but they have other qualities like powerful skating that always attracts the attention. On top of that, he is so huge and powerful, and she is so tiny… It's pretty clear that the battle for gold is between the Russians and the Chinese. Their dominance in pairs is obvious.
- It looks like you are not counting Alena Savchenko and Robin Szolkowy.
- I like them. They do many difficult elements with such ease and quality that a non-professional won't always understand how difficult it is. This skating is the most winning style under the new system, but they don't have a lot of experience. This is a significant disadvantage at the Olympics.
- I haven't noticed the lack of experience preventing you from winning in Salt Lake City.
- I'm talking about the experience of skating together. Alena and Robin haven't been skating together for that long. Jamie and I won the Worlds a year before the Games and won many other competitions. Plus, she already skated at the Games with a different partner. The experience of skating together is important psychological first of all, when you know exactly what can you expect from your partner in a certain situation and how much you can rely on your partner. You know very well that the Olympics demands different nerves than the Worlds.
- I happened to hear that many Americans who invest in the sport are not too approving of the Chinese winning because the skaters from this country lack individuality so much that it's impossible to promote them up till the point they become stars. Do you share this opinion?
- I don't think the sport should equal the market. Unfortunately, often this is how the things are. I don't even want to discuss if it's good or bad that the Chinese can win the Olymipcs. Maybe it's because I've been through all that and I want to see a good fight and a deserving victory first of all. It makes no difference to me what nationality or color the winner is and how it'll affect the advertising market. The best should win.
- It's only timely that we'll remember the age limits set by ISU after the SLC Games.
- Do you mean Mao Asada? It's a crazy decision, and it's even more crazier to present it as caring about the skaters, especially since even 14-year-olds are allowed to compete at all the other events. If you are able to come and win the Olympics, it shouldn't matter whether you are 15 or 45.
- Do you have a skating favorite?
- In Torino? I would say no. Overall, I would give a lot to see Ekaterina Gordeeva and Sergei Grinkov on ice. This team will always be the perfect ideal for me.
2006