Alexei Mishin:
«
I WANT PUTIN TO SHED TEARS
»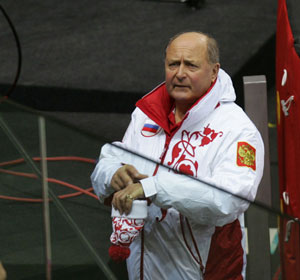 Photo © Alex Wilf
Alexey Mishin
The coach of Olympic champion behave just the way the coach of Olympic champion would. He «looking down» at the reporters a little, still managing talk very fast into the mikes, switching from Russian to English. He would remind at times, «I'm here just for a short while, I'm leaving now. You have to ask the hero, but why ask? We answered all the questions on ice».
- Why were you so diligently staying away from media in Torino?
- Because I'm going with the old rule, «Don't brag going into the fight, brag after you win». If I didn't taught Zhenia to be reserved since he was a child, he would've "said it all" long time ago. Try to understand me. Plushenko came to his success very early as a little boy who rarely went to school. He was surrounded by hype when he was 12 or 13. He was jumping anything, he had Bielmann spins and naturally it attracted attention. I'm confident that I did the right thing regarding the journalists than. If I didn't put so much effort to guard Zhenia from the press, he would've not been here today.
- Everybody noticed Plushenko and you were reserved in the pre-competition practices. Were you afraid to overwork and burn out?
- We weren't afraid of anything. It's just this method is to «own» your condition. We saw he was in good shape and we managed to be in right place before the competition. Did we doubt the victory? Only the stupid have no doubts coming to the Olymipcs. Maybe the God was with us – good starting order, good housing, good trip. The only unpleasant part was when Zhenia got the food poisoning but everything was back to normal by the time the competition started.
- Did the advantage earned in the short program calmed you down?
- Naturally. However, I think Zhenia was more anxious in the free program. It's hard to stay calm where there is one bite left between you and the victory.
- Plushenko skated in the free program like he was completing a certain assignment.
- The assignment was to do everything he does in practice, not to get into the emotional hype, not try to amaze the audience, just skate neatly from element to element and count the elements out. What can we do – the new system requires this approach. Moreover, any coach with the vision should have one goal in this situation – the person should finally get his gold medal.
I think it wasn't bad overall. I was only afraid that something might happen that has nothing to do with performances. We had no problem from the sport's point of view. The practice schedule had us skating at 6:30 in the morning. Still, Evgeni jumped everything – quads, combos. If he would've had to do more difficult jumps, he would've done it as well.
- Plushenko couldn't manage his nerves at the last games. Did you think about inviting a psychologist to your team?
- I didn't even thought about it. I think all «the other powers» in sport are too much.
- When the first two groups skated, Evgeni and you were closely watching them from the balcony. Why?
- First of all, we were warming up there. There is no spot in Palavela as convenient as the top balcony . Second, it was part of our plan. The goal was to turn it on stronger, to get an emotional charge and get into the spirit of the competition.
- Are you planning to compete in Calgary?
- I can only say now that we don't want to leave the sport, so we are not planning to turn pro. This is definite. I don't want to predict the timeline – only little time passed by after the performance. We have to let our emotions and impressions to settled down. Then, we'll think calmly and only after that we'll make decisions.
I'm glad that a skater from St. Petersburg became the Olympic champion for the third time. If you count the very first one, Nikolai Panin-Kolomenkin, it makes four, but I wasn't coaching Panin.
- We talked in St. Petersburg several months ago, and you said that several choreographers are working with Evgeni at the same time and you haven't decided which one of them will be the main one. Why did you pick David Avdysh?
- He's been working with Zhenia was some time, knows him well, and helped us before the last Games. Importantly, his wonderful professional qualities coincide with his just as wonderful human qualities. David was a great fit for our team
- Let's turn away from the fact that you are Plushenko's coach. Can you tell us which contenders are potentially the most dangerous?
- First of all, I have to say that the gap that was between Plushenko and the rest in Torino seems huge to many, but it's really an illusion. Today, it works this way, and tomorrow it could be something else. All these skaters are very strong, it's just their coaches couldn't pull it all together. Joubert skated wonderfully in practices. Stephane Lambiel looked just as confident. Johnny Weir is in great shape. As strange as it might sound, Takahashi was in a very good shape. If only those skaters did their maximum, the picture could've been completely different. Like I said, the powers above were with us. I really think we were very lucky with the starting order in the short program. Plushenko simply castrated the competition with that performance. The fight for the Olympic gold was over then.
During these minutes, I remembered my performance with Tamara Moskvina at 1968 Olympic Games. Ludmila Belousova/Oleg Protopopov and Tatiana Zhuk/Alexander Gorelik skated before us. When we went on ice after these two performances, I knew that was it, we can't even think about getting any medal.
That's what happened here. Zhenia came to the free program warm-up, calmly did two-three jumps and left. You can see it on the rivals faces that they don't know what to do since everything is pretty clear.
- So, you had to worry the most before the first draw?
- Yes, I was worried. I wanted Zhenia to draw a «little» number, but there was nothing psychotic about it. There were Europeans and Worlds when I worried much more. Maybe I was calm because Plushenko prepared for the Games very strongly.
- Back to the question – which of the contenders is the most dangerous?
- How can I predict such things?
- You are a professional coach.
- May I not answer this question? Four years is a lot of time, and most likely I won't guess…
- Plushenko said at the press-conference something like he didn't change at all since the four years from Salt Lake City. What do you think?
- He matured. Maybe we needed these four years to skate like he did in Torino – maturely and with the cold head. Those other Games weren't «ours».
- You can probably now open the mystery of your Torino lifestyle. What made you stay away from the Olympic village at first, and at the end move in here anyway?
- We had a negative experience in Salt Lake City. As soon as I imagined that those who win the pairs will finish their competition on February 13th and start celebrating right away, I immediately remembered how we couldn't fall asleep all night four years ago. So I asked to find us the housing in town. When Plushenko and I came to Torino and found out that there is a chance to move into the Olympic village and live separately, we immediately agreed. We had a three-room apartment with a separate entrance and it was very convenient. Also, Zhenia didn't feel well for the first couple of days after the poisoning, and he was getting IV treatments right away, so we still had to stay with the team for a long time. If I knew that the Olympic village living conditions would be so nice, I would've not puzzled myself with looking for other housing options.
- Is that true that Evgeni is going to go home right after the competition?
- Yes. We'll be back for the exhibitions. We don't have the program yet, even thought we have four short programs. We want to prepare something special – touching and patriotic so our families, our relatives, the President would watch the TV, see Zhenia, and shed tears, especially Putin.
2006