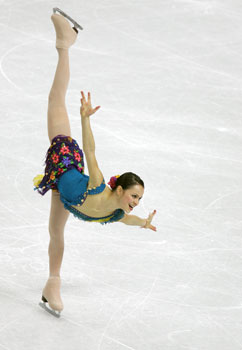 Photo © Alex Wilf
Sasha Cohen
«Dark Eyes, lalala-la, dark eyes, American...». Someone from American TV crew was singing his heart out on the street in front of Palavela. We could understand. For the first time during the figure skating competition here, someone from his country grabbed the leader's spot and had all the chances to keep it.
After Irina Slutskaya performed and was first, my mobile phone rang. The caller, a person from the «inside circles» who is pretty close with the judges, said, «Irina will be put aside, cruelly. It'll start now».
It was clear what he meant. Shizuka Arakawa, Carolina Kostner, and Sasha Cohen, who were still to skate, had all the opportunities to get ahead of Slutskaya. Irina completed all the elements. She could've probably done more if she tired triple-triple. In this case, she would get extra two something points for the technical mark. By this point, only two skaters managed to put a triple-triple - Kimmie Meissner and Elene Gedevanishvili.
What's the point to discuss it now? The second triple didn't happen. Maybe it wasn't even planned. Irina never included this combination in the short program. She thought it was unnecessary and unfounded risk. Who knows, maybe it would've been worth it at Torino.
«It'll start now», said over the phone, meant that both Arakawa and Kostner are able to attempt a triple-triple. They both performed it well at practices. It meant that they were ready to get ahead of the two-time World champion at least on the difficulty of their programs.
Johnny Weir was watching the competition from the stands right near me.
- Irina is my favorite, -he said. - She is not a little girl like the most. She is a strong mature skater who won many competitions and keeps winning. She is smart. She doesn't lose control under any circumstances.
- I know that many American fans are not crazy about Slutskaya's skating. They think her style is not exquisite enough for ladies skating and it's too athletic.
- She is an athlete to the bone, but look, there is Sasha Cohen who skates like she dances. It's very beautiful. There are many beautiful skaters, and none of them can skate like Irina. She has her own style that is not compared to anything else. That's why I cheer for her.
- What about Sasha?
- I already told you, Sasha is like a beautiful porcelain little doll on ice, very tender and very talented. However, she makes mistakes sometimes.
- Do you like how Carolina Kostner skates?
- It makes no difference for me. I don't get her style, it seems a little «splattered» to me. Kostner has wonderful jumps when she does them right, and good spins. No other lady skates as fast as she does, plus Carolina is very young and probably can achieve a lot, but later. I can't say more about her. You'll probably ask about Arakawa now, right?
- Naturally.
- She is beautiful. She has an amazing inner calmness that I think is something that Eastern people have. She looks very elegant and soft, but she has the inner power that can't be hidden by any dresses. Her jumps are the 100% reflection of this power and unbelievable fire from the inside. This all draws you in and charms you. You can't be non-emotional when she is on ice.
- Arakawa decided to go back to her old programs. You also skated your last year's free program here. Do you think it's the right thing to do?
- As for Shizuka, she left Tatiana Tarasova shortly before the game. She started working with Nikolai Morozov and he changed many details in her program, even though he choreographed it initially.
If you are interested in my opinion, of course, we have to try to do the new choreography. It's more interesting for the fans to see how a skater changes, and it goes for everything - costumes, music, and style. We have to consider that. I returned to the old program because judges didn't accept the new one too well and I wasn't feeling as confident with that. You can say I had no choice.
- Are you going to skate it at the Worlds?
- Yes, but I want to try to include the quad - do it in qualifying round, and then in the free program. If I make it, I think my program will look different, better than in Torino...
Arakawa also didn't attempt triple-triple. She did all her elements well, got a silly deduction for the triple flip and was second behind Slutskaya by .71
Skating in the next group, Kostner fell.
There was a reason to fear this skater, even though she was 11th at the end of the night. Carolina was easily completing her combos in practice. If she 'd done it in the competition, her component marks probably would've been much higher. Since she fell, the extra bows weren't necessary.
So, the situation wasn't too bad for Russia before Cohen took the ice. It was Slutskaya's own fault that her lead wasn't more convincing. Could've she taken the risk? Of course. Elvis Stojko used to do that, making the set of required elements in the short program stronger by doing a quad. He knew that he wasn't strong enough to outshine the competition with something else, so he jumped the maximum. Sometimes it helped, and sometimes it didn't, but the skater would get the satisfaction from doing everything he could.
I personally thought that all the talking about judges trying to «drown» the Russia and hold up the American was exaggerated. Who was the one to decide that there is no way one country can't get four gold medals? In Lillehammer, there was the similar reasoning and gossip up until the ladies final - something like Russia has three gold, America needs to have a champion and Nancy Kerrigan would be it, and that Oksana Baiul can't win because she just can't, and that's it! In early 90s, people weren't used to separate Ukraine from the collapsing Soviet Union, so most foreigners in skating still saw Baiul as a part of the hated «Soviet» bloc. Still, this little girl won!
Was Cohen really the best in the short program? Not in jumps. Slutskaya and Arakawa were better in everything that defines jumps and connections - the flight amplitude, sharpness, landings, and that marks reflected. They also reflected that three hunters for the gold had similar difficulty and similar performance level on the spins and footwork.
So, how did the American do it? It was her expressiveness and choreography. «Dark Eyes» is one of the best Olympic works, if not the best, by Nikolai Morozov, the most «in demand» choreographer in the World. There was no tension in the dance, and that set the American's program a little apart from Slutskaya's program.
Still, the talks about judging the ladies, that were most likely heard on the both sides of the ocean, plaid it's role. Cohen came out like a queen who knew that her army was strong. Slutskaya was like a lonely soldier who is standing by the last barricade with the gun in her hands while not knowing whether the gun is not broken.
Sarah Hughes was sitting in the stands near Weir and small number of American fans (most of them went to see hockey game Russia vs. USA). She came to Torino to cheer for her sister. Right after Emily skated, Sarah came up to the skaters' seats together with her and Bonni Retzkin, Emily's coach.
It seemed to me she was cheering for Slutskaya. This phenomena is hard to explain, but often, Olympic champion who is done performing, like the athletes from his generation more, especially those whom he defeated instead of those who come to replace him.
The SLC champion looked at Cohen with some jealousy and even a little disdain. You can guess it from her eyes, «I won the Olympics already. Would you be able to do it?»
Maybe it was all the fruit of imagination. Of course, Sarah was happy. Her sister did great, skating without mistake and with big emotional high. She could've been one of the night's heroes together with another American rookie, Meissner, but they were both overshadowed by Gedevanishvili.
The youngest participant in the Games, Elene was born on January 7th, 1990. Her performance made us remember her coach, Elena Vodorezova. The student broke through into the elites just like Elena did at her time. Everything was here - super difficulty, great spins, and the presentation - confident, emotional, and fun.
I asked Vodorezova when she came up to the stands, «What's the secret? Why Russian rookies skate like they can never hope for more than simply participating in the Europeans and Worlds?»
Vodorezova said, «I don't know. Maybe Elena and I weren't pushed by responsibility. She didn't have to fight for the spot on the team or think about showing her personal best at the Nationals at any cost and be afraid of making a mistake because you could be thrown out of the team. We just trained and did what we needed to do. Even now, nobody is setting some unbelievable goals for Gedevanishvili. I'm glad Elene was able to show how she can skate at the Europeans. She couldn't manage her nerves in the free program. She lacked the experience. We'll try here».