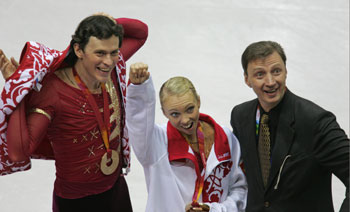 Photo © Alex Wilf
Maxim Marinin, Tatiana Totmianina and Oleg Vasiliev
The victorious history of Russian pair skating didn't know of a case when a team that wasn't the main bet became the Olympic champions. In Torino, Tatiana Totmianina and Maxim Marinin were the Russia's bet.
Monday thoughts were: Would the two-time World champions be able to withstand the mental pressure of the competition? How will the competition go?
After moving into the Olympic village, Marinin ran into Michelle Kwan. We didn't know that the five-time World champion would have to leave the Games and go home. They were talking, and Michelle said, «You know, when you win the first Worlds, it seems that your shoulders are spreading on their own, you feel taller and more confident, but very soon, you start to feel a very heavy burden that pushes you to the ground with every new victory. Those who are behind you start spreading their shoulders. They are younger, more motivated, and thins come easier to them».
It's an illusion to think that the champions can make themselves not think about the responsibility. After the victory, Marinin admitted that pushing these thoughts away from the most difficult thing before the competition. Even before the free program, many people couldn't resist reminding them, «Come on, guys! We haven't lost the Olympics for so many years!»
Even the greats couldn't always go through under such stress. So, there were options for the free program.
Option One: Shen and Zhao
If Zhao would've not tore his Achilles in August and would've not been out of condition for several months, Shen and Zhao would've been the most dangerous contender. It became clear on Monday – just after a month of training together and after almost failing the short program, the Chinese almost done the impossible. Their free program result wasn't their personal best, but it was still more than best results of Zhang/Zhang, Savchenko/Szolkowy, and Petrova/Tikhonov.
After the short program, Shen and Zhao were a little less than two points behind the second Russian team. That meant Petrova and Tikhonov had to skate their best to stay ahead.
Option Two: Savchenko and Szolkowy
Even before the free program, the German team was named the biggest discover of the games. It doesn't happen often for skaters who've been competing together for less than two years to get to the elite so fast. It happened not only thanks to Alena and Robin's talents, but also because the fate put them into wonderful hands. Ingo Steuer turned out to be an all-around professional coach and choreographer. His students both programs were works of art, which gets a special value under the new system.
However, before leaving for Torino, the team's training was seriously disrupted, not to say sabotaged. German NOC crazy hype about Steuer's «democratic» past and his Stazi connections, led to the reporters not leaving neither coach nor his skaters alone for a minute. And everyone wrote however they pleased.
Alena said she couldn't sleep or eat and she cried constantly. The thoughts were crawling in her head, even about not going to the Games if the coach will be denied accreditation.
The case was resolved, but they have to pay the price – their nerves, for competing in the Olympics. It affected the short program first, where the Germans were seventh, but they fought back in the free program. They made a mistake on the first throw and a little mistake on the lift. They got little deductions on the second throw and the sbs spin, but overall, considering their difficult elements, the result wasn't bad.
Option Three: Petrova and Tikhonov
For many years, it was like they had a permanent stamp of a number two team, first for Berezhnaya/Sikharulidze and later for Totmianina/Marinin. Only once they were allowed to become first in the World. That was in 200, when team number one couldn't go to the competition because of the circumstances.
However, the burden was too heavy ever since because it was constantly assumed that Petrova and Tikhonov should always be ready to uphold Russia's positions if the leaders stumble.
This always happens in politics. In Russia, pair skating was the politics for more than 40 years. Can it be the other way if the country held the Olympic gold for 11 cycles?
Petrova and Tikhonov mentioned that they are planning to finish out the Olympic season completely. They would perform at the Worlds in Calgary and retire thereafter. Of course, the Games should've been their main event - the last chance to win their first Olympic medal.
More than four points separating them from their teammates didn't leave them much hope for the victory, but they had a real chance for silver medals.
Once again, their nerves let them down. Two big mistakes (Maria doubled the triple toe loop and Alexei double the salchow) ended their medal hopes. With three teams still to compete, Petrova and Tikhonov were second overall, and it was clear that only miracle would make them stay in top three.
Option Four: Pang and Tong
China's number two team was fourth after the short program and performed like the number two team - very reliable but without the champion's shine. They lost a little more than a point in the free program to Shen and Zhao but that was enough to stay behind them overall and be ahead of the Russians.
NO OPTIONS
Nobody could've defeated Totmianina and Marinin the way they're skated in the free program - perfect execution and amazing beauty! It looks like theirs was the only performance in the last four Olympics where the champions skated so clean. You didn't have to wait for the marks to understand that Tatiana and Maxim are first. They weren't able to enjoy it – all their strength went into the performance to the last drop.
Elena Deriabina, personal psychologist, constantly worked with the skaters for the last year and a half. If not for her, most likely, Marinin would've not been able to mentally recover after the last year tragic accident when Totmianina felt on the lift. He blamed himself a lot and he thought that his partner would never forgive him.
For several months, Deriabina spent all her time with the skaters, taking care of them at every event, and helping them to recover from the pressure and small injuries. Last fall, one great tennis player got injured and used her services accidentally. After that, to quote «The Godfather», the doctor got an offer impossible to refuse. Deriabina declined the offer and said she is ready to discuss it in the spring when Totmianina and Marinin retire.
She didn't go to Torino. RSSF refused the request to get the accreditation for Totmianina and Marinin's doctor.
Still, by the time they performed in Torino, both Tatiana and Maxim were different people – completely confident. Marinin said, «We knew there was a psychologist on the team and he would probably agree to help us if we needed. However, I don't know that person at all and the risk didn't make any sense. You don't change the horses in the middle of the way».
I called Deriabina at Moscow on Tuesday morning to congratulate her.
She was almost crying from happiness, «I didn't sleep all night. Tania and Maxim not only deserved this victory – they suffered for it with their entire existence. To be honest, they never had that bright strike of a talent that allows a person to reach the goals with significantly less work. First of all, Totmianina and Marinin are hard workers. I saw the practice fanatically. For me, their gold has a very special price».
Ability to work like nobody else is also a talent of a sort.
After the performance, Totmianina said, «We did everything we could. We worked a lot and we worked hard for that victory. We went through a lot together. I still think that falling from the lift a year ago also played a role.
Sometimes, the skaters fall just as hard in practice, but people don't see it and don't think about the price we pay for the victories. Maybe, some will start respecting our work more after seeing that fall. This really is a very difficult job.
On the other hand, maybe there is a reason they say you have to be born a champion. Maybe Maxim and I were born under the lucky star».
Marinin added, «I don't know how to express what I feel now. You are waiting for this moment all your life, and it flies away in one breath. So many people want to win the Olympics, and it only happens to some. We did it. Tatiana and I were adjusting to each other for a very long time.
My horoscope sign is Aries, and for a long time, I wanted to lead and dictate my conditions. With the time, I learned that the team is like a horses running together. If you want to race it to the finish and be first, you have to make sacrifices and trust those who are walking with you to your goals. If you don't trust them, you shouldn't even start the work.
That's why the coach's word is a law. He is responsible for everything. Our roles were clearly defined for the last two years. We didn't spend extra strength and time for unnecessary talks. As a result, we were going forward faster.
That's how it was here as well. We haven't turned on the TV even once before the competition. We knew we would get into it, start rooting for somebody and spend our nerves. We tried not talking about the free program and that we could win. We couldn't even think about it. We were setting ourselves up for the job that we had to do. When it was over, I was so grateful to Tania, I fell to my knees. I heard her say, "Imagine, this is it! That's it!" I looked at her and couldn't believe it».
OVERCOME
The fate of Olympic gold practically didn't depend on how Dan Zhang and Hao Zhang performed. Still, their performance was expected with big interest. They had planned the most difficult program that had a quad throw in the very beginning.
Many pair skating coaches are sure that throws like that should be forbidden because the female partner doing it is balancing on the limit of human abilities. The risk of the worst injury is too high as well.
Those who saw Dan Zhang's fall might still not understand how she was able to continue. One of the most known Russian sports orthopedic surgeons, Sergei Arkhipov, who watched the competition, said, «It looks like she seriously damaged, and possibly tore, hip muscle and a knee ligament on the inside. To skate in this condition? I don't know…»
Under the rules, skaters can continue in no more than two minutes after stopping for a serious reason. It looked like there would be nothing to continue. The Chinese was seriously shaken. When she came to the board where the judges were, she barely stood on her feet. When she saw the stretcher set by the doctors, she shook her head.
In a minute, the team skated to the middle of the rink.
What they did in the next four minutes was an act of heroism. Even without the first element and with Dan Zhang barely standing up, they managed to be second in the free program and hold on to the silver medals.
Their performance left an inhumanly strong impression and the foreign reporters started assuming who would've gotten the gold if the Chinese skated clean.
As soon as one of the reporter brought up the subject at the press conference, Marinin interrupted, «We have a good saying in Russia – you don't wave your fists after the fight. We won. The train has left. As for the fall, everyone saw one more time how dangerous the skating is, and how risky is the fight, especially at the Olympics where the environment can provoke any injury. It's all very nervous and tense».
The reporter wouldn't stop, «The Chinese kept skating and finished the program. You didn't do it in Detroit».
Tatiana couldn't hold it anymore. She smiled and said, «You see, the Chinese are great of course. We had a different accident. When you are laying on ice unconscious, it's a bit problematic to get up and continue skating».
IS IT COMING TO A DEAD END?
On Monday, the champions confirmed, «This is really our last competition. We made the decision early in the season. We are too tired. We want to thank all those who cheered for us and all those who criticized us. If not for the criticism, we probably wouldn't be as motivated to climb higher and higher. Now, we are probably at the point after which moving forward is very hard».
After every Olympics, the question is «What's next?» Marinin was asked directly, «Wouldn't you regret giving away the pair skating to the Chinese? There is not one competitive team behind you». He seemed a little lost, «I don't know what to say. We did everything we could. Maybe now it's the others turn».