Nikolai Morozov:
«I WOULD BUILD A STATUE FOR PLUSHENKO»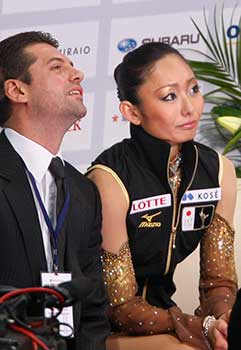 Photo © Alex Wilf
Nikolai Morozov and Miki Ando
He is one of the most successful and fruitful coaches in figure skating. He choreographed for ladies and men, for dancers and pairs. He was one of the authors of the famous `Winter' for Yagudin and `Dark Eyes' for Sasha Cohen. He won the Olympic Gold with Shizuka Arakawa and the gold at worlds 2007 with Miki Ando. During the last 2 years he pulled up the Japanese skater Takahashi from the 20th places to the silver medal at worlds. Right now he holds the position of the best coach of the current Grand Prix series thanks to Oda's gold in Paris and Ando's in Moscow. Except for all that he is completely sure of himself. When in the best tradition of the Japanese federation the representatives tried to take part in the training process of `their' skaters he chased them out of the ice rink.
The amount of the Japanese journalists in the mixed zone of Moscow Megasport centre after the end of the ladies competition broke all the possible records. They were bombarding the winner – the world champion of 2007 Miki Ando - with the questions, were investigating Mao Asada and her coach Tatiana Tarasova and the only one who was left unnoticed was Morozov. Though the second I took him aside and started asking questions a huge microphone that was held by a Japanese operator appeared above our heads. Realizing he was noticed the operator disappeared. We went on discussing the competition.
NM: I did not set any goals for Ando in Moscow. After all it's our first start and we just needed to skate the programme. It was obvious taking the roster she would either win or come second. Which was not particularly important right now. I can not comment on the other's skating – except for Ando and the men competition I haven't seen anything in Moscow.
EV: As someone who works with a very good male skater your opinion on the male skating in Moscow competition would be interesting.
NM: I was blown by Evgeni Pluschenko's skating. So far it's the strongest impression of the season. I would build a statue for him. It's hard to give a score for what he had done.
EV: I.e. you didn't even consider the possibility of his comeback?
NM: No, why? At the time I was deeply involved in Yagudin/Pluschenko rivalry when they both were getting ready for the SLC games. I know the guys well and I know what are they capable of. When Yagudin considered coming back to the sports before his hip surgery he came to train with me in New Jersey, skated for a couple of days and even attempted to land a quad. Those are the skaters of a different level. Not like any others. In Pluschenko's plans to come back I didn't see anything impossible, but I was overwhelmed in Moscow not by his triple and quad jumps, but by the fact that he looks better on the ice now than he was at 2006.
EV: Many are mentioning that. As well as the fact it would be hard for Pluschenko to accommodate to the new system as far as the non jumping elements go.
NM:  I don't want to talk about it. The last world championships were won by the skaters who can't even perform a quad. I don't consider it normal.
EV: I remember our conversation half a year prior to the Turino Olympics. Back then you said the value of the quad should be higher. But it still haven't happened. Is an attempt for a hard element justified when it is not scored particularly high?
NM: I think those who are capable to land the quads will attempt them in Vancouver. That is if they want to win, of course. Take Joubert: he meant to jump 3 quads them in Grand Prix in Paris and it was not because Pluschenko came back. And it doesn't matter that he was unable to land them: after all the goal is the same: to win in Vancouver.
EV: At the time Miki Ando was the first female skater in history who landed a quad jump at a competition. That was 7 years ago. Will you attempt to include the quad in the programme?
NM: Miki landed a quad salchow many times. The new scoring system, however, meant the jump was never counted. It was not counted in the last Grand Prix final, although the jump was performed with the same underotation as it was at 2002. We are still training the quad. We'll have to see whether the odds the jump is consistent and how the competition in Vancouver will go. It will also depend on what will we be fighting for.
It's obvious that in Moscow Ando could have performed just a 3/2 combo and still be the first. But we took a risk as we did throughout the whole last season – performing a 3/3 combo in every short programme. The high expectations make the skater stronger.
EV: I know that your other student – Nobunari Oda is not bad at his quads. Why didn't he include it in his programmes in Paris Grand Prix?
NM: It was calculated. Oda is not yet ready to perform his LP to the best if there is a quad included. We still have plenty of time to the Olympics, there is no need to push things. We came to Paris ahead of time, spent there altogether two weeks, got over the jetlags. It was important for me that the guy's training process goes on. Hence Ando, who did not participate the Grand Prix there came with us.
EV: Are you satisfied with Miki's skating in Moscow?
NM: Very. During the last several years she either skated very well or, if she did any mistake at the beginning of the programme – she would give up. In Moscow I finally saw what I was heading to for a long time – Miki did some mistakes but she pushed herself to the maximum: held the positions in the spins, controlled her emotions. She is much more professional now than she used to be.
EV: What caused those changes?
NM: Probably the age. The experience. I like the working process this year a lot. I noticed that I don't even have to say much to my students – it's as if they understood exactly what I want them to do and just do it.
EV: You are an unusual coach. Normally everyone who works with the Japanese are whining about their weird eastern mentality when talking about their skaters.
NM: Cant' say that about my students. Including Takahashi with whom I didn't have any problems for a long time. As far as the federation representatives or the press goes -  I don't mind them and some I don't even talk to.
EV: I heard that there was a conflict between you and the federation?
NM: There still is. And is going on for a while. At the time I told them: figure skating is not your sports. Your sport is sumo. Japan doesn't have the traditions in figure skating like Russia, USA or Canada do. Hence any coach, even not the very known one from those countries knows better than all your organization combined.
EV: Why did you have to confront them at all?
NM: I didn't have a choice. I don't want to be interrupted in my work. I don't want to be advised all the time. That was the exact reason for parting with Takahashi – he started listening to the people from the federation who don't know a thing about the sport, don't understand where is it developing, don't even remotely imagine what and how will things happen in the future.
Oda listened to those people in the exact manner a year ago. It was getting to a situation when they would write him in a piece of paper which elements to do at the competition. The talks of what he should or should not jump…
The only Japanese skater who had never listened to the federation is Ando. Shizuka Arakawa stopped listening to them as well when she was training under me. But it was easier back then: Arakawa was skating at the times of different federation clerks. After the Turino games the people in the federation have changed and it became much worse. Her win turned the figure skating into a much more popular sport than it was before. Now the Japanese need an Olympic gold in Vancouver. What has to be done to achieve it no one really knows, but everyone is trying to rule the process according to their abilities.
EV: Does the confrontation make your skaters life harder?
NM: It is not related to them at all. I'm actually quite glad you brought that up. I tried to talk about it while in Japan, but the local journalists would just cut out everything that doesn't seem `needed' to them before publishing. It's something else I can't understand. As a coach I won more medals for Japan than they had in figure skating in their whole history. Miki Ando became a world champion at 2007, Takahashi won silver in the same competition, prior to that was Shizuka's Olympic gold, the last world Ando became 3rd. After all that I come to Japan, get to an ice rink and they are telling me what I have to do on the ice!
In Moscow I was training at nights with my skaters on Vodorezova's rink in CSK. Everyone were happy to see us, no one was annoyed.
EV: Why did Takahashi decide to part with you? Was it initiated by you?
NM: After Daisuke became second at worlds in Tokyo his adoptive parents insisted he should sign a contract with a Japanese manager. The one who used to work with Arakawa. And then the problem began. For example, previously I would order the skates for my students. The manager decided he would do it from now on. To begin with he got the sizes wrong. At the beginning of 2008 Takahashi came back from the 4CC competition in Korea where he included 2 quads in his LP and broke Pluschenko's record. I noticed he has a broken toe nail. Of course I asked how did that happen. Daisuke admitted he had to skate in the boots that were half a size smaller than should.
The same problems came in numbers, one dragging another. This is why at the  worlds in Goteborg Daisuke was left without a medal.
After that I declined working in such a way. Either Takahashi stays with me or he leaves the manager. Under the pressure of his parents and the federation he left me.
EV: Were you sorry about it?
NM: Of course. Daisuke was one of my favourite skaters. He is very talented and is a good boy. It was interesting working with him, choreographing unusual programmes for him.
EV: In other words, you invested too much in this skater to forget about him?
Nm: You could put it that way.
EV: Who of your current students is especially important for you?
NM: Probably Miki. I work with her for the longest time. We overcame many things. There were unsuccessful skates, injuries. Because one of them Ando even had to withdrow from the worlds at 2008. But she managed to overcome everything.
EV: As far as I know there were attempts to make her leave your group?
NM: Yes. It is normal for the Japanese skaters to switch coaches often. After the worlds in Goteborg when Ando couldn't skate the federation insisted Miki leaves me. She declined.
EV: Would you be surprised if she left?
NM: Probably not. After all the Japanese skaters are not particularly predictable
EV: Why do you think she haven't left then?
NM: Probably because she wanted to gain the failure experience as well as success. She became wiser. The girls are not often thinking about serious matters. First the parents are controlling them, trying to solve all their problems. Usually the sportsmen start thinking themselves only when things don't work in their favour.
One of those hard periods was last year when Ando was skating at the first Grand Prix in the USA and became third loosing 4 points to Ukari Nakano. I was very satisfied with the way she skated, especially since the previous season included an injury. The representative of the federation came straight to the dressing room telling Miki she has to change her programme immediately  because in their point of view there aren't enough transitions.
I was shocked when I found out. What transitions? We had a clear goal – to land the jumps. It was the first competition! And they are explaining my student that if she won't change the programme she won't even go to the worlds in LA.
Then Miki showed them who is the boss. And became the only Japanese skater who was medaled in LA.
EV: Do you have language problems with your students?
NM: I was lucky. Ando and Oda have been living for years in the USA and speak English. Nobunary was skating in Canada under Barkell (Battle's coach) before switching to me.
EV: How many of your students will participate the Olympics in Vancouver?
NM: Except for Ando and Oda I also coach the Japanese dancers and the Spanish single skater Xavier Fernandes.
EV: What about your work with the 2006 world champions Pang/Tong?
NM: I only choreograph for them. For the last 3 sasons.
EV: What do you think will happen in the male skating at the Olympics?
NM: That's a hard question. I can only tell that it would be the most interesting competition of the last several years. Even now it's possible to name at least ten skaters who can win. It's Pluschenko, Joubert, Lambiel, Verner, Chan, Lysacek, Abbot, Oda. Somehow I think the SP marks will be so close that the LP will decide.
EV: The Ladies event in Turino comes to one's mind where Cohen, Slutskaya and Arakawa had a margin of a point after the SP. Even less – 0.71. By the way, are you still in touch with Shizuka?
NM: We only talk at the competitions. Arakawa came to Paris – she was with on of the Japanese TV companies. That is another thing I don't understand – Shizuka is a huge star. The only Japanese Olympic champion. Yet no one sees her anywhere. She doesn't participate any shows – she is in a great shape but only skates in Japan. And even there her celebrity status goes down. Although in my point of view Shizuka could compete with the best skaters in the amateur sport even now. Her technical ability would allow it.
EV: Why didn't you hold her?
NM: I tried. Tried to convince her for a year. But the Japanese decided differently. New Olympic games require new names. Now all the attention is set on Mao Asada.
2009