Nikolai Morozov:
«I THINK I'VE MET TARASOVA'S EXPECTATIONS»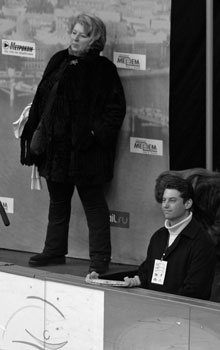 Photo © Alex Wilf
Tatiana Tarasova and Nikolai Morozov
Nikolai Morozov's sports biography is pretty non-standar. He was competing in ice dance with Tatiana Navka, and after his career was over, he worked with Tatiana Tarasova and Alexei Yagudin. He married famous Canadian skater Shae-Lynn Bourn and he made Bourn and Victor Kraatz World champions 2003 on his own after he left Tarasova. He choreographed for Michell Kwan, Sasha Cohen, Shizuka Arakawa, Brian Joubert, Evgeni Plushenko and about ten other best skaters. Because of that, he is fairly considered the most demanded choreographer in the World. He works 14 hours a day and he is sincerely sorry that there is not enough hours in one day.
- You left the sport pretty early. Do you regret it at times?
- Not at all. When Tania Navka called me in 1998 and said she was going to skate with Roman Kostomarov, it was unexpected and naturally not very pleasant. I had nothing to do but team up with Katia Davydova, Roman's ex-partner. They won Jr. Worlds together in 1996. I asked Tatiana Tarasova to coach us but I realized very soon that we won't place high and that means we shouldn't keep going. In two-three months I came to Trophee Lalique where Yagudin was skating. I wanted to thank Tarasova for working with me and Katia. She suddenly asked me if I would like to work with her and ask me to call her when the season was over. Her offer was completely unexpected. I couldn't understand what she saw in me but I didn't hesitate for a second.
- What was in Tarasova's personality that drew you in?
- You don't even have to say that Tatiana is exceptional great coach. You can just look at her skaters results. Working with her is amazingly interesting. She always has huge amount of information regarding to anything that relates to her work. For example, she asked me in St. Petersburg whether I knew that Eifman's ballet «Anna Karenina» is performed here. You would think that a person of such experience and achievement would have to be interesting in something and strive for the new things but she does it constantly. And she constantly tries to create on ice even those things that are considered impossible. I think that what sets her apart from most of the coaches.
- I've been to Tarasova's practices. How did you manage to withstand her rythm of life?
- It was interesting. From the beginning, I liked coaching very much and that was something I didn't expect from myself. I think I've met Tarasova's expectations.
- Do you remember your first independent job?
- I can't name something in particular. I remember the first year when pretty often Tarasova almost pushed me to go choreograph for people who turned to her personally and didn't plan on seeing someone else as a choreographer. I felt that she does it not because she doesn't have time herself. She was purposely giving me a chance to try my abilities. That's what happened with Isabel Delobel and Olivier Schoenfelder.
- It was probably not very pleasant to see the clients' first reactions. They expected a maestro and got a boy, almost.
- I just worked and didn't pay attention to anything. As a rule, one day was enough for people to realize that they were satisfied by working with me.
- Alexei Yagudin won gold in SLC with short program to Winter. This is still considered the best moment in your creative career. Do you have any memories connected to that work?
- It was pretty accidentally. I love music and I know it pretty well. I can tell you how a certain performer or a conductor interprets a certain composition, which orchestra plays a composition faster and which orchestra plays slower. I still spend a lot of time in music stores. We were looking for music for Lesha then. I stepped into the music store in New York and heard something unknown playing on the store floor. It turned out that an hour before I came the very fist Bond CD was brought to the store. Naturally, not many heard about that group before.
Later, when we started working on the program everything fit just right - the music, the costume, the mood, the skating. I can't say that from the technical point of vew that footwork, the one that still remembered, was especially unusuall. The biggest advantage was the musicality. Every step matched the logic of the melody. That's why «Winter» played so well. I remembered how we were sitting at Lesha's home with a glass of wine, discussing what to do in a certain part of the program, and then we started to do it all on the floor. We danced till three in the morning.
- How did Tarasova react to your ideas?
- Three of us worked together constantly and there was no division between your own and somebody else's ideas. All of it was working together. It wasn't improtant who exactly came up with a step or a gesture.
- I know that at the Olympics in SLC, only one person in addition to a coach can be by the board. Zagajnov, a psychologyst that worked with Alexei tried to persuade Tarasova he should be that person, not you. Were you upset about it?
- I don't care where I am when a skater performing. By the time the Games started, a tension was already present in our relationship with Tarasova and Yagudin. We kept doing everything possible for Lesha to win but we knew very well that most likely we won't be able to work together in the future. The reasons had nothing to do with the sport so it's not worth to talk about it now.
- I saw several times how a coach and a skater leave «the bones» from the initial work of choreographer. Do you react in any way when something similar happens to your programs?
- It makes no sense to get disappointed because of it. Some coaches don't touch the choreogrpahy and not one move is changed during the season. Some do everything over. You can't control it in any case. Those who worked with me almost never argued. Just maybe about music. For a while, Sasha Cohen couldn't make a choice for the free program this season even though I offered her Romeo and Juliet immediately. A week went by,we were skating to different melodies, and then Sasha agreed with my opinion.
- Was Dark Eyes as the short program your idea as well?
- Yes. It was pretty long ago. Alik Goldstein, a composer, constantly helps me to work with the music. A year ago he called me and said that he found a wonderful variation of this romance, played very well. I liked the music but overall it didn't sound as strong as I wanted from the beginning to the end. I was looking for «Dark Eyes» everywhere. I got about 20 different recordings. Cohen's program consist of four different variations of this music and each has something special.
- What do you thingk about common occurence when two or more skaters use the same music?
- I don't care about it.
- Do you think it's not important?
- Not for those who compete for the first place. They all are great performers as a rule and each one will make an individual impression even with the same music. We had a similar question when we were looking for Olympic free program for Yagudin. He like Man in the Iron Mask soundtrack but Takeshi Honda skated to it couple of years ago. I persuaded Alexei with just one argument. I said, «Just think how Honda skated to it and how you can skate to it». If Honda was stronger than Yagudin at the moment it would've been a different story.
- When you worked with Evgeni Plushenko on SP to «Once Upon a Time in Mexico», did you know that Stephane Lambiel was going to use the same soundtrack in his short program?
- I didnt' know. I am sure if Zhenia kept that program everyone would say that Lambiel took Plushenko's music, not Plushenko took Lambiel's music.
- What's more interesting for you, working with ice dancers or the singles?
- The men. I think this season will be the most interesting for them. There is huge number of athletes who skate well.
- Many think it's because of the new system.
- I like it overall. It's very good for competitions. The results became more objecting and they can be explained, but I would've changed something. I would've done one free footwork sequence in short program instead of two required. This one would be without tough requirement for the elements. The programs would become more interesting.
- You can do the same for the spins.
- This problem doesn't exists for the spins. They lost their attractivenes a little because they lost the speed but that's because the current generation of skaters never learned specifically what the new rules require. If you give them one more year, everyone would probably spin better and faster.
- Talking about men's skating, don't you think that the new rules give a certain advantage to the skaters with non-traditional sexual orientation? As a rule, they are more flexible and expressive and these qualities are more valued when it comes to the components of the program.
- I agree with you. I think the judges should review how they see the mens' skating. It has huge advantages - power, speed, and it all should be especially marked. I think that quad's value should be higher. The rules now easily allow winning a short program without a quad.
- How many skaters are in your group now?
- Nine ice dance teams and a man from Japan.
- Aren't you afraid that with such number of skaters you will stop getting new ideas in some time?
- Under the old system, it was completely unacceptable for me to train more than three teams because each of the required huge work. I had to create different lift and look for their own styles. Now the rules spell out what should be done and how, so all teams have to show the same elements. You can create something else but it won't be valued. Even with that, I don't think my ice dancers look like each other. The only problem is time. I have to work 14 hours a day, and sometimes at night. Shae-Lynn helps me. And she performs in a show. Victor Kraatz didn't wanted to skate after they retire from the amateur competition, and she dances alone, and she looks the best.
- Wouldn't you agree there is something abnormal here? You have a young beautiful wife, a four-year-old daughter and you are at the rink almost 24 hours a day. What for? To make more money?
- Absolutely not. Many skater who can't pay for the practices skate with me for free. I love working more than going to vacations. I don't remember very well what vacation means. Maybe I should try.
- Were you surprised when Tarasova asked you to take her Russian ice dance team?
- It was unexpected. Considering our relationship, I've never thought she would ever turn to me.
- Did you drop the phone?
- We didn't talk on the phone. Tatiana personally met with me and asked to come to her practice to look at Olia and Vitaly. I was glad to take them. I never had a Russian team before.
- Why does that matter, especially for you, a coach who lives in the USA and haven't worked a day in Russia?
- Well, I'm Russian. I don't know how to explain it but it makes a difference for me. Maybe it's called a patriotism. And... I couldn't say «no» to Tarasova.
2005