Marina Zueva:
«OLYMPIC PROGRAMMES HAVE TO BE SPECIAL»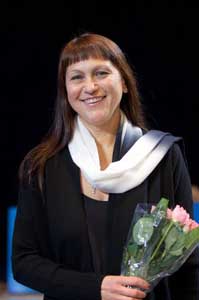 Photo © Anna Kondakova


Marina

Zueva
Choreographers in figure skating usually get the second role. Though everyone agrees: the skaters success at the Olympics is partly due to a good programme. Marina Zueva is unique in that way: twice Olympic Champions Gordeeva/Grinkov won with her programmes and never turned to anyone else during their whole career.
Last weekend the Paris Grand Prix was the first step towards another Olympic success for Zueva together with a canadian pair Virtue/Moir.
* * *
Two years ago I spoke to Zueva and her constant coaching partner Igor Shpilband during the worlds in Goeteborg. Virtue/Moir became 2nd but the conversation was far from merry - they 2nd couple of the duo - the Olympic silver medalists Belbin/Agosto did not skate to their potential though they came to win. A short while later they announced they are to leave their coaches of the last 10 years.
This is what we started the conversation from in Paris.
- How sudden was Belbin/Agosto's decision for you, especially after Igor and you practically raised them?
- During our last year together I felt they were not comfortable. Our other pairs- Virtue/Moir and Davis/White were very young compared to Tanith and Ben. Healthy and fun - like puppies who are jumping around all the time, overtaking, trying to bite and play. When that happens in the group constantly it becomes a burden for the older couple. Igor and I did not expect Ben and Tanith to leave, but we saw they were suffering. We tried to help, but it didn't really work. Besides Ben suffered some injuries - his back hurt all the time. Of course it's a shame they left - we were very close.
- Did you try to talk them out?
- How can you if people had already made their minds? It's their lives, their right how to change their destiny.
- Where you following their career closely after they changed coaches?
- Not really. Last year I was busy thinking how to get Tessa Virtue ready for the season after she underwent a surgery on both legs at the beginning of October. I hadn't had time to think of anything else.
- I heard the operation was not common. What caused it?
- When Tessa went through the routine tests it appeared that when under a stress her lower legs muscles are not supplied with enough blood and as a result don't get enough oxygen. In general the surgeons had to make cuts around the muscles to free them.
The main problem was that for a while Tessa remained with no legs at all. First of all it's hard mentally. Besides I didn't want to stop the training process completely, so I was trying to come up with plan how to go on working effectively but not overdo things and slow the recovery.
I had to read alot on the matter. We met with the doctors every week, discussed the process - controlled the situation. Plus the legs had to be trained differently - after the surgery the muscles behaved in a different way, the feeling was different.
Of course we lost plenty of time. We didn't make a secret that last season Tessa and Scot skated the whole free programme just 5 times.Four of them at the competitions. But I was thrilled that with no preparation and «without the legs» the guys became third at worlds.
- When Tessa and Scott just appeared in your team it was obvious you treat them in a special way. Is that because Tessa resembles Ekaterina Gordeeva with whom you worked for so long?
- No, it's not the matter. I really like their relationship on the ice. Their contact. Such a special chemistry is rare on the ice. Gordeeva and Grinkov by the way, also had it. When I started working with them I noticed, that no matter how I place them on the ice it looks gorgeous. Probably they felt it themselves. It's not by chance they came back to me before the 1994 Olympics, though for the previous 3 years we didn't work together.
- I know that Gordeeva/Grinkov turned to many specialists back then, including Tatiana Tarasova.
- True. But at the end they came to me. To make an Olympic programme is not an easy matter.
- Do you agree the Olympic programmes have to be special?
- Of course. At least because the Olympic games only happen once in four years. Think of it: Virtue and Moir can dance to any music - the modern, folk. But they are the best in romantic drama. It's not by chance that the «Umbrellas from Cherbourg» with which they participated the worlds at 2008 was such a success.
To present Tessa and Scot in the best possible way to the judges and the audience I picked last year a Pink Floyd song. It was completely unexpected. In other words I was preparing the grounds a year ago for the Olympic season. So they would be accepted the best way.
- The goal being?
- To win the Olympic games, of course.
- Does it mean Davis/White are on the 2nd role in your group?
- No. We train them to the highest level as well. But Meril and Charlie are completely different. To have such duos in the team is a pure happiness. The strong side of Tessa and Scot is presenting the music, the soul in a way that people start liking the music, listening to it at home. Charlie and Meril are passion, power, storm. Both couples are skating together for a long time, their unit is obvious.
When I first saw Davis and White I was charmed by Meril. She was tiny and yet she knew how to express the music. But no one noticed. It became my goal to show that those skaters can not only run on the ice but they have a soul. The recording of «Samson and Dalilah» which they skated to last year I kept for 7 years. There was no one to skate to that music. And then Meril grew.
- You like keeping things....
- Before the Olympics in Lillhammer I had 5 programmes stocked for Gordeeva and Grinkov. After they retired at 1990 I didn't even think they would come back. But for some reason I kept the music. And when they came back I faced only one problem: to make the right choice.
- What is the «right choice» about when you take something so known and I would even say «overskated» piece as «Phantom of the Opera» as you did for Davis/White this year?
- My thoughts were easy. There are no empty fragments in «Phantom of the Opera» that wouldn't be obvious for the listener. It's not by chance that the Broadway who is always sold out, breaks every possible record. It doesn't even matter anymore who performs - the crowds will come.
Besides Charlie is very familiar with the music. He told me that he watched the «Phantom» for the first time when he was 6 and was so inspired by the music that he tried to play some scenes himself back home. He even found the mask. When the skater feels so strongly about a music it has to be taken into consideration.
By the way, I was choreographing White's programmes while he still skated in juniors as a single skater. And was very proud that after the tragic SLC games when the CoP was introduced he was the first American skater to receive the 4th level for his steps sequences.
- Why tragic games?
- How else would you call the games where the 2nd set of medals were awarded as it was done to Berezhnaya/Sikharulidze and Sale/Peletier?
- You think the Canadian should had won?
- Don't know. It's not my specialty. Besides, I still can't tell who skated better on those games. I liked both couples alot. But I know for sure that 2 sets of the gold medals shouldn't happen. No matter what.
- How do you and Shpilband divide the time so none of the skaters feels deprived?
- Their time is divided between us. Igor takes care of the technical part and every couple works separately on programmes and technique. I realized a long time ago the term «personal lesson» is sacred in the USA. The whole day is scheduled by hours. Work with Igor, rest, a lesson with me, rest, ballet... I make a weekly schedule for all our 12 couples. That «net» is very convenient, the kids love it. And, I guess, they love seeing how many people work with them. The acrobats who help with the lifts, the cameramen, the ballet dancer...
To make such a schedule is a hard work which takes about 2-3 hours every Saturday. But after that everything is clear. After all it's not easy to work with 12 couples at the same time.
- Are you getting tired of so many skaters?
- No. I have to start working very early though. At 6 o'clock, which means waking up at 4.15. One of our couples is in the school at the morning and the guys asked us to coach them before school. So I decided my lessons would be on those hours. After that Igor started joking that the discipline in our group can be measured in «Marina» units.
- Have it ever happened that you woke up in the morning and didn't feel like going to work?
- Never.
- How did you come up with the very unusual lifts Virtue and Moir perform?
- I learn the history of figure skating, ballet, circus all the time. I was lucky to have worked with Stanislav Zhuk for several years. He was in a constant search. He would take the ideas from everywhere. I remember he used to go and see the way the gymnasts train. In the box rink he would collect exercises to work on a certain group of muscles. Zhuk was the one to teach me to look broader. Which I do. I don't see anything bad in using other people's experience.
In Tessa and Scot's case it just happened that while they were juniors the difference in the high / weight was not significant. Technically the guys were better than Dubreul/Lozon even then, but Scot couldn't lift Tessa. I mean - we did perform some lifts, but it was very basic.
It was than that I said if we get the lifts to the maximum level Virtue/Moir will beat everyone. And they started working.
First I invited a gymnastics coach who gave them some basic training starting with the simple flip. The guys learned how to stand on their hands, i.e. they learned some skills which are very unusual for figure skaters in general. It all lead to Tessa and Scot's feeling of their own body, developed their coordination, balance.
The tricks themselves I took from the ballet, circus, pairs skating. I saw plenty of plays, ballet journals. I was trying to change our lifts to become not just lifts, but turn them into something with the mood. Yet without being too dangrous. One of the lifts - at the beginning of the FD - at first I wasn't sure about it, but Tessa and Scot liked it so much that they decided to learn it. And they did. After which I realized nothing is impossible for those skaters.
- Are you satisfied with their readiness for the season?
- I'd say they are missing some «mileage», but we'll gain it. We just need time.
- You revealed the music choice of the programmes very early in the season, though many couples prefer to keep it a secret till the last moment. Was it in purpose?
- Of course! After the end of the last season I was asked all the time how are Tessa's legs. No matter what I said I was not trusted. And they would go on they lost the worlds because of her fragile legs. They were fragile - for a good reason. And the judges probably got that impression.
I realized: the longer we'll keep the readiness of the couple a secret the more the rumour the couple is not ready to fight for the Olympic medals will spread. To avoid that we had to show that everything is OK. We first showed the free dance in August 17th. And immediately received positive response. When we came to the next competition people came and congratulated us on successful choreography even before they saw it. I.e the first goal was reached.
- Is your Olympic experience helping?
- Sure. The success always reassures. You learn something you didn't know beforehand. Not a long time ago I thought - I must be not a bad coach. All my skaters perform with a certain success. I think it happens when you train them right. They get the assurance from the coach. And the love.
- What in your point of view the skaters have to know about the Olympics to succeed?
- Nothing. They have to go out to the ice and skate as if it was a training session. Not to differenciate at all. The coach has to know the difference. It's his main goal at the Olympics - not to let the skaters be under the stress. Especially as the stress is artificially blown out of proportions at the Olympics
- Are Tessa and Scott overwhelmed by the attention they receive from the Canadian fans?
- They are surrounded by that for a while - since they were junior skaters. Of course they are more popular now. But their heads are fine. They appreciate the support, meet with the fans. They are very much loved. And why would it be different? They make so many people happy with their skating. My credo, as silly as it sounds, is the same - to project happiness.
- And the goal is to win
- You know what I told the skaters when we started working on the programmes? That Igor and I will take care of the sport part. As far as the choreography goes they have to mark their territory. For Virtue/Moir it means to project the feeling of love, the excitement of each other. So every woman in the crowd would want to be in Tessa's place. To crave to be looked at that way, hugged that way. For Charlie and Meril - to wake every emotion, to create a storm of passion.
- You are aiming at the everlasting values and human instincts?
- Am not aiming. But it's important. I want my skaters to be unreachable in their expressiveness.
- Ok, I got it. You bugger your skaters so much with the drama around the skating that they don't have any time left to be nervous on the ice. So they skate well.
- You know what, perhaps you are right.
2009