Mao Asada: THREE PAIRS OF BOOTS FOR TRIPLE AXEL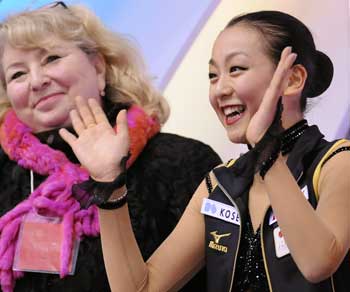 Photo © Alex Wilf
Mao Asada and Tatyana Tarasova
During the 2 hours training session she never stopped. Every step was either an element or a preparation for a jump. Once the coach shouted «Come over!» she skated towards the boards but instead of stopping she went on making small circles listening carefully to the coach's remarks. Then she made a bigger circle - a preparation to a jump. An Axel. Triple. And again. Another 3A at the other side of the rink.
«How many jumps had she done? 36?» - asks the coach without turning
around. A grumpy young japanese with a notepad in his hands - a
general physics coach counts something quickly «48» - translates the
translator.
«The ending!» - shouts the coach again, which followed a 3F/3Loop and
a mind blowing steps sequence which ended with some more triple jumps.
Her face showed no tiredness nor grupminess, which is the usual
expression after a hard training even for the most patient skaters. On the rink sire a small group were watching - parents with kids or coaches with students. They were looking on what was going on the ice
as if it was a circus show - how can a simple person do all that???
But it was a normal trainig session. And a normal japanese girl - Mao Asada, who came to Moscow to train with her coach - Tatiana Tarasova.
* * *
I wonder what would happen had the 15y.o. Asada had a chance to participate the Turino Olympics. 2 month prior to the games Asada won the senior Grand Prix in Tokyo leaving the 2 times world champion Irina Slutskaya more than 8 points behind. After that all the Japanese federation efforts were turned to the attempts to let Asada a permit to participate the Olympics. The specialists were sure Asada has more chances to win then the 2004 world champion Shizuka Arakawa.
They failed - at the beginning of the Olympic season Asada was not yet 15. Was she born 3 months earlier and not in September she would be able to participate. She had to miss the games.
During the next 3 years Asada won silver and a gold in the world championship, became a 4CC champion at 2008, after that she went a bit down not medalling at worlds 2009, but that was due to a change in the technical content: Mao decided to include two 3A jumps in her LP and not always she was able to make that.
For her success at world 2008 she trained under the ex-USSR specialist Rafael Artunian for 2 years. In February she suddenly parted with him and at the summer Asada announced starting working with Tarasova, after which she spent most of the summer with Tarasova in Moscow.
«As far as I know the decision to change the coach was made by Asada herself - together with her mother and her manager from IMG - told me Tarasova back then. - When they contacted me I demanded a good translator and a Japanese coach on speed-strength. All those demands were met».
In September Asada came to Moscow again and I came to her training session with one goal only: to try and understand what makes her unbeatable.
* * *
38 minutes - this is how long Asada's warm up takes, during which Asada makes what looks like not too complicated elements on a huge spees. «Pay attention to what she does, - told me Tarasova quietly
- There aren't many skaters who can do it»
Mao finished her first steps combination clock wise and immediately without changing the speed made the same combination to the opposite direction. Started another steps and again! From the right to the left, from the left to the right, then she turned to twizzles, speens... Firs thing that one sees is an amazing balance - as if there was an unseen string inside her body that holds the fragile figure from loosing it.
«She always takes time to warm up, - explained the coach. - She is trying to get to a state when all her movements are automatic, every step is the most rational, so the step sequences won't take too much off her. She wants all her power to be set on the jumps. She can't really rest between the jumps. Mao asked me to let her keep two 3A in the LP. Axel is a special jump - it needs a longer entrance, which takes time as well, while there isn't much'
In the mean while the skater started to jump. This part of the training was a warm up as well - for the 3A. It's just that Mao got to that jump not through the doubles, but as if she was pushing things with the harder elements. A 3Lo/3Lo combination («No one does that», - commented Tarasova), a 3F/3Lo. And then - at last -the Axel. And
another. And another. And 3A/2T. All clean. Then she started skating parts of her LP with the music.
Tarasova made some remarks in English. Sometimes she would switch to Russian, then the translator joined the process. At the end of the session Tarasova told me:
- You came not at the best moment. Mao is skating on the new boots, hence she is not as light as she usually is. Her mood is according - there is nothing nice in breaking the new boots.. But there is no choice: one pair is not enough for a season. This model is slightly different from the one our skaters use. It's lighter, but more fragile. The pressure during the jumps is enormous, that's why the boots sometimes don't hold and she needs a spare broken pair.
Tarasova went quiet focused on Asada's performing a hard steps sequence, then went on:
- I didn't expect Mao to come to Moscow with a new pair of boots. It was her mother's decision. I come to Japan from time to time. Can't really be there for long - too far and am not healthy enough for that. To get to Nagoya I have to fly to Tokyo, then take a 3 hours train and then drive for an hour. Last time I've been there in the middle of August and just before I flew back to Moscow an earthquake happened. It was so hard that I fell off my bed at night. In the plane I didn't feel well - heart troubles.
My assistant - Janna Folle works with Asada in Japan all the time, but she sometimes leaves as well. Then the skater's mother put all her energy into making all the moves perfect till our return. Mao is listening to her unquestionably.
* * *
- Aren't you afraid to watch your daughter jumping? - am asking with the translator's help the skater's mother - Keko.
- It is sometimes, during the competitions. Am always afraid Mao will miss something she has to do.
Those words reminded me of an old story. Back at the time I knew a circus artist - Marina Osinskaya - a daughter of an equilibrist Lev Osinski. He lost his arm at the IIWW, when he later came back to the circus he himself made a special artificial arm that he worked with. No one in the audience knew the artist is missing a limb.
Her mother was working on a wire. The daughter chose a rope - she would work without a safety wire at a 7m high. Once during a tour in some small Russian town something went wrong with the rope and Marina fell off. She was saved by one of the staff who run under her and she landed on him. She was lucky - broke a couple of ribs and had a
concussion, but her spine was fine.
When her parents heard of the accident the mother called the hospital and Marina answered.
- Did you walk off the stage yourself? - asked the mother.
- No, they carried me - replied Marina.
- What a disgrace! - moaned the mother. The conversation was over.
The same-ish fanatism towards the children is something many Japanese parents have. Another side of the story is that the Japanese moral is not encouraging becoming special. Everyone has to know their place and
be like the others.
In the 60s there was a well known story of a known Japanese conductor Seidzi Odzawa, who came back home after a huge success abroad and the Japanese orchestras would not work with him. Would you believe that!
Three years ago I was talking to a celebrated Russian coach Viktor Kudriavtsev about the fact alot of Japanese skaters are trying to move to the US, where indeed they progress very fast.
- I spoke about it to the Japanese coach Nabio Sato - said Kudriavtsev, - thought he'll confirm that the progress the skaters who left is not to his liking. But much to my surprise Sato said he was happy for those skaters and the collaboration is welcomed. Because there are things in the European and American culture that don't exist in the Japanese culture. The Japanese coaches can not rid their skaters of their being very close, hence they can't get to all their ability. Only thanks to the foreign coaches were the Japanese skaters able to skate to their full potential.
When Asada was skating in the Lake Arrowhead under Artunian the coach mentioned:
- As a professional I can always see when something the skater used to be able to do goes. And am trying to change something before the downside will be visible for the public. But in Japan, it seems, everyone is used to be happy doing even the hardest work. Hence if the Japanese skater realizes something is slipping from them they will
become more focused, more motivated and if needed - work twice harder because they believe the amount will become a quality in the future. They never say no. If you see that the skater listened to you and goes
on doing what he was doing previously it means they disagree.
* * *
Not to say `no' is another of Japanese traditions. So is not revealing your true feelings. This was actually the reason I was not really counting on an interview when came to the ice rink. What for, if the other side will tell you exactly what you want to hear or will say the usual phrases. But the conversation with the skater's mother just
happened when Mao left the ice to go on with her off ice training. When I approached the tiny elegant Keko with a slight bow of the head gave me a small souvenir - another Japanese tradition - never to overlook the attention, even if it's minor.
- I was told you used to be a gymnast.
Keko laughted:
- I was trained as a gymnast. And a ballet dancer. But I never considered sport being something serious - just went to the local club a couple of times a week. I took the girls to the ballet classes at a very early age. It was the ballet teachers who mentioned they should try figure skating to make their ankles stronger. Mai - the older and Mao first started going on the ice rink, then started competing in some kids competitions. They loved it because they were
getting prices presents and medals - something that didn't exist in the ballet school. Till a certain age it was possible to combine the ballet and the skating but then Mao's ballet became less important. The amount of ballet classes decreased as well - first they were training daily, then twice and then just once a week.
- Mai became a figure skater as well, right?
- She is more into the art. We named her after my favourite dancer - the known Russian ballerina Maya Plisetskaya.
- Who is Mao named after?
- My husband's favourite actress. He is an estate businessmen.
- You are constantly travelling with Mao.
- Yes, am with her 24 hours a day. For a while the tree of us would travel - Mao, Mai and I. The girls would train all the time - from the early morning till the late night. Now Mai is continuing skating,
though, obviously, not on the level of her younger sister. She participates alot of shows and dances at the same time. She even participates ballet competitions.
- How did it happen that at 2006 you moved from Japan to the USA to train under Rafael Artunian?
- It was after Mao won the GPF at the first time in Tokyo at 2005. She became crazily popular in Japan. There was not a single ice rink where she could train because immediately a crowd of fans would gather. I was dreaming of a Russian coach for my girls because in my head I always connected the Russian figure skating with the great skating and ballet traditions. But we were afraid to move to Russia - it was too far, too expensive, too unclear. So we moved to California. Besides, we wanted to find a coach who didn't have too strong skaters at that time. So he would put all his time and effort on us. We chose Rafael. Though, have to admit, I kept dreaming that one day Mao will have a chance to work with Tarasova.
- Did you even try contacting Tatiana back then?
- It didn't even cross my mind. For some reason I was sure a coach at such a level would not be interested to work with us. Mao didn't have any significant achievements yet. Tarasova in my opinion was a goddess. Not reachable. Almost unreal. Sometimes I can't believe that my dream came true.
- What do you expect from this collaboration?
- I know that Mao is obsessed with figure skating and I want to do everything to let her express herself and her abilities. Of course, the closest dream is to win the Olympics.
- Your younger daughter is 19, the age when the teenagers usually demand freedom. Are you worried about your around the clock pretense becoming too much for Mao?
- Since last year am giving her freedom. But it's hard in Japan. I can't let her go alone anywhere out of fear because the Japanese fans can be unpredictable. That's why we are together everywhere - going to some shows, shopping, restaurants. Does it look strange to you?
- No. But I do remember talking to Artunian and he jokingly said that Mao is not skating only when she is sleeping. So now she is not only skating?
- She likes going on. She likes good food and since recently - a nice stylish cloths. She is very involved in the idea of healthy eating: she knows what her body needs at which state of the trainints, reads alot on the issue, watches programmes, she is familiar with the newest dietology findings. It is very popular in Japan now. I'd say we are living through a healthy food fashion. We were quite surprised to learn the vegetables in Russia are very tastyю
- Those served in the hotel?
- In the hotel as well. We like going out to a «Yolki-Palki» restaurant. Besides the other dishes their meat is great. Sometimes we go to a market when we have time.
- Does your daughter have to deal with a weight problem?
- Of course. Mao is controlling her weight so she won't gain nor loose any. Though not gaining is more important. If the weight changes even slightly she might have problems with a balance which might lead to injuries. She does very demanding jumps. And many.
- Is this why you use two pairs of boots every year?
- Three actually. She needs only two pairs, but we prefer to have another pair just in case. Who knows what can happen. With jumps such as a 3A you can never be sure the boots will hold.
2009