Viktor and Marina Kudriavtsev's:
«JAPANESE BREAKTHROUGH SHOULD'VE BEEN EXPECTED»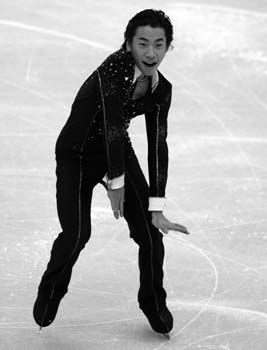 Photo© Alex Wilf
Nobunari Oda
Six months ago, it was hard to imagine that none of Victor and Marina Kudriavtsevs students would make it to the Grand Prix Final, but that's what happened. Elena Sokolova, World and 2003 European silver medalist, Ilia Klimkin and Victoria Volchkova, both European medalists, were left out. That's why we talked with the coaches.
- It was logical to assume that after the top skaters on the national team leave the ice, your skaters would take their spots. Now, we can say it's either you didn't set a goal for them to be in shape and be competitive in the first half of the season or something didnt work out.
MK: Is an uneasy situation. Klimkin was 10th at Calgary Worlds, and Volchkova had several surgeries last season and didn't compete there at all. Their current salaries are 1,800 rubles a months. They don't even have the money for the vitamins.
- How is Volchkova's condition?
Honestly, I didn't belive she would be able to recover. Vika had her first surgery last year, in September and as it turned out, it didn't go well at all. I've read the medical statement that said that two menisks and fat tissue were removed from the knee joint. Vika spent two weeks in the clinic. She was in cast for almost a month after the surgery, her knee was swallen for a long time, her foot couldn't bend. Still, Volchkova didn't even get the X-ray after the surgery and I'm not even saying about being examined in depth. Still, she tried to continue practicing - she wanted to compete at Torino very much.
Shortly before the Games, Vika ended up in the hospital again. She had a sore on her finger because of constantly tieing her boots. She damaged it by accident and the little sore got infected, and her arm was inflamed. She had to go to CITO again, and was sent to another hosptital where she had the surgery. Volchkova started to train almost immediately even though her arm still hurt. We saw her arm getting swallen in several days - the infection went up and she got a fever. We went to the hospital together.
I was waiting for the Chief Doctor in his office while the doctors had the meeting. He said right away that Vika is being sent to another clinic urgently and we can't talk about the Olympics. We have to think about saving the girl, not about the Games.
After the surgery, we were told that the stitched would come out in five days. It was Monday, and we were to fly to Torino on Saturday. We already had the tickets and the Olympic passport and Volchkova didn't want to hear about withdrawing from the Games.
However, the stitches had to be removed two days later as it took longer to heal than the doctors expected. It was because of the stress and maybe her immune system was down after the first surgery. Then, Vika said since she didn't go to the Games and nobody would take her to the Worlds, she is going to show her knee to another doctor.
When she was examined, it turned out that part of the menisk staid in the knee joint and blocked it. Many muscles were damaged causing the damaged to the knee joint that took most of the pressure.
Still, after the second knee surgery, Volchkova went home next day and started to work out enthusiastically. We were on ice in April. Ever since, Vika trains so much I can't saying anything. She still gets the injections once a week and she has to miss practice sometimes.
- Who paid for her treatment?
RFSF paid for the first surgery as it has the contract with CITO. We had to pay for the rest. The Moscow Federation helped us a lot, giving us money for the second knee surgery that was more expensive. Vika paid for the entire rehabilitation process, $100 a day for three months.
- What Volchkova can really do now?
The Japanese are too strong and she can only hope for the medal if they fall. However, as long as Vika wants to skate, and she really wants it very much, I'll support her.
VK: Japanese breakthrough should've been expected. Victor Ryzhkin, a very strong coach, worked in the country for a long time, and it wasn't in some club - he worked with the best young skaters in the country. Not only he gave them the technique, he gave the the Soviet method that was conisered leading at the time. Long time ago, the Japanese started to videotape and analyze how the best coaches in the world work and it gave a phenomenal results. It was obvious three years ago at Jr. Worlds and lately, Japanese skaters got a lot out of working with Russian coaches. Mao Asada trains with Rafael Arutunian, Miki Ando - with Nikolai Morozov. I've recently talked with leading Japanese coach Nobio Sato and thought he would admit that this is unpleasant for him, but he said he is very glad and he welcomes the collaboration because the Japanese culture doesn't have what European or American cultures have and Japanese coaches can't rid their skaters from historically being «closed» as it was not allowing them to really open up. It happened now.
- So, do we have no chance competing with the Japanese?
To some degree, yes.
- How can you motivate Sokolova when the podium is already occupied?
This is a serious question. I have a feeling that Lena is satisfied with how the things are now and largely, she is not motivated. This year, there are less practicing and her physical condition desires to be better. You can see it. Sokolova toured the country with the show for two months. If a skater is not serious about the training, a break from work like that plays a negative part. Still, there are skaters that successfully solve the sport goals during the shows. They include difficult elements in their programs and do everything so they wouldn't be out of shape and loose the technique.
- What makes you keep working with Sokolova?
I'm a head coach in school. Working with skaters is my responsibility.
- Like you are by the conveyer belt?
Of course. If a skater doesn't want to give it all in training, I can't help.
- Are there skaters that you enjoy working with?
Klimkin, the young guys. Ilia is not completely healthy yet but he has a training system. He is serious about controlling the pressure and he is constantly in the contct with doctors and having profilactic procedures. He gives it all when he works, he is thinking and he is taking the critique well. His choreogapher told me once, «I don't recognize Ilia».
- This is a behavior of an athlete who was big goals.
Ilia does. He said he is planning to do two quads at the Nationals
- Why? The new rules allow to compensate for not having this element in theprogram.
You can't just say to yourself that you can win like that. You have to think that you can loose and plan for the contenders to skate clean. You can't compete for top three in Europe without quads with all other elements being equal.
- I'll agree. At Cup of Russia, Brian Joubert set a direction for the men skating. Three quads, and the rest. I think, psychologically, he hit many skaters.
MK: I saw Takakhashi skate in Japan and improving his personal best by 11 points, and Nobunari Oda - by 13. So, who knows who would be first.
- Do you see any young Russian skaters who could get into that fight?
VK: We have many gifted boys in St. Petersburg and Moscow. It's possible to set a goal to get to the highest level in 4-5 years.
- What if the World will be under the Japanese wave by that time?
The Japanese men will not be out of rivalry. I don't believe that.
2006