Carolina Kostner :
«I CONSTANTLY CUT MY HANDS WITH THE BLADES
»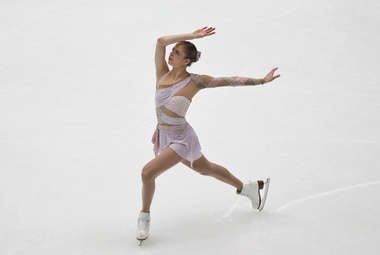 Photo © AFP


Carolina Kostner
In 2006, Italy was looking at skater Carolina Kostner as the one who could be sensational at the Torino Olypmic. When Italian NOC made a decision for Kostner to be the Olympic flag bearer for the team, it was explainably protested by veteran athletes Georgio Rocca, Stefania Belmondo, and Armin Zoggeler. However, their opinion wasn't taken into consideration. From Italian sports management point of view, Kostner was the perfect choice. She was almost a symbol and not just one of the athletes who could win a medal at the Olympics.
A year prior to the Games, Carolina, 18, became the first Italian lady to win a medal at the Worlds. At that time, I wrote, «Kostner has everything to achieve the results - wonderful natural abilities, great genes (mom is a former national figure skating champion, dad is a hockey player, aunt Isolde Kostner is a great skier), a smart coach with very proper views and East German school. She is one of the small number of athletes who never dout their coach under any circumstances.
Her image is perfect. Carolina speaks several languages, she was brought up the right way. She is welcoming and respectful to the elders (and because of her young age, this includes almost all the reporters). In her interviews, you can clearly see the her feeling of self-esteem, her sense of humor, and her deeply analytical smarts»
Kostner needed to win a medal at Torino Olympics to realize the Italian dream. She finished ninth. After that, she won Europeans for two years and a row and even finished second at 2008 Worlds. A year later, the successful streak of the most talented skater in Europe was over - Kostner couldn't finish higher than sixth at two World championships.
The skater attempted training in the USA with one of the best coaches, Frank Carrol, but it wasn't a success - Kostner was 16th at 2010 Olympics in Vancouver. After the Games, she came back to Italy and her old coach Michael Huth and then started this season pretty well, finishing second at the Grand Prix Final in Bejing, where this interview was taken.
- Did you try to understand why was Olympic seson so unsuccessfull for you?
- Remembering Vancouver hurt so much that I tried to throw these memories out of my head for several month. It wasn't working well, so finally I had to ask myself, «Why couldn't I do it?» I think this is the reason: before 2010 Games, I had a constant feeling that I owe it to everyone - the fans, my coach, my family, everyone who's been expecting a big results from me for several years.
However, I really felt that before Torino Games, not before Vancouver only. At first, I felt that everyone is sincerely proud of me because I was the first Italian lady to make it to the World podium and to win a European gold for Italy. Very soon, I felt that I constantly has to meet someone's expectations under any conditions.
Moreover, I too sincerely thought that I have to meet these expectations no matter what. So, I was surrounded by mental pressure everywhre, but I was the one pressuring myself the most.
That's why in 2009, I made a decision to go train in the USA. Naturally, I hoped that the change of environment will positively affect the results. It didn't happen, and I started to dig deeper trying to find the reason. Suddenly I realized that placements are not the most important thing to me in skating. I just love it and want to skate. I want to skate where I'm most comfortable, meaning at home.
I leanred a lot during a year I've spent in the US, and I think I grew up a lot. I didn't have my family with me and every day was a challenge, but it made me stronger. When I came back to Europe, I became a lot more happier.
- What was the city where you've spent this year?
- Los Angeles. It was wonderful - the rink, the training conditions, the coaches, but you know... Europe is about traditions first of all. I think it mostly felt in the small alpine towns like Bolzano where I was born and spent most of my life, where people know me, the daughter of Patrizia and Erwin, a girl who grew up in front of them, and not the famous skater.
In reality, I figured it out in America - how deep these traditions and habbits are inside me and how much I miss home. I missed winter, snow, Christmas decorations in store windoes and on the streets, the European Christmas. I constanly wanted to be home.
- Why did you pick Frank Carroll as a coach?
- Michelle Kwan was my idol since I was a very little girl. Carroll was her coach. I had no doubt that working with a coach like him will bring me success but everything turned out to be a lot more difficult. First, I had to change the technique, then everything fell apart, then I lost the motivation, and then I kne I had to go back.
I am absolutely happy now, and it's also because I can be with my family and with the one I love.
- Is he an athlete too?
- Yes, he is an Olympic champion in 50km walk (Alex Schwazer)
- What do you think is the biggest difference between Carolina Kostner who skated at her first Europeans in 2003 and Carolina Kostner now?
- I had two triple-triple combinations in my free program in 2003, and I could do them endlessly. I still do these jumps, but I've known for a while that figure skating is not only about them.
I went through a pretty hard time when I starged to grow, when my body changed and the balance broke. When I see very young girls who skate now, it's not like I'm jealous of them not getting tired. Let's say I remember when I was just like that. Overall, I've learned to be smart about it and I know exactly what my body is able of.- And what is that?
- It's on «diesel fuel» - it's my joke. I need a long time to get there by practicing and going to a certain level. In the first half of the season, I usually skate a wonderful short program and can't manage the free program. I'm not bothered by it now because I learned to accept everything that happens to me as a given. Did I do a single in the free program? To hell with it! It's my jump and I like it even if it's single. This is how I skate and I feel an abolute harmony inside me. However, to be completely honest, I'm a little jealous of that Carolina who skated in Malmo in 2003 and never thought how hard it is sometimes to achieve a result.
- So, you still think about that result?
- I think that one time I'll go on ice and skate the program that everyone would like and that my coach would just enjoy watching me together with everyone instead of standing by the boards feeling that he heart would break right there because he worries so much.
- Do you mean Michael Huth?
- Yes. He always looks very calm, but it's not the case. I know him too well, up to the point that we never have to talk much at practices - we both understand each other from half a look. Sometimes I think that Michale knows what is going on in my head better than me.
- I really can't image how you decided to leave Huth for Carroll.
- I'll try to explain. When I just started to work with Michael, he was like a father to me. He probably even had more authority than my father. Several years later, a time that always happens in the child-parent relationship came - I started to resist everything that Michael said. We came to conclusion that it would be better for both of us to take a time-out and rest from each other.
It's completely different now. We talk like two adults who do a commong thing and both are interested in reaching the goal as fast as possible. I'm very grateful to Michael for giving me a freedom of choice then.
- What did you parents think about your move?
- They never tried to pressure me. My father knows very well what elite sport is. He was on teh Olympic hockey team at 1984 Games in Sarajevo and he is coaching in Italian hockey league now. My mom brought me to skating but she never demanded that I win. She just said, «If you train seriously, try to do it the best you can». Still, mom and dad both always took my coach's side and supported him in everything.
- Your parents are wise.
- Yes. It's not like there weren't used to me doing well, but Italy never had ladies skating on the level that I've reached. Since Huth brought me there, his word was the law for my parents. If Michael said, it must be true.
When they found out I wanted to leave, they didn't interefere, thinking that would be the smartest thing to do. They explained to me that first of all they want me to be happy, but happiness doesn't mean just the coach, even if he is the best in the world. It means the life and the opportunities it gives. If I come to the conclusion that I'm happier overseas, than it's my fate. Turned out my fate is to skate in Europe
- All the years I see you in competitions, your fingers are alwasy bandaged.
- Oh yes. For many ears, Tomas Verner and I trained together with Huth, and Tomas even gave me the nickname, «Bloody Carolina». I constanly cut my hands with the blades, and everyone is used to it already.
- By the way, when Tomas decided to go train in Canada, did you try to convince him otherwise?
- No. Michael said that Tomas has to make his own decision, and we have to respect it. As for me, I know how hard it is for Tomas. I know what he feels and he's thinking about, so I won't be surprised if he comes back.
- Would you like that?
- Yes. I always like training together with him. Tomas is a workacholic. I'm too. It's easier to more fun to work as a group when the practices become extra hard. Because of that, I always liked the training camps that Michael often organizes in Oberstdorf, Germany. Every year, many strong skaters come there. We all have wonderful relationship and know each other for a long time. That includes people that work in the locker rooms or make ice. That's what I missed most in America, relationships like that. Maybe it was the biggest reason I returned.
2010