Ilya Klimkin :


«YOU HAVE TO DREAM ABOUT BIG LOVE WITH BIG MONEY»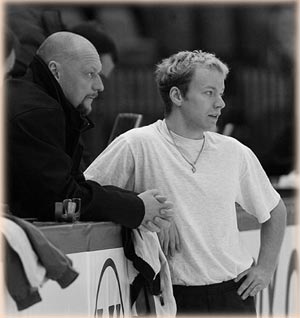 Photo© Alex Wilf
Ilya Klimkin and Igor Rusakov
In 1999, he was considered the most extraordinary young skater in Russia. In 2003 – the biggest loser. It took Ilia Klimkin whole five years to go from Jr. World Champion to European bronze medallist.
There was probably no happier person in Budapest then Ilia Klimkin who won the bronze. As recently as couple of month ago, nobody could predict not only the medal but just making the team: the foot injury from September got so much worse by the end of the fall that Ilia almost couldn't walk. It was hard to believe in Budapest: is that the same Klimkin who made the team just three weeks ago while suffering so much?
- I was surprised how easy it was to perform, especially in the short program. Even my choreographer, Irina Kolganova, said that she's never seen me like that: eyes – smart, arms – stretched out. And I didn't even get tired, even though before, during the qualification, I felt pressured by realizing the fact that the group is weak and that means I can't lose. It won't be forgiven.
- Did you ever try to understand why you couldn't reach results for so many years?
- I think this understanding comes with age. When you become older, you come to the conclusion that you shouldn't pay attention to your marks, or others' marks, or think about how much money you would earn with this result or that result.
Only recently I've learned to concentrate on my own performance. Before, I couldn't sleep at night – I was so anxious. If I skated the long program well, I would fell asleep at four in the morning. Sometimes, at night I even went to practice, if there was nobody to stop me. And I was constantly afraid to lose because what I've heard all the time is that if I skate badly, this performance may become my last, that I would never go anywhere for the rest of my life, and that I should not be in figure skating.
Our people, they can convince you after one lost competition that you are a nobody and no one needs you. I can't say for others, but things like that unsettle me. I was very worried both for myself and my coach Igor Rusakov. I couldn't get rid of the thought that we are against everyone else and everybody is against us. My first senior Europeans in 2002 also were unlucky. I got injured – broke one of the disk in my spine. At practice, I landed the toe loop into the board. I skated bad because of it, and didn't make it to the Worlds.
- Did you come to Rusakov as a child?
- First I practiced with Eduard Pliner at Young Pioneers stadium. My parents brought me there at four. It was fashionable to put the kids in figure skating in the 80s. I was told that when the school had the try-outs, about 800 candidates were seen every day. I wanted to play soccer. I've dreamt about it, but my dad was absolutely against it. It was him who persisted that I skate, and then he controlled all the practices.
True, nobody paid special attention to me at Pliner's. I didn't even jump – I was going from board to board. At nine, I switched to Rusakov. Pliner went to America, and Igor Sergeevich was putting his first group together. Tatiana Roganova, then the stadium director, recommended I go to him, and almost immediately we went to the training camp in Dnepropetrovsk.
First, I didn't like it very much. I was used to skate on my own. Here I was getting coach's attention almost 24 hours a day – on the ice, in the gym, at the choreography barre. I tried to resist. I sincerely thought that if I can jump the triple toe loop, I don't need to learn spins and footwork. I could win the Moscow championship in my age group without them. Only later, when I watched the tapes from these times, I realized that at 10, I was naturally a piece of wood with the messy head of hair. My hair was curly; I didn't like to cut it. Overall, I was a boy with the attitude.
In about a year, Rusakov persuaded me. At about 14 years old, some things started to work out. I started going to the competitions.
- Do you remember your first international competition?
- Of course! It was in England – not even the competition, it was something unexplainable, like village championship with three competitors, one of the British. Then, I had five triples and was even trying an axel. The British guy had only one triple. He was scarily held up at that competition, but I won. I was very proud, and then I decided that I am starting to like figure skating a little.
A lot of things happened after that. There were ups and downs. After I won Jr. Worlds in 1999, I went to Grand Prix event. I sincerely thought I would place pretty decent. Zhenya Plushenko and Sasha Abt skated then. I thought I would end up somewhere behind them, and ended up tenth.
Maybe that's when my reputation as an inconsistent skater started to build. I am still fighting it. Only here, in Budapest, maybe for the first time in my life, I felt a real joy from competing even though there was strong anxiety since I am right after the injury. Ten days before the championships, I was in the hospital all the time having different procedure for six hours a day, physical therapy, etc. Three months before that, I was seeing doctors too. They offered to have surgery and stop training for couple of months. How could I? To start the next season from zero?
- What happened with your foot?
- After Rusakov's death, I started to train with Kudriavcev and immediately ended up in the unusual environment. Viktor Nikolaevich is a very experienced coach and he is much older then the Chief was. Immediately, it worked that way that he decided everything, and my thing is to obey without arguments. I'm used to working not like equals, but without pressure.
First three weeks practicing, when I had to skate whole programs no matter how I felt, were extremely hard. One day I woke up «without legs». Everything hurt because of over-pressure.
Before, I never went to the Russian Cup events, but Viktor Nikolaevich said that with him all the programs are tried out at these competitions. By this time, the leg hurt more and more, we tried to treat it constantly but with no luck. As a result, I asked to withdraw from all Grand Prix events – American and Chinese. I didn't go to the USA, but I had to go to China – it turned out that the ticket was already issued. Naturally, I've «killed» my foot again.
I probably should've persisted, but I didn't want to have a conflict with Kudriavcev. We've only started working together. Viktor Nikolaevich himself was constantly looking for a doctor for me, but after China, we had to start preparing for Russian Nationals. This is always a hard event… There are many skaters in Russia that could unexpectedly come up once a year. If Abt didn't withdrew, who know how it would turn out for me. It was assumed that I would compete for the third sport with Andrei Griazev who was very much advertised after he skated well at Jr. Grand Prix. It's pretty normal – after I won Jr. Worlds in 1999, there were many nice words about me, but the fact is that before Russian Nationals, Griazev and I weren't equals.
- At that moment, did you felt sorry you went to Kudriavcev?
- Rusakov asked him that before he died. He told me that Viktor Nikolaevich is a good coach and I will most probably find a common ground with him. And now, really everything is coming together.
Honestly, when I went to Kudriavcev at «Moskvich», it was like I went to heaven. At SYP, it was like they were doing us a favor by letting us skate. When you win, they would put a sign for two days, and that's it. If Zamboni doesn't work and there are no lights – it's our own problem. At «Moskvich», if I need lights when I skate, the lights would be on. Warmer air or softer ice – anytime. You feel respected only for doing your work for many years. As for adjusting to new coach - this is normal.
- I know that about a year and a half ago, it was recommended to Rusakov to send you to the more experienced coach.
- I was told about that in such tough and wrong form that I'm still a little hurt. It was like either leave Rusakov immediately or stop skating. Igor Sergeevich was told right in front of me that he is not a coach and he is not able to teach any one. He especially got to hear it all after my bad performances. It was like tons of dirt spilled over his head. The Chief told me not to pay attention, but even he broke down once and said, «Leave. I'm tired of fighting».
- Did you ever thought that changing coaches could take all problems away immediately?
- The thing is that I was told who should I go to so the problems disappear. But I didn't wanted to go to that person in particular, and I could've not. Rusakov did too much for me. When I didn't have a penny, he helped to get skates and make costumes. To leave when something started to come together would've been a huge disgusting act.
- But he was ready to let you go.
- And die? The only thing that kept him alive was figure skating and that I was skating. I wouldn't even look at the offers to change coaches.
- Did you realize how ill was your coach?
- Of course, maybe even better than he did. My mom is a doctor. I didn't need an explanation what fourth degree lymphoma meant. Best-case scenario – 7 to 8 years to live. I knew that I would never become a person who would shorten Igor Sergeevich life. In our circle, he would never let us understand that he was ill. Maybe, he was forgetting about it. Even when he felt very sick, he would come to the rink. He would lock himself in his little room after the practice, sleep a little, and go back on ice. We knew, if Igor wasn't there, that means he couldn't get up.
When he couldn't move at all, I kept coming to the practices, and I understood that I'm skating only for him. Then, I would go to the hospital to tell him about it. If I couldn't make it, I would call.
- How hard was it for you?
- To some degree, I've felt that I was ready that the coach won't be with us. It was really scary in 1998, when I saw Igor Sergeevich dying in front of me for the first time. He was stopping to walk and talk. All students left him then except me and Lebedeva. In that condition, the Chief was sent to France, and there he got bone marrow transplant. About that time, I won the Jr. Worlds. And he started to get better. Last spring, the treatment didn't bring results.
- Did Rusakov created your programs?
- Always. I liked it that they were unusual and convenient at the same time. I always wanted to skate them. The Chief picked the music too. He had a friend, Natalia Plege, a composer who lives in France. The last program he gave me was the Swan Lake.
When we met with Plege 40 days after Rusakov died, I found out that she has big music archive for me that Rusakov picked for many years. She said, «Igor left the music and he asked me to give it to you when you'll be a little older». He felt my abilities so well. Two years ago we skated «Petrushka» and «Favn» and I was sure I would never agree to classics in my life. Now, I love skating the Swan Lake. To stretch out the lines, to do the elements, not only think about jumps, but how the look and arms should be… Strangely enough, the less I think about jumps, the better they come out.
- By the way, do you feel sorry that here, in Budapest, you decided to include a second quad into the free program?
- No. Usually, when I do the first quad well, I throw out the second one, so I would skate calmer. Here, because I skated the last, I knew that Joubert skated well – I've heard the audience reaction. I also realized Plushenko skated very bad. If he got 5.4 technical… All these thoughts were subconscious and they disappeared right away.
- Why did you start making mistakes? Because you were happy both quads were great?
- No, I didn't have enough strength. I wasn't ready to such pressure. I was training – whatever. Would would've happened if I skated clean? I would've been the third still.
- Why are you so sure?
- I would've simply not placed second. If I wasn't placed after the short program…
- Do you really feel it's impossible to defeat Plushenko, like you said in St. Petersburg?
- At this moment, it could really happen only if Zhenya makes mistakes, like here for example. When I was passing the monitor, I saw a fragment of his program, and I couldn't believe at first it was Zhenya.
Plushenko's rating is very high. Consistent performing for such a long time gives him the big rights. Yes, he is not getting younger, there are injuries, but looking realistically, I can't skate the program like he can, yet. Even if I won't make one mistake. I don't have the same expression or a push. A little bit here, a little bit there. This «little bit» gives him a comfort level that makes Plushenko feel unreachable. But I am working and hoping.
- And what are you dreaming about?
- Love. To meet a nice girl, to get married…
- So, figure skating is on the side?
- If I say I dream of becoming an Olympic Champion, it would be a clichй. Everyone says that. Of course, I dream about it. Some day…
- After that, will you be coaching?
- I'm not sure. Now, I'm about to graduate from Physical Culture Institute, but honestly, I've only went there so I wouldn't go to the army. I was coaching the «season pass» groups, but only when I had no money. Now, the club started to help and set up a stipend. Also, I started making it to the shows.
- Excuse me for the question, but how did you live before that?
- I got by. My mom helped, the Chief helped. We went to the sports camp in England several times. An old acquaintance of Rusakov, a former coach, was a rink director in Rumsford. He helped to organize these camps, and not only we could train, we could earn a little money.
The first large amount, $10,000, I've got at Jr. Worlds. It seemed huge to me, and I couldn't even imagine what I can do with it. I gave it to my mom. Now I get different desires. And I am romantic nature – I love giving gifts to girls and taking girls to the restaurants.
- Yes, you have to dream about big love with the money.
- With big money…
- Do you have a lot of fans?
- I think there are six fan clubs. I know the most eager representatives. Three or four Japanese girls come to my every competition. There is a Swiss girl that studies in Moscow. She came especially to learn Russian. Another one is a designer from France. Did you see a banner in the arena, with Petrushka? She made it. We met in France by accident, when I was at Trophee Lalique.
- Do you speak French?
- Very little. My English is much better. During the training camps, we staid with some families, but when I came to England for the first time, I knew two phrases: «My name is Ilia» and «I'm so hungry, give me food». After some time, I suddenly started to speak. With the time, I forgot some things, but before going to Europeans, I browsed through the textbooks. What if Eurosport would interview me?
2003