Inna Goncharenko:
«IN 4 YEARS ALL THE FEMALE SKATING WILL BE RUSSIAN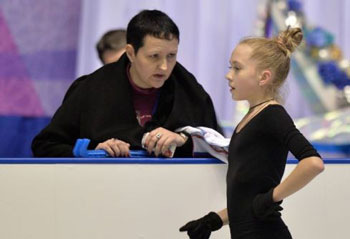 Photo© Vladimir Pesnya
Inna Goncharenko and Elena Radionova
A year ago Goncharenko first appeared on the big arena with her pupil Elena Radionova. She won her first JGPF. Their switch to the seniors ice was a success: Radionova was medaled in both GP event and made it to the GPF.
- Tamara Moskvina once said when she just started coaching she only saw «behinds» n front of her - of the more decorated colleagues: Stanislav Zhuk, Elena Tchaikovskaya, Tatiana Tarasova... Are you familiar with that feeling?
- Quite. I recall when I first started working in «Uzhnyi» in the mass skating there were a couple of kids who wanted to take lessons. So I went to see what the kids their age are supposed to be able to do. I went to «Moskvich» rink where a kids competition took place. I was shocked - it all seemed unreachable. At the same time I realized it was exactly the kind of job I wanted to do. And when I joined the coaching team in CSKA I knew I had to prove myself. Especially not to disappoint Elena Buyanova who let me work with the little athletes.
On the other hand I never saw the more experienced colleagues as aliens. I understood they got where they were because the coaching was a huge part of their lives, much bigger, than for me. And they worked so hard. I didn't mind the hard work. Actually it was probably easier for me - I had their example and experience in front of me.
- Why had you stopped working with Adelina Sotnikova? Were you forced to give her to a more experienced specialist?
- I knew Adelina's mother before they came to the rink: our kids were together in the kindergarten. It just happened that when I started working in CSKA I personally asked Buyanova to take a look. Elena Germanovna was coaching a group of quite good skaters and asked why wouldn't I work with Sotnikova myself. So we had an agreement Adelina would start in my group and will move to Buyanova's group later. So I knew from the very beginning Sotnikova is only a temporary pupil.
- You didn't mind passing her to Buyanova knowing she started winning?
IG: It's not about the results. But about getting very attached to the kids. I put a lot of my soul into Sotnikova. But she deserved it. I really wish Adelina - whoever should she train with - to have the base which will allow her to move forward.
- Who is easier to work with - Sotnikova or Radionova?
- I don't really know how to answer that. The word «easier» doesn't really apply. Besides, during the time between Adelina and Elena so many things happened to me which made me overlook my profession.
- You mean your illness.
- Yes. It's hardly a secret, everyone knows it. I went through so much while I was in the hospital that it's hard to surprise me or scare me. It's the hardest thing I ever experienced. Perhaps except for your beloved ones illnesses. So the work I do right now is more of a hobby. The favourite hobby which gives me a lot of positive emotions. Though I wasn't planning going back to the rink after the hospital.
Why?
- I was in terrible state. You know, my husband never liked figure skating. He tolerated it. Which is understandable: for many years it took me away from my family. But when he saw how depressed I was and how further away I was slipping it was him who brought me back on the ice. As if by the way he showed me one skate of my pupils. Then another. He sprang an interest in life in me again.
- Were there any pupils left after your illness?
- I was giving them away myself - I was not sure I will ever go out from the hospital. Though the coaches on the rink supported me, believed and waited for me. When I finally came to the rink and saw my pupils I was turned on myself. I understood I had no right to throw away what I put so much into. Those who left by then were the ones who didn't want to work at the first place really.
- Does it happen that the kid is extremely talented, but you can't make them work?
- It does. I think the system supports it: the second there are some results there is so much brouhaha around the skater that they, and their parents especially loos it. And that's it. Many give up on that stage, when, really, they haven't even won anything significant yet.
- What do you think about the age limit rule that prevents the skaters participating the senior events till a certain age?
- Negatively. I think it's good when the kids are pushing the seniors forward and make them work harder. They also grow up faster in such an environment. Radionova was lucky: she had a chance to compete with the seniors in the Russian competitions before yet another rule was introduced.
- Yet she can't compete for a spot in the Russian team yet.
- Which is also wrong. Just as what happened with Asada 8 years ago when she was not allowed to compete in Turino Olympics was wrong. If the kid is ready to compete on the senior level - why deprive him the opportunity? Their career is not that long. Especially for the girls.
If the skater shows `juniorish' skating he will not win anything. What is there to be afraid of? What's the point removing the competition? They want the seniors to make it to the team for certain? Then they should compete with everyone, with no limitations.
- Am afraid to ask what do you think about Pluschenko's possibility of making it to the team.
- Am all for it. If the athlete has the stamina and the ability which allows him to retire, come back and beat everyone again and again let them come back 100 times if they can. They should have a free choice. Especially in the sport.
A different matter is the common rules: if you decided to come back - the rules should apply to you as to anyone else. You are a decorated veteran? Awesome. You already got the medals for that. You want to be part of the team again - welcome and be like the rest, don't demand special treatment. That's what I think.
- How do you see the ladies skating in 4 years from now?
- I think it will be dominated by the Russians. And very technical. This is what Stanislav Zhuk was aiming for at the time. More than 30 years ago his female skaters were doing all the tripples. He would even pick the pupils who would be «suitable» for jumps - a certain muscle structure. He just didn't have enough time to finish it. And then Russia went through the times when figure skating was not important. But it all comes back now.
- There is a chance Radionova would have to land a 3A or a quad in order to be competitive by the next games. Are you ready for it?
- Generally yes. I reckon the Japanese must be working towards it by now.
- How long does it take to make a jump consistent in the competitions?
- 2-3 years. Perhaps faster, but I don't mean just to rotate and land it, but also to add an interesting entry and a good exit.
- I read in one of your interviews your favourite skater is Mao Asada. Why?
- Guess what I was taught in the school is very deep inside me: everything should be beautiful. Mao is a gorgeous skater. Smart, technical, with complicated jumps. I saw plenty of her successful attempts for a 3A when she was training here in CSKA.
At the time I was equally fond of Katarina Witt. While having a great jumping content for her time she had a whole package: the emotions, the technique, confidence and elegance.
- What did you feel when she went back to Lillehammer? Were you sorry for her?
- Sorry - no, but that is when I thought the athletes on such a level should be aware of their limitations. It was obvious they all missed the competitive sport and once they could they came back. Just like Witt. Not quite clear what for.
- Do you follow your foreign colleagues work?
- Not too closely. Of course I try to follow what they do. I admire what Rafael Arutunian does, I like Frank Carrol's style. I spoke to Arutunian quite a lot. I think his advantage is in a lot of ice time he has, which allows him working on the gliding as much as on the jumps. Also having so many assistants, and having the roles divided correctly. Unfortunately we don't have such a conditions and enough ice time to work on the gliding, spins and choreography. I really lack it.
On the other hand we group the work. When Lena was participating the competition in Oberstdorf I had a chance to discuss it with Eduard Pliner and he admitted he was attempting to bring back SUP (stadium of young pioneers - one of the rinks) system during his first years in the USA. He orgazined groups, started working. But he faced the parents disagreement - they thought the coach has to work with their kids individually. Guess this is why in the USA one specialist works on the jumps, one on the spins, one on the gliding...
- Are you a tough coach?
- I Guess. First of all because my demands of myself are very high.
- Could you take away the food from your athlete?
- If the athletes don't understand they have to limit themselves - what's the point? It's a waste of time and nerves. Though it did happen when I was skating. On the other hand you have to constantly explain the skater and their parents the way to the top is a long and tedious process, in which the whole family has to participate one way or another.
- You allow the parents to come to the practices?
- Yes. I don't see a point forbidding. It's not always easy. But it was always like that. I remember when I was skating mother of one of the kids would always give her an advice. She would go on the balcony above the rink. She would even get there when it was locked. Once she fell from it - our radio guy was able to catch her by her feet. I twas awful when she was handing head down above the ice. I'm lucky to be shortsighted. I can't even see what is going on around the rink.
- Don't you use the glasses?
- Can't. I get headaches immediately.
- Is it important for you how you look standing near the boards during the competition?
- Of course. I always pack a full suitcase and then can't decide what to wear. My older sister gives me advice. She checks closely what do I wear and then, as the older sisters should, criticizes.
- I always wondered what's the point of the coach's standing near the border when the skater is competing. You can't really give any advice at that point.
- Good question. Guess it's more of a tradition. Of course there are skaters for whom it's very important whether the coach is there or not. Of course I tend to think the importance of the coach being near the border is huge, though, I guess, it would be more appropriate to have them ready if the coach is not there.
- I recall Tatiana Tarasova once saying «my job is to train them so well that when they compete they wouldn't need anyone - not me, not the shrink, not the choreographer».
- It's any coach's goal. And yet when I am standing near the border I see my skater skates for me, and not the judges. I can feel that connection all the time.
- You just said you can't see anything without your glasses!
- I see just fine what I need to see.
2013