Igor Moskvin:
«I NEVER CONSIDERED MY WIFE THE RIVAL
»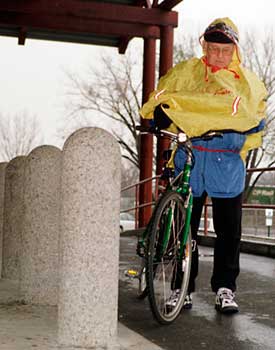 Photo © Alex Wilf
Igor Moskvin
Born at 30/8/1929 in Bezhentsy in the aria of Briansk. A celebrated
coach of the USSR in figure skating. The first Soviet skater to take
part in Europeans (1956 with a partner Maya Belenkaia). 3 times USSR
champion in pairs skating (1952-1954). Carried the flag in the closing ceremony of Olys 1964 in Innsbruck.
The personal coach of the first Soviet Olympic champions:
Belousova/Protopopov (1964). Other students: Ovchinnikov. Bobrin.
Lisovski, Kotin (singles), Moskvina/Gavrilov, Moskvina/Mishin,
Vorobiova/Vlasov, Vorobiova/Lisovski, Smirnova/Suraikin, Eltsova/Bushkov, Selezneva/Makarov (pairs)
Lives and works in St. Peterburg, Wife - the celebrated coach of the
UUSR Tamara Moskvina (Batus). Has 2 daughters.
To be a coach is a hard work. To be a wife of a great coach - unhuman
experience. But it's even harder when your wife is also a coach and dedicates her life to prove that she's a good student.
The husband-wife team Tamara and Igor Moskvins are 45 y.o. Though they have been together for much longer - ever since the 16y.o. skater came to the group of even then well known coach Moksvin in St. Peterburg. In 30/8 Igor will become 80.
A week prior to that I cam e to St.P - to visit the starry team. Watching through the building window Moskvin walking slowly to the entrance I recalled Moskvina saying:
- Igor was always a very elegant man. I know women loved him, that they adore him and so do I. I trusted him and its a great deal to have such a person near me. Not so long ago I listened to a radio show where a known produsser said he doesn't think much of a family life. I always thought differently. So did Igor. Our family is the sphere,
where we beat any other family team.
* * *
About 15 years ago, when Igor and I were talking during a competition he said: «For a lot of years I was in the sailing sport. There are situations in which you can provoke the other sportsmen to break the rules. To disqualify him. But the rival knows that you can catch him, and is trying, in his turn, to put you in the similar position. It's sort of a game. There is no dirt, no gossip, no intrigues. In figure skating, on the other hand, the atmosphere is such that even men sometimes break down. Never mind the women»
I remembered from that conversation how Moskvin was quite negative about the judging, he was talking about his understanding of pair skating, which, unfortunatly, goes often against the usual rules of the sport. The same now - when I got the recording divice out of my bag he said «You think you should? Am not going to say anythign nice
about figure skating»
- Why?
- Because I don't see any artistic movement up. Everyone is too boundered by the new rules. Anything that is not written in the rules book is simply not counted.
In pairs skating, for instance, there is a list of things I consider important. Like the distance in which the partners are skating from each other. The closer - the harder and the riskier. It is the hardest part. But it's a small detail if at all nowadays.
- Which of the known pairs would you call the ideal in that?
- Larisa Selezneva/Oleg Makarov (twice European champions and Bronze medalists in Sarajevo Olys), Ekaterina Gordeeva/Sergey Grinkov. The first skated under me, the second under Zhuk. We both were pairs coaches back then and had a similar point of view on alot of things. Now the level is taken from a completely obscure things. Take a split twist for example. If the female skater is pressing her hands to her chest - it's X points. If she holds her hands above her hand - a bit more points. I asked in one of the seminars: and what if he lifts one
hand above her head? What if she picks her nose during the split twist? It is hard - during the twiple twist not to miss the nose!
- Are you kidding?
- Not at all. Here is another example: when I was working with Ksenia Ozerova/Alexandr Enbert, I came up with such a movement: the skaters are doing a parallel spin, then exit to the opposite directions and make a jump towards each other. Those who are looking from the judges direction or the ice rink would hold their breath - there is an
impressions the skaters are flying towards each other. Mishin, when he saw that during a practice was very impressed.
- It does indeed sound interesting.
- Yes, but there will be no difference points-wise. None! So why would the coach bother thinking?
- But you do think!
- I do. And for many years this is the way I worked. If you take the spins: the point is the speed and good centricity. Now it was decided the skater has to change the leg/edge. What for? Is that the point of the element? Why not offer the ballet dancer to do a spin on the hill? Those nonsense are not needed, you see..
Am not even talking about the fact that in my understanding the rules are the law. That should be unbreakable at least for 4 years - the olympic cycle. You can't update it every season. But then we have to change, re-evaluate and make harder all the time. When Tamar brought me the new interpretation of the rules and I read them I had too many
questions.
- Is that why you stopped coaching?
-Yes
- But you still help your spouse?
- Officially - no. I retired. Previously I used to critisize mostly. Tamara knows herself that there are things I know better than she does and can teach better.
* * *
- When your wife skated under you with Alexey Mishin, was it an easy or a hard work?
- Mishin was always my ally. Tamara is trying to be a leader all the time. When she was too overtaken by certain ideas I had to explain that she only sees that from her point of view, but not the whole programme. Previous every element was composed in a way that it will look as if faced to you from any direction. It's not always obvious
from the ice. So when Tamara got too excited about something Mishin would tell her «Tamara, dear, even if Igor Borisovich talks a total nonsense and we'll do it well it'll still look 100 times better than waving hands like you do. Let's go back to work»
- Did you think then that your wife will become your rival as a coach?
- I never considered us the rivals. Tamara always worked with pairs, I mostly worked with singles.
- There was a known rivalry between Oleg Makarov and your wife's student Oleg Vassiliev, which caused a ruffle in your family?
- Now quite a ruffle. When Tamara and I discussed it back home she quite rightly said that she has to support her student. Even more so since Vassiliev threatened to sue if Makarov is not disqualified. In the court no one will bother checking who was wrong figure-skating-wise.
- Who was wrong?
- Vassiliev. By the unwritten rules of figure skating the priority on the ice have those who are skating to the music. It was my pair's music and Makarov hit Elena Valova. Vassiliev cursed Oleg and hit him in his face. Oleg returned. And broke Vassiliev's jaw in 2 places.
- Did you have a feeling that that incident destroyed most of your pair's carrier?
- No. They just missed the whole 1983 season.
- You have to agree, had it not happened their whole life could be different.
- Perhaps. Perhaps not. Life is life, so instead of allowing such an incident to happen one had to control their urges and not get into a fight.
- Were you ever jealous about Tamara's coaching success?
- No. She was far better qualified than me: knew the languages, spoke to the abroad colleagues. took part in various seminars.
- Is Tamara more ambitious?
- Of course. She uses every possible thing to get to the desired result. Her face is seen in TV shows and magazines more than of any sportsmen.
- Did you ever ask her what is it needed for?
- If Tamara likes it and she thinks it helps - why not? Besides, I agree that it helps. Tamara does things rightly. If she doesn't understand something she either hides it well or invites professionals to work with her. Hence no one even thinks there might be something she doesn't know.
- I noticed, that Tamara Nikolaevna listens to the others opinion.
- Not mine. When we lived in the US and went shopping we always argues: I liked some things, she liked the others. Once I tricked her: took her to a shoes store, where I liked a pair of shoes as if made for Tamara. I took the took and started telling how awful it is. The wrong leather, the wrong fashion, the wrong hill... Obviously she
bought that pair at the end.
May be deep down she agrees with my point of view when it's about figure skating, but she never shows. She likes telling me «you dont' see the broad picture». In a time, for instance, I said it would be a good idea to place the skaters closer to each other in the parallel jump. Tamara takes into an account a distance between skaters doesn't
effect the points. So no need to waste time on that.
- What are her strong sides as a wife and as a coach?
- Organization. Tamara is a born manager. She was always like that.
* * *
- Do you remember when Tamara first joined your group?
- She came from Ivan Ivanovich Bogoiavlenski's group. She was training under him on a tiny icerink where they took care of the ice themselves. We had a big ice rink and a big group where skaters like Ovchinnikov, Bobrin and other singles trained. Later Alexey Mishin joined. Tamara started as a single skater as well - became the USSR
champion 4 times and even represented USSR in Europeans 1965 in Moscow. The problem was that during that time the leading female coach was Tatiana Granatkina-Tolmacheva, who worked in the Junior Pioners rink in Moscow and had a group of the same aged girls. Tamara was not a Moscovitte and 3-4 years older than Tolmacheva's girls, hence she had no chance to stay in the national team. She decided quite rightly that she had no point to persuing a single skater's carrier. At 1968 Mishin and Tamara became second in Europeans, a year later they took silver at worlds.
- How did you combine your own sailing sports and your work with the skaters?
- It didn't bother each other. There was no ice during the summer back then, the skaters were rowing, I was sailing. Missed only the 1949 and 1950, that's when the artificial ice rink was opened in Marina Roscha and I went skating there with my students over the summer. In 1951 I went back under the caddice. I have a silver goblet in the bathroom that holds toothbrashes. It has an engraving saying «The winner of Baltic regata 1951». I can't even remember that competition.
The highlight of the carrier was 1962nd. I participated the Golden trophy - it's like a world championships for the yachts of a certain class. 150 yachts took part. All of them didn't fit in the starting line, we were placed in 3 lines and if you started in the 2nd or 3rd line it was close to impossible to get to the front.
Origivally Valentin Malkin (olympic champion in 1968, 1972 and 1980) was supposed to participate, but something didn't work out, though his yacht was there. I started on it because my boat didn't get there on time from Germany, where not long before that I became a Baltic Regata champion. I had to borrow some yacht parts from others, to re-do something on the yacht. The main problem was that Mankin's yacht was built for a more heavy person. In the sailing sport it's very important.
After 3 races I was on the 3-4th place, and then got two «0». Once because I broke a mast, once I finished 30th. Overall I was 15th, but in that sport the first 15 places are price places. So I can consider myself a price winner of a world championship. I participated the sailing sport events for quite while after that. There was no need to drop it.
- So you didn't really work for the results?
- I was much more interested in other things. I was the first to make my mast not round, but flat. The round bounds to all the sides. The pressed creates a certain resistance to the sail. So I decided to
modify it that way. Only 10 years later a known yachtsman Yorg Bruder after becoming a buisinesman started producing the masts the same way.
I thought of a new way to make the sail as well. Everyone were laughting at me: Igor Borisovich is sailing under a bra. The sail yoused to be triangular, I made mine with stitches. Now all the big yachts - those that participate an American cup, for example, use the sails made that way.
- Do you have your own yacht?
- No, I was never a yacht owner. The years I participated the competitions the sportsmen were given the yachts to compete. So I got used, that if am needed for the competition my country will provide me with the yacht. That's the difference between those times and now. I remember when one drove on the highway near the sea - near Lahta - the
sea was white with the sails. Now it's empty. Those who have yachts use it only to put a barrel of beer and get the girls for a ride.
* * *
- 10 years ago when Tamara Nikolaevna left with Elena Berezhnaya and Anton Sikhrulidze to the USA you followed her and started coaching Yuko Kawaguchi and Alexandr Markuntsov. Was Yuko an exception skater
back then?
- She was always a very serious girl. And very listening. She never argued with the couch. With Markuntsov just 2 years later then became 2nd in world juniors competition. They competed for Japan in the seniors championship as well. Yuko came to Tamara and I with some technical faults. For example - the Salchow she performed with a
serious mistake and landed only on her willpower.
When the sportsmen has it burnt in their mind that the element has to be done no matter what it's very hard to work on the technique. It took a while to teach her anew. Besides, no one really worked with Yuko - it was a waste of time to work with the partners she skated with after Markuntsov. Though she did land quite succesfully the quad
throw during the training with the ameircan Devin Patric.
- Are you helping now Kawaguchi/Smirnov
- Yuko asks me some stuff for the sake of the old times. From the last training camp she sent me a text message «Just a week left. We'll do our best to make you happy»
- I know you helped her alot to accommodate in Russia.
- Everyone did. Tamara found a flat that Yuko later bought, helped with the studies. I also understood,that someone has to be around all the time. What stressed me in the US? The lack of understanding. Some bills, credits, cards.. .the language was very limited - I never really studied English. Had to pick it up during the work. Tamara wrote me the basic words on a piece of paper : like forward, back, right, left, some technical terms - and I learned those by heart. The first period after moving to the US we lived in a family. Tamara travelled alot to the competitions with Berezhnaya/Sikharulidze and it just worked that way that I was left alone. With the house owner's cat - a red, annoying with green eyes. Before our come the room belonged to it, and, of course, it was trying to show me who the room owner was. It would jump, scratch, though later we became friends with the cat.
This lack of the usual comfort and the constant stress all of a sudden created a vision problems. One of the days I was one the way to a training and figured the cars were behaving weirdly - one was driving towards me, another - in a strange angle. I closed one eye with my hand - all became normal. Took the hand away - all is alien. Later all became alright again, but I gave up driving for good - I stopped feeling the car.
- Did you stop coaching on the skates for the same reason?
- No, that happened long before. When Tamara was pregnant with our first daughter her legs would get very swollen and she would use my skates. My skates were stollen. Not quite clear why - they were old. Later when the boot changed to a shorter ones I didn't get used to it. That's when I stopped skating. Perhaps it's for the better - when you don't skate yourself you see things more sharply. Besides, the coach on the ice rink might get into the way of those who skate.
- I thought the coach on the ice rink was like a circus tamer.
- There is no need for that. The coach should be able to explain things verbally. It's much more important. I did think alot why the best skaters do not become particularly good coaches. In our sport at least.
- Did you figure it?
- Sure. Because they feel they are the greatest. Instead of thinking of physics and biomechanical laws they think of their own feeling. And are trying to pass that to thei students thinking it's the way to the success. The simple truth is that you just have to do everything rightly.
* * *
When the interview was over we walked with Moskvina towards the car to continue the conversation. Suddently she said:
- Igor is a far better coach then me. It's not just for the saying, it is just the way it is. He was the first who introduced choreography to the pairs skating - in the times when I was skating as a single skater he would invite the choreographer of Kirovski theatre - Dmitrii Kuznetsov. For Ovchinnikov - the known ballet choreographer - Baryshnikov, who would come to the ice rink and help with the programmes. And the most importantly - Igor did something no one else did so far - he coached the coaches while working in the uni, later all his sportsmen became coaches. Not because they couldn't find something else to do, but because he is exceptionally passionate about
the coach's work and passes that passion to the others.
Thanks to him I learned that make the others do things the way you want is not important at all. There is no need to make your husband dress in a certain way knowing his mood will sink. In anything you do - in work or family life one can quarrel within a minute. And it's not obvious that the relantionship can be rebuilt.
- Is your husband's opinion of what you do important for you?
- Yes
- When he worked with you - did he care about what the others thought?
- I think not. Igor was always very self assured. For a while he was my role model, though when I started coaching myself he looked at something I was trying to pull and said «Don't do it». I didn't listen thinking - I know better. 10 years later I came to him and said: «Igor, rememebr you told me that I shouldn't do that thing? I was an
idiot wasting 10 years to figure you were right»
2009