Ekaterina Gordeeva:
«IF WE ARE TO KNOW THAT OUR THIRD CHILD WILL BE A BOY»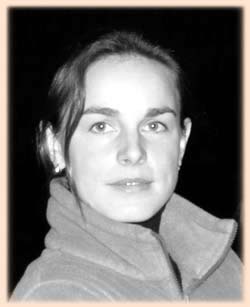 Photo © Elena Meshkova
Ekaterina Gordeeva
In Russia, after the death of her husband - Sergei Grinkov - two time Olympic medallist, Ekaterina Gordeeva never skated, although since 1996 she had quite successful career as a single skater in professional championships in USA.
Perhaps, this is why the information about Gordeeva's participation in the show «Ledovyii Olymp» in St.Petersburg, until the last day was considered as pretty much unreal. Despite that, two time Olympic medallist Arthur Dmitriev, who was personally in charge of inviting skaters to St. Petersburg show, the day before his own arrival from US, confirmed over the phone: Katia for sure will come.
The last time we saw each other was in March of this year, in Washington. Gordeeva flew over there with her husband, Olympic champion of Nagano, Ilia Kulik. Just for two days, to watch the World Championship. She looked tired and it seemed to me she was a little guarded. As if she is not used to show herself to the wide public in the new for herself, and very unaccustomed for the public, role of the happy wife of the famous, in the near past, figure skater.
Well, it's very explainable. Too many years America sort of deprived Gordeeva in her right to have normal, woman's happiness. Dramatic destiny of the figure skater, who lost her first husband - Sergei Grinkov - in 1995 and was left alone with a little daughter on her hands, was viewed by many, and first of all by those who directed Katia's professional career in USA - as very lucrative, as cynic as it sounds, merchandise. Exploitation of which, whenever Gordeeva appeared in public with any man, led to unconscious and some times conscious protest of the fans: «How could she? What for?».
Perhaps, this also happened because public's excess love that surrounded Sergei and Katia during their skating years and after Grinkov's death, re-directed to Katia and Dasha, turned out to be overly possessive. Even amongst figure skaters sometimes it was impossible not to feel very perceptible notes of blame.
A lot was said then. In particular: Because of Gordeev'a romance, owners of Stars on Ice - the most prestigious ice show in USA, where Katia performed, - didn't extend Kulic's contract. That - thoughtless behavior of the figure skater herself, who didn't want to hide her love from the public can cost her future career: that's how show business is: demand on star's suffering is always higher then on his/her wellbeing.
That's why the news about Katia's moving from the East coast of the country - some sort of the American center of the figure skating- to California and awaiting her second baby, I took as final leave of the figure skater from the ice. Justly, as Katia mentioned this herself, system of professional sport in USA offers to its athletes not so much room for personal decision. And makes it almost impossible to try to plan and build personal life. Too thick is the schedule and there is a lot of money on the lot.
In the last season I was surprised to learn that Katia is skating in the show again.
And in Octiber 2003, me and Gordeeva - as happened many times before during our acquaintance - drove together to the rink. To the rehearsal of her first Russian show.
- In 1992 after I gave birth to Dasha and returned to sport I started to think very normal about the fact of the possibility to return to sport after giving birth, - Katia said. - I am still surprised when people think that if a woman has a child she shouldn't make big plans concerning her life. It all depends on what you want. If you want to continue to skate, swim, run, or do something else - I don't see anything abnormal about it. It's the easiest - to say that you don't have the time and explain by that your own inertness.
Of course, I didn't make big career plans after Liza's birth, I didn't have to hurry to some tour or show. I love to skate and I like to feel fit, that's why I get satisfaction from training. It's really a pleasure to do something not because you owe it to someone, but because you want to do it.
- How long did it take to get back in condition?
- A little bit longer than after I had Dasha. I was 10 years younger then. And we were in the rush to get ready for the Olympics in Lillerhamar, we had to start feeding Dasha from the bottle. I brest-feeded Liza for eight months - and was very happy that I have the opportunity to be with my baby as much as needed. My daughter was born in the middle of June and after three months - in the middle of September - I started to come to the ice-rink.
- How did the birth of the second child effected your skating schedule?
- I don't think that IMG managers (I have a contract with them) were thrilled. More they were concerned when I announced that I am pregnant and will not be able to perform in the show Stars on Ice, as planned. On the other hand, there weren't any big problems. At least I don't know about them. We discussed the possibility of my return to skating after the birth, to the extent of my return to Stars on Ice tour. But I didn't want this: the tour lasts 5 months a year and I couldn't imagine myself without my children for so long. So they found a possibility for me to go on the tour for two-three days and then return home.
- What was the reaction of the public, when you first appeared on the ice after Liza's birth?
- It was a very big surprise for everyone. The organizers of the Stars on Ice, who invited me last year for several shows, planned to have me in the same way. I was not participating in the opening number, and when they were announcing my name the public was in some shock. But they received me very well - more active then ever. It was very pleasant for me. Overall, it's not very surprising for the American public when one or the other skater returns on the ice after a big break. Many skaters take breaks for one or the other reasons.
- What was the reason for your move from California to Connecticut?
- Two years ago I relocated to Ilyusha (soft for Ilia). He had a home overthere. I like it there very much. The only problem - we didn't spend much time together, especially when Ilyusha went on to perform. Mostly, skaters try to live near New York. The other problem was ice. We didn't always have the opportunity to come to the ice when it was comfortable for us. And most of the time we had to skate with someone else on the ice. The distances were also tiring. On the West Coast they are much more noticeable then on the East Coast. So we thought that the relocating back would be comfortable in every way.
- So it looks like you are returning to the place, where you started you American life with Sergei and Dasha?
- Almost. Now we live not in Simsbury, but near - in Newington. We train on the same ice-rink, where Galina Zmeevskaya works. She even volunteered to help to train Dasha. Now our life is well adjusted: in the morning I take Dasha to school and go to the ice-rink. Then I come home and substitute Ilyusha, he goes to practice and Liza and me go to take Dasha from school. And of course it's much easier that my parents live near by, they can always help if we need anything. Ilia's parents also come often to visit, although they don't live in US all the time, like mine do.
- Is it difficult to carry such a big household?
- Never thought of it. I like it. Big and happy family - is the happiness, which many are deprived of. I am very happy that my life is happening in such a way. Although I sometimes think that it would be better that the age difference between Dasha and Liza was not so big. On one hand it's good - Dasha helps me a lot with little daughter. On the other hand I would like for Liza to have a brother of sister close to her in age.
- So what's stopping you from having another baby?
- If we are to know for sure that we'll have a boy, I would not even hesitate. We'll see… in time.
- How many performances do you plan for this year?
- As in last year I am invited as a guest. Owners of the show already feel that with each year there are less figure skaters, which are able to perform in every show of the tour. So they broke down part of the performances - 10-15 shows- between myself, Kristi Yamaguchi, Scott Hamilto, and Kurt Browning. Besides us, as I know, Oksana Bayul will also participate in the show. But the main list of skaters remain, some of them are Alexei Yagudin, Lena Berezhnaya and Anton Scheharulidze, Canadians - Jemi Sale and David Pelletier.., Yuko Sato.
- Is it more pleasant to be a guest on the tour or be on it constantly?
- Stars on Ice - is the group, to join which is a dream. Many group numbers are some sort of the trademark of the show. Not by accident, these numbers are planned well ahead, and skaters practice every detail of the number for three weeks. In each new production there is an idea that passes throughout the show.
But the idea of inviting to the tour different skaters and therefore diverse to the maximum the show seems to me the right one. I think people will be happy to see someone who didn't appear in public for a long time. Americans treat their own athletes with a special tremble of joy. Even in case when the athlete is no longer able to jump the way he could. To understand that you need to see how public receives Scott Hamilton and Kurt Browning. No matter how many titles young skaters have, they have to skate and skate in order to be accepted in such a way as old masters of skating.
On the other hand there is a risk. To invite so many new skaters like in this season, owners of the tour took a big risk for the first time. So they'll understand later whether they made the right choice from the financial point of view.
...During the rehearsal in St. Petersburg, I asked Tamara Moskvina (she was one of the organizers of the show), why did they only invite Katia and not Ilia. «It's not that easy to get everyone you want, - little evasively answered coach, - even in America, Olympic champions are very expensive».
During the time when stars worked off their fee, (rehearsal lasted from 11 am until 6 pm with one hour break for lunch), my memory went back to our conversation with Gordeeva.
- Why did Ilia Kulik left Stars on Ice?
- He didn't leave by himself. His contract has ended. About at that same time Alexei Yagudin was invited and for the owners it was not profitable to have two Russian Olympic champions in the same discipline. For the same reason, as I know, Tara Lipinsky left the show. In Russia this kind of situation possible, when people are ready to perform in company, but in States this is unacceptable.
- How is Ilia's career going?
- There are a lot of exhibitions, although, it's possible, that Ilia would rather to perform more. He has his agent, who is responsible for organizing his performances. Ilia, himself, is «twisting», like everyone in America.
- Do you sense the total loss of interest to figure skating?
- Absolutely. That crazy boom, which started after 1994 has gone. Public is oversaturated by us. It can be noticed by the amount of` people coming to the show. Stars on Ice never had this kind of problem, but now, sometimes the stadiums are half-empty. And selling tickets is one of the major income items. Perhaps the reason for this is that people started to spend money more carefully, because of the bad economy in the country. To go to see show is a family deal, therefore you need to buy 4 tickets, which cost at least 50$, plus parking, food, beverages, souvenirs. Not everyone can spend more then 200$ in one evening.
The second problem - loosing interest to figure skating from sponsor companies - therefore from television. That's why many ice shows break down before they can start.
- I've heard that Ilia is doing a little coaching?
- In L.A. he mostly worked with Dasha. In the summer, when there was more free time he helped other figure skaters. He likes to coach - you can see this at once. And mostly - he knows how to coach. Some time back, he really helped me with my jumps.
- Who do you work with now? As always, with Marina Zueva?
- No. We didn't work together for 3 years. It's difficult to come to each other just for staging, too far. And I am too attached to my home. This summer - before relocation to Newngton I found choreographers in LA. For example I worked with a women who had a wide experience for producing circus shows, then I worked with a jazz dancer. Thought of something myself.
- What about asking your husband to help you with choreography? I am still amazed by his break dance, which Ilia choreographed himself and his program for professional world championship.
- He is really great - sets all the programs himself. He keeps promising me to help. «Someday». But this does not hurt me. Perhaps, he is not feeling confident to choreograph the program for someone else.
...As soon as the show started and all the skaters left the ice, Gordeeva came by the official bench:
- I'll watch a little from here. Me performance is at the end of the second act. I wish it would be sooner. Very uncomfortable. Never imagined that in Russia so many people can show up for the figure skating show. And the Ice-rink is so luxurious.
- How often do you come to Russia?
- I come each summer. Dasha, together with my parents spends summer vacation at datcha. Liza also has visited Moscow last summer, when she was 1 years old. I love to come here. And it's very pleasant that people still recognize me on the streets. I am not sure that I can live In Russia all the time - too much of my life is connected to America, but Moscow will always be a special city for me. Here, In St. Petersburg I feel as a guest, and when I arrive in Sheremetievo (Moscow) - it's like putting on your house shoes.
- Have you thought about opening your own skating school in USA?
- It's not that easy. You can't come to the ice-rink with an announcement. You have to sign a contract, reach the agreement with many people. Often, the ice-rink belongs to one person or a group of people, but the manager can be another person, and he can have very little interest in figure skating. All has to do with the financial side. If to have a hockey team on the ice is more profitable then there will be no figure skating at all.
I don't know one person who has such school, even Tamara Moskvina couldn't do it. Zmievskaya is sort of lucky, she works on the rink that was build for her and Oksana Bayul, and many skaters still come to her to train. But that doesn't mean that the ice-rink in Simsbury is her school.
And there is another problem. In our time, we had a special system of training, which started with a children's group. In US the word «group» itself scaring parents. They think it's better to come to a certain coach and pay him the money for a private lesson. And they are sure that it's possible to teach something in 45 minutes.
Having your own school is in a way means imposing your own ideas, methods, and views on people. We have a different meaning to the word «coach». I for example, feel ashamed to take money from a person, while knowing that I can't teach him in one lesson. But you have to take the money; otherwise you bring problems to other coaches. Of course, sooner or later, Ilia, and me, we'll have to work as coaches and make money that way, but now I have very vague idea how it will look.
- Have you had the opportunity to try yourself as a coach?
- In the summer, I worked a little with one American pair. And, you know, I liked it. You get all these ideas, which you want to work on.
- When you watch pair skating do you feel nostalgic?
- Not anymore. Besides, I had a chance to continue skating in pairs. I rejected the possibility.
2003