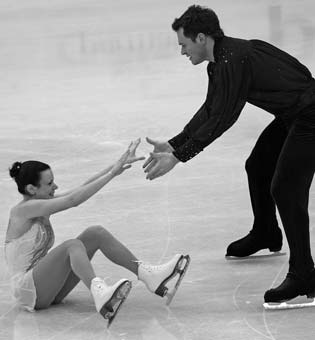 Photo © Alex Wilf
Maria Petrova and Alexey Tikhonov
The Grand Prix Winners are Brian Joubert (France), Kim Yu Na (Korea), Albena Denkova/Maxim Staviski (Bulgaria) and Shen Xue/Zhao Hongbo (China). Russia had one bronze in ice dance by Oksana Domnina/Maxim Shabalin.
DANCE BREAKTHROUGH
This event was the most represented for team Russia, as Jana Khokhlova and Sergei Novitski made a wonderful debut in a such an event, finishing fifth. The event was the only bright spot for our fans. Both Russian teams made a crazy jump in less than a year. In free dance, Domnina/Shabalin lost only to reigning World champions, giving their coach Alexander Gorshkov a reason to say that his skaters will compete with the Bulgarians for the European gold as equals.
According to Shabalin, this was their best performance this season. Oksana wasn't ready to agree, «We have to watch the tape first, but overall, we are satisfied».
Marie-France Dubreuil and Patrice Lauson, second in the World, made it easier for the Russians to get to them as close as possible when they got one point deduction in the free dance. Denkova and Staviski's win was more than convincing.
In the mixed zone, Domnina and Shabalin were asked directly, «What doesn't allow you to defeat the Bulgarians yet?».
Maxim said, «It's hard to say. Maybe we don't have enough skating experience. The judges consider that».
Oksana added, «We are not upset, even because of losing only 0.2 to the Canadians».
Russia's top team always attracts the lion share of the attention. Those who follow are the «extras» as a rule. However, the GPF was an exception - there were more than enough compliments to Khokhlova/Novitski.
They were pretty nervous: there was no compulsory dance that usually takes away some extra stress and allows to adjust to the competition before the toughest fight starts. This time, they had to just do it, and they drew first in the skating order, opening the event.
Khokhlova/Novitski managed just fine.
They said, «We would've been happy even if stayed in sixth place. We were seriously training for that competition. After the final Grand Prix event, there were rumors that one of the finalists might withdraw, and all of our practices were geared towards performing in St. Petersburg. We were inspired because this big event is held in Russia. Russian fans always support us».
It was a matter of honor to defeat Melissa Gregory and Denis Petukhov there. At NHK Trophy, the Russians were ahead of the Americans, and not making the final was an unpleasant surprise. According to Sergei, he was sure that if two teams have the same number of points, the team who won face-to-face had the advantage. It turned out that this season, the personal best result is taken into consideration and Gregory/Petukhov had a higher score at Skate America than what Khokhlova/Novitski had shown in China and Japan. The only one careless quote from the Americans, on how they consider themselves a team of an incomparably higher level even though they lost in Japan, immediately spread around. When Khokhlova/Novitski made the roster by coincidence, the intrigue in the «bottom» part of the competition was almost bigger than in the «top».
The Russians managed to prove that their success in Japan wasn't an accident. Almost five-point lead is a serious argument. Moreover, they got higher marks for technical elements in the free program than much more achieved Isabel Delobel and Olivier Schoenfelder.
FAMELESS BEGINNING
Maria Petrova and Alexei Tikhonov had to go through a painful shock. Until Friday, we wanted to believe that Alexei's statements would be true and that two weeks between Cup of Russia and the Final would be enough for them to get in shape. It was completely the other way around. Petrova got a little sick before the final, they've missed some practices, and it finally became clear there would be no miracle. The skaters made so many mistakes in both short and free program, there is no need to mention those mistakes one by one.
It makes no sense to feel sorry now about the top pair in the country digging that hole for themselves, spending too much time in the TV show. At the end, Petrova and Tikhonov had the full right what to put their bets on - set earnings on TV or a result in sport. It was hard not to think about something else - why put this team in the final knowing about its condition? The pair skating is not just a discipline in the competition, it's a state achievement whose prestige and value was built during many decades and with efforts from too many generations. In an hour, it all crashed.
Of course, we can say that GPF is no reason to paint it so dark, but I won't be surprised if at Europeans and the Worlds the judges will unwillingly have the picture from St. Petersburg in their eyes when they'll determine the best. The reputation is a serious thing in sport. There is a reason for most skaters trying give any reason just to stay away from face-to-face competition if they don't feel they'll be competitive. Tanith Belbin and Benjamin Agosto did just that, withdrawing from the final. Agosto's injury was the official version but I wasn't able to find even one person in St. Petersburg who believed that, just like nobody believed Johnny Weir being injured and withdrawing from the competition because of the injury (the official version), after doing so badly in the short program.
The most upsetting for the Russia's fans is that Shen/Zhao won the pairs, and they are the skaters who can't be called the new generation even if you want to. They were going to retire five year ago. There is no surprise that the phrase that was said many times after Torino, «it would be nice to bring Totmianina/Marinin back to the competition», was changed to «they have to come back» in St. Petersburg. They have to do it urgently and at the same time, entire coaching effort has to be thrown to preparing the new teams, or it'll be really bad.
INSTEAD OF THE ONE WHO LEFT THE GAME
In the men event, the number of competitors were down to four by Saturday, minimizing the interest to the «king» event. Obviously, this was a miss by the ISU - if you have a serious competition, sell TV rights, and pay prize money, you have to take care about having the alternates. It's not a big expense to pay the fare and housing for several more skaters. Since none of them were in St. Petersburg, we had to be satisfied with the shortened version and sincerely regret that the expected duel between Joubert and Weir didn't happen. The official announcement was that after the American fell in the short program, his old injury was worse and he couldn't continue.
Marina Anisina was upset about it the most. She had no reason to blame herself for such an incomprehensible performance. Anisina has been choreographing for Weir for a very short time, and the skater left almost nothing from the original short program. Still, Anisina felt down: «I wanted to help Johnny very much. He is a wonderful person, very talented, but now he just lacks physical power. We started working together when we skated in Collins tour. Honestly, I wasn't going to do something like that, but Johnny asked me to choreograph for him, and then I clearly realized the difference between skating yourself and training someone else. I can think of and choreograph anything, but he has to perform. If a person physically not ready to work, it's impossible to skate the program through and work it until it's automatic. That's why he throws away steps and elements, throws away everything. Still, I hope to work with Weir more close, and make him «run around». We still have time. Johnny agreed to perform in two shows in Moscow and we'll train there even though we don't know which rink yet».
- How much can he be pressured by a coach?
- I constantly tried to persuade him when we were touring that he has to make himself to work differently. Just having the talent is not enough. Of course, it's hard to train when you are on tour - you are on the road all the time and you are performing. Even there, every time we'd get a chance, I dragged Weir to the rink - I knew it's necessary. If you compare what was going on in Johnny's head early in the summer with what was happing late in the summer, there is a noticeable difference, so some of what I said got into his head.
- Do you think that Weir feels how fast the time is passing by?
- Johnny is a very smart boy and constantly analyzes his work. He is very ambitious, has the character, knows has to focus, but I suspect he didn't think about it yet. He has tons of fans around the World and anywhere he goes, he gets a wonderful welcome. It's all nice, but the time really goes fast. Weir had a lot of advances and he hasn't met the expectations yet.
SUPERSTITIOUS CHAMPION
Joubert was asked at the press-conference about what he thought was the reason for Stefan Lambiel not starting the season well. The French looked so sincerely surprised, it was pretty clear he is not thinking about what the other contenders doing.
His performance at GPF wasn't as impressive as two weeks earlier in Moscow. Joubert did two quads in free program, both of them not very clean, but he remained calm. He honestly admitted, «It was very hard. I had four competitions in five weeks, and all were important. Grand Prix events in Paris and Moscow, the French Nationals in less than a week. The performance in Moscow took so much emotion out of me, I felt completely empty for several days after. I barely managed to make myself to focus. There was little time left to rest before the final. Still, I haven't planned for leaving the quads out of my program. It was very important to do them in St. Petersburg».
- Why?
- Psychologically, this jump doesn't give me a problem, but I haven't skated the program with a full set of elements when I was very tired. I assume that similar situation, managing large number of performances and keeping the skating quality, will arise several times. I'm glad I had that experience. I felt what I need to pay attention to, how to get ready, what to do to preserve the strength. I finally realized something simple - I only have to focus on my skating. If I do everything, I won't get defeated.
- Even by Lambiel?
- Even by Lambiel.
Joubert really changed a lot in a year, and not just on the outside even thought his new free program, choreographed with the help from Kurt Browning, came out very well, fitting Joubert's style and mood. The last season that was very bad for the ambitious French made the skaters think a lot.
He kept his short program, 007. Joubert did that before, fairly assuming that when one of the programs is well done, it allows to better concentrate on working on the new one. This time, when talking to a reporter from L'Equipe, he noticed, «I've been thinking more about it, it's not very right to keep the old programs. It's just that I couldn't afford another new program financially. I didn't have too many shows, and I wasn't trying to get into them because I needed to train, and new program is always a big expense - the music, the costumes, choreography, working with the choreographer...What's different is a new motivation for an old program. I want to get more than 84 points for it. I think it's realistic for the Europeans.
I'm very happy with how the season started. In April and May, I skated in French show for some time, then went to a show in Toronto, and then took a two-week rest. I've spent summer training with Alen Preuabert and Annike Dumont, and when the rink in Poitiers opened after the summer break, I started working there with Jean-Christophe Simond. It was a new experience for me. I always trained a lot and was used to a lot of pressure, but only now, for the first time in my life, I felt that I'm thirsty for that work and I enjoy it. That feeling remained for the several last weeks despite being tired from competitions, flights, and not being able to get normal sleep in St. Petersburg even once».
According to the reporter, it was obvious how tired the skater was during the Nationals. Before the competition, Alan Jiletti called Joubert. It wasn't anything unusual, the great skater, who was the five-time European champion in the 50s, has been preparing and sharpening Brian's blades. He haven't been to the competition ever since he briefly coached Suria Bonaly many years ago.
He asked if Joubert would mind if he comes, and he really came there. When Joubert saw the great skater in the arena, he started crying as his worn-out nerves couldn't withstand the extra shock.
The end of the interview was comic. After Torino, Joubert gave a word to himself to never say it out loud - his goal is to be the Olympic champion. He's been talking about it for two years before 2006 Olympics and nothing good came out of it, only the disappointment was a 100 times more painful.
Still, the reporters asked the standard question - what does he hope for this season. Brian frowned, «I won't tell! Don't even ask, I still won't answer. You know the answer. For those who don't know, I can say that I don't like the number 2, 3, and 4 as a principle».
TRAP FOR ASADA
Triple axel let Mao Asada down. It was the first jump in the free program, and the skater noticeably felt upset when it didn't happen. If not for that, I don't think Kim Yu Na would've outdone Asada as easily. Even though she won the Jr. Worlds last year over the Japanese, she's made an impression of a talented child in St. Petersburg. Asada's skating had some inside «adult» to it. It was even more valuable that the skater grew up and wasn't afraid to include the extra-difficult jump that is uncharacteristic of ladies skating even though some ladies attempted and had done it successfully.
It's not hard to assume that very soon, ladies might be in a situation similar to men's competition when Alexei Yagudin and Evgeni Plushenko competed against each other. There is not much reason to assume that someone else can get into Asada vs. Kim in the near future, unless either one of them makes mistakes on her own.