FORTUNATELY, THE EAST DOESN'T DANCE YET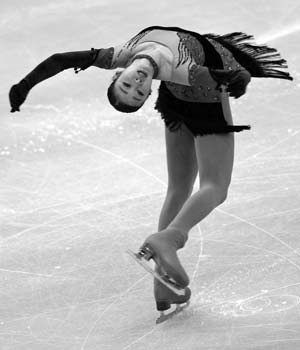 Photo © Alex Wilf
Kim Yu Na
Starting with early 90s, when Soviet Union broke up and the coaches were left without almost any means for existance and they started looking for the jobs in the West in mass, it was customary to count in the articles how many of our coaches represent diffirent countries in competition. It was sort of demonstrating the greatness of the Soviet school - not only our skaters kept winning medals, we were also generously sharing the knowledge with the competition, even though we were driven to it.
Now, after top Russian skaters left the competition, it became obvious that many countries worked on creating a solid base for the past several years and unfortunately, we weren't able to save it in our country. Grand Prix Final just highlighted it the best as Russia is represented only in two disciplines.
It would seem that men and ladies event have nothing to do with Russia except that they are being held on our territory. Well, there is direct relationship. There are familiar names among former and current coaches and choreographers of the best skaters: Victor Kudriavtsev for American Evan Lysacek, Tatiana Tarasova and Marina Anisina for Johnny Weir, Andrei Berezintsev for Brian Joubert, Nikolai Morozov for Daisuke Takahashi. Rafael Arutunian takes last year GPF winner Mao Asada of Japan to the ice, and Morozov does the same for her compatriot Miki Ando, Gurgen Vardanian and Nina Petrenko - for 2004 European champion Julia Sebestyen of Hungary. Oleg Vasiliev worked with Fumie Suguri two years ago, and now, one of her programs choreographed with the direct contribution by Alexander Zhulin. Tatiana Druchinia contributed to Sara Meier's, six time Swiss champion, choreography.
Russian professional «footprint» can be clearly tracked in pairs and in dance, but it doesn't change anything - there are practicaly no Russians among the favorites. Before the competition, we could've only hoped that Oksana Domnina and Maxim Shabalin will be able to copmete with reigning World champions Albena Denkova and Maxim Stavijsuk, and 2002 World champions Maria Petrova and Alexei Tikhonov will be able to compete with four-time World champions Shen Xue and Zhao Hongbo as equals.
There are active talks about the «eastern» wave this season. You could see the reason - two Japanese men, three Japanese ladies and Korean Kim Yu-Na in the final, plus the two Chinese teams. The World already got used to in mass Chinese representation in pairs, but the in mass Japanese effort is still new.
All we can do is take our hats off to Japanese skating federation. The country took the state-level strategy for creating future champions, partially stepping on the owner instincts of their own coaches. Couple of years ago, both Vasiliev who worked with Suguri, and Tarasov, who coached Shizuka Arakaway, noticed the the Japanese figure skating management mostly has to just accept that best skaters leaving the country, as it does not encoure it. Now, the picture changed. According to Arutunian, unlimited money are invested in Japanese skaters' training allowing them to pick any country, any coach, and any amount of ice time to train.
When I talked to Victor Kudriavtsev, one of the best coaches in the World, once again I was ensure that the Japanese have serious intentions, «I recently talked to the best Japanese coach Nobio Sato. I thought he would admit that Japanese skater going to another countries in mass is unpleasant for him, but he said that he is very glad and he welcomes the collaboration because it allowed the skaters to really show what they can do and get rid of historically "being closed" that is characteristic of Japanese culture overall».
Once, the Chinese skaters were closed too. Early in their career, Shen Xue and Zhao Hungob mostly picked Chinese music and Chinese-styled costumes. I don't remember which season it was when they took famous, «Iz-za Ostrova Na Strezhen» as a part of their free program. It was so shocking for the music not to match the perforers' looks, it was hard to understand what to make of it. It seems natural now that the best Chinese and Japanese skaters mostly preferer Russian and European composers, classical pieces and choreographers.
On one hand, they have no choice. The East has to play by someone else's rules while people who were mostly brought up in European and American cultures, have the fate of figure skating awards in their hands. At the same time, we can't say it's the suffering process. Many Russian and American coaches who worked with the Japanese or Chinese notice that despite the difference in mentality, you can only dream about students like that. The Japanese even have a certain advantage over the Chinese - they are not closed by the state system. They are not just automatically do everything they are asked and are not arguing, they tried to get into the elements, music, and coach's instructions in detail.
When Oleg Vasiliev talked about his work with Suguri two years ago, he said, «Sometimes her questions are killing me when she asks something like «Which muscle should work to do this move right?» She knows all the musles, how they work, what makes them take an action».
Well, it's still to be seen who will do better in GPF - Europe, America or Asia. It would be an overstatement to say that Takahashi and Nobunari Oda are the favorites in men's event. The coaches and reporters took much more interest in watching the traditional heroes in practice - Brian Joubert and Johnny Wer, and they watched Joubert extra close. It looks like he finally got a coach and he feels much more confortable with him. When he talked to the French reporters shortly before coming to St. Petersburg, Joubert mentioned the real reason he left Andrei Berezintsev, «Every time I did a jump, Andrei applauded. At first, I was flattered, but then I started to ralize I am not always jumping that well do earn the applause. I wanted to hear the critisim more than I wanted to see the blind admiration. I got it all when I came to Jean-Christophe Simone».
His new coach didn't do bad in early 80s, winning European silver medals twice - in 1981 and 1982. He started to coach pretty early and soon earn the reputation of a great «technician» who knows the jump details, and who clearly knows his worth. That's why their work that had no bowing to the star student's achievements from one side and no fits from another started to bing fast results. We are yet to see how consistent it'll be, and it might not be here - it could be in two-three months at Europeans and Worlds.
By the way, it seemed that Stefan Lindeman, 2004 World Bronze medalist, had the same goal in mind - to rebuild the technical base that he almost lost completely, when he recently came to Alexei Mishin. Maybe his 21st place finish at Torino finally persuaded him that he has to chance something - either the sport or the coach. Still, using the Japanese as the example, you have to start with how you do your job.