Elena Sokolova: «WITT WISHED ME LUCK»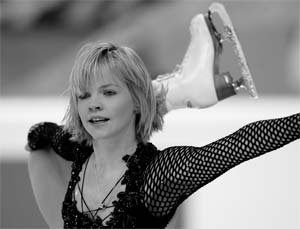 Photo © EPA
Elena Sokolova
The first Grand Prix event of the season was held last week in Atlantic City. Elena Sokolova, European and World 2003 vice-champion, became the only Russian skater to win there. She came back to Moscow on Tuesday.
«I'm still in the airport, - she told over the phone. - My luggage is not here yet. Maybe it wasn't loaded on the plane. We left the Atlantic City 20 minutes before hurricane Wilma hit the town. You can't imagine how scary it was! TV was constantly showing the reports and we saw what was going on in the neighboring towns. It was a constant horror».
- You had to realize where you were competing. It wasn't the first day for the hurricanes in the US to show their fury.
- When we were flying to America, I wasn't thinking about it, only about how I definitely should catch my luck in this country, like at Washington in 2003. I haven't skated in the US since that time and I believed that my performance there will definitely go well, and that's how it turned out. By the way, the free program was held on my coach Viktor Kudriavtsev's birthday, and he was very grateful to me for this present.
- Many were surprised by your first performance on the season at the Nebelhorn Trophy where you spirals and spins were almost at the highest level of difficulty. How did you make such progress in the elements that were never considered your strong point?
- You just have to read the rules carefully. We worked on the spirals a lot, but importantly, the new rules have many nuances that allow getting extra points for all components of the program. Anyway, the main principle is the same – if you are heads above the rest, you'll win anyway, rules notwithstanding.
- Wouldn't you agree that it's not easy to be heads above when everyone around you insists that spirals and spins is not your strongest point?
- I tried not to pay attention to such talk. With my coach, we decided to put the emphasis on the jumps. There are certain plans connected to that. I'm glad that I managed to do all seven triples in the US. We'll try to make programs even more difficult going from one competition to another. We are saving the combo jumps for now; it's not the time to show everything. My next Grand Prix even is in Paris. Before that, we are planning to go to the Golden Piruet in Zagreb to test our ideas one more time. Actually, we picked the competition in Obersdorf so we could see how the judges accept the program and how they mark the elements before the competitions that are more important
- How was your summer work?
- I rested for a month after the Worlds and I performed in the exhibitions. We choreographed programs in Moscow and both of them were ready in the end of August.
- Did you pick Romeo and Juliet theme for your free dance because the Olympics are held in Turin?
- When I've heard the music for the first time, I immediately knew it was mine. The theme is not new, but I've thought that this selection in particular, the one from the musical, is not the one that anybody could find.
- But you found it.
- That was such a story! I managed to find a phone number of baroness Katerina von Gechmen-Valdek, who produced musicals such as «Metro» and «Notre Dame de Paris» in Russia, and now producing «Romeo and Juliet». She helped me.
- Just like that?
- That surprised me the most. When I got her on the phone, I immediately started to talk non-stop about how much I like this music and how much I was inspired by it. I was afraid that Katerina won't listen for me to finish and would hang up. She turned out to be a great person and so easy to talk to.
- Do you already feel the nervousness of the Olympic season?
- I prefer not thinking about it, but calmly moving from one training stage to another. If I start to burden my brains with the thoughts of Olympics, I'd go crazy.
- Were you glad or were you disappointed that first, Michelle Kwan withdrew from Atlantic City event due to injury, and then Sasha Cohen?
- It didn't matter to me at all. I was only concerned with my own performance and having to do my program the best I can. For now, this is the most important to me, no matter where I'll have to skate – Moscow championship or the World championship. It makes no sense to compare myself to someone else.
- I've heard that's what TV commentator Dick Button was constantly doing during the event. A lot of his comparisons weren't favorable to you, he was picking on everything.
- I know. Button likes the American ladies too much. For him, they are always the best, no matter how they skate. You know what surprised me? Right before the short program, Button suddenly came up to me and said, «Lena, I watched all of your practices. You simply amazed me – you look so good on ice. I didn't expect it». He wished me luck. It was very nice and unexpected. Later, I've experienced almost a similar shock when Katarina Witt came to wish me luck. To some degree, she was always my idol.
- Why her?
- I admire her as a skater and a person. Katarina is a strong woman.
- In Germany, you choreographer Alla Kapranova took you to the ice. In Atlantic City it was Kudriavtsev. When your coach is standing by the boards, does it make it easier for you to skate?
- It's hard to say. It's easier in some aspects, and more difficult in the others. It's definitely calmer during the competition when Kudriavtsev is there. His strength supports me.
2005