Elena Chaikovskaya:
«YOU CAN LIVE IN USA FOR A WHILE,
BUT YOU CAN'T BUILD A SCHOOL THERE»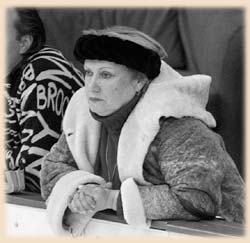 Photo © Alex Wilf
Elena Chaikovskaya
Last year Russian skaters has one four gold medals at Europeans. In Vienna, this season - three. It looks like we are still dominating. In terms of medals, yes. But the outcome of dance event, which was more Russian and stable for years, made many foreign journalists ask: doesn't this failure means what the end of Russian hegemony is near? We want to believe that the answer is «no». But while hoping, it would be foolish to forget that the future success depends a great deal on out coaches, who are still in class with themselves and unmatched by foreign specialists. Here are there are interviews with two of them.
Now we could only guess that the figure skating would be like if Elena Chaikovskaya who has left the sport hadn't come back. But she did return and take to her group Maria Butyrskaya for whom many was seeing the writing on the wall, and made her European and World Champion.
But her main «sensation», was not last season, but this one, and not in ladies skating, but in ice dances. The duo of Lithuania, Margarita Drobiasko & Povilas Vanagas, who was fifth at last season Europeans, under her guidance has won the bronze, the first medal for their country in the history of the sport. And Russia didn't win any, for the first time in 32 years. From this topic we begun our talk
- Was the result of Russian ice dancers an expected one?
- We were heading for it. Dances is very specific event. Now the have «methods», but I still remember the time then we knew nothing. When I begun my work with Ludmila Pakhomova & Alexander Gorshkov, I used every opportunity to learn, I watch foreigners and tried to remember every little detail. And I on my mistakes I teach Tanya Tarasova who was forced to quit skating early and has become a coach. This was how we built the school. And the collapse of the system begun then people who knew everything and worked succesfully for years were removed from the skating.
- How did it happen?
- It was the decision of Russian Figure Skating Federation. In 1994, when I was working in the team with dancers, my ex-students Natalya Linichuk & Genady Karponosov has wrote a letter to remove me from my position and from dances. Probably I was hindering them. Well, I was removed. Natalya managed to «produce» the results. She had her champions, it looks as if we had the «reserve» too. And Federation though it's Ok. But we didn't have any other young specialist of this level. Then they departed to America and took their team with them, younger skaters was left without an example to learn from. The outcome is grevious: even best Russian skaters didn't manage to take the medal at Europeans.
- But it could be an accident. Last season Anjelika Krylova & Oleg Ovsyannikov won second World title
- But even the first victory was a collapse of Russian school. It was obvious for professionals.
- How?
- Speaking roughly, they lost the «posture», and the culture of the dance. They started using crazy, unnatural positions, and lots of moves in one beat. Without any ideas. Even back then many were saying «It's wrong to change «the Beauty» Krylova to the beast». On the contrary her appearance should be highlighted and used. Now we have just the same thing - the same coach, the same program. Then Irina Lobacheva and Ilya Averbukh has skated their program in USA, they lost. Need we be surprised with the ourcome of Europeans?
- Then you were chief team coach (it's the position in Russian sport system, in all sports we have some «general» or «chief» coach of the National team), didn't you see that the dances are heading for?
- Of course, I've seen. I've visited Linichuk many times, trying to give her advices, I spoke about that in Federation. After that I was released and told that I don't understand a thing in modern dances. It's not about me, I have proven I was right. But we must admit that we have made a mistake and take measures. We have the same problem with Junior dancers. Our team for Junior World are skaters who will leave Juniors curcuit soon, and are «untouchable». Beleive my experience they will never become the champions, because of the «matching» and «skills».
- Many journalists have said that you've returned to ice dancers with Lithuanian team because you could see you own student ruining the school you've built...
- I don't have a task to defeat Linichuk. We are in different leagues.
- Something like eight years ago, Linichuk has told the journalist what with Tarasova, Chaikovskaya and Dubova, she didn't have the chances to move her students to the team...
- Everyone must «live» throught it. Everyone did. Tarasova, Dubova. Linichuk herself has become first rate coach because of the rivaly. And as soon as we had a monopoly, and in USA, with all talents leaving Russia, we get a collapse.
- So you think that the coach permanentely living and working abroad cannot stay «competive» in Russia
- It's a forbidden topic for me. Me fellow colegaues - Tamara Moskvian, Tatyana Tarasova, are now in USA too.
- Ok. I'll ask it in another way. Is it harder to work there?
- It's different. You don't have time to care about your sportsmen every second, to care about his injuries, his troubles. In Moscow, if I need it, I can find exactly the specialist I need for my student. And in USA, most of the coaches, need to earn money first of all. Otherwise you won't be able to pay the rent, to teach your students. I have first travelled abroad in 1956. And even back then, I watched them and I knew, I couldn't live in USA. I can't live and work the way I'm accustomed to there. It's possible to live there for a while, working with your own students, but to make school there - it's impossible.
- How many students you can be working with at the same time?
- I always had a leading duo and one or two of up&coming. Of course if your target is 10-15th places you can work with ten or so. But if we are talking about the champions, you need to devote every hour for them.
- Don't you, with all your truimph and all that, ever think that while preparig Drobiazko & Vanagas you are working against your country?
- Frankly: I really want to take Russian team and make the champions. But it's much harder now. I must begin with the basic things.
- Is it possible to be succesful without the support of Russian Figure Skating Federation?
- Absolutely impossible. Federation - and I ask you to write about that - put down my Junior tam Yulia Golovina & Denis Egorov, they have done everything not to allow them to World Junior Championship. I'm doing everything myself, at my own expences. It's ridiculous. At the competitions Russian Federation demand Lithuanian team to pay for my accomodation. I can pay for it myself. But why? We, BTW, accurately give the Federation 10% of the prize money Butyrskaya and Soldatova earn.
- And you still don't think about immigration?
- I'm only cooking at my own kitchen .
2000