Elena Buianova (Vodorezova):
«IF YOU ARE «LIKE EVERYONE», NOBODY WILL NOTICE YOU»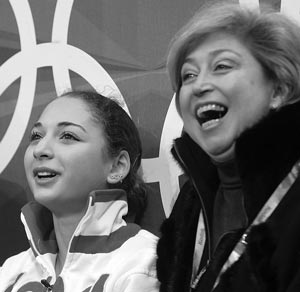 Photo© Alex Wilf
Elene Gedevanishvili and Elena Vodorezova
The fourth Grand Prix event will start in Paris on November 16, with three best men skaters in our country competing - Andrei Griazev, Ilia Klimkin, and Sergei Dobrin. Elena Buianova, who is known to the whole World as Vodorezova, her maiden name, will be taking Griazev to the ice there.
If the figure skating had the prize for the most fantastic debut, last season it would've gone to Vodorezova's student, a 16-year-old Georgian skater Elene Gedevanishvili. She was fifth at Europeans, made top ten at the Olympics and joined the ranks of the national heroes in her country - there was no Georgian lady in the whole history of skating to rise so high.
However, the duo split in the middle of October, and Vodorezova's group became almost «men only». In April, Artem Borodulin joined, the only Russian skater who made it to the Junior Grand Prix Final.
So, our conversation started with juniors, with 2004 Worlds where Vodorezova looked over Griazev for the first time at such a big even and where he became a champion.
- Two years ago, Andrei competed with Evan Lysacek and defeated him. Since that time, the American won senior World medals twice, and Griazev didn't make the top ten even once. How competitive will he be this season?
- I would ask the question differently - how much Andrei himself wants to be competitive? A coach is just a helper, just like the entire team that works for the skater. What can I say, last season was terrible for Griazev. He was in shock. He'd been through a lot and I hope he thought about it a lot. I think he realized he might not have another Olympic cycle in his career.
The competitions will tell how much he changed and whether the training was put together right this time.
You know, we all got very spoiled by Lesha Yagudin and Zhenia Plushenko. We would come to any competition and not worry much for the results. We knew it would still be a gold and a silver even though for both individuals the only place that existed was the first. We were lucky that they were here, not in America. There are no skaters like that now. Take Johnny Weir who I love very much. Judging by his abilities, he could've been the World Champion by now, but he didn't! He was second in the short program at the Olympics and ended up fifth overall. He is missing something every time.
- How do you think Plushenko's absence will affect men's skating?
- Him not competing is bad. This is our treasure, our riches. On the other hand, it'll make everyone to get out of their skin to take over the niche that was not available before this year.
Speaking of Russian skaters, each of them should understand their responsibility that they didn't have before when they went to compete as number two and number three. It's a different feeling when you don't have someone's back in front of you.
- As Griazev's coach, do you feel the responsibility?
- I was never behind someone's back and always tried to set my skaters for the maximum. We didn't come to the Europeans and Worlds with Gedevanishvili to make the final and rest there even though the Georgian Skating Federation didn't hide that it would be happy if Lena will make it to the cut of 24 skaters there.
We weren't going to place first but at the same time, I prepared Gedevanishvili for the best possible result because I knew if a girl from Georgia would come to the Europeans and skate like everyone else, the best case scenario, she would start from 15 to 20th place. To outrace the others and draw the attention to yourself, you have to have more than the skater's ability to do the required elements.
- Is this quality something you were born with or is that because of your many years of working with Stanislav Zhuk?
- Maybe it's all together. Zhuk always taught us to be a head above the competition. How could it be the other way? Average level means average. In Moscow alone, 25 skaters compete at children events and it's not easy to stand out in that crowd. If you are like everybody else, you won't get noticed. You have to shine, there should be a lightening.
- How come Gedevanishvili had to leave Russia?
- I was at Grand Prix Event in Holland with Borodulin and my husband called me and told me what happened. Gedevanishvili and her mom were coming home from the practice and they were stopped on the street to have their documents checked. It was the time when Russian - Georgian relationship was worsening and as you remember, our law enforcement paid more attention to the people who looked Caucasian. Lena's documents were all right, but her mom registered through one of the many firms in Moscow. She had all necessary stamps in her passport but when they checked in detail, her data wasn't in the computer. That meant she was in Moscow illegally.
Many tried to help but they couldn't change the most important - Gedevanishvili's mom had to return to Georgia anyway and file for the documents again.
When I came back to Moscow, Lena was in a terrible state. It's not hard to understand - when a person, who never was at the police station in her life, gets in there under such circumstances, it could be shocking even for adults. Her mom just shrank in half. Not only she was under the threat of deportation, she was constantly getting calls from her son's school with demands to explain where the child is. He was at the skiing training camp in Austria. When I saw it I realized the only possibility to distract Lena from and turn her attention somewhere else was the competition. Three days after I returned from Holland, all of us flew to Austria to a competition.
The plan was for Lena and me return to Moscow and for her to live with me, but in Vienna, I learned that Lena and her mom were told to return to Georgia and depending on how fast the document problem would be solved, they would either stay there or look for a training place somewhere else.
I offered Estonia and talked to Anna Kondrashova who would've taken Gedevanishvili temporarily. However, after some time, the Georgian Skating Federation president called me and said that Lena's parents made a decision to send their daughter to Galina Zmievskaya in USA.
- Were you upset?
- I can't even tell you. Lena trained with me since she was six or seven. Leading a Georgian skater to that level is not the same as doing it with the Russian. This season, we had very beautiful programs, and the training went so well. Lena looked wonderful. We planned to compete at two Grand Prix events, but after what happened, we had to withdrew. I don't know if Gedevanishvili will be able to prepare to the Europeans under these circumstances.
- So, whatever your skater achieved in the Olympic year is enough for Georgia so it wouldn't think about her future in sport?
- It looks that way. As I've heard from someone else, Gedevanishvili is being financed by the highest level. Lena met the country's president several times, she is treated very well, and she is literally a national hero.
- Did you at least get an award from Georgia after the Olympics?
- Nobody even said thank you.
- I know that not everyone in Russia, as well as in CSKA school, was happy because you worked with foreign skater.
- I started coaching at Elena Chaikovskaya's private school where nobody should've cared which skaters you work with. In the US, nobody is interested in why American experts work with Japanese and Chinese. This is their bread. Nobody paid me for coaching Gedevanishvili up to the end of the last season. It's funny to talk about financial benefits that I supposedly had.
On the other hand, no coach will never deny herself the joy of working with such a gifted child. It's so rare to get a talent of such scale in your hands. I don't understand such talks. I remember how there were talks about Tarasova that she is consulting the Russian team and has no right to coach Shizuka Arakawa. Somehow nobody got it in their heads that there was a contract that Tarasova signed when she worked in the US, just like that Tarasova was able to prepare Ilia Kulik and Yagudin in America with the money that foreigners paid her. She would've not been able to do that in Moscow at that time because our country didn't have the conditions like in the US.
I've been coaching for 15 years and only now I got the chance to work as I feel necessary. I remember very well how I had to beg the rink management to allow me to go with Olga Markova to Europeans in 1995 and I felt almost like a criminal even though we came back from Dortmund with silver.
- Did you ever think about what you could've achieved if you would get Markova now, not 12 years ago?
- I think she would have no competition on levels of difficulty alone. I've never seen a girl who used the blades like Olga.
- Weren't you afraid to take a skater of this level?
- It was different. Markova and I were close friends. We knew everything about each other. When I saw her skating, I wouldn't stop being amazed by Olga's ability to skate so great, to feel the skates, but at the same time she couldn't jump at all. Then she moved from St. Petersburg to Moscow as she got a promise that another coach will work with her, but he declined at the last time. Markova lost all the connections in St. Petersburg and she was left with nothing. She turned to me in desperation, «At least you take me!»
had small group at the time and that's why I agreed without thinking. It was interesting to work with skater of this level. Neither her, nor me had any demands to each other. Olga behaved very right from the very beginning and it played a huge part. We staid friends in life, but on the ice I was the coach and she was a skater who did everything, no arguments. Olga believed me and that's why it worked.
- As far as I know you had the chance before to train senior skaters?
- I declined that all. All those who I was offered to train were my age and were my training friends, Alexander Fadeev for example. How can you demand your friends obey you completely when you have no coaching experience?
I had a very difficult relationship with Griazev at first. He came to me in 2004 sort of temporarily, as a student of the great Tarasova. At the time, Tatiana Anatolievna's husband was seriously ill and she didn't have any chance to regularly come to Andrei's practices. I was a nobody for him, just a temporary person who he got thrown to for a time. Andrei practically didn't hear me and didn't see me at practices. We went to the Jr. Worlds together, where Griazev won and to the Europeans, but it didn't change anything in our relationship.
- Isn't your relationship normal now?
- I can only hope for that, for Andrei believing me. Still, we are more of collaborators now. Tarasova is the coach. This is what I cultivate.
We had a hard start to the season. Griazev had a surgery in April. He was very worried since he didn't know how he would feel and what'll happen next. During the post-surgery treatment, the muscles got so bad, Andrei had to stay in Moscow and exercise under a special doctor care instead of going home to Perm. He tortured himself with work so much, even I was amazed.
When doctors allowed Griazev to go on ice, first thing he did was trying how his knee works. Naturally, he wasn't allowed to jump, Andrei was doing steps, but I saw that he is constantly working on the triple axel entrance with this steps. He constantly had this jump in mind. He literally lived with that though - would he be able to do it?
It was scary to watch. I took the whole responsibility by taking him to the surgeon. I felt disturbed until Griazev started jumping, just like I felt the night before the surgery. Only when he finally did that axel, I let go.
- What do you expect from Griazev this season? What do you want see?
- Everything!
2006