Artur Dmitriev:


«

MOSKVINA AND ME ARE ALWAYS LEARNING FROM EACH OTHER

»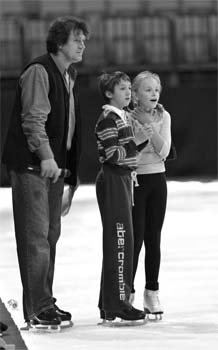 Photo © Alex Wilf
Artur Dmitriev
Five years ago, when Albertville and Nagano's Olympic Gold Medalist Artur Dmitriev was still active on the professional skating circuit, he said, «The most interesting thing you can do as an athlete is compete. Coaching just doesn't compare. I've been coaching already, helping Moskvina, so I know of what I speak»
Around that time, Dmitriev also said, «To train less than everyone else, you need to think more than everyone else»
Artur turned to coaching almost immediately after winning a 2001 World Pro Championship. He lived in the U.S. and worked with an American and a Canadian team. Although his real coaching career didn't kick off till last season, when Dmitriev decided to return to Russia and resume working with his old coach Tamara Moskvina. Last week in Hartford, the great skater introduced his first Russian pairs team, Maria Mukhortova and Maxim Trankov. A few days before the event we met in St. Petersburg.
- Artur, your job title implies you don't just coach, you oversee all pairs skating. How do you think Russia is doing in pairs skating?
- The mundane answer is always true: we don't have enough money. People's mentality has changed and they are not eager to join a sport that doesn't bring easy money.
For instance, Moscow has just two pairs skating groups, and the kids are just starving. And they don't have enough ice time to boot.
- It may not seem this way when you see ice palaces being built and new schools opening up...
- That's true. However, most coaches who work there put a priority on making money. They give extra lessons, extra skating time…Their book salary is no more than four thousand rubles.
Besides, the Russian skating system puts the coaches' compensation in direct proportion to the number of their students. And the overwhelming majority of coaches believe that they can bring their students to the highest level without any help. But this is extremely uncommon – they don't have enough experience and they don't know enough. Perhaps they will get there eventually, but if you don't know the way, you will move through trial and error. Under these circumstances, students leave, and often. This hurts the coach's feelings and compensation.
I think it ought to be the other way round. If your students left you for a better coach, the salary of their previous coach should not change. I would even give a bonus so that they could prepare someone else. It's much more effective to do what you know how to do.
We have a fantastic advantage over America: our skating rinks are funded by the state. All you have to do is support skaters and coaches. I am still amazed that no rich people think of sponsoring figure skating, investing in the name of Tarasova, Moskvina, Mishin, or children's schools. St. Petersburg school of skating gave us four Olympic champion pairs teams, but the only thing keeping them alive is tradition. In fact, just recently I suggested to Natalia Pavlova that she should move to Moscow to earn a different kind of salary. Although it's still a pittance.
- Didn't you train under these circumstances yourself?
- That was different. When I started, they paid for and arranged practices, camps, meals, took us to competitions, paid for our hotels, and what about now? I know of some Moscow skaters that spend four of five hours a day commuting to the rink and back! How are they supposed to train if they don't even get paid??
- Did you know this is what it's going to be when you returned to Russia?
- I did. You know, sometimes you ought to stop taking and start giving. Otherwise life becomes boring. I love figure skating. It's my job, my life. So I spend all my time thinking, what shall I do? I know now that money doesn't mean everything. You know, if you pay a bad reporter lots of money, he or she wouldn't start writing better no matter how they try. You need a balance of both money and intelligent management.
- Why did you start working with Moskvina instead of opening your own shop?
- Why not? I think it's a great idea for young coaches to work with the old guard. We have universal approaches to our work. I can always back her up, and she can do the same for me. Besides, experience takes time. I worked with her for many years, yet there are things I am only beginning to understand. We are always learning from each other. And we have no illusions. We can be honest with each other, we can say no, that's not working, let's look for another way.
- Did you come together with Oksana Kazakova?
- Oksana returned to St. Petersburg earlier. Soon, I too understood that I can't live in America any more. I just can't do it. It's not for me.
- Troubles with work?
- No. The manager of my skating rink hated my guts. In his eyes, I was a golden boy – I did well in whatever I started, and that annoyed the hell out of him. He told me himself once. He never sent me a single student. And he told everyone, hey, Dmitriev has Russian technique, don't go skate with him. How am I supposed to make plans for the future in a situation like this?
- But you did have students, didn't you?
- I trained an American team for a bit. The boy came to me after a surgery for a severe hip injury. I didn't know about it, but I did notice he was limping. And then we found out that his hip joint is beat up to the point of needing strong painkillers all the time. So we only skated for six months. And when I decided to leave the U.S., I sent my Canadian team to Petya Chernyshev.
- What happened to your ice skating show?
- I lost all my money. I was the first, and it's always difficult. I wanted to put it on a solid foundation, but I understood that too many people tried to put their fingers in my pie while I was away. I was still in America at the time.
I tried to salvage it, and even reached an agreement with Russia's Figure Skating Federation, but it was too late. I didn't realize how powerful our officials are. A few years later, Ilya Averbukh asked me about having a commercially successful project, and I told him to build a good relationship with the federation, and everyone involved in the organizational matters, and make it good for all of them. You can't do it alone. I tried, and made too many mistakes. And I paid for them, with my own money.

...On Skating With the Stars (Oksana stayed in the game longer)
- I didn't try to win. By the way, this was the first time I saw Oksana with a different pair of eyes, and I understood what a great pairs skater she is. That our victory in Nagano happened because of her in many ways. She rocks. I didn't expect that. I was very pleased. Then I looked at my own performance and I felt sad. But hey, I started it and I didn't feel like quitting.
- Now, you are starting as a coach. Do you ever feel that Moskvina changed since the days you skated together – she's not as demanding and doesn't fight for her opinions as she used to? Perhaps she just got tired of figure skating? Perhaps she feels that sometimes it's just easier to say, ah, screw it.
- I think she understands it's difficult to do it on her own, which is why she involved Oksana and myself. Actually, she was never shy of admitting she doesn't know how to do something. She's never afraid of anything. But you know, to make results, you need talented skaters as well. How many years did Mishin work before he got Urmanov? He did have others in his stable, but there was no big-time result.
Moskvina is very interesting to work with because she is always looking for new things, even in the most routine of areas. She loves that. She tries something, fails, tries something else, fails again, and again, and that means she needs to go back to number one. It's funny watching it. And I love working with her.
- How do you like working with Oksana?
- In a sense, I still see her as my student. But I don't meddle. If she needs my help, I help her. Oksana is very emotional and has a harder time than me. A coach needs patience above all things.
- What do you think of pairs skating? Do you feel that the new judging system made everyone the same?
- Yes, I do. Although I feel there was no other way to go forward. I think with time, the rules will become more rational. I think the routines should be interesting and not just complex. Moiseev had dancers that did only two elements all their life, and they did them like no one else, although they couldn't really dance. I don't want figure skating to come to this. I think that our work, above all, is about talking to the audience. Why do we skate? We want to perform and give you goosebumps.
- Would you like to see Torino's favorites on competitive ice again?
- To return after one year, you need to at least stay where you were, and ideally, you need to improve. I went through this, and I speak from experience. It's hard to return. It's hard to motivate yourself. I got fired up because I felt didn't do all I could in figure skating. Although during the first year of skating with Oksana sometimes I didn't even have money to put gas in my car. But I was interested. I knew what to do to get where I wanted to be.
Now I still feel that I could do most elements that today's pairs do – separately, and if I worked really hard. But the way the rules are right now, the routine takes too much energy. Take spins. When you change positions in a spin, your breath gets really out of whack. And you get dizzy. You can get used to that, but it does drain your energy. And afterwards, it may be plain dangerous to set up for a lift. You need to have lots and lots of stamina, complexity and basic skills. You don't think it's an accident that you score bonus points by doing throw jumps after the first two minutes, do you?
- How hard was it to leave skating?
- Very hard. I always tried to see myself realistically, and yet it was very hard to get back to earth, you know. You see, when you are an elite athlete, you have goals that make every other goal in everyday life feel insignificant. But it is not true. Life is a lot more complicated. And it's dangerous to underestimate it.
2006