Sasha Cohen : A LITTLE TIGER WHO WALKS BY HERSELF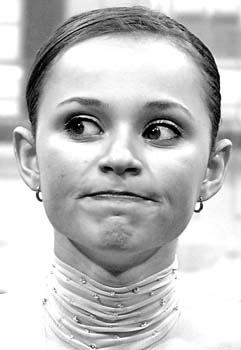 Photo © Martin Meissner
About a year ago, when figure skating had just begun experimenting with the new judging system, I wrote in one of my reports: «Ladies singles skating has a new unbeatable leader - Sasha Cohen».
However, aside from the two wins in the Grand Prix Series 2003, the American was unable to achieve great success. The question remains: why?

American coach Robin Wagner said this about Cohen: «I am convinced that the word «success» as applied to this athlete can mean only one thing: victory».
It was to seek victory that Cohen left her coach John Nicks for Tatiana Tarasova in the summer of 2003. She moved to another coast from California to Hartford. She and Nicks had visited Tarasova during the previous summer right after the Worlds in Nagano to choreograph programs for the new season. She probably made the decision (to switch) right then and there.
«She always makes her own decisions, - her mother Galina told me. - At the age of seven and a half she went to an ice rink and signed up for classes. My husband and I found out post factum, when Sasha came home. She made a good argument explaining why she didn't want to continue doing gymnastics and wanted to take up figure skating. She took group lessons at first and then-by her own initiative, transferred to the Nick's group. We lived in California at the time, south of LA. We were informed in the summer of 2003 that our daughter had decided to move to the East Coast. Although she did say that she'd love it if we moved with her, adding quickly «If that would be too complicated, I will go alone».
At first the Cohen/Tarasova relationship looked idyllic. «You get so caught up working with Tatiana that it's sometimes hard to stop. At the same time, I've never met a coach who was such an intense and hard worker», - Sasha said.
«Incredible talent. Very rare. Not of this earth, - said Tarasova of the athlete. - I have never met a person who would so fanatically and cheerfully torture herself during practices. Sasha takes on a workload of a man. I didn't think she could work like that».
The results of this collaboration were evident rather quickly. If you remember Cohen's first appearance on senior ice, the most remarkable thing was not necessarily her skating but her gymnast's flexibility. Her gorgeous spirals that made other ladies skaters look bland and even awkward. Other ladies had to count on the weak and unstable (why hide it) jumps of the young American.
At the first GP competitions in the fall 2003 Cohen appeared as an athlete whose programs had no weaknesses. This gave Tarasova a reason to say: «I don't care which system will be used to evaluate Sasha's skating. She will win anyway».
That season Cohen managed to beat the unbeatable in the US Michelle Kwan. But that only happened once during a Pro Am competition in New York.
«After a win like that an athlete grows wings, - said Tarasova. - They develop a confidence that cannot be obtained through any amount of practice».
But then Cohen fell ill. It happened in Paris, after another GP win. The whole day off after the competition Sasha spent shopping and had developed a fever at night. When she came back to the US, she flew to Detroit to compete in another Pro Am. Then another one.
Tarasova was strongly against her participation. However, Galina Cohen, convinced that her daughter can win in any condition, insisted that Sasha went. She argued that Sasha could not miss the competition because she was under contract with USFSA.
Cohen lost that competition. And when she reappeared in Hartford, it turned out she had to build herself up from zero. But there wasn't time, only a few days remained until the Grand Prix Final.
Before that competition I flew to Hartford planning to go to from there to Colorado Springs. I could constantly feel the tension between Mrs. Cohen and Tarasova. Galina was obviously flattered that her daughter was the undisputed favorite of such a prestigious competition. Tarasova was the only one present who was not at all certain of Sasha's success. She believed Sasha wasn't prepared to win.
That was exactly what happened. In the short program Cohen fell on the triple lutz and ended up behind Japan's Fumie Suguri. She started her free skate with a lot more confidence but fell twice in the second half, on the triple toe and the flip.
That's when the split took place, right there in Colorado Springs. On the outside, everything looked very proper. «I am not healthy enough to pay as much attention to Sasha as necessary, - said the coach. - We parted by mutual agreement. Further, I was the one who recommended Wagner and she followed my advice».
Although Cohen and Tarasova kept telling the press that the decision to part was mutually agreeable, the Colorado Springs conflict was no joke. Many details point to that. The official press release for the World Championships in Dortmund did not contain Tarasova's name as Cohen's coach, not even as as a choreographer.
At first blush, the switch to Wagner seemed to benefit Cohen. «Sasha stopped looking overly serious on the ice, - said the prominent Russian specialist Marina Kudriavtseva in Dortmund. - She and Wagner simplified the long program and as a result, Sasha's skating acquired a lightness. Her jumps were improved. Bigger, better quality. Perhaps it was time for all her work with Tarasova to finally show. Tatiana is famous for overloading her students, make them test their limits. But when she let up just a little, decreased the workload, the improvement became obvious. It's a famous method».
But Cohen did not manage to win the World title.
Who could have predicted that her former coach would stand in her way to the top of the podium? And with whom? Shizuka Arakawa, who couldn't even rise above third place on her own National Championships!
After the competition was over, as a smiling Tarasova was telling the press why she took so long to decide to take in Arakawa, mama Cohen stood right there being consoled. She was beside herself.
In the beginning of last fall, Cohen announced that she will miss the Grand Prix series because of recurrent back injury. She had not trained for a long time. Three months afterward she left Wagner. The official version: she missed California, her father, friends and former coach. According to this version, Wagner sympathized with her student's decision.
In light of all the coaching changes in elite skating there was nothing extraordinary in Cohen's transition from John Nicks to Tarasova, from Tarasova to Wagner and back to Nicks. However, there was a «but».
The skater's return to California did not follow logic. Only a year and a half ago Cohen and her mother were saying that the move to Hartford was prompted by the poor training conditions, a tiny and crowded public rink. Her then coach (Nicks) was not at all averse to the idea, he even joked that he will have more time for his favorite pastime, deep sea fishing.
The rink conditions have not improved in a year. Could this mean that Cohen simply didn't have a choice?
A few days after Cohen announced her return to Nicks, I received a letter from Fairfax. The reporter said that before turning to Nicks, Cohen had asked twice to be coached by Audrey Weisenger (the Fairfax ice rink belongs to her family). The coach refused, saying she was too busy coaching Tim Goeble and Yoshie Onda. But privately she reportedly said: «Sasha is uncoachable».
I called Tarasova before the US Nationals to ask her opinion of her former student.
- I feel sorry for her, said the coach. It's not that I invested so much effort in her. Other coaches had spent a lot more energy. I generally pity any talent in trouble. Sasha has lost herself a little. Now, in my opinion she made the right choice. Nicks is extremely wise and an expert. I have nothing but respect for him since we both brought our respective pairs to the Lake Placid games. I brought Rodnina and Zaitzev and he - Babilonia and Gardner. By the way, I don't think Sasha turned to Weisenger. She did go to Fairfax, to work on her jumps with one of Audrey's assistants. But I know this much: whoever Sasha works with in the future, she has to trust that person. Because no athlete can coach themselves, no matter how talented.
- So are you saying she didn't trust you?
- Obviously not, since she didn't' follow my recommendations.
- Why did you part ways?
- We understood each other really well at times. I loved working with her. Sasha reminds me of a little tiger cub with large paws, you could watch her get stronger. And then she got sick. Once, twice…Interestingly, these illnesses had nothing to do with her training, they usually followed a break in her schedule. Before Christmas Sasha baked cookies all day and all night. The cookies were amazing, twelve different kinds. She brought me a huge, heavy box of them and fifty boxes were shipped to her friends. But the next day she couldn't train of course. And take those shopping sprees in Paris…
I don't think that now Sasha would do something like that. But then she was making mistakes. I prefer to avoid unnecessary mistakes. If I told her not to go, then don't go! Save your energy! Sasha is tiny, and a small body like that cannot be robust, the ice is nearer and it's easy to fall.
It was her mother who made all the decisions. Perhaps, I didn't speak to her the right way, didn't consider the deep internal bond she has with Sasha. We discussed very important things, but we raised our voices. I could not cope with everything that went on. The trip to the competition while sick…The results suffered from that point on.
Before that happened Sasha was skating remarkably, she took on huge workloads. She could skate her long and her short program cleanly twice in one practice. I am lucky, I saw her skate and not fall.
When we parted ways, I used to think that Russian coaches are too demanding of their athletes. But then I found out how things are in Japan for example. The athlete should follow the advice without discussion. It's a law. That's how it was with Yagudin, he came to me and said: «Do what you want with me, I will listen to everything you say».
As far as Sasha is concerned, she has to decide how she wants to live her life. She can make money without the sport. Such a unique athlete will find a job in any show. But the thing is, she loves figure skating with all her heart. And she really wants to be an Olympic champion.
- Do you think there's a coach in the US who could deal with her personality?
- I hope that such a coach is found. But he'd have to devote his whole life to Sasha and not expect any gratitude…
2005