Brian Orser: «DEADLY BATTLES ARE FOR JOURNALISTS»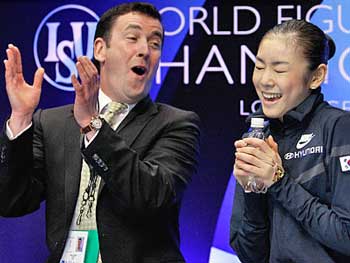 Photo © AP
Brian Orser and Yu Na Kim
His rivalry at the end of the 80s with the legendary American Brian Boitano was no less exciting than the one of Yagudin and Pluschenko 10 years later. It would not be an exaggeration to say that Boitano and Orser held in their hands all the male skating of the world at the end of the 80s. During the 3 world championships they took gold and silver, though, of course, Orser was less lucky - at the end he remained with most medals (bronze, 4 silvers and gold) while Boitano became a champion twice. And, most importantly, Boitano won the Olympics in Calgary, taking from Orser the dream of his life.
For the last 4 years the legendary Canadian dreams a different dream: to get his pupil - Yu Na Kim to the top of the Olympic podium in Vancouver.
Our personal meeting with the famous skater was a joke-like. After a long and tiring flight to Paris when I entered the lift in the Novotel the day before the first Grand Prix I saw a familiar face. Without thinking I blurted: «I know you, you are Brian Orser!»
«Yes», he smiled. And, a bit tiredly, but very proudly added «A Canadian coach».
Needless to say we scheduled the interview while still in the lift.
Orser's «coach» had every reason to sound proudly. 4 years ago, when Yu Na Kim came to him to Toronto he had no coaching experience at all. His agreement to work with the Korean skater might had considered as a PR : an opportunity to remind of himself by coaching a skater whose talent already shattered the figure skating world. Yu Na became then the winner of the world junior competition, winning the 2nd Korean medal in figure skating in history. The first was hers as well, the silver in junior worlds.
But after a year it became clear that Kim is in a vary good hands. In her first senior world championship at 2007 she became 3rd, loosing the champion about 10 points, a year after getting very close to the gold points wise, but finishing with the bronze again, and, finally, this year becoming the champion in Los Angeles with a 16.42 points gap from the 2nd place. After which the talks about other skaters having no chance against Yu Na Kim in Vancouver began.
In Paris Orser was chased by the Korean journalists. The Canadian was patient: answered the questions, posed for the cameras and all that despite a very tight schedule: not only Kim, but also another pupil of his participated the event: the 2 time Junior Worlds champion an American Adam Rippon. After both skaters finished the competition Orser finally found the time for the interview. It started, again, just like our conversation in the lift, from a pause.
He went silent for a second after my first question:
- Do you mind if I won't ask about Yu Na Kim nor Rippon at all?
That was unexpected and he laughted:
- I didn't even consider the journalists might be interested in anything else. So what do you want to talk about?
- You. It just happened that since 1996 I had an opportunity to come to Washington to the professional world championships that were held by the 2 times Olympic Champion Dick Button. I was hoping to see you among the participants, not only Brian Boitano. But it never happened.
- I skated there for 6 years, started 1988. Became 3rd four times. But since 1993 I stopped participating.
- But you were, as far as I know, in a great shape. Why didn't you come back to the Olympic games in Lillehammer?
- It didn't even cross my mind, frankly.
- Why?
- The main competition of my sport career was to win the Olympic games in Calgary at 1988. But I lost. Since then I focused on the professional events only.
- As did many others. Boitano, Katharina Witt...
- True. But, unlike them, I didnt' even plan to come back. The decision to leave the amateur sport was a hard one, but it was final. It was not to be reconsidered.
- I shall ask again: why?
- I had no desire. I didn't want to skate on another Olympic Games. It took me too long to overcome the Calgary games. Even less so would I consider the the Lillehammer games as are revenge for 1988.
- What do you think now of your amateur career? I can only imagine how hard it must have been to be the favourite before the Olympics and loose. And do it twice.
- The more time passes the more you realize that there is nothing to whine about. I had a long career, became a national champion 8 times, participated 8 world championships, 2 Olympic games, and, think, made my input to the male figure skating. From that point of view, of course, my career was a very positive one. Though when I was leaving the sport ,and for a while after, I was worried about not everything working out the way I wanted. Can't say I considered myself a failure, but wasn't to happy about that either.
- Do you mean both silver medals in both Olympic games?
- Yes. In Sarajevo 1984 I won both the short and the long. The figures - I was just 7th. It's ridiculous, isn't it? The skater who is the best in the 70% of the competition is left without the gold medal. But those were my first Olympics and I was calming myself with a thought that the 2nd place is, after all, is not such a bad result for a 22 y.o. debutant, that the next Olympic Games in Calgary will be better. I felt much more confident there, by the way. I was the running world champion, carried the flag at the opening ceremony. And in general skating home is different. Hence I was putting much more hopes in my 2nd Olympics.
- Perhaps that's why you have lost? Couldn't handle the pressure?
- To a certain extent, yes. There was a pressure. Though I can't say I was more nervious than during any other competition. We were preparing to it, we knew it will be hard. I was ready. Really ready.
- What were you doing, except for skating, after leaving the amateur sport?
- Apparently, nothing. I participated a huge amount of shows, skated in Button's competition and my main work was in the show Stars On Ice. I skated there for 16 years. While I was still eligble I skated in Tom Collins' American and Canadian tour for 6 or 7 years. After the Olympics in Calgary Tom invited me to participate for a couple of years as a professional. So I was skating and skating and skating. Finished only 4 years ago, when agreed to coach Yu Na Kim.
- Then I understand even less why didn't you come to your 3rd Olympics - you could had joined all the other professionals.
- It's hard to explain. I didn't want to go through all that was related to the Olympic games again. To be in a good shape is one thing. To come back to the demanding sport after not participating any major competition for 6 years, while knowing what it is like to be the first in the world is another. Besides, I was 32y.o. by then.
- Not too much to consider the age an argument. Though, thinking now, how awkwardly the Lyllhammer games had finished for most of the professionals, perhaps it was a smart thing to do.
- Thanks. Guess you could put it that way. Though probably at the first place the reason was not being able to find the most important: the will to compete. It was all burnt in Calgary. As if something huge and important has left my heart. I became empty inside.
But it was very interesting to follow the other skaters: I was commenting for the Canadian TV. And you might not believe, but was rooting for Brian Boitano. Though rooting is a bit too much. I do remember thinking all the time while looking at him, that I don't understand why did he come back.
- Boitano repeatedly said he enjoys the atmosphere of the competition.
- Yes, he always did. It was the opposite for me: I liked the training much more than competing. Learning something new, work on something that I can do. Setting a goal not to win a competition or over a skater, but to come up and do something new. The only exception were those Olympics in Calgary. Then I knew for sure: I wanted to win.
- Did you think back then of becoming a coach?
- Never. My whole coaching experience was summed up in various seminars. In the USA and Canada it's a common thing to hold such seminars in various cities, various clubs. But it's not a coaching work. You just skate there, explain the others how this or that is done. I did just fine and sometimes even thought I could probably make a decent beginners coach once I can't skate myself.
- Judging by Yu Na's unsuccessful attempts to become your student you were in no hurry to stop skating yourself.
- True. The first 2 times I declined the offer without even considering. But guess something did catch. At any rate I started considering stopping skating in the shows much more often than I did prior to that. And then decided the moment came. When Yu Na came for the 4th time I said yes.
It's not even that Kim is a very interesting and talented skater on her own. It's a combination of factors that came together. In other words, I was in a situation when the decision to start coaching was the obvious one.
I was surprised receiving other offers. I.e. I wouldn't lack students. Besides, once I mentioned stopping skating I was offered to become a club director in Toronto.
- I know that together with your several other very good specialists started to work with Kim. They were responsible for other parts of the training process. Who decided on the team? You/
- Yes. First of all our choreographer - David Wilson joined. Actually when Yu Na came from Korea to the USA for the first time she came to him - he choreographer her programmes. The same with Rippon. Our work with Adam began from his programmes being choreographed by Wilson.
Yu Na was sent to Canada by her first coach. The fact that she didn't return home and stayed in Toronto is a different matter. When I agreed to coach her almost immediately the demand for a skating technique coach rose. This is how Tracy Wilson joined the team. At 1988 she skated in Calgary as well, representing Canada. She became 3rd in ice dance.
Tracy moved to Toronto and started working with us. Then came the others. I like it when new people work with my skaters. It expands the borders and the possibilities. My own included.
- Do you have a deja-vu feeling during the competitions? You were in a deadly battle with Boitano, now the same battle is projected for Kim and Asada in Vancouver.
- Deadly battles are for journalists. As a coach my goal is to get my skater ready, so she won't have any weak points in their programmes. Hence Kim passes hands. Each does their part of the job the best. Of course, Mao is an exceptional fighter. In some things those two skaters are very much the same. They both grow, change, work very hard.
- I have an impression that Mao Asada's mother interfering in the working process of her daughter is not always beneficial. Do you have the same problems with the parents?
- Yu-Na's mother is a great support. It's a rare thing, to tell the truth. We were lucky. I meet the mother every 2 weeks, sometimes more often. Tell her how the work goes, what I would like to put the emphasis on. She has a very experienced eye. Sometimes in a very gentle way she points something out. I means alot to me.
Most importantly, Yu-Na is very sober about herself. Every training she tries to make at least a tiny step forward. Looking at her I realized why did I loose in 1988. Thanks to the row of successful skates I was sure I was better than the other skaters. And I was trying to hold on to being the best. I should had moved forward.
- Are you worried Yu-Na might not hold the Olympic pressure? Even now all the Korean and Canadian journalists are chasing her like no other sportswoman in the world.
- She is used to it. She can differentiate the flattery from the real achievement. Of course, the pressure is huge. Living in Canada one can't prevent thinking of the Olympic games even for a day: everything reminds of it being closer. Yu-Na, by the way, will be carrying the Olympic Torch when it gets to Toronto. I hope we'll get through that as well.
- I like looking at you when you are standing behind the borders during your student's skates. Such emotions are not characteristic for the coaches.
- I know. Probably its' because am an active coach. I spend all the time on the ice in the skates, show alot of things myself. Of course, I can't do the jumps like I used to, but the steps, even taking the new rules and demands are no problem for me. Perhaps that's how I compensate the overdose of the energy. Even outside the rink I have to move all the time. Standing still - either on the ice or behind the border - I don't know how.
2009