Ari Zakarian: A MAN IN THE SHADOWS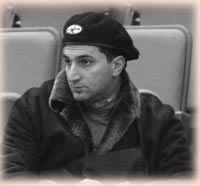 Photo © Alex Wilf
Ari Zakarian
Figure skating agents are not well-known to the public. At times they are not even allowed to enter their skaters' locker rooms during competition. But the agents are the ones calling the shots when the sport becomes a business that brings tremendous popularity and tremendous money. Meet Ari Zakarian. Former Soviet citizen, former figure skater, former student of Alexei Mishin. Currently, the agent of Evgeni Plushenko.
Zakarian, who settled in the U.S. some years ago, used to help his former fellow countrymen to get their bearings in the world of professional figure skating. As a friend, he looked after Oksana Baiul. Then he promoted the pair of Leonova/Khvalko, virtual unknowns in eligible skating, who went on to become twice world professional champions. He arranged nonstop touring for ice acrobats Besedin and Polischuk. Last year, he signed on Evgeni Plushenko.
- Ari, I recall that when we met several years ago in Washington, at Professional World Championship, an event arranged for many years by the legendary Dick Button, you had your own company called Arixtreme. Then you joined SFX, a firm that bought Dick Button's event. Now, both the championship and SFX are history. Who do you represent now?
- The CMM Group – Collins Marshall Management. SFX did buy Dick Button's venture, but owned it only for a very short time. The company was acquired by Clear Channel Corporation, the world's largest show business producer that owns over a thousand radio stations and arranges the tours of the greatest pop stars like Madonna. Recently, Clear Channel decided to turn its attention to sports, including figure skating. So myself and four more people joined them. We each got an office, a secretary, and decent salaries. But to be perfectly honest, we had nothing to do. Why would a billion-dollar corporation be interested in figure skating, where profits run in hundreds of thousands?
In addition, the people who bought Dick Button's company and knew a thing or two about the business of sport, left for other pastures. So we had to work for the bosses who were the world away from sports and figure skating.
Meanwhile, after the Olympics, one of the most popular American figure skaters, Todd Eldredge, left the Tom Collins tour, where he performed for years and was a key headliner, and joined Stars on Ice. That was a big blow for Collins. He was also upset about the departure of Elena and Anton from the tour. Therefore, he understood that with a business like this, it's nice to have some guarantees lined up. So he decided to follow IMG's example and create his own network of agents. So the five of us, Michael Collins, Rocky Marwell, Liz Desevo, Lee Marshall (I am sorry if I misspelt anything, I transliterated back from Russian - NN) and myself, got new jobs. We are separate from Tom Collins, although we do stay in touch. And it's perfectly obvious that sooner or later Michael will take over his father's business.
- Who are your clients?
- Many key figures in the sport. Sasha Cohen, Fumie Suguri, Totmianina/Marinin, Lang/Chernyshev, Tim Goebel, Victor Petrenko. And Evgeny.
- What exactly are your responsibilities as Plushenko's agent?
- First off, we have a warm personal relationship. I used to skate with Mishin, so we understand each other because we went through the same thing. My job is to line up the tour, take care of his logistical and financial matters, negotiate the offers and the contracts – the things that all agents do. For instance, after the Europeans, our skaters had five shows in Zurich. In addition to Plushenko, the shows featured T/M, the ice acrobats and the hoolah-hoop skater Ira Grigorian.
They came back hugely impressed by the live music, the laser show, and the excellent organization. The music performance was by a famous violinist Edwin Morton and Zucchero – a permanent presence in European billboard charts. The $250 tickets were sold out long before the show.
We have many similar plans. The Collins tour, which is about to kick off, and the Pro-Am competitions. Two of these are already over, and third is scheduled for April.
- Can you explain what is going on in professional skating? There is quite a few competitions, but the main thing, the world championship, has been ruined, and by the way, not entirely without your assistance, I mean, SFX's assistance.
- I agree that it's been ruined. However, it was ruined not when Dick Button's event was bought off, but a bit earlier, and this opinion is shared by many people in our business. The first blow to the professional skating was dealt when ISU and IMG established the Pro-Am series, mixing in both professional and amateur skaters. But the gravest mistake was allowing amateurs to compete in Dick Button's championship in 1998, where Alexei Yagudin, Michelle Kwan and Elena/Anton performed. This event was so famous precisely because it had a monopoly on the title of Professional World Champion. That's why everyone made sure they came to Washington in December. So when the Pro-Am events became routine and Button sold this event but not its title, that's when all the mess began – there was a whole lot of championships held under a whole lot of regulations, and every one claimed its champions were It. For a figure skating fanatic like myself, missing any skating on TV used to be unheard of. Now, on occasion I just switch my TV off. There's just too much skating. So imagine how a Kentucky farmer or a Texas cowboy (Russian for Joe Q. Public) might react when they see the same people, the same programs and the same music on every channel whenever they turn the TV on.
- Multiple competitions means big money. Am I wrong?
- The boom in skating fees is over, and they are declining quite noticeably. We are already dealing with the trend of amateurs keeping their status because the professional sport has been bled to death. Of course, one can make good money at Pro-Ams and retain eligibility. However, this will be the case only as long as the contract between ISU and ABC stays in effect. So far no one knows what will happen after it expires. Besides, the true professionals are less and less in their numbers, which is also a problem. There still is a group of unique skaters who want to skate and perform, and people want to watch them, which is also important. People like Olympic champions Brian Boytano and Dorothy Hamill. However, what can even Boytano do against two quads by Yagudin, Plushenko and Goebel? A triple 'tano lutz? And where would Hamill be with her single axel? This should never have been allowed to happen. Professionals were simply left out in the streets.
- So how should I interpret your words in Malme that it would be interesting to see Grishuk and Platov skating professionally as a team again? What's the point, if the business has been almost ruined?
- I said it would be interesting on account of the fact that Grishuk and Platov are the only two-time Olympic champions in ice dancing, and on account of many tidbits that make their life a story – different male, and female partners who tried to slug each other…And even the return of this legendary team after a long break could have been a sensation. Could it become a serious business venture? I'm not sure. Platov is not getting any younger, and he's been doing different things. They wouldn't have been bombarded with offers, but they could have some future with a right manager.
- I heard that no show will want to have Grishuk because of her personality problems.
- She changed a lot. Big fame does weird things to people's brains. By now, Oksana understood that her former level and her current position are, charitably speaking, a world apart. She is housewife raising a baby, and she thinks only about starting to skate again.
- How do you know?
- She calls me occasionally. The last time we spoke was before the Europeans.
- Let's go back to Plushenko. Through the agent's eyes, are there any downsides to working with an athlete like that, or is it all rosy?
- Our business is not at its best, and promoting anyone is difficult to begin with. The second problem is that the most money is found in the American markets, while Zhenya is a Russian skater. His English isn't the best, and his media relations skills are substandard.
- Is this your opinion?
- This is an opinion that I routinely hear from your colleagues. Zhenya has his quirks. He doesn't like talking to reporters before the competition. And after the competition, most of them are gone. But we are working on it.
- Is it important to you that Plushenko has good press in Russia?
- Certainly. Professionals in the States follow Russian press. Besides, everyone has Internet access, and translations of Russian articles appear all the time. I think Zhenya cares what they write about him at home. He's a patriot of his country, just like Anton Sikharulidze. I can feel it just talking to him. He always roots only for the Russian teams and Russian NHL players.
Plushenko does have a prejudice against reporters as a class. Not because of his dislike of a particular reporter. Mostly because he understands that reporting is a business that can turn out in different ways. He believes that if people want to really know him, they should watch him on the ice.
He may be right. But I am thinking like an agent and relying on my experience. Michelle Kwan's popularity in the U.S. is no accident. From a business standpoint, she's perfect. She smiles to everyone, never says no to an interview or a signing, meets with fans and makes pictures. These are the bricks that make the house of popularity. And this popularity does not go away even when the skater starts losing.
- Tell me about Sasha Cohen. How true are the rumors that Europeans are enamored with her much more than the Americans?
- Presently Cohen is a favorite no. 1. At U.S. Nationals everyone was certain of her win. Sasha is a strong skater. She presents herself well and has trademark elements, which plays very strongly in her favor. What's the secret of Yagudin's success with audiences? The fact that he executes even the simplest footwork like no one else. He releases so much emotion that the audience goes wild. Her popularity notwithstanding, Kwan is an athlete, first and foremost, and so is Sarah Hughes. Cohen, meanwhile, is an artist. An audience has much more fun watching an artist vs. those who just go about doing their work like horses, with no emotion at all.
- Aren't you concerned that my American colleagues will take this quote out of context, say that «Zakarian Says Hughes Skates Like a Horse» and then you'll be in trouble?
- Of course I am. But think about it, though. The Japanese girls do excellent work on the ice, but they don't have emotion, that oomph that the audience cares about most. And neither do Chinese pairs. Although there have been some exceptions like Lu Chen and Christie Yamaguchi.
- So if I understand you right, it's a disadvantage for a figure skater to be anything but American?
- Not really. Look at Yagudin. From a business standpoint, he achieved everything one can possibly dream of. He won all amateur titles and is one of the most respected and deserving professional athletes. Certainly, it is in my interest to have my skater in first place, but I cannot help but take my hat off to Yagudin.
- You won't deny, though, would you, that Irina Slutskaya would have won in Salt Lake City if she were American?
- You're right. Slutskaya was a clear favorite. Having said this, everyone including former Soviet judges understood quite well that America must have the gold. Otherwise the popularity of American figure skating would plummet. And money talks – I believe it's been mentioned before. I was quite upset - Irina is a longtime friend.
- So who do you root for when you watch figure skating – Cohen or Slutskaya?
- This is the only question I won't answer.
2003