Alexander Zhulin:
PLAYING IN THE SERIOUS TEAM, WITH PISAREV AND ONOPKO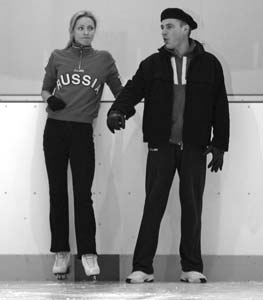 Photo © Alex Wilf
A coach who was able to prepare the Olympic champions is never without a job. A little more than a year ago, after Tatiana Navka and Roman Kostomarov won in Torino and voiced their desire to leave the competitive skating, Alexander Zhulin, their mentor, had no idea about his own future. Now, he is coaching three new teams in Moscow and dreams about taking one of them to the Sochi's Olympic podium in 7 years.
The only time the coach was available for the conversation was around midnight when Zhulin came home from the Central Rink.
- I've heard that despite your busy work schedule, you are planning to participate in TV show, Stars on Ice, again.
- I don't have any set plans about it yet. A year ago, I only coached one team, Angelina Kabysheva and Nikita Kacalapov. Nikita skated in my group when Tania, Roman and I lived in America. After Torino, I started working in Russia and Anastasia Grebenkina and Vazgen Azroian asked to join me. Also, Jr. world silver medalists Natasha Mikhailova and Arkadi Sergeev came to me from Ksenia Rumianceva.
- Did these transfers made you relationship with Russian colleagues worse?
- No. I know that Nastia and Vazgen had certain friction with their old coach Alexei Gorshkov long before they came to me, but this happens often in skating. In any case, we all managed to talk it out. Moreover, when Sergeev badly injured his foot and it became clear that he wouldn't be able to skate for a long time, I went to see Gorshkov in Odincovo. As a result, Mikhailova teamed up with his skater Andrei Maksimishin. I've been coaching them for two months now even though I felt horrible at first. It's very hard when a team breaks up because of the injures and you have to cut it alive.
- Are you satisfied with the working conditions you got after moving to Russia?
- No doubt. True, I can't work 12 hours a day like I did in America. I only have six hours of ice time at Central rink and sometimes it's not enough.
- I can only imagine how much you earned in the US and how much is the coach's salary in Russia...
- I can't say that I'm volunteering now, but of course I feel a strong difference. That is why it is possible I'll be in the second season of Stars on Ice if I'm invited, of course. I'll work with the skaters in the morning, and rehearse in the show at night.
- ... as what?
- I don't have an answer for that yet. I barely recovered from the first season. I clearly felt that my conscience and ambition is still young, but my body doesn't handle pressure as well as it did before. So, when it comes to money, Tatiana is the breadwinner in our family now.
- Are you bothered by it?
- Not at all. There was a time where it was exactly the other way around. Tanya even said that she feels terribly uncomfortable that I'm the only one bringing money into the family. Now we switched parts but I'm far from saying like Batalov's character in «Moscow Doesn't Believe in Tears» that I'll leave the family if my wife would earn more than me. Still, there has to be a certain subordination between a man and a woman in a family especially if a man is much older.
- I remember you said in Torino that you are not planning a lengthy extension of their performing career for Navka and Kostomarov and that you and Tatiana have been dreaming about having a second child for a long time.
- It's not that easy. You realize pretty well that they keep skating for a certain reason. It's time to «collect the stones», if you wish. I don't mean Tanya, she does have me. It's Roma first of all. Tanya respects her partner and for him, she is ready to stay on ice as long as necessary.
- I hope Navka and Kostomarov plan to be in the next season of the Stars?
- Of course. How can it be without them?
- What are your coaching plans for the season?
- Grebenkiva/Azroian will be competing at Cup of Russia in Moscow. Unfortunately, it's their only Grand Prix event. Two other team don't have the opportunity to compete at such high-ranking events yet.
- Looks like you are preparing for the Sochi Games.
- I would like to think that. I enjoy my work. By the way, Fumie Suguri has been training with my group. It's not her first visit to Moscow, and she is comfortable here. There are no working conditions like that in Japan.
- Was Suguri's visit to Russia initiated by the Japanese Skating Federation?
- No, we work with Fumie privately, just like she came to me in the US a year ago to choreograph her programs. Before that, she worked with Oleg Vasiliev.
- If you were training Russian ladies, not ice dancers, would you take a direct rival into your group?
- It's difficult. If we were paid for working with our skaters so much that we didn't have to think about the need to do extra work somewhere else, I would probably work only with our skaters. In Russia, it's still considered sinful to take money from a skater, even though all the coaches in the West work like that. Skaters know very well that sometimes two or three corrections from an experienced exert can change their whole future. If Alexei Mishin wouldn't decline Stefan Lambiel this season, Stefan would've probably improved strongly. Still, I understand Mishin very well.
- Do you seriously believe Evgeni Plushenko will return to the competition?
- Why not? It's not like he is 44. It's pretty possible that after trying himself in all roles - a councilman, a businessman, Zhenya realized it's a bit early to think about leaving. Even if he wouldn't win like before what is bad about staying thin, young and handsome for couple of more years? I still try to stay in shape. I play soccer every Sunday, and it's serious.
- What do you mean?
- It's a serious team and it's not easy to make it. I play together with famous russian players Nikolai Pisarev, Dmitry Popov, and Victor Onopko for the suburban Zhukovka team.
- So, are you Rublevka resident?
- If that was my goal, I would've probably reached that. At the moment, I'm not ready to spend four hours a day in traffic so I could listen to the birds before going to bad. I had enough of it in America. That's why Tatiana and I love living in the center [of the city] so much. We like the above the limits rhythm, we like having a lot of work.
- You worked with Evgeni Platov in America for a long time. Did you try to talk him into moving to Moscow?
- I think it's impossible. After I left, Zhenya got almost al the ice time at Montclair rink, so there are wonderful work conditions. I know Platov is very comfortable there.
- After Torino, was it hard for you to get into the beginning stage of coaching after coming back from the Olympic podium?
- Of course, psychologically, it was a downfall. Not that I was bored, I just forgot how much I need to do to for the results and that there a was a long period of time when things weren't going well for Navka and Kostomarov too. I love coaching very much and that became the decisive factor. Sometimes I even forget to eat when I'm at the rink, it's only when some parents bring a cup of soup right to the bench, but I'm ready to work even more. If I didn't enjoy it so much, I would switch professions a long time ago and would've done something else.
2007