Alexander Zhulin
:
«
I'll NEVER GO THROUGH THIS AGAIN
»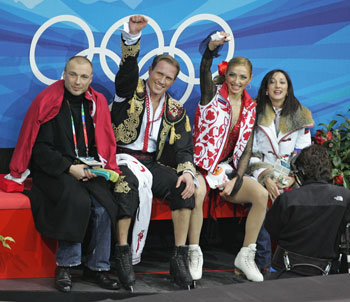 Photo © Alex Wilf
Tatiana Navka and Roman Kostomarov won the seventh gold medal for the Russian ice dance. It was the first victory for Alexander Zhulin as a coach. It was no surprise he couldn't believe it even after the competition was over. He was accepting congratulations, and his eyes were still happy and still had as much disbelief that it's his skaters doing victory lap around the rink, raising on top of the podium, and wave to the Worlds while holding the gold medals in their hands.
When I came up to him with the recorder, he said, «I don't remember an ice dance competition like that, with such a heated fight. I was worried until the last team skated. I knew that Belbin/Agosto lost to us, but I still couldn't relax. I'm very happy that my wife could do something that I couldn't».
- Did you realize that Belbin and Agosto, who skated after Navka/Kostomarov, could've gotten ahead of you?
- They could've easily. I knew it, and that's why I didn't watch them skate. I never watch how our rivals skate. It's my principle. I could've not done it here probably – I was worried too much. Right after Tania and Roma were done and got their marks, I went outside to smoke. I don't know how the rest skated.
I can only judge their condition by practices. I saw that Navka/Kostomarov's level is still higher than the rest.
- Where you bothered by the talks that Russia won't win the gold in dance and most likely, it would have to be given away as a payback for the first two wins?
- «Bothered» is not a word. It was crazily hard, especially the compulsory dance. Navka and Kostomarov skated exceptionally well. I am saying not because Tania is my wife. I tend to think I know skating pretty well, just like my assistant Evgeni Platov. We are probably not the worst specialists. Looking at the technical side, Navka/Kostomarov had the great performance in the compulsory. Still, some judges put them sixth, and some even put them eighth. I think it's banditism. This new system is able to turn skating into the game of dice. People did hard labor for many years to get the results.
It's not my anger speaking. It just hurts. For the entire year, my team didn't lose even one competition and not a one judge. Suddenly, starting with Europeans, something unexplainable started happening. I had the constant felling that the waters in the judging circles are getting less and less clear around Navka/Kostomarov, and that was all going on literally until the last day. That's why I'm very glad that Tania and Roman became the Olympic champions. I think God gave them this victory. They deserved it.
- For the last season, did you ever think that Tatiana might repeat your fate, being a current World champion and losing the Olympics?
- No. Tania and Roman are stronger than Maia Usova and I were. I felt that at practices when they argued with me at times. I realized that they know as well as I do what they need and that they were born champions.
- Several great specialists worked for your team's victory. How did you union with Platov started out?
- Zhenia asked me to work together. He didn't have ice and he kept going from New Jersey to Tatiana Tarasova in Simsbury. He couldn't continue going there, spending four hours one way. Tarasova was going to fly back to Russia. So, it worked out this way.
- Did you assume right away that Platov will help you working with Navka/Kostomarov in addition to working with his skaters?
- I simply offered him to start working at the same ice and I said I'll give him the final answer regarding working together in two weeks. However, the work went on, and in two weeks, neither Zhenia nor I had a thought about additional discussion. He and his skaters were such an organic fit for our team. Platov made a great contribution to Navka/Kostomarov's victory, as well as Tatiana Tarasova did.
- How did she end up being on your team?
- We asked her to come and work with Tania and Roman after the Europeans. Honestly, I was shaken. In little time, Tarasova put so much «soul» and inner strength into their programs, I couldn't simply get it into my head how it was even possible. No doubt, she is a great coach, a genius. I have to admit, before we started working together, I was confident there was nothing in dance that I didn't know about.
- And now?
- Now I'm sure, there is nothing left because I now know what Tarasova knows and I see how it could be developed further.
- When did you involved Tatiana Druchinina?
- We've been working with her for several years. Tania is a wonderful choreographer and a great person. She is irreplaceable when we have to work on program details and touches and smooth the sharp corners in the relationship with the skaters.
- Did your team also had these «corners»?
- Of course. Tania and Roman are both natural leaders with pretty uneasy personalities. They won't ever give in to each other, and also to their coaches. It wasn't always easy to smooth it all out, but I never regretted choosing this fate. «Easy» skaters don't become the Olympic champions.
- As a coach, were you every worried that her daughter and her mom might distract Tatiana from the performance in Torino?
- It was my wife's idea to bring her family to the Games. I didn't object because I realized during this years that Tania skates especially well when she feels extra support from her family. For her, family and the child always came first. Even if we lost…
I'll be sincere, we had a conversation about it after the compulsory. Tania and I said to each other that no matter how the Games end, our world wouldn't change. We'll still love each other, bring our daughter up together, socialize with those who supported us. We won't allow the lost become the catastrophe of our future life.
- Who initiated this conversation?
- I did. I knew that after winning two Worlds in a row, Tania might be shocked by losing the Games and it could have the most unpredictable consequences. I was very afraid for my family. I remembered my experience in Lillehammer. There, Maia Usova, my ex-wife, and I haven't talked for two days after we lost. We couldn't. Not only we couldn't find any words for each other, we weren't able to look at each other. After those Games, I felt I finally came around as a person.
- In what sense?
- In every sense. I thought about the life in sport overall. At some moment, I realize that giving such meaning like we give to victories and loses in sports is wrong. Who remembers Usova and Zhulin now? Yes, we lost the Olympics in Lillehammer and two years earlier in Albertville. But who remembers the champions now, Marina Klimova and Sergei Ponomarenko?
Nobody lives by these memories for a long time. They pass, like a chapter of the book that you wrote and then turned a page. I can name many champions who won the Games and did nothing with their lives. They didn't find themselves in any other profession and didn't come around as people. I dreamt that our life with Tatiana kept developing, that we realized ourselves as a loving couple and as the parents who want to have another child very much. Whatever happened in Torino was an unbelievable gift that was given to me by fate. I don't know what I did to deserve it. As soon as I return to America, I'll go to Russian church and light the candle.
- Are you that religious?
- You know, shortly before the Games, I had an interesting encounter. I found out that my former schoolteacher, Alexander Vladislavovich Shumsky, became a priest. We came to him before leaving to Torino, staid for the entire liturgy, and he invited us home. He has a wonderful family with eight children.
He told us, «Don't worry. I'll pray for you. It'll be broadcast live, right?»
I thought about it when I was standing by the boards during Tania and Roman's performance. I had a little icon in my left hand and I was asking, «Father Alexander, help us…»
- What now? What will you do as a coach?
- I haven't' thought about it yet. I know that I'll never experience the same feeling again. The students are one thing, and my wife is something completely different.