Alexey Urmanov:
«THERE ARE MANY THINGS THAT I ONLY REALIZE NOW»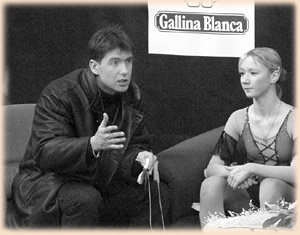 Photo© Alex Wilf
Alexei Urmanov and Valeria Vorobieva
There are different ways to leave the sport. Some go into politics like Alexander Karelin or Elena Vialbe. Some go into TV like Denis Pankratov or Maria Butyrskaya. Some leave for business, art, or management. 1994 Olympic champion Alexei Urmanov probably picked the hardest path and became a children's coach. Russian Nationals in St. Petersburg became a senior debut for him and his student Valeria Vorobieva.
We met for the first time this season in October 2003, during Artur Dmitriev's show in St. Petersburg where Urmanov performed. It seemed to me then that he is not as used to reporters' attention as much as he was before. When I asked if he could find some time to talk, he asked with some disbelief, «An interview? With me? Do you think it's needed?». Only after that he looked at his watch, sighed sadly, and said, «I'll come to the stands before the rehearsal. Do you think twenty minutes would be enough?».
I immediately felt guilty because I was taking those minutes from Urmanov. He could've probably more enjoyed spending the time with his skater friends who came to St. Petersburg or he could've called home to check on his twin sons, or he could've gotten some rest. He was the only show participant who had to combine the group practices with daily work with kids. And then I remembered what Urmanov told me in an interview a while ago, «I am not sad. It's just my eyes are made that way».
I didn't believe him then. It happened that we talked during the times that weren't the happiest for Alexei. Even when he had to retire from eligible competition due to injury and turn pro, his career weren't too smooth. He couldn't become a pro World champion so he didn't have that many offers for other competitions. He got into working with children and almost stopped performing.
- Skating in the show – is that a chance to earn some money or is that where you enjoy yourself.
- Of course it's a joy even though it doesn't happen very often. Still, I am glad that I'm still in demand. Recently I went to Korea where I performed with Igor Bobrin's Ice Theater. I try to stay in shape. I am enjoying the skating and it's not bad for the family budget.
- Does your touring interfere with the coaching?
- I try to compromise even though it's difficult at times. I would like to spend more time with the students.
- What is more important to you?
- Both. I like what I'm doing now, my students aren't bad, and the results are starting to show up. Ilia Gurylev, a little boy, was second at Russian Children's Championship last year. Valera Vorobieva competed at the Jr. Nationals and was seventh.
- It looked to me that you left professional sport because you became disappointed in it very quickly.
- I was disappointed because I had a lot less invitations then I wanted. It just turned out to be that way, and it wasn't the best for me. There are not that many tours in America for the high level skaters – just Stars on Ice and Collins Tour. There are other groups in Italy, Germany, but they are at much smaller scale. All permanent shows in America are scheduled in advance and the contracts are signed with people but I wasn't one of those people. All that remained were one-time shows that satisfy me now and where I participate with joy. For example, I wasn't member of the cast with Bobrin and I skated my programs. Still, it was very pleasant to be in that group.
- Do you prepare something new for those performances or your «luggage» is enough?
- If I can, I make new programs when time allows. I skated one of the last summer. Of course I modernize some old stuff. Evgeni Serezhnikov, a choreographer who worked with me when I competed, helps me. You understand that this work can't be compared to my old practices. The pressure is not the same even though I try to keep the regimen. What happens now is that I come to the rink, work with the students, and then immediately try to skate myself. Sometimes I freeze standing on the ice and there is not enough time to get warm and get some rest but I know there won't be the other time – our schedule is tight. I don't always have a chance to work with music, especially at the peak of the season when everyone skates with the music.
Plus I have two children who I see early in the morning and late at night when I come back from the rink. Sometimes I'm late for work – I want to play with my sons some more.
- Is it hard with the twins?
- It's hard because there are two of them. They are just a little bit over two years old, so there is enough work for everyone, for my wife, for the grandmas.
- All is left to create some work for you – put your sons on the skates.
- It's too early for them. Coaches, who work with little kids for a much longer time than me, say that kids shouldn't start practicing even when they are three. When they are four, it could happen since a child is able to understand then. The earlier work makes no sense.
- You know all the little details about high-class skaters' preparation. How easy it was working with children?
- Good question. Of course there were problems. Any coach would want to immediately give all the knowledge he has to his students, but that doesn't always happen. I started to work with Valera three years ago when she was 12. Naturally, she wasn't ready to do what I was suggesting. We had to start from the basics.
- So, you took the path of attempts and mistakes?
- It was different. I tried to gain the information everywhere – from my own experience, from the coaches working next to me. I would've never thought that the knowledge that I got when I was a child can be restored so much. I started to remember things that I learned from Natalia Golubeva and Nina Monakhova before I came to Mishin.
- Do you keep a diary as a coach?
- Sometimes I write down the most interesting thoughts.
- Did you ever think about starting your coaching career together with some experienced coach instead of going at it alone? How about working with Mishin for example?
- We never talked about it. I think we both realized neither Mishin nor me need it. From the beginning I strived to work independently and he knew it really well.
- Mishin said once that he still feels guilty because when you were the strongest student in his group, he never showed it. He said you have the right to feel hurt.
- This is not so.
- So you weren't bothered that the coach's attention was equally divided between you and very young boys?
- The thing is that the period of rivalry with Lesha Yagudin and Zhenya Plushenko wasn't very long. Mishin should not feel guilty. I am not and was never hurt. Another story is when the coach decides for himself which skater he is placing his bets on, and whether he hides it or not, it's pretty obvious. Maybe, psychologically it's right to try and not allow your student to realize that he is better or more promising than the others, because those others are just going to leave you. I understand it now.
- Mishin sincerely said, meaning Yagudin leaving him, that rivalry in the group is always uncomfortable.
- That's exactly what we are talking about.
- So, did you leave the sport early because others took the coaches attention to some degree?
- You probably remember, I was injured in 1997 and couldn't recover for a long time. I went to the summer training camp in Spain with the group, but I wasn't able to train as I should have. My leg hurt too much. In this case, the coach just had to switch over to those who could work normally. This is a natural process. With all of that, Alexei Nikolaevich helped me a lot, took me to the doctors, so I never felt that I was left alone. But he had to «raise» Zhenya and Lesha. That's his profession.
- Did you help Mishin in this process?
- Of course. At the same training camp, Plushenko just started to learn triple axel, and I worked with him directly. Everyone who achieved something goes through it. At some time Artur Dmitriev helped Anton Sikharulidze a lot. When there is a young skater joins your group, any normal person will give him some tips. What's important is that it would be kind and coming from your soul.
- Do you have a goal now?
- Job as a coach assumes results. You won't achieve anything if you don't have goals. Of course, I would like to raise Olympic champions but it's too early to talk about it. That's why my goal is to prepare skaters who can progress and climb to the top. What luggage they would have when they are at the top is completely unpredictable. Moreover, everything is changing so fast in figure skating. It is possible that everything will be different with the new judging system.
- Is it hard to stay by the boards?
- Yes. I'm gaining some experience now, but still I'm worried and I feel how skater worries. Every time you learn something new. But I can't say that it's becoming easier.
- Do you remember any competitions in particular?
- Recently I went to a competition in Nice with Vorobieva. This event is not on the international calendar but traditionally there is a good representation. Skaters from St. Petersburg, Poland, Germany, France, Italy compete. Before that, Valera couldn't compete at all. She was starting to shake, her eyes were square from terror, and she would fall apart at the end. I tried so many things! I even try to recommend her mom taking the girl to the psychologist. That's why when I waited for her performance I worried like never before. She skated well.
- Since you got some experience as a coach, can you say what kind of athlete you were – easy or hard?
- Hard. I'm completely different from what I am now in a serious work. I was younger and didn't understand a lot, in particular that many things should be taken calmly. I was reacting too emotionally to everything. I wasted strength and nerves for nothing. I see it now but I didn't see it then.
On the other hand, as a rule, I caught everything very fast and did the assignments fast. I think it was convenient for the coaches since I did this and that, I could show it to the others. The difficulties started in creative side especially when the choreographic work started. I didn't like the changes. I didn't understand what I realize every day now when I am the coach: looking from the side, it's noticed much better what's good and what needs to be changed. You just have to trust your mentor but I was fighting.
- Couple of years ago, Valentin Nikolaev and I talked about men's skating and he said that you strong point was the ability to do figures. Did having «school» elements really helped?
- It's hard to talk about me, but I'll give you a general idea. A talented person, who has a skating gift, can do without figures. Those who don't have enough talent, who get results only due to work – figure can help them a lot. Unfortunately, most young skaters almost don't have «school» figures. I remember when I still skated, Alexei Nikolaevich asked me to choreograph a program beginning for one of his students. I started by telling the girl to do some figures, when she heard the figures names she looked at me strangely, and I just got it – she simply has no idea what I'm talking about. I had to show her, but even after that she couldn't do those elementary figures, but all of them are the basics, the base of edging.
- Your former coach said once that you became completely different after the Lillehammer and it became much harder to work with you. Did you feel that?
- Difficult question. Maybe it was because I became an Olympic champion and the bar was very high. Maybe that's why it became more difficult for coach. It's much easier to work with someone who didn't achieve anything.
- Do you often recall those Olympics?
- Not anymore. I'm a realistic person and I live in the present.
- Do you save your medals?
- My wife and I just finished renovating the apartment where we want to live. We are going to have a spot dedicated to my career in sport. I didn't have that opportunity before since five of us – mom, dad, grandma, grandpa and I, lived in two-room apartment, but I knew that some time I will definitely put my medals on the walls as a memory of my life then. I still can't watch the Olympics calmly. Salt Lake City was the never-ending nightmare. I think the Olympics shouldn't be what they were turned into, and it's not only about figure skating. Every day I was shocked hearing about another scandal that involved athletes. I know how much worked they put into getting on that level. Maybe when I retire I'll learn to see the sport as just a spectator, but while I'm still involved in the sport, I'll worry for our athletes, whoever they would be.
- When you retired from eligible competition, you said that you dream about skating so well once that the whole arena would be on their feet. It never happened in the professional sport for you, but something probably stayed in your memory.
- Maybe the most impressive skate I had was in Dortmund at 1995 Europeans when I got 6.0 for the Swan Lake. Then the arena was on their feet, and Oleg Protopopov was one of the first people to do so.
-Did someone tell you that?
- I saw it, accidentally. I went to the middle of the rink to bow and when I raised my arms, I saw right in front of me, in one of the front rows, Protopopov is getting up from his seat and starts to applaud me. That was strong. I still can see that right in front of my eyes.
2003