Alexander Svinin:
«
THE WHOLE ZAITSEV' FASHION HOUSE
WERE CHEERING FOR KHOKHLOVA/NOVITSKI
»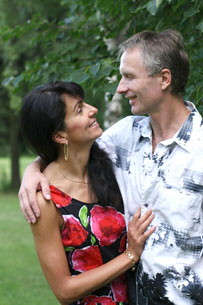 Photo © Icestars.ru
Alexander Svinin and Irina Zhuk
He came to the the Khokhlova/Novitski's, the European 2009 champions training session with no skates and wearing a orthopedic cast on his neck. When I asked what happened he jokingly said all is good, will take it off in a couple of days.
I quickly figured his injury was much more serious than he would let thinkt: Svinin would try to take the annoying thing off his neck, but
would put it immediately back. It slipped from him «The 23rd of August will become another birthday for Irina and I. We were lucky»
Later I learned the car accident at the end of August where Alexander was with his wife - Irina Zhuk by the lucky chance was not lethal: a car with an inexperienced driver cut through their lane and Alexander while trying not to collide with the vehicle hit a tree. The air bags prevented more serious injuries.
While being a skater Swinin skated under one of the best coaches in the world - Elena Tchaikowskaia. His couple with Olga Volozhinskaya was considered one of the most memorable and interesting at the beginning of the 80s. It was expected those skaters would become the national leaders at some point. But things turned out differently - at the Europeans 1983 in Dortmund Volozhinskaya/Swinin became 2nd, and those were more or less their only medals.
3 years later they were the solo skaters of Tatiana Tarasova's theatre «All Stars». They left the sport as kind of losers, but almost
immediately following their new coach advice went to the USA to
participate the professional worlds. With a tiny difference they lost
to the Sarajevo Olympic champions - the legendary Torwill/Dean.
It was in Tarasova's theatre that Alexandr and Irina really met.
The interview was preceded by an almost 3 hours Khokhlova/Novitski's training, during which the skaters were showing their FD to Tarasova - the main consultant of the Russian team. The critique was harsh - the smallest details were taken to smallest parts and even Alexandr looked a bit shocked by the time we began our conversation.
- You are probably used by now to Tarasova's always finds things to improve? After all you trained under her in the theatre for quite a while.
- Yes, for almost 7 years. The invitation to join the theatre was a salvation for Olga and I, we felt we did not do all we could in figure skating, yet at the same time we realized that we won't be able to pursue a carrier in the sports. I did skate some minor parts with Irina, after all theatre implies skating with different partners, we
started skating really together only after the theatre was gone.
- Is Tarasova the producer equally demanding?
- Even more so. She wanted to achieve everything and now. She is trying to get out of the skaters everything they are capable to do immediately. For Olga and I it was quite sudden: we were used to a different approach during our 7 years with Tchaikowskaya and at first we didn't even understand what on earth did Tarasova want from us, but at the same time it was really inspiring to work with her - she is amazing in interesting people with her work. We all were catching her ideas from half the words.
- What is Tchaikowskaya's straight?
- The basics. I don't want to offend the current skating, but it's different. There is no basics the way it used to be. Perhaps there is no time to waste on learning the basic skills such as positions, edges, body holding. Tchaikowskaya would teach the basic things right and in the highest level.
- Did you leave St. Petersburg to join her group?
- Yes. During a junior championship I skated quite well with Olga Evteeva, but back at those times the junior skating was not considered much. Even those who won the worlds hardly ever achieved anything in the senior sport.
Volozhinskaya was skating back then in Tallinn as a single skater and was known as a great dancer who can't really jump. Besides, she was a bit too tall for the singles. Olga was the one who offered me to pair with her and move to Moscow to train under Tchaikowskaya
- Did you immediately agree?
- Yes, I realized it was a chance I shouldn't miss. After all the ice dance schools were gathered mainly in Moscow. The St. Petersburg school was worse in every department. Tchaikowskaya's group at those times included such skaters as Ludmila Pahomova with Alexander Gorshkov, Natalia Linichuk - Gennadi Karponosov, Marina Zueva - Andrey Vitman and some younger but very good pairs. Olga and I just sometimes were allowed into that crowd - for the sake of the motivation. I can't really say we were askedto do anything. Think the whole atmosphere implied - if
you are here, prove that you belong.
During a year Volozhinskaya and I were skating without participating any competitions. But later it changed. We learned alot just by looking at those who trained next to us.
- Were you afraid of Tchaikowskaya?
- At first. She is the unquestionable authority in the group and this authority was pressing on me at first. I got used to it though.
- Looking back now what do you think of your sport carrier?
- I never thought about whining about Olga and I not becoming champions. Probably the opposite: I realized I was lucky to be in this sport, train under those coaches and among those skaters, to see the world, if anything. It is very possible, that all my ambitions that did not come true moved to the coach's category exactly because my
sport carrier was the way it was. Perhaps was our team more successful I wouldn't become a coach. Sometimes I felt I can't express by my skating what I felt. Now I can do it through my students.
And don't forget what were the times and who were the competitors. The level of the top 10 in the USSR was so high, that just to be there was a huge achievement. Of course, I wanted to be a champion, but...
- What was the point after which Volozhinskaya and you realized that was it?
- The Olympic games in Sarajevo where we became 7th. Perhaps we could be higher, but when you come to a championship as a country's number 3...
- You don't have to elucidate. The n.3 in the team was always something to "sell" in order to get the first 2 couples higher.
- It wasn't even that. Olga and I were in a certain age and there were plenty of younger couples who could replace us. So we came to a conclusion that staying is useless.
- Did you think of a coaching career during your work in Tarasova's theatre?
- Can't really saw I imagined myself in that role immediately.Though even then I did invent some elements, lifts. For myself and others. This is an experience that helps me till these days. Frankly, when Irina and I came back to Moscow after the theatre we weren't even sure we'll find students or a rink.
- Didn't you realize that working as a coach in Russia might mean being left with no money?
- We did have some savings thanks to the theatre. If it wasn't for that am not sure for how long would we last on the pure enthusiasm. At those times we didn't really want to look for a job in the West, though there were offers to work in the US, for example. It is easier to make money there, but it would mean we would have to coach anyone
who is willing to skate. But Irina and I were interested in the results.
- Admit it, while saving during your theatre times were you aiming at something serious?
- Not really. More than that we didn't really try to save money. When on the road you can't save on yourself. The theatre is a hard work: every week you move to another city, sometimes perform twice a day. If you are trying to save on, say, the food you just won't make it to the next show. And we didn't save. We were living quite comfortably.
- Looking at the way you are communicating with Tarasova now it's hard to believe that during the theatrical times there was a serious conflict between you.
- At 1996 we did have a serious situation where both of us were kind of right. Tatiana was very focused on her work with Ilya Kulik, she would leave from the UK where the theatre was doing the shows. We were performing but except for our group there was another - the local under Tony Merser. The Brits ordered the shows in the way that they reached every city before we did. It was impossible to get the inhabitants of the small English towns to see two ice shows in a row. Of course, our shows were less demanded, the salaries dropped, the skaters started looking for different opportunities.
I could understand how offended Tarasova was. She probably didn't imagine how bad the situation was and expected Irina and I as the oldest in the group to hold the people from leaving. Back then it seemed impossible though.
- You yourself moved to Mesrer at the end?
- There was a situation after which I grew to respect him very much. For a while Tony was working together with Tatiana, we knew each other quite well and when our theatre was falling apart he said he'd love to see us as part of his cast. He offered us really good conditions, but we said we had to discuss it with Tatiana first. Of course she was
against. She asked us not to leave genially believing the things would become normal. So we declined Tony's offer. A month later our theatre was closed and Irina and I were left with no options. We went to Mersner knowing that we'll agree to any conditions. He himself probably knew he can have us for half a price, yet he offered us the same money he was offering to begin with.
- You had another not nice incident with the theatre at the beginning of the 90s, when you got rid of several skaters, including the now well known coach Igor Shpilband.
- Back then it was a huge scandal. No one knew the guys intended to stay in the US and when they made it the others faced a danger never again to be allowed to leave the country. I think only Tarasova's influence and her power saved the theatre after that.
- The last season was both successful and dramatic for your skaters Khokhlova/Novitski. Do you have an explanation why did they become European Champions but didn't make it to the top 3 in worlds?
- To answer your question I'll have to take you way back. When Khokhlova/Novitski first participated a senior championship at 2004 we knowingly pushed them forward knowing it was the only chance to make them noticed.
- So you were pushing your own trainer's carrier?
- Yes. They were our first students and hardly anyone took them seriously: it was considered they have more faults then good sides. Irina and I were told that one has to wait in the ice dance and our time will come in the next dancers generation and perhaps later. I calculated how old will I be by then and it wasn't a nice thought. So we started to work really hard. To make the guys noticed we had to come up with some really special programmes. We did it.
Khokhlova/Novitski even gained their own fans. At 2006 the guys made it to the national team for the first time and
after the Turino Olympics we decided to make a huge statement. This is how the «Night on the Bold Mountain» was born with which Yana and Sergey became 4th in the worlds in Geteborg. Last season they had their first victory - on a Grand Prix even in Moscow and they were above Domnina/Shabalin. I.e. they proved they are capable to beat the
number 1 of their country. Of course, we were doing our best to be prepared for the Euros.
- You won it and went downhill from there?
- Don't know. Perhaps we didn't have enough rest before resuming the training. After all Helsinki was a huge stress.
- Perhaps your skaters and you got used to the idea of being the Russia number 1 and relaxed too much?
- We never underestimated our rivals. More than the, both Yana and Sergey and Irina and I get an extra rush when things don't go well. So I wouldn't say we relaxed. Perhaps the reason of going backwards was in the previous season - we didn't have enough strength to finish the season on the top, although in LA during the Worlds Yana and Sergey both were in a good shape.
- So they just overburn before the start?
- Could very well be. They lost the spark in their eyes - that is a fact. I don't take any of the blame off myself. Probably I should had overlooked every possible option and I didn't. After the CD it was obvious we are loosing to 4 pairs and it was hard to get the motivation back.
- Were your skaters depressed after that?
- No. To call a failure a season when they became European champions would be wrong. But, I think, we made a mistake by going to Japan Open right after the LA because the guys had no power left for that championship. Though it's useless to talk about it now.
- Are you satisfied with the way Khokhlova/Novitski are getting ready for the Olympic games?
- It's a bit premature to talk about that. Their first start is at the end of October in Chinese Grand Prix and our goal is to look well there.
- Who chose the music for the new programmes?
- We always do it ourselves. This season Tarasova helped us. From the very beginning we had an idea to take a Russian folk both for the OD and the FD . «Meadowland» was one of the options. the guys liked the music, though the first arrangement is very different from the final - it wasn't powerful enough. The one that we are using at the end, I
think, makes it possible to show in the dance what we call «A Russian soul»
- It is what Tarasova blamed you on during the training session - that the dance is soulless - I didn't argue, but I believe that our «soul» will only be visible when the programme will be ready and the skaters will not be focused
on the elements only. In general I agree with all Tarasova's remarks.
- I wouldn't gather that from your reaction - It's just that when the programme is ready you think the main job is
done and it's hard to start changing and improving things on the spot. It is a normal process though.
- Last year the costumes for Khokhlova/Novitski were made by a known designer Vyacheslav Zaitsev and they emphasized they want to get the attention only only by the skating but by the original costumes as well. This year their costumes are made by Zaitsev again. Isn't it too expensive?
- Most importantly everyone loves working with him. Love his ideas, sudden solutions, enthusiasm. I know that last year Yana and Sergey were supported by the whole Zaitsev's fashion house. People were following their competitions and became a true fans of the sport. This support is priceless. I was very pleased to watch how Zaitsev works with the colour, the form. Sometimes he adds a tiny detail and the costume looks completely different.
- The ice dance coaches sometimes have to deal with a non objective way their students are treated. what do you usually tell them?
- What can you say? Only that you have to be miles better than your rivals. In everything. To do elements the others can't, skate better, fight for every point. There is no other way.
- Admit, when you and Irina come back home after the work day do you go on talking about figure skating?
- As it happens, yes: we always have things to discuss. Although sometimes I feel like turning the TV on and watching a stupid action movie just to disconnect from work for a while. Recently I started thinking it would be nice to have a house outside the city. To get there on weekends and have some rest. But guess it's not the time yet. We had our car accident when we went to see a place that was on offer.
2009