Alexey Mishin:
«I DIDN'T ASK PLUSHENKO TO COME BACK»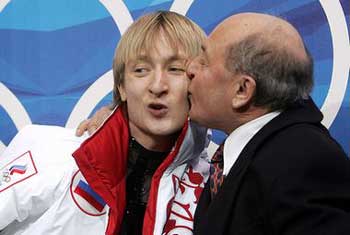 Photo © Alex Wilf
Alexey Mishin and Evgeny Plushenko
At 1994 Olympics in Lillehammer the knows figure skating coach Alexey Mishin guided his student Alexey Urmanov to the first place. In Turino 2006 he repeated the result with Evgeny Pluschenko. Now Mishin and his star student facing a far harder task - to try and repeat the success in Vancouver.
Two years ago Mishin and I met in St. Petersburg. He admitted, that after Pluschenko won the gold in Turino Olympics and left the sport Mishin felt hugely relieved. The necessity to win no matter what was a hardship on him. So was another necessity - to dedicate his life completely for four years to one student, to his moods and problems.
Already then we spoke then about an option of Pluschenko's come back to the amateur sport and Mishin's readiness to support him. In his later interviews he always emphasized that he would not work with top sportsmen for as long as Evgeny wouldn't decide on his plans. Though
there was another thought: perhaps the coach doesn't want to go back to such a high level with another skater. Because he is too tired and he, like Pluschenko, needs a serious break.
After Pluschenko easily won the traditional competition in St. Petersburg coming back to the amateur sport in September after a three years break, Mishin and I set a date. The only thing he asked was not to set the interview on Pluschenko's training. He explained:
- A journalist showing up on the ice rink creates an additional stress. We don't need any not necessary attention right now. Most of your colleagues are excited «Ah, he came back!», though not many of them understand, that starting the training and coming back are two completely different things. Talking about the comeback would be
appropriate only after the first competition - when the sportsmen will skate in the SP and LP like everybody else.
- Did you believe his intention to come back are serious?
- Despite the fact we didn't see each other too often after the Turino Olympics I knew that he has a spark of the competition in him. Hence I never took any skaters who turned to me asking to coach them.
- Do you mean the ex world champion Stephane Lambiel?
- Not just. Also Brian Joubert. The offer to work with him came from the president of the French federation Didier Gayage at the Euros in Helsinki. As far as Pluschenko goes... We worked together for 11 years. Such a long working relationship is not unique, but not common either. It is not by chance that many skaters switch coaches after the
success comes, like Lambiel, Joubert, Sasha Cohen. They need a new push, a new motivation. So when Evgeny told me he wants to come back and started training I felt immediately he would work in a different way, not like before.
- Elucidate on that.
- When the painter works on a new painting he does some usual and characteristic to him things: puts the canvas, mixes the colours, works with the brush.. Some things that were very not used to Pluschenko he accepted easily now, much to my surprise. For example previously he wouldn't spin before the jumps. I explained how we can fill that void, how to learn to do things he didn't know or wasn't good enough and Evgeny accepted all my offers. And there are plenty of details, that would allow him to get to a higher level.
- I heard that during his work towards Turino he was very unwelcoming to any new ideas.
- Yes, exactly. And frankly, I was expecting him to be negative to alot of things now as well. But Evgeny started doing some things from the scratch and didn't feel uncomfortable with that. Talent of a great skater is not only in the way his muscles are built but also in accepting the new things.
- After the Olympic games in Turino you said that the pressure to win was huge. What about now?
- The pressure to win was on me since Urmanov's success in Lillehammer. After that the pressure only grew because Pluschenko and I were unable to win in SLC. But now am much more calmed. Just the fact of the come back of Evgeny and the creation of a strong rivalry in the men skating is a huge achievement.
- Had Pluschenko Changed much since the Torino times?
- Am glad that his skating haven't lost the feeling of freshness and youth, the attempt to overcome himself. For example in the competition in St.Petersburg he did a quad in the cascade, then 3T and then immediately a 3Loop. With the current rules there is no point to do that, since if you jumped a 3Loop in the cascade you can't do it separately. And the points for the loop either in the cascade or separately are the same. Evgeny did it for the sake of the game - will he be able to do that or not?
- Did you calculate how and with what will he earn the points in Vancouver?
- Only an idiot wouldn't count it by now.
- And in more details?
- I'd rather not reveal, really.
- Let me rephrase: in the Turino Olympic games I got an impression Pluschenko's shape does not allow him to spread the elements equally in the LP. Hence it is built in a way that he'd do all the jumps at the first part.
- I understood the question. Can say we did take steps in that directions: part of the jumps will be performed at the 2nd part of the programme. Again, I wouldn't want to emphasize too much right now, not to give the friends/rivalries the ideas
- Is that why you asked not to tape the performance at the St. Petersburg competition?
- It's not needed right now.
- Is the hardest period of Pluschenko's return is already behind you or is still to come?
- We'll see. If I answer that question now it'll become a kind of promise. To myself as well. I don't want to promise anything. I feel like Tour Heyerdahl going to his journey on a boat «Ra». Where will my boat sail into the rocks and where will the water calm am still to find out.
- Did you have to give up some other plans because of Pluschenko's training towards the Olys?
- I wouldn't say so. My main ambition right now as a coach was towards the 2014 Olympics in Sochi, I wasn't planning much for Vancouver.
- What about your student Andrey Lutay?
- To participate the Olympics is, of course, a honour, but it's not a level to which I'm used to work and which would satisfy me.
- To put it differently, you realized, that Lutay's potential is not that great so he could attempt getting a great result?
- Every sportsmen has it's destiny. Lutay came skating in my group almost by chance. After a skating school in Novgorod was named after me I took Andrey from there as some sort of chief's help. He became 10th in the world, which is not a bad result. Am far from thinking that Lutay's potential is used. Despite the fact 9 skaters were better than him at the last worlds in LA there were components in his programme which he was the best at.
- Does it hurt that for many people despite your many achievements you remaing «Pluschenko's coach»?
- Evgeny have been proving for so many years that he is an exceptional sportsmen and he is so popular that there is nothing to be hurt about. The financial situation of such a sportsmen will always be better than his coach's. It's something one has to accept. The coach's work is much more wide than it looks at the first glance. For example many of my students, Pluschenko included, had a chance to live and go abroad only because it was payed either by my hard labour or my name or my money. The coaches' art is never to put it in anyone's face. Not so long ago I was invited to participate a TV show dedicated to Irina Rodnina's birthday. Among other questions I was asked what is the secret of Pluschenko's and mine long partnership. As a reply I recalled how I was almost beating Zhenya sometimes. Once in Italy instead of working on the ice he ran to the backyard to play football. He was holding the ball in his hands and in my mad state I kicked the ball with my leg and broke his finger. But he has a wise mother. She understood that at that point her son has to be mended with hard hand. If it was different - who knows what would become of him.
But such relationship can't hold for good. They have to change. The skater grows, matures, smartens. Has to be confided and considered. If his first acquisitions - the flat, the car - were made with my participation, nowadays Evgeny is advising me which car to buy so it'll be appropriate.
- Appropriate for Pluschenko's coach?
- Doesn't matter. What matters is that we continue working together and conversations about who is more important in our team never happen. Only the result matters.
- Do you care in which car you drive to the ice rink?
- Of course not. For me it's enough that I'm - Mishin. I was asked by many after Turin how do I feel not being a coach of a great skater. How am I supposed to feel? My respect towards Tamara Moskvina is not depended on how Kawaguti and Smirnov are skating at the moment. I'd like to think my collegues think the same of me.
- Was it decided with Pluschenko that he won't have a honeymoon after the wedding?
- Of course. It wasn't even considered.
- For people who are not in the sports it is rare. So much noise around his wedding...
- There was no noise really. Was a normal quiet conversation, nothing more. Can't claim that it's «my» world, but I have acquaints.
- Is it easy for you to communicate with Evgeny's new wife?
- Not harder than with Evgeny.
- I'll explain why I asked that question: I can't get rid of a feeling that Pluschenko's sportive seriousness was very much stimulated by Yana.
- I doubt. Evgeny is a personality on it's own. I can only say that I did not take any steps convincing Pluschenko to come back to the sport. It would be a mistake if I had. Only an inner confident can make one let one try to enter the same river again.
- Were you nervous standing near the borders in St. Petersburg when Evgeny was getting ready to step into the ice?
- There is a Georgian tale about a mother of a grown son who didn't want him to work and who would give him money to bring to his father as if he earned them. Father would throw that money into the fire every time. Once the boy actually earned something himself and when the father threw the money into the fire the son ran to take it out.
You get the thought? If it is about your work where you put your hands, your heart, your soul - it's impossible not to be nervous. But I wasn't worried about the result. It was important for me to understand whether Pluschenko had lost the feel of the sportive rivalry in 3 years. Can he compete? Take the pressure of the start. You remember the Lillhammer games when the previous Olympic champions came back? Boitano, Petrenko. They were not worse technically. They lost because they were not ready for a fight.
- Boitano mentioned he lost because he wanted to win. He should had want to fight
- Exactly!
- Aren't you worried Pluschenko might get used to an incredibly high points that he probably will be given in all the «home» competition, as it, actually, happened in St. Petersburg and might loose it if he doesn't get equally high marks in, say, Europeans?
- For neither of us the points mean anything. We don't have any illusions on that. Besides, it's not THAT easy to gain points even at the home competition. At least one has to impress. That the judges might be biased is possible. And a bit worried about it, indeed. I think Pluschenko is one of those rare skaters who project something except the technique, artistry and graciousness. But the CoP which is attempting to test harmony by algebra has it's faults. It can not emphasize the charm of the skater that the 6.0 used to.
- Are you being nostalgic?
- It's a different question. Right now I was just stating the fact.
- Many coaches set on a short term goals for their skaters when getting ready for the main competitions. For example. Elena Tchaikovskaya used to tell Maria Butyrskaya for quite a while that she only cares about the clean SP. For some a set of jumps or another element is very important. What about you?
- I think it's an approach which is common for the coaches whose skaters lacking things. They need to «close» those holes. We don't need that. The goal is different: to find an important detail every day. To make a step sequence more interesting, to make a better looking exit, to combine some elements. You know, when a person is building their house they always think of small details to improve. If the work will be continuous Evgeny will become better. Stronger, more powerful. Hence we'll be able to come up with more ideas. It's important for the process to go. Without illnesses and injuries.
Now Evgeny can feel perfectly the moments when he has to rest. Not because he wants to, but because it would make the next training more efficient. In other words - the rest became part of the work.
- Usually with the age the person understands better what and why do they do.
- Pluschenko understood that when he was just starting to get his family out of below the poor line. Another student of mine - Alexey Yagudin - phrased it well: I have to skate well so my family will
have a place to live.
- Except for the figure skating do you have space for some hobbies? Something for the soul?
- Yes, I'm a gardener and a builder. I grow the decorative bushes and build bridges in my summer house. I want to have my own bridge of Signs, bridge of Dvortsovy. Right now I only have a bridge into nowhere - where it ends a slew begins. Such a bad one that there is nowhere to step on - you'd sink. Of course I don't build the bridges myself, but I do plan the bushes with my own hands.
- Where do you get the springs from?
- I buy them. Once I brought a lemon tree from Sochi - hid it in the suitcase. Everything grows in my garden. I like looking the things I planted grow, imagining what will it look like in 5, 10 years. It compensates for the small nuisance that accompany the coach's work.
2009