Alexei Mishin:
«PLUSHENKO WILL BE ON ICE IN AUGUST»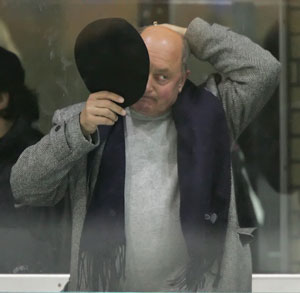 Photo © Alex Wilf
Alexey Mishin
On August 5th, Alexei Mishin and his group went to the final pre-season camp in Jaca, Spain. We met with the coach in St. Petersburg, before the group left.
- One of your colleagues recently was persuading me that after coming back to earth from the Olympic heights, you definitely have to feel a discomfort.
- This logic is completely natural but not for me. When this whole Olympic epic was over, I really thought that it's not that I wouldn't feel in demand, it was as if I would feel not being occupied. It wouldn't feel like me. I was surprised to find out that the life goes on and my work is still interesting. The way I feel in the world didn't change because I stopped training the Olympic champion. It's just like it was when I was young and I feel the same, and even better because financial well-being and certain public acceptance had added to it.
- Did you feel down even for a little while?
- It was the other way around. I had a huge feeling of relief and ease, like a burden was lifted off my shoulders. I event felt better physically, and I think I started coach better. You can't imagine how heavy was that burden for me - having to win in Torino at any cost.
- Am I right to think that at least for two years before the games your entire life was dedicated to Plushenko's life?
- Four years. That was pressuring. It wasn't because I felt dependant to Zhenia. I was completely dependant on having to win with him in Torino. When a coach works with a top five athlete, he could finish second, fifth or even tenth, and nobody will see it as something catastrophic. Here, we were surrounded by some unexplainable requirement that I haven't felt when I worked with Lesha Urmanov or Lesha Yagudin. It was like anything that wasn't a victory was a shame. As soon as Plushenko lost something, the reporters would come to me and all of them asked, «How did you do it?» I didn't see any tragedy in those defeats, even in Salt Lake City. Still, it was very difficult at the beginning of the next four-year cycle after those Games, all made harder by surgeries and some events in personal life...
So, when Zhenya won and it was over, I really felt relieved.
- We've known each other for more than 10 years and all the time I had the feeling that you were in charge of any situation, no matter how many stars were in your group. During the last four years you worked with Plushenko, he seemed to be in charge and it looked like you were in the background.
- Before, I constantly tried to prove it to the world that I was smart, I can prepare good skaters, etc. I was very silly of me to endlessly travel the worlds and give seminars. As soon as I came up with something new, I wanted to tell everyone about it. I was doing a real scientific work. I constantly measured something and discovered biomechanical bases for certain movements and elements. Suddenly, I realized that I don't have to prove anything to anyone. I just have to work in peace.
I don't remember which reporter asked me, «Aren't you afraid that your colleagues will start saying that Mishin is losing it?» I sincerely answered that I don't see a coach yet who has the moral right to say so.
- Still, when you refuse to work together with Stephane Lambiel, it look like again you are acting in Plushenko's best interest, not in Mishin the coach's interest.
- It's not completely like that. I'll explain the situation. This year, one of the Swiss Art on Ice company managers, Oliver Hoener, turned to me. He was a Swiss National champion and he is now an agent for Lambiel and Sara Maier. I said that Sara can come to my training camp any time. As for Lambiel, I can't give the answer until Zhenia defines his plans. If Plushenko calls me and says he decided not to come back to the competition, I'll call Hener right away and say that I'm ready to work with Lambiel too.
- Are you talking about consulting or a full-time coaching?
- Hoener said they are ready for any forms of collaboration.
- If Lambiel is ready to pay for the consultations, why does it make a difference for you whether Plushenko returns or not? As far as I know, you've helped Stephan several times.
- At one time, Plushenko had a contract with Hener about Zhenia's performances in Art On Ice. This contract also included my collaboration with Lambiel. I can't say Plushenko was bothered by it. At least, I never noticed any indications. The first time was pretty funny. My wife and I were returning from the US and when we were switching flights, I saw Stephane at the airport. Naturally, I asked where he was going. He answered, «To you». I was very surprised and said, «You don't have even one hour on ice scheduled and no hotel reservations». He answered, «I don't need that. I'll practice in the group and stay with a friend».
I can't say no to Lambiel for the reasons I already mentioned, but he really practiced with the group with 16 other people and he helped me very much by showing exercises to other skaters. He did it wonderfully because before coming to St. Petersburg, he came to my Spanish training camp in Jaca for two or three years in a row, and new my methods. Stephane always worked [very hard] like an animal.
- This year, you went to a training camp in Tartu for the first time. I've heard you are planning to make a regular location. Is that true?
- I liked the working conditions very much. Tartu has a wonderful rink inside a big shopping center. It's warm and wonderful environment. Local university showed big interest in my work. Everyone, including the city mayor, are very interested in developing skating using the university as a base, and both practical and scientific sides of training would be included. I can't give you more details yet..
- How about your regular training camp in Jaca? Why did you pick that spot as a final stage of summer training?
- I also got there accidentally. Alison Smith, John Carry's former coach, invited me. I didn't know why she picked me even though I thought about it. Maybe ever person has a certain value in his professions. For example, I think famous Nikolai Panin's biggest contribution to skating wasn't becoming the very first Russian Olympic champion. It's his scientific works. I read them so I'm able to judge. Speaking of me, I probably wasn't a bad skater, but I can't consider it to be a serious contribution into development of a sport or immediately preparing several strong skaters after I became a coach. My contribution is different. I was the first one to find out and declare that a human's ability to rotate around the vertical axis of his body is a defining link in overall preparation of a skater.
With this basis, I created an entire exercise system that is now used everywhere from New Zealand to the North of Canada. So, if we were to discuss what I can do the best, my answer would be to teach coaches.
- Do you like it?
- Yes, but now I'm careful about doing it.
- I saw the prices you charge abroad on the Internet and noticed that a class with the skater is less expensive that a class with a skater and his coach.
- Training process is very personal. When there are outsiders on the ice, it's very hard to focus on the skater only. Maybe there is some magnetism in my work, but I was told many times that when they study with me, skaters absorb every thing that is demanded of them much easier and faster. Once, a mom of an American lady, and I have to say it my fee in the USA is improbable, told me, «You are the least expensive coach in America. I wasted a tone of money for my daughter to learn 2.5 jump, and you've done it in one lesson».
If another coach is on the ice, I'm working with his skater and consulting the coach at the same time. Do you remember Ellen Zayak, a famous skater from the past? Her coach Peter Barrows let the interns into his classes, but charged $100 for one visit, and that was a serious amount at the time, and he didn't allow to write down anything. People were only allowed to stay by the boards silently, observe and listen.
Back to the camp subject. It became really popular with the skaters now and I think it's because I bring my new work there annually. Sometimes I think it's me who should be paying, not me getting paid because one can only dream about having such a unique field for perfecting his ideas and knowledge.
- Do you wear skates when you work?
- Up till recently I wore boots when I went on ice. The skates put too much pressure on my feet. Because Tamara Moskvina and I are invited to the TV show, I now started to skate to get in shape.
- Were you that interested in the show?
- I'll be honest with you - I didn't even suspect I worth so much. Because of the filming, the camp in Jaca will be shortened by one week, but that's not the only reason. The test skates are scheduled for the end of August in Novogorsk and we had to certainly get ready for that. My skaters wouldn't have that opportunity in Jaca.
- Why?
- Too many people are skating there. This year is like the pilgrimage: in addition, 15 skaters from Scotland are coming to Jaca, as we found out at the last moment. We can't refuse them because one of the pretty influential ISU technical specialists, who we had invited, is brining them there. As of now, the groups will have 24 - 26 people each. There are three groups like that. I usually work with each of them for an hour a day, I work with my skaters for two hours with involvement from the stars like Kostner or Maier, and there is an hour set for the private lessons.
- Why did you decline to take Kostner permanently? I know she asked to join your group.
- Consider it my coaching credo. I don't work «catching up». I'm used to nurture the skater from beginning to the end independently.
- What about Sergei Dobrin who came to you this summer from Zhana Gromova?
- This is an exception, and the skater who placed in the bottom of top 20 at the Europeans is not the skater who is the European champion.
- How did Andrei Lutai, your number one student now, take it since the rivalry can grow?
- In this situation, I don't think it's right to set apart one skater from the rest and go by his mood. Lutai is not Plushenko. Growing rivalry in the group will only benefit him even though Andrei's results at the moment are a bit higher than Dobrin's.
- How much are you involved in Plushenko's life now?
- He recently notified me that he is going to perform in the show in Hungary at the end of August and a week before that, he'll show up at my rink so he could prepare. I had to be active about his medical exams this summer and had to insist on knee surgery. A coach and a skater are always in a certain financial relationship. Not one of my skaters - Plushenko, Yagudin, Urmanov, ever cheated me out of a penny. That's why when Zhenya got the knee problem, I considered it my duty to help. The situation was really serious, the knee joint required an immediate treatment, whether Plushenko comes back to the competition or would want to continue his pro career. I know there were rumors that Zhenya just trying to attract extra attention like that.
- What do you think about most of the current press Plushenko gets has a shade of a scandal?
- I'm neutrally negative. Do you understand the term?
- In other words, you don't like it, but you don't think it's necessary to get involved.
- You can say that.
2007