Alyona Savchenko: «I HOPE THE GERMANS LOVE ME»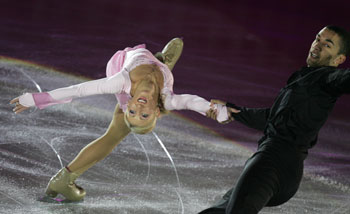 Photo© Alex Wilf
Alyona Savchenko and Robin Szolkowy
It was only a month before the Torino Olympics when the German pair of Alyona Savchenko of Ukraine and Robin Szolkowy, the German of African and Polish descent, was branded the main discovery of the season and an Olympic medal contender. The pair won silver at the European championships in Lyon, but then the scandal broke out. Their coach, former European and World champion Ingo Steuer, was formally accused of active collaboration with East Germany security agencies during the years when he skated for Germany. Germany's Olympic committee announced their intent to deny Steuer accreditation for Torino.
The announcement was followed by a series of tedious investigations and litigations that Steuer has won, including the right to accompany the pair to official skating events.
However, the hassles of the process rattled their nerves to the degree that left them no chances to skate well. The pair took sixth place, but their troubles were not over. The German federation stopped funding the pair and their coach, and their actions toward the skaters looked suspiciously like blackmail. The decision, the skaters were told, is up to you. Give up Steuer, take any other coach, and it will be nothing but blue skies from now on.
As for the coaching replacements, Germany was ready to offer two candidates: Oleg Vassiliev, the coach of Olympic champions Totmianina and Marinin, and Tamara Moskvina, who used to coach Vassiliev in his skating days.
However, Savchenko and Szolkowy refused. They trained independently all summer long, and it appears that their training was quite serious. Their victory at the European championship in Warsaw was convincing beyond all doubts.
After the final, Alyona and I met at the rink. The skater arrived exactly at the time we agreed upon, and I couldn't keep from making a joke:
- Punctual like a true German! Alyona, why Germany?
- I wanted to live here ever since I was 13. My very first international competition, when I skated for Ukraine with Stanislav Morozov - Blue Swords competition - took place in Hemnitz. I loved it. It was clean, the food was different, and even their air was unlike ours. Ever since then, I told people that when I grow up and turn 18, I will go live in Germany. Besides, it occurred to me more and more often that I won't win a thing if I continue to skate for Ukraine.
- But weren't you and Morozov Junior World champions in 2000? You also skated at the same-year European championship in Vienna, and placed seventh.
- That's true. But it stopped later. I wanted more.
- Did you want more from the very beginning?
- I did. I used to live near Kiev, in Obukhov, a place you couldn't call a town even if you tried. I trained with Galina Kukhar and took the bus to come to the rink. It was a two and half hour trip each way. It was hard. The buses didn't exactly run on time back then.
- Who decided to send you to skating lessons?
- My parents. My mom was a teacher all her life, and my dad was a weightlifter on the USSR team. He was the USSR champion before I was born. But later he injured his back and had to leave the sport. However, he really wanted me to become an oustanding skater.
- Were your parents shocked when you decided to leave the country?
- They knew, of course, that I was looking for a partner. However, things were far from certain. I wrote to Germany from time to time, but the answers were quite vague; perhaps we'll have a partner, perhaps I'll be able to keep skating. Then Ingo called me and spoke in some horrible mix of Russian, German and English, and I finally understood that they have a partner for me and I can come to Hemnitz.
- Have you met Robin before?
- He skated with Klaudia Rauchenbach at the same junior championship in 2000 as Morozov and I. Of course, we noticed them at the time - for Ukraine, it was unusual to see a dark-skinned skater. For me, the most important thing was to prepare my mom, as I just didn't know how she would feel about such an exotic scenario. But she didn't mind. She sighed and said, what are you going to do if there's no other partner around? If he's dark-skinned, so be it.
- How did you feel when you came to Germany and had to live among people who spoke no Russian at all?
- I wanted to live there so much that when I arrived, I enjoyed a very new sense of independence, adulthood and freedom every single minute. They gave me a one-room apartment that the German skating federation paid for, it had all modern conveniences, a kitchen, a living room. I even had a meals allowance. We trained in Hemnitz at the same rink where the famous Jutta Muller worked all her life.
- Yulia Obertas left Ukraine to search for a new partner almost at the same time. However, she chose St. Petersburg. Did you get any offers to skate for Russia?
- Yes, but way earlier, when I wasn't even thinking of moving. And my parents weren't overjoyed with this idea. Because if I went there, then one of them would have had to go with me, like Yulia's mom who moved to St. Pete with her. But for our family, this was out of the question.
- I remember when you and Robin made your competition debut, Igor Moskvin told me that he admires the skills and intelligence of your coach, and how interesting his work and programs are. Does Ingo really choreograph all your programs himself?
- He does all his work himself. Working with him is very interesting. This is why it was so hurtful when the skating federation stopped paying him and started looking for a new coach behind our backs.
- They didn't exactly pick the bad ones, you know.
- That's beside the point. Look, I think the world of Tamara Moskvina, I respect her very much. We attended Moskvin's seminars in Germany, and they helped us with a few things. But I believe that today's pair skating needs something other than what the previous generation coaches are able to teach. Also, I always believed and still believe that our coach is the best in the world. And no Russian coaches ever talked to us about potential collaboration. The only one talking about it was the German federation, and only in the context of an ultimatum: get a new coach or quit skating. And we answered at once, we have no intention or leaving Steuer or quitting skating.
- Isn't it horrible to work so hard and so long, and still feel that the whole world is against you?
- Actually, the other way round. I'm a very tough, strong person, and my dad always taught me to fight till the end. When it all started, I kept trying to understand: why me? All I do is keep working, think of nothing but winning, and I have so many troubles in my way. Then I calmed down and thought, maybe it was meant to be. It will change at some point.
- Do you think the Germans love you?
- I am not sure. But I hope that people who love watching us skate outnumber those who don't.
- I heard that you almost ruined your personal reputation by an unfortunate remark during your interview at the Olympic Games. What happened?
- It was a very dirty story. During the Olympics, as you recall, the situation with our coach was very tense. Robin and I were told every day that even if Ingo comes to Torino, he won't be allowed access to the rink, he won't be allowed to stand by the boards during our skate. This decision was overturned in court, but the circumstances made us feel like pariahs in the Olympic team, to an extent. And then we weren't invited to one official dinner attended by the whole Olympic team and an important German politician. We didn't even know about it. After our skate, the reporters asked if we were happy that such an important political figure attended a meeting with athletes. I didn't even understand what the matter was, and I said that I don't care which politician is meeting, and with whom. Of course, my response was immediately conveyed to the people «upstairs», and it appeared as if I said I didn't care about the entire German political leadership. Besides, everyone assumed that we attended that dinner.
- When you came to Warsaw, did you feel that you are 100% ready?
- We weren't at the peak of our form, we just started getting there. But I had a strong inner belief that we will skate well. Our morning practice on the day of the pairs' final was great, and even though the last warm-up was horrible, it didn't matter to me. I knew that we will be the last to skate, so we had to save our energy and our nerves. So during the warm-up, I said to myself, screw the elements, I know we'll do them when it's our turn to skate.
Ingo, however, was in shock. When we finished the warm-up, he said, looks like you have to take off your boots and go home! I felt a bit weird about it. I thought, did it really look so bad? Then I understood that Robin and I have to do everything perfectly to clear our names to the coach. So we had to pull ourselves up.
- How demanding is Ingo?
- Extremely. He's a very strong and complicated person. I am no picnic myself. Which is why we argue so much. But the arguments only go to unimportant things like my hair, my costume...As far as training is concerned, whatever Ingo says, goes. I comfort myself by saying that he's the boss on the ice, and I'm the boss of the team. Robin is much more mellow.
- How will you prepare for the worlds, will you change anything in your program?
- At first we will go on tour, Art on Ice, for two weeks, until February 15th. And because our coach is completely insane, I have no doubt that he will come up with something new and more difficult during that time.
- How quickly do you learn the elements?
- That depends on Ingo's mindset. For instance, we were trying to learn the triple twist all summer long, including at Moskvina's seminar. But even off the ice, we could never do it, so of course, putting it into the program was out of the question. A week before the season began, Ingo came to practice, and said, «this week, I want to see a triple twist. Do it or quit skating». So we did it. What else could we do?
- How do you make a living now? Do you skate in shows?
- We do. We have lots of invitations, but have to decline very often. It's hard to combine shows and training. They are too different. Honestly, I don't like skating in shows. I just don't. I prefer competition. When I compete, it feels like nothing else.
- Sometimes it seems like all you're interested in is first place and first place only.
- Well...that's true.
- How do you see your future career?
- Like a ladder. I try not to look too far ahead. I see the next step and try to climb it. The most important thing is to keep healthy until you climb to the top.
- What are you ready to give up to get there?
- Everything!
2007